6 Inch Gingerbread Cake
This small 6 Inch Gingerbread Cake recipe made from scratch without cake mix is a moist and fluffy cake that tastes like Christmas in every bite.
Despite being under a stay at home advisory in Pittsburgh, December has been crazy busy; I feel like I'm always running out of time.
Probably doesn't help my energy level is lower this year with everything going on, so I can't accomplish as much.
That's why I asked you on Instagram which dessert you'd prefer: this small Gingerbread Cake or a 6 Inch Gingerbread Cheesecake.
I had plans to do both, but between testing this cake recipe 4 times and running my Etsy shop, I ran out of time.
I'll make the cheesecake another time. In the meantime you can bake my 9 inch small batch Mini Gingerbread Cheesecakes or my Gingerbread Cheesecake then freeze the leftovers.
As mentioned, this gingerbread cake recipe took me 4 tries, but I got it! A moist, fluffy spiced cake that tastes like Christmas in every bite.
Every year I make my small batch Chocolate Gingerbread Cupcakes.
I love chocolate and gingerbread together, but this time I wanted to go with a classic gingerbread cake recipe without chocolate.
There are a few other 6 inch cake recipes out there, but they were fancy two and three layer cakes. I wanted an easy one layer cake to serve during your Christmas Dinner For Two.
Of course you can double this recipe since I get that question a lot. Just depends on how much cake you want.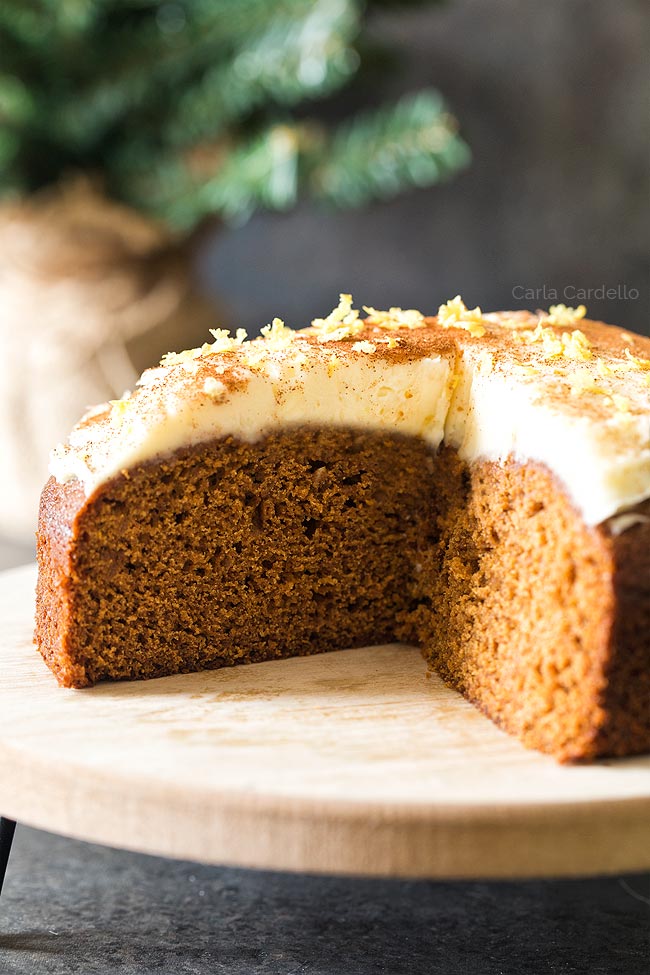 What is gingerbread?
Gingerbread is a type of Christmas dessert flavored with ginger, cinnamon, cloves, and nutmeg then sweetened with molasses.
When you hear gingerbread, you often think of my small batch gingerbread cookies. You can even make a gingerbread pie.
However, very traditional gingerbread is actually a cake, usually in loaf form. I wanted it to be slightly fancier for the holiday by using a 6 inch round cake pan.
When you think of birthday cake, you often think of a round cake with frosting on top. That's what I wanted to accomplish for Christmas.
What is gingerbread spice?
Gingerbread spice is simply a spice mixture made up of ginger, cinnamon, clove, and nutmeg.
For my easy gingerbread cake recipe, I listed all of the spices separately. However, you can substitute 1 tablespoon gingerbread spice mix in the cake.
Buying A 6 Inch Round Cake Pan
In order to make a 6 inch cake, you need to buy a 6 inch round cake pan. Easy enough, right?
A 6 x 2 inch round cake pan holds about 2 cups of batter. You can buy one online from Amazon (affiliate link) or from your local craft store in the cake decorating aisle.
Although my recipes are mostly for one layer 6 inch cakes, I highly recommend buying two pans. That way you're ready for a 6 inch double layer cake.
And yes, you can double my recipe to make two layers.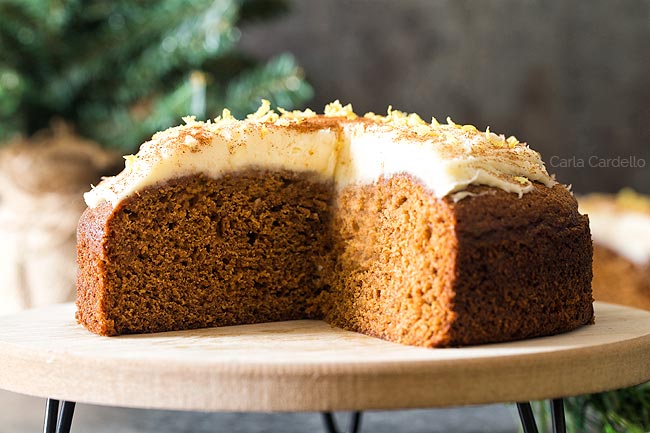 How To Make Gingerbread Cake From Scratch
Like most cake recipes, first you cream together the butter and both sugars. Brown sugar adds a little extra moistness and molasses flavor.
Then you beat in the egg followed by molasses and vanilla.
Next, you want to alternate adding your dry ingredients with the buttermilk. This method is important.
Adding the buttermilk all at once could saturate the batter, causing it to split.
However, adding all of the dry ingredients at once will thicken the batter greatly and will likely overmix, causing a tough cake.
Add the dry ingredients in three additions while adding the buttermilk in two additions, beginning and ending with the dry ingredients.
Transfer your batter to a 6 inch round cake pan and bake until done.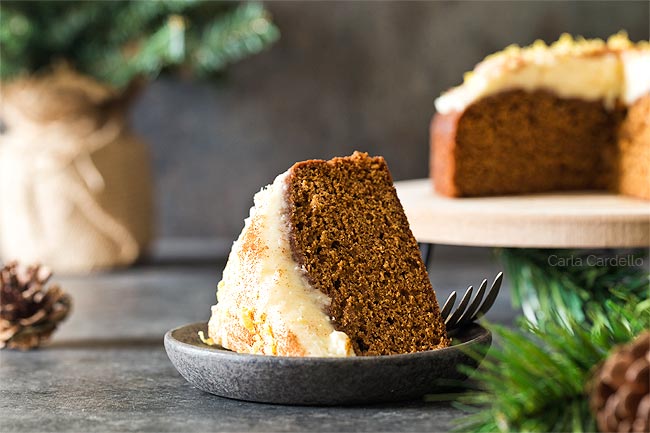 How long do you bake a 6 inch cake?
You bake a 6 inch gingerbread cake at 350F for about 28-32 minutes.
It's important your oven temperature is accurate. Just because your dial says it's 350F degrees doesn't mean it actually is 350F.
I highly recommend investing in an oven thermometer. It's inexpensive and will help prevent you from ruining your cake and wasting ingredients.
To tell if your cake is done, insert a toothpick in the center. If it comes out clean, the cake is ready. A few crumbs are ok, but you definitely don't want wet batter.
How many people does a 6 inch cake feed?
Serving sizes are subjective, especially if you only want a small bite of cake. Generally 6 inch cakes can be sliced into 4-6 slices, making it about 4-6 servings per 6 inch cake.
However, if you slice the cake small enough, you can push for 8 slices, equaling 8 servings.
Ultimately serving size is up to you depending on how small you cut your 6 inch cake.
What can I use instead of buttermilk?
Buttermilk is necessary because its acidity reacts with the baking soda. If you're going to substitute for buttermilk, you need to make sure its replacement is also acidic.
To substitute for buttermilk, use 1/2 cup whole milk plus 2 teaspoons lemon juice or vinegar. Let sit for 5 minutes until it curdles.
What frosting goes well with gingerbread?
I used my small batch cream cheese frosting to pair with gingerbread cake because the tanginess balances the spiciness of the cake.
Want something a little less sweet? You can also top it with my small batch whipped cream.
Don't forget the lemon zest! Lemon always pairs well with gingerbread. You can even use my lemon buttercream frosting.
More Small Cake Recipes
Looking for more small cake recipes? Check out my 6 Inch Cake Recipes guide. Some favorites are:
Equipment You Will Need
6 Inch Gingerbread Cake
Yield: 4-6 servings
Prep Time: 15 minutes
Cook Time: 30 minutes
Total Time: 45 minutes
This small 6 Inch Gingerbread Cake recipe made from scratch without cake mix is a moist and fluffy cake that tastes like Christmas in every bite.
Ingredients
1 cup all-purpose flour
1 teaspoon ground cinnamon
1 teaspoon ground ginger
1/2 teaspoon baking soda
1/2 teaspoon ground nutmeg
1/2 teaspoon ground clove
1/2 teaspoon salt
1/4 teaspoon baking powder
1/4 cup (2 ounce or 4 tablespoons) unsalted butter, softened
1/4 cup packed brown sugar
2 tablespoons granulated sugar
1 egg, room temperature
1/4 cup full-flavor dark molasses (can also use light/mild but do not use blackstrap)
1/2 teaspoon vanilla extract
1/2 cup buttermilk, room temperature (or 1/2 cup whole milk + 2 teaspoons lemon juice or distilled white vinegar)
Lemon zest, for garnish
To Decorate Cake (Pick One):
Instructions
Preheat oven to 350F. Lightly grease one 6-inch round cake pan then line the bottom with parchment paper.
In a large bowl, sift the flour then stir in the cinnamon, ginger, baking soda, nutmeg, clove, salt, and baking powder.
In a large mixing bowl on medium speed, beat together the butter, brown sugar, and sugar until creamy and smooth, about 1 minute.
Scrape down the bowl then beat in the egg on low speed.
Scrape down the bowl again then beat in molasses and vanilla. It's ok if it looks slightly curdled.
Add the flour mixture alternately with the buttermilk, adding the flour in 3 additions and the milk in 2 additions (begin and end with dry ingredients).
Transfer the batter to the pan. Bake 28-32 minutes or until a toothpick inserted in the middle comes out clean (few crumbs are ok but no wet batter).
Cool for about 15 minutes, run a knife along the edge of the pan to loosen, and invert onto a cooling rack. Cool right-side-up.
Top with Small Batch Cream Cheese Frosting or Whipped Cream and lemon zest. To store frosted cake, refrigerate in an airtight container. Let sit at room temperature for 15-30 minutes before serving.
Recommended Products
As an Amazon Associate and member of other affiliate programs, I earn from qualifying purchases.
This post may contain affiliate links. As an Amazon Associate and member of other affiliate programs, I earn from qualifying purchase.