This Small Coffee Cake recipe without sour cream is light and fluffy with fresh blueberries and a buttery streusel crumble topping. Serve as a breakfast for two with your morning coffee.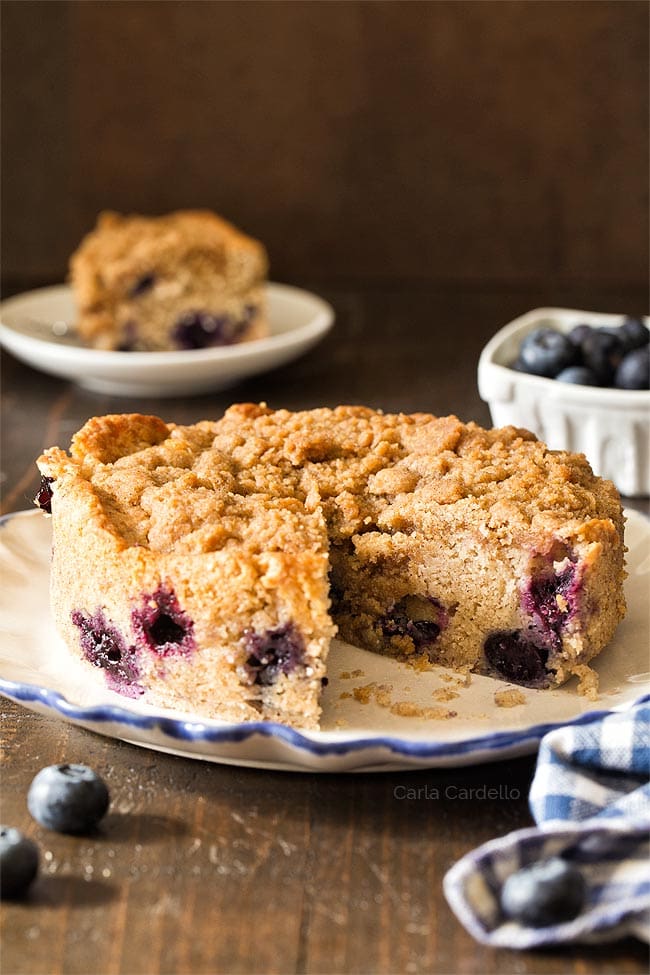 Disclosure: This post is sponsored by B&G Foods. Thank you for supporting me and the companies I work with as sponsored posts help pay for website hosting and groceries.
Do you eat cake for breakfast?
I think whoever invented coffee cake named it so you could eat it for breakfast.
Since I'm known for my 6 inch cakes, I knew I had to make a Small Coffee Cake recipe for you.
It's a light and fluffy cinnamon cake with blueberries and a buttery streusel crumble topping.
Although there's no actual coffee in coffee cake, it got its name from serving alongside coffee. Hence, perfect for both breakfast and dessert.
And with Thanksgiving Dinner For Two and Christmas For Two coming up, this 6 inch coffee cake recipe is the perfect size for your holiday meal, whether you serve it to start your morning or end your meal with dessert.
There is always room for dessert when small cakes are involved.
I made this coffee cake recipe without sour cream because I hate buying a container for only a few tablespoons. One downfall to small batch baking.
Don't worry though – this blueberry coffee cake is still plenty moist without it thanks to the milk! The key is to use whole milk (fat = moist), to not overmix your batter, and to not overbake your cake.
The burst of blueberries adds a pop of color and sweetness to your small coffee cake recipe. If blueberries aren't your thing, you can easily swap for another fruit or even chocolate chips.
Time to grab your 6 inch pan and start baking!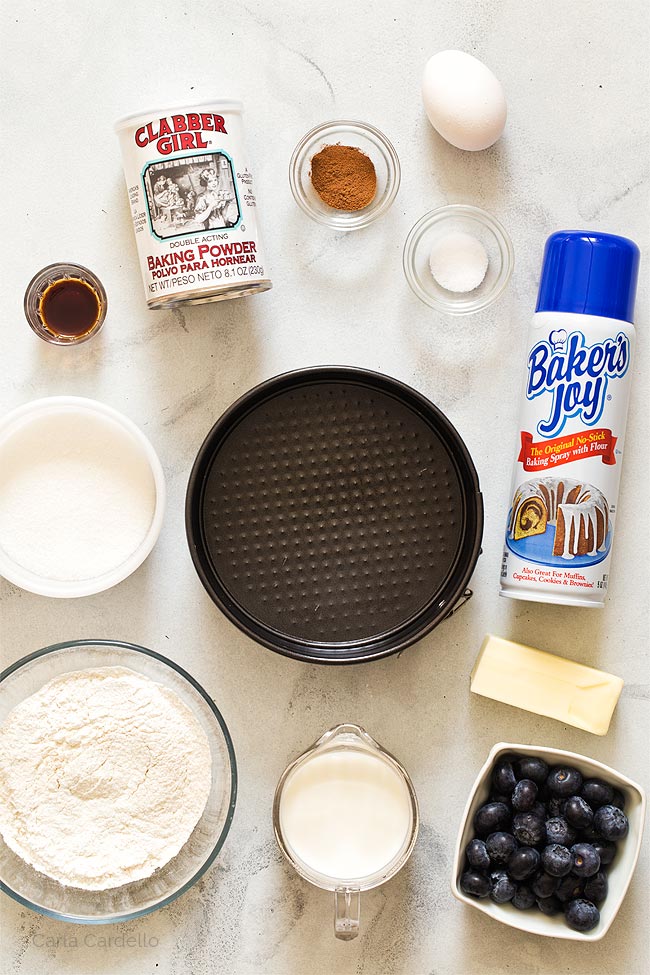 What pan do I need for a small coffee cake?
I highly recommend a 6×2 inch springform pan (Amazon affiliate link) for my small coffee cake recipe because the crumb topping is delicate.
It's the best way to remove the coffee cake from the pan without ruining the streusel on top.
However, you can also use a 6×2 round cake pan, although you may lose some of the streusel on top when you invert it.
Just put the crumbs back on top and nobody will notice.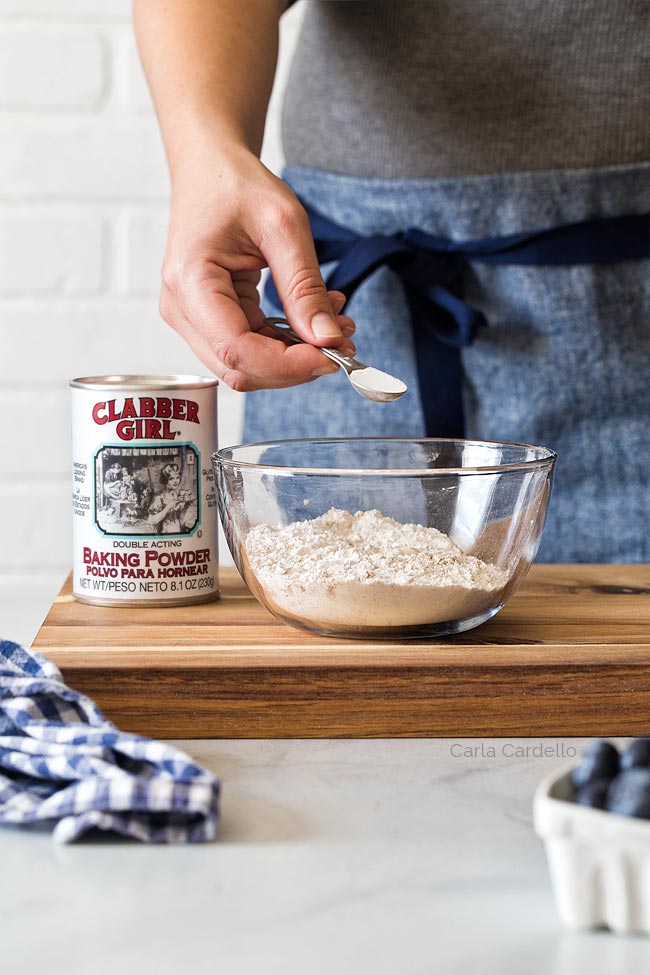 Ingredients For Small Coffee Cake
One important ingredient when baking is the leavening. This is what makes the cake rise with a soft, lightened texture.
For my small coffee cake recipe, I used Clabber Girl® Baking Powder, the number 1 baking powder brand in America. It's been beloved and trusted by bakers since 1850!
I chose baking powder instead of baking soda because there are no acidic ingredients; therefore, baking soda wouldn't react and give the proper rise as baking powder would.
Nothing is sadder than a flat cake that didn't rise.
Make sure you double check the expiration date on the bottom of your can and use within 6 months of opening. Otherwise, it may lose its leavening power.
I also used Baker's Joy Non-Stick Baking Spray with flour to ensure my coffee cake didn't stick to my pan.
This is especially useful if you're inverting a round cake pan. You don't want your cake ripping off when you flip it upside down!
Find both Clabber Girl® Baking Powder and Baker's Joy Non-Stick Baking Spray in your local baking aisle.
How To Make Small Coffee Cake Recipe
Like most 6 inch cake recipes, first you beat together the butter and sugar. Then you beat in the egg and vanilla.
During my first round of testing, I used 4 tablespoons butter and 3/4 cup flour. It ended up being thinner than I'd like with a domed top.
I increased the butter to 6 tablespoons and left the flour as is. The extra liquid increased the batter amount and balanced out the flour, leaving it thick with a flat top. Much better!
Next, you want to alternate adding your dry ingredients with the milk. This method is important.
Adding all of the milk at once could cause the batter to split from oversaturation.
However, adding all of the dry ingredients at once will thicken the batter greatly and will likely overmix, causing a tough cake.
Add the flour mixture in three additions while adding the milk in two additions, beginning and ending with the dry ingredients.
In order to not accidentally overmix your batter, switch to a rubber spatula and stir in your blueberries.
Transfer your batter to a 6 inch springform pan and cover with (cold) streusel. Bake at 350F for about 45 minutes or until a toothpick inserted in the center comes out clean.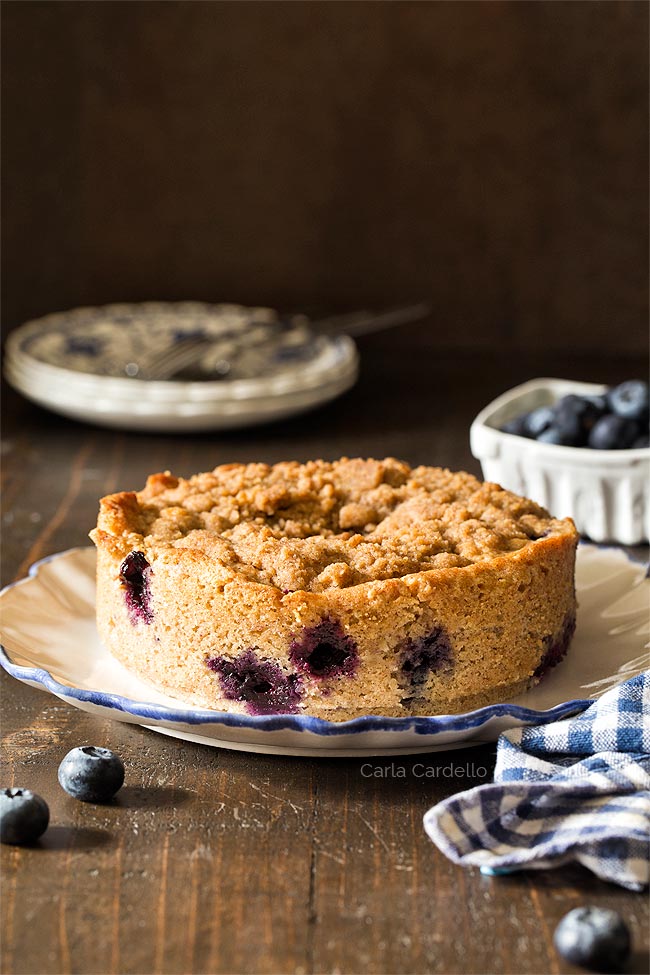 How To Make Streusel For Coffee Cake
No small coffee cake recipe is complete without streusel on top!
Streusel is the crumb topping you often find on most coffee cakes. It's made of butter, sugar, flour, cinnamon, and salt.
You cut the butter into the dry ingredients until small pebbles form then you sprinkle on top of your cake batter.
The key to a great streusel is keeping the butter cold. That way it takes longer to melt, leaving the crunchy pieces intact.
Make the streusel first then refrigerate it while you make the cake batter.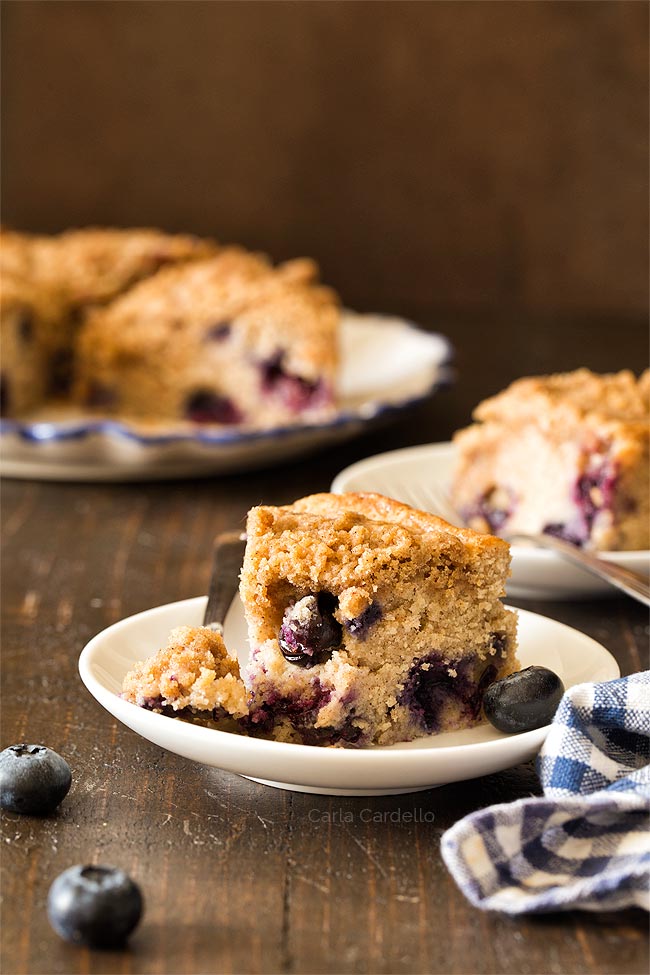 Can I substitute the blueberries?
Yes, of course! I chose blueberry for their color and popularity, but you can use other fruits as well – raspberries, strawberries, apples, even cranberries.
Don't want fruit? Stir in chocolate chips, nuts, or both!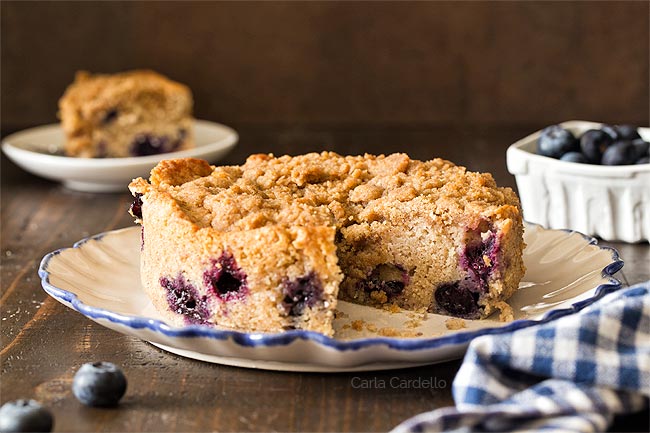 How To Store Blueberry Coffee Cake
Store your blueberry coffee cake in an airtight container at room temperature for up to 2 days.
If you're storing it longer than this, store in your refrigerator because the blueberries are susceptible to mold.
Let the cold cake sit at room temperature for 15-30 minutes before serving.
More Small Cake Recipes

Looking for more small cake recipes? Check out my full list of 6 inch Cake Recipes. Some favorites are: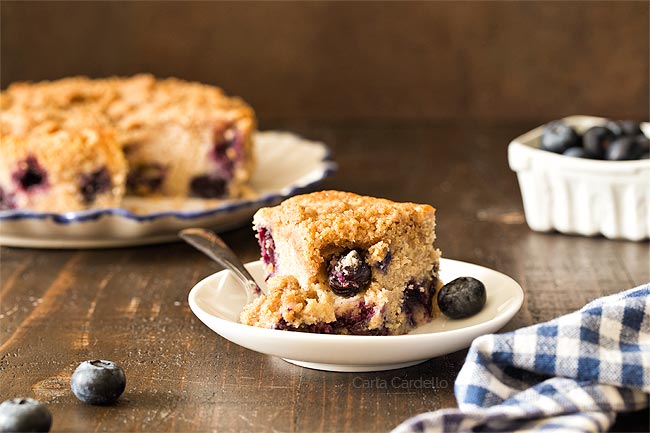 Enjoyed this small coffee cake recipe? Make sure you visit Baking At Home to explore hundreds of recipes, tips, and tricks to help you discover your true kitchen potential.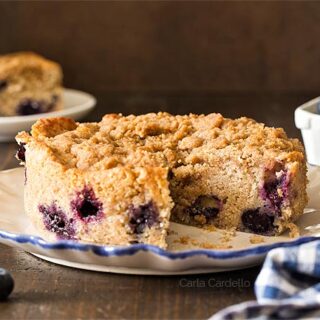 Small Coffee Cake Recipe
Total Time:
1 hour
15 minutes
This Small Coffee Cake recipe without sour cream is light and fluffy with fresh blueberries and a buttery streusel crumble topping. Serve as a sweet breakfast for two.
Ingredients
3/4 cup all-purpose flour
1 teaspoon ground cinnamon
1/2 teaspoon Clabber Girl® baking powder
1/2 teaspoon salt
6 tablespoons unsalted butter, softened
1/2 cup granulated sugar
1 egg, room temperature
1 teaspoon vanilla extract
1/4 cup whole milk (do not substitute low fat or fat free or your cake will be dry)
1/2 cup blueberries (can also use another fruit, chocolate chips, or nuts)
Streusel
1/4 cup packed brown sugar
1/4 cup all-purpose flour
1/2 teaspoon ground cinnamon
1/8 teaspoon salt
2 tablespoons unsalted butter, cold
Instructions
Preheat oven to 350F. Lightly grease one 6x2-inch springform pan or round cake pan with Baker's Joy Non-Stick Baking Spray then line the bottom with parchment paper.

If using a springform pan, wrap the outside bottom of the pan with foil to help prevent leaking.
Make the streusel: In a small bowl, add the brown sugar, flour, cinnamon, and salt. Cut in the cold butter with a pastry cutter until the mixture is combined and crumbly. Refrigerate while you make the batter.
In a medium bowl, sift the flour then stir in the cinnamon, baking powder, and salt.
In a large mixing bowl on medium speed (using a paddle attachment if using a stand mixer), beat together the butter and sugar until light and creamy, about 1 minute.
Beat in the egg and vanilla extract.
Turn the speed down to low and add the flour mixture alternately with the milk, adding the flour in 3 additions and the milk in 2 additions (begin and
end with dry ingredients).
Switch to a rubber spatula and stir in the blueberries by hand, making sure all the flour is moistened without overmixing.
Transfer the batter to the pan then top with cold streusel. Bake 40-45 minutes or until a toothpick inserted in the center comes out clean. Cool for 15 minutes then remove from the pan. Cool completely before serving.
Recommended Products
As an Amazon Associate and member of other affiliate programs, I earn from qualifying purchases.