Need the best lemon frosting recipe for your small cake? This small batch Lemon Buttercream Frosting makes enough to frost a small cake or 6 cupcakes.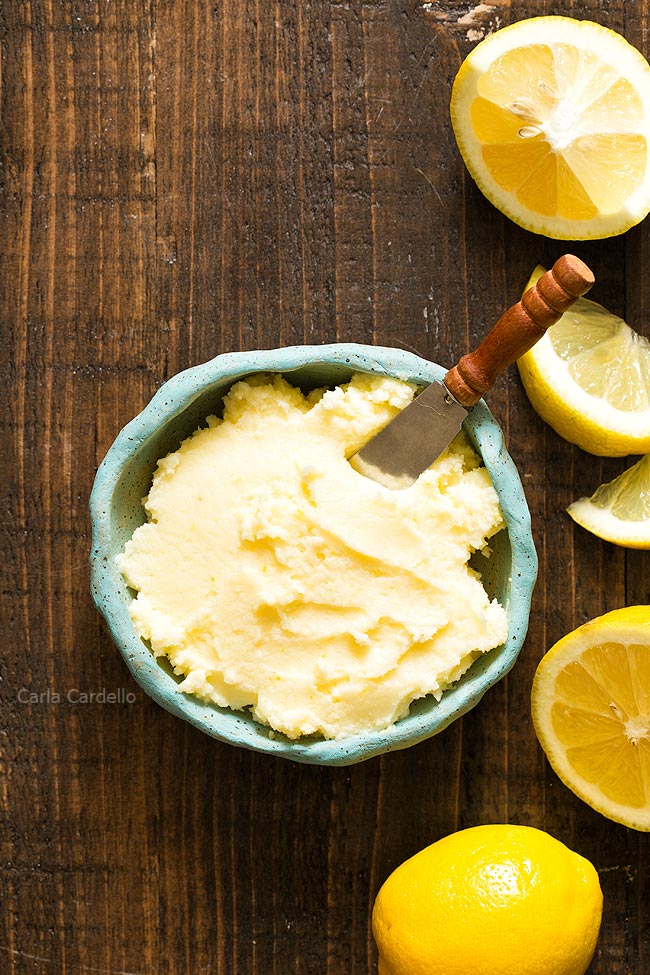 Spring is finally in the air in Pittsburgh! Downtown planted daffodils in their planters recently, birds are singing, and sunset is getting later each evening.
When I think of spring, I think of lemon. Why? I…don't know.
I guess because I consider lemon a bright and airy flavor, much like spring when it's sunny outside. Does anybody else feel this way?
As the weather got warmer, I knew I wanted to bake a small lemon cake recipe and lemon raspberry cake.
I'm posting my small batch Lemon Buttercream Frosting separately because my homemade frosting recipes are usually overshadowed by the cake.
What makes my lemon buttercream frosting special? You make only what you need.
People make fun when I say I don't want leftover frosting, but I specialize in small cake recipes.
I got tired of storing leftover frosting in my fridge, letting it sit there for 2+ weeks, then throwing it out because I never baked another cake.
All that butter and powdered sugar wasted.
That's why I set out to make a small batch of lemon buttercream frosting. Just the right amount of frosting for small cakes and cupcakes without having to throw it away.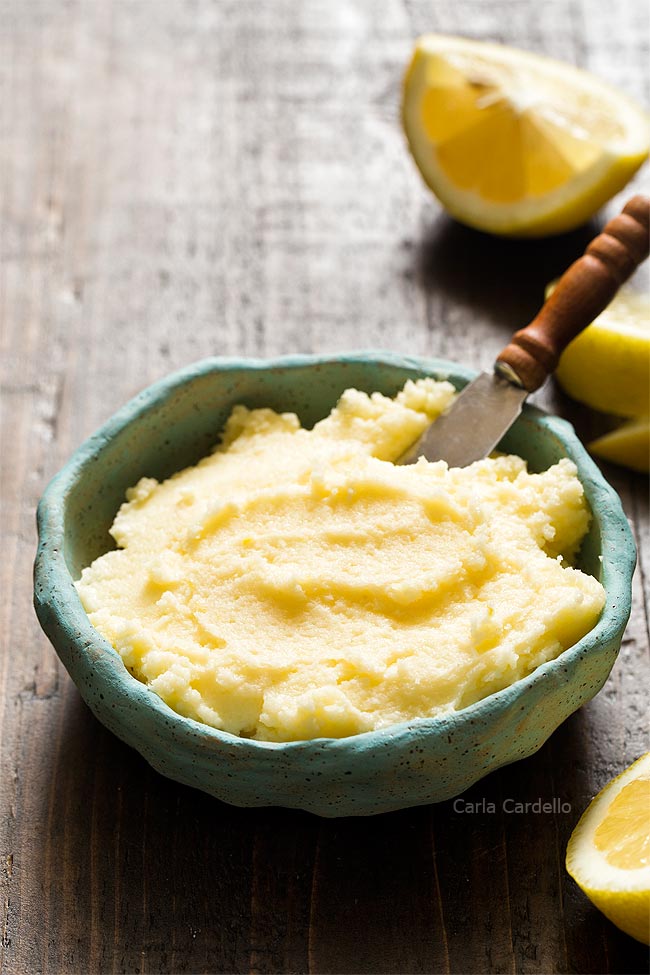 What is buttercream?
Buttercream is frosting made by beating together butter and powdered sugar until smooth and spreadable.
From there you can add different flavors, depending on your dessert.
For lemon frosting recipe, you add both lemon zest and lemon juice. No need for lemon extract!
How To Make Lemon Buttercream Frosting
To make lemon frosting from scratch, I highly recommend using an electric mixer to beat together the ingredients rather than beating by hand.
Using a mixer makes it super smooth and adds air, which is key for making a fluffy frosting.
I personally use a 5 quart stand mixer. However, you can also use a hand mixer.
First, start with room temperature butter.
If the butter is too cold, the frosting won't be smooth and may result in a lumpy frosting. If the butter is too warm, the frosting will become too soft to set up.
Since I always use unsalted butter, I add a pinch of salt to my frostings. It helps amplify the other flavors. If you're using salted butter, you can skip this part.
Next, beat together the butter, sugar, and lemon zest until smooth and creamy, roughly 1-2 minutes depending on how powerful your mixer is. You may also want to scrape down the bowl as needed.
I like to sift my powdered sugar before beating so it's not all clumpy. That also helps with making a smooth frosting.
After the frosting is light and fluffy, add your lemon juice and vanilla for flavor.
Can I add lemon extract to buttercream frosting?
Most people don't have lemon extract, so I didn't use it. However, if you do have some in your pantry you can use it in place of both the vanilla extract and lemon juice.
Add the lemon extract in 1/4 teaspoon increments until it tastes lemony enough for you.
Then substitute milk for the lemon juice so it becomes spreadable.
Can I mix lemon curd with buttercream frosting?
Adding lemon curd to frosting is similar to making my strawberry cream cheese frosting, strawberry buttercreamraspberry cream cheese frosting.
Add 1 tablespoon lemon curd instead of the lemon juice then adjust to your liking.
Can I use bottled lemon juice for buttercream frosting?
Although fresh lemon juice is always better, you can certainly use bottled lemon juice for lemon buttercream.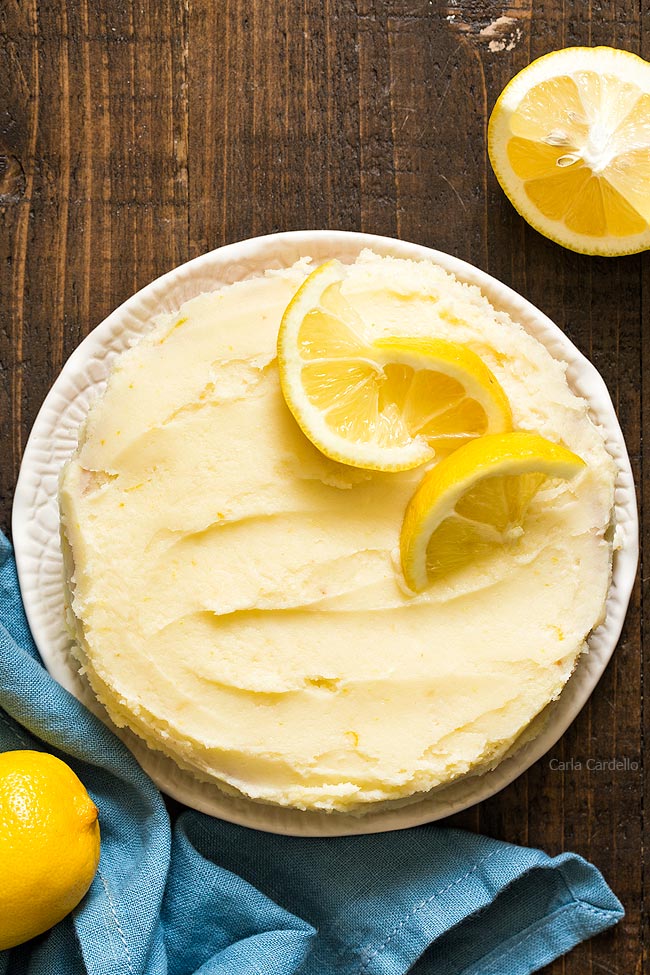 How do you fix runny frosting?
At this point, you need to decide if your frosting is the right consistency. This depends on whether you're spreading or piping and how the weather is in your area.
If your frosting is too runny, add more powdered sugar. If your frosting is too thick, add a few drops of milk.
Sometimes if your frosting is the right thickness but too warm to pipe, the refrigerator is your friend! Chill the frosting in 15 minute increments until firm enough to pipe.
How much frosting does small batch lemon buttercream make?
The yield for this lemon buttercream frosting recipe will vary depending on your dessert:
For cupcakes: You can pipe between 6-8 cupcakes. If you use an offset spatula, you can frost up to 1 dozen.
For one layer 6 inch and 8 inch cakes: You can completely frost the outside without leftovers.
For two layer 6 inch and 8 inch cakes: You can frost the middle and top. Frosting the edges will depend on how much you've used so far. You can always leave it as a naked cake with the edges showing.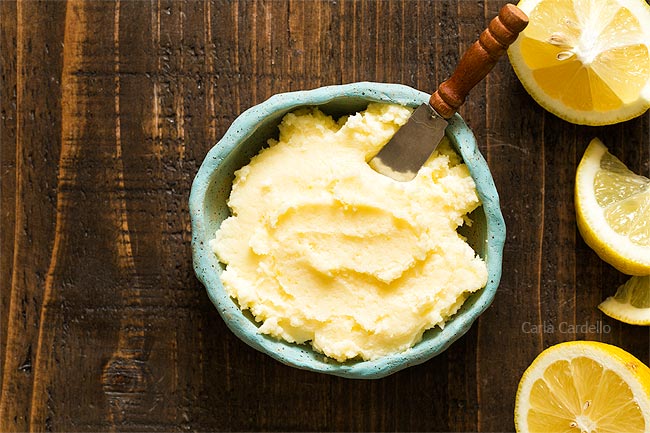 Can buttercream be made in advance?
Yes, you can make lemon buttercream frosting in advance! Store it in an airtight container in the refrigerator for up to 3 days.
You will need to bring your frosting to room temperature if it's too hard to spread.
Do I have to refrigerate a cake with buttercream frosting?
No, you don't need to refrigerate lemon buttercream frosting. Because it uses a good amount of powdered sugar, it's safe to leave out at room temperature for 2-3 days.
That means you can leave a small cake covered in buttercream frosting out at room temperature overnight for up to 2 days.
After that, store your cake in your refrigerator.
However, buttercream frosting does tend to melt if it's too warm because of the butter's melting point. In the winter I can leave my cake out, but in the summer I refrigerate my cakes.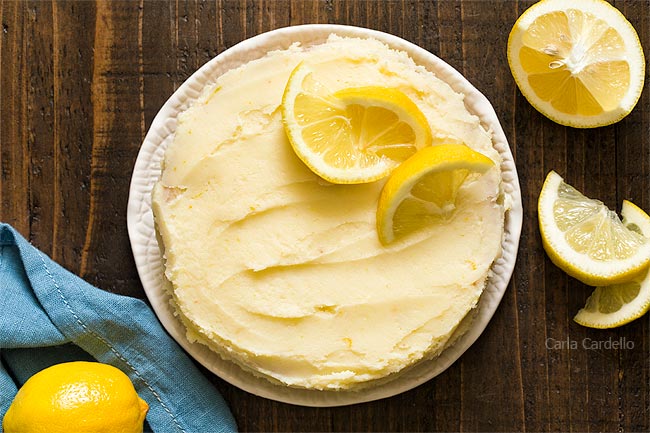 How to refrigerate a cake with buttercream frosting
To refrigerate a cake with buttercream frosting, first put it in the fridge uncovered for about 15 minutes. This will harden the frosting so it won't smear if accidentally touched.
Next, cover the cake so it doesn't dry out in the refrigerator.
You can either loosely wrap with plastic wrap (use toothpicks if you don't want it touching the frosting) or store in an airtight cake container (affiliate link).
I highly recommend using a cake container because it won't actually touch your cake and you can store other items on top in the fridge.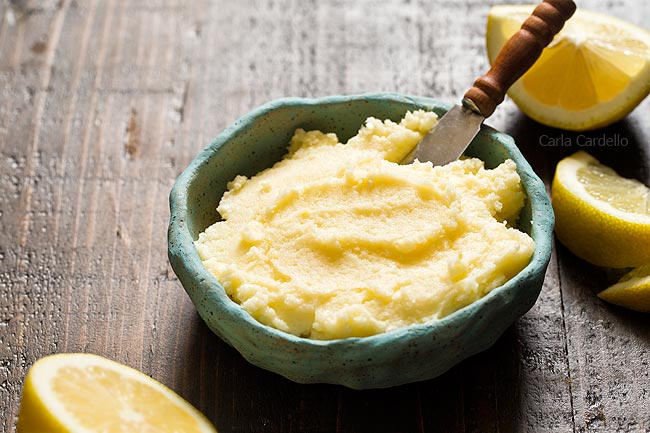 Small Cake Recipes For Your Lemon Buttercream Frosting
As much fun as it is to eat frosting with a spoon, chances are you need small cake recipes too. That's why I wrote my 6 Inch Cake Recipes and Small Batch Cupcake Recipes guides.
Pair your lemon buttercream with small vanilla cake and small strawberry cake.
You can also pair them with cupcakes including lemon cupcakes and small batch vanilla cupcakes.
More Small Batch Frosting Recipes

Enjoyed this lemon buttercream recipe? Here are more small batch frosting recipes you can make: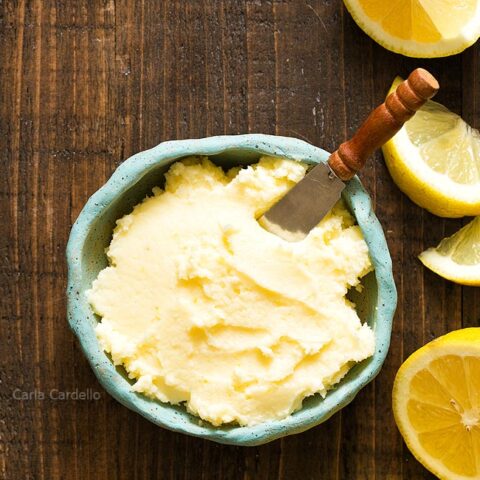 Lemon Buttercream Frosting (Small Batch)
Need the best lemon frosting recipe? This small batch Lemon Buttercream Frosting makes enough to frost a small cake or 6 cupcakes.
Ingredients
1 cup powdered sugar, sifted
1/2 cup (4 ounces or 8 tablespoons) unsalted butter, softened
1 teaspoon lemon zest
Pinch of salt
1 tablespoon lemon juice
1/4 teaspoon vanilla extract
For Serving
Instructions
In a large mixing bowl (with the paddle attachment if using a stand mixer), beat together the sugar, butter, lemon zest, and salt until smooth and creamy, about 1-2 minutes.
Scrape the bowl down with a rubber spatula. Add the lemon juice and vanilla. Beat for another 1-2 minutes or until light and fluffy.

If the frosting is too thick, add some more lemon juice or milk. If the frosting is too thin, add a little more sugar.
Decorate cake as desired or refrigerate in an airtight container for up to 2 days.
Recommended Products
As an Amazon Associate and member of other affiliate programs, I earn from qualifying purchases.