Cherry Vanilla Cake
This Small Cherry Vanilla Cake recipe with a cherry filling is a 2 layer 6 inch cake perfect for any occasion. Made from scratch without cake mix.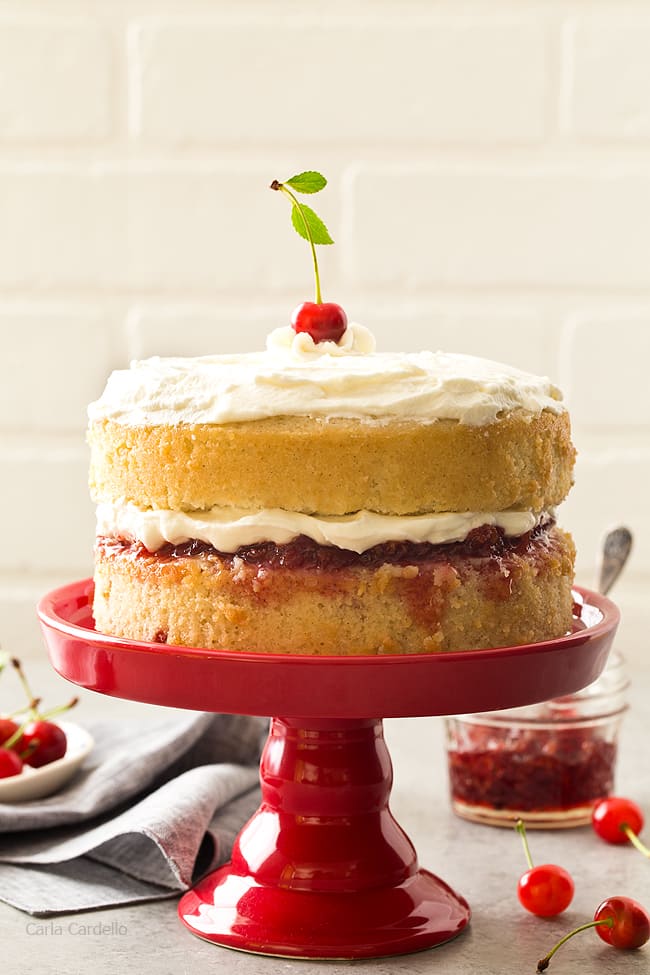 Remember the
sour cherry jam
I posted?
It's making another appearance as a cake filling for this Cherry Vanilla Cake recipe.
It's a 6 inch vanilla cake recipe baked into 2 layers then filled with cherry jam and topped with homemade whipped cream.
Of course you can use any flavor you'd like for the filling. I was particularly fond of cherry when I made it.
Ok truth is I wanted to make this small vanilla cake because I wanted to use the red cake stand I bought. Sometimes I buy really cool props but then never use them, so I had to find an excuse #foodstylingproblems
I also picked a giant bucket of sour cherries. I first started picking cherries about 5 years ago when I lived in cow country.
I spent 4 years in the middle of nowhere for a job, so I had to find ways to keep me busy on the weekends.
When I moved back to Pittsburgh, I found a farm about 30 minutes away to continue the tradition.
To come up with this easy cherry vanilla cake, I worked backwards. I knew in order to match my cake stand, the filling had to be red. Hence the cherries.
Then I started thinking about cake flavors that pair with cherry. I already had a recipe for small chocolate cake and small yellow cake, so vanilla bean came to mind.
It's like my Small Vanilla Cake recipe except I doubled it and filled it with cherry jam.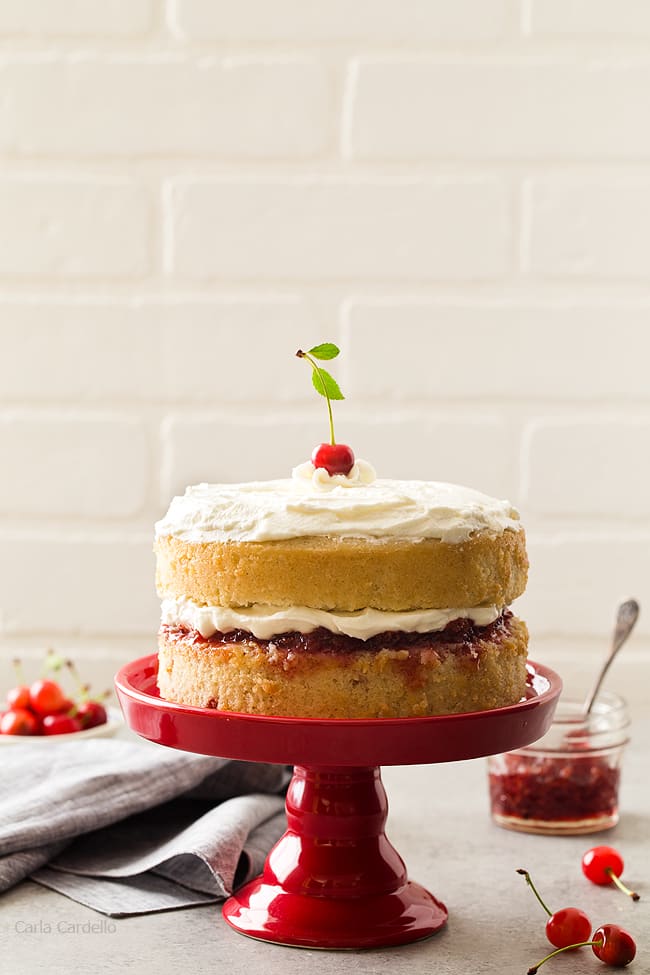 Buying A 6 Inch Round Cake Pan
In order to make this 6 inch vanilla cake recipe, you need to buy a 6 inch round cake pan. Easy enough, right?
A 6 x 2 inch round cake pan holds about 2 cups of batter. You can buy one online from Amazon (affiliate link) or from your local craft store in the cake decorating aisle.
Because you're making a small layer cake, you'll need to buy two pans. Trust me – it'll come in handy when you start baking all my 6 inch cake recipes including my lemon raspberry cake (which is also two layers).
Don't have 6 inch pans? Check out my Small Batch Vanilla Cupcakes.
How To Make a Small Vanilla Cake From Scratch
To make a small vanilla cake without cake mix, first sift together your flour and cornstarch then stir in your baking powder and salt.
Next, cream together your butter and sugar until smooth.
Then beat in your egg whites (one at a time) and vanilla.
To finish the cake batter, add the dry ingredients alternately with the whole milk, adding the flour in 3 additions and the milk in 2 additions (begin and end with dry ingredients).
Divide the batter between two 6 inch round cake pans then bake at 350F for 25-30 minutes or until a toothpick inserted in the center comes out with a few crumbs (but not wet batter).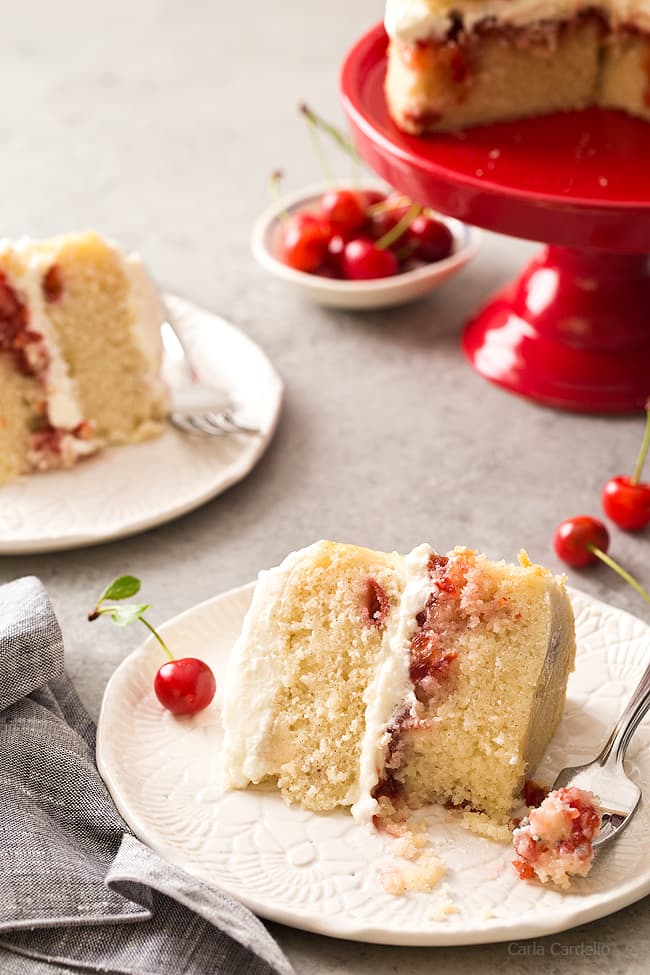 Do I need to beat the egg whites separately?
No, you do not need to beat the egg whites separately. You add them like you would with a whole egg.
There's no need to worry about whipping to soft peaks or folding them into the batter, making this vanilla cake recipe extra easy!
And since you'll have leftover egg yolks, check out my guide on What To Do With Leftover Egg Yolks.
Do I have to use whole milk?
I highly recommend using whole milk because the fat helps keep the cake tender and moist.
If you're stuck at home with 2% milk, the recipe will still work. Just note it may not be as moist as it should be.
Can I use cake flour?
Because most bakers don't use cake flour, I used a combination of all-purpose flour and cornstarch for a tender crumb.
However if you do have cake flour, omit the cornstarch and use 2 cups cake flour.
How do I make a one layer vanilla cake?
If you only want to make one 6 inch cake, cut the recipe in half. Luckily the ingredients halve easily!
How many will a 6 inch cake feed?
Serving sizes are subjective, especially if you only want a small bite of cake. Generally 6 inch cakes can be sliced into 4-6 slices, making it about 4-6 servings per 6 inch cake.
Since this is a layer cake, you can probably push for 8 slices, equaling 8 servings.
Ultimately serving size is up to you depending on how you cut your small cake.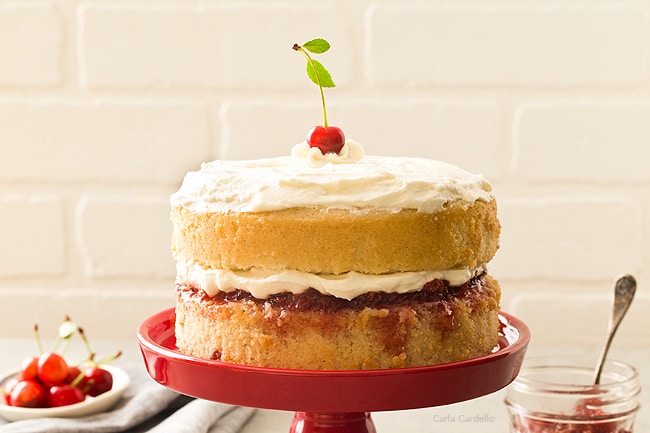 How To Make Filling For 6 Inch Layer Cake
For the filling, I used small batch cherry jam. If you're like me and want to pick sour cherries in your area, start looking early. The season used to be early July, but each year it gets earlier and earlier due to the weather. And they say global warming doesn't exist…
If it's not fresh cherry season or you don't like cherry, you can use strawberry jam without pectin, raspberry jam without pectin, or blueberry jam without pectin.
Strawberry curd and peach curd also make a delicious filling.
You can also buy jam from the store if you want to save time.
How To Frost A Small Vanilla Cake
A light frosting seemed fitting for this cake, so I opted for homemade whipped cream.
Because whipped cream tends to weep (gets liquidy and no longer holds its shape), I added a bit of gelatin to stabilize it.
If you're serving the cake right away with no plans for leftovers, you can skip the gelatin. However, if the assembled cake will be around longer than 24 hours, I highly recommend adding the gelatin.
You can also use small batch buttercream frosting, Lemon Buttercream Frosting, small batch cream cheese frosting, strawberry cream cheese frosting, raspberry cream cheese frosting, or strawberry buttercream.
Check out my Small Batch Frosting Recipes post for a full list.
How To Freeze A Vanilla Cake
Although a small vanilla cake only makes a few slices, sometimes you want to bake it ahead of time then freeze for freshness.
To freeze a whole cake, first make sure the cake is completely cooled.
If your cake is already frosted, place it on a baking tray or plate lined with parchment paper or plastic wrap then freeze uncovered for 1 hour or until firm. This will prevent the plastic wrap from sticking to your frosting and ruining it.
Next, wrap the cake in plastic wrap then stick in a freeze-safe plastic bag. Squeeze out as much air as possible.
Write the date on your plastic bag then freeze for up to 3 months.
How To Thaw A Vanilla Cake
When you're ready to serve your small vanilla cake recipe, place it in the refrigerator overnight to thaw. Then let it sit at room temperature for 15-30 minutes before serving so it's not cold.
It's harder to taste the flavors if you eat the cake straight from the fridge without warming up first.
Need a gluten free cake? Check out Gluten Free Vanilla Cake from Meaningful Eats.
Small Vanilla Cake Recipe
Yield: 4-6 servings
Prep Time: 1 hour
Cook Time: 30 minutes
Total Time: 1 hour 30 minutes
This Small Vanilla Cake recipe with a cherry filling is a 2 layer 6 inch cake perfect for any occasion. Made from scratch without cake mix.
Ingredients
1 3/4 cup all-purpose flour (when measuring, spoon the flour into the measuring cup and level it off)*
1/4 cup cornstarch
2 teaspoons baking powder
1 teaspoon salt
1/2 cup (8 tablespoons or 4 ounces) unsalted butter, softened
1 1/2 cups granulated sugar
4 egg whites, room temperature
2 teaspoons vanilla bean paste, seeds from 1 vanilla bean, or 2 teaspoons vanilla extract
1 cup whole milk, room temperature
1 cup cherry jam, strawberry jam, or blueberry jam
2 teaspoons cold water
1/2 teaspoon unflavored powdered gelatin
Double batch of Small Batch Whipped Cream
Other Frosting Choices
Instructions
Preheat oven to 350F. Grease two 6-inch wide x 2-inch deep round cake pans and line the bottoms with parchment paper.
In a large bowl, sift together the flour and cornstarch then stir in the baking powder and salt.
In another large bowl with a mixer on medium speed (using paddle attachment for stand mixer), beat together the butter and sugar until light and creamy, about 1-2 minutes.
Scrape down the bowl then beat in the egg whites, one at a time, for 1 minute each, then add the vanilla.
Turn the speed down to low then add the flour mixture alternating with the milk, adding the flour in 3 additions and the milk in 2 additions (begin and end with dry ingredients).
Divide the batter between the two cake pans and bake 30-35 minutes or until the tops are brown and a toothpick inserted in the center comes out clean. Cool for 15 minutes then invert cakes onto cooling racks. Cool completely.
Right before assembling: In a small bowl, add the water. Sprinkle gelatin over top and let sit 5 minutes. Once set, microwave for 10 seconds or until gelatin turns to liquid.
Make a double batch of Homemade Whipped Cream (get directions here), adding the liquid gelatin when you add the sugar.
If the cakes are not flat, trim the tops. Place one cake on a stand or plate. Spread jam on top. Spread half of the whipped cream on top. Top with the remaining cake. Add the remaining whipped cream.
Store the cake covered in the refrigerator. For best results, let the cake sit at room temperature for 30 minutes before serving.
Recommended Products
As an Amazon Associate and member of other affiliate programs, I earn from qualifying purchases.
This post may contain affiliate links. As an Amazon Associate and member of other affiliate programs, I earn from qualifying purchase.