Small 6 Inch Funfetti Cake
Need a birthday cake to celebrate? This Small 6 Inch Funfetti Cake for two with buttercream frosting and sprinkles helps make life a little sweeter. Recipe made from scratch without cake mix.
Last Saturday marked my 12 (!) year blog anniversary. It also marked my cat's third birthday. Guess which one was celebrated more? Hint – not me.
12 years. So much has changed since I first started. I don't think I was even on social media for the blog back then.
Even in the past year or so, I've gone in a different direction. You may (or not) have noticed lately I've been focusing more on recipe information and education than story telling.
Truth is I'm not a good story teller. I don't have any heartwarming memories of cooking with my grandparents because they passed away when I was young.
My parents aren't good cooks, so I taught myself everything. In fact I teach them more than they teach me.
My current life is kinda boring. It's just me and my ridiculous (and adorable) cat J who doesn't know how to cat. I also call him Drama Llama because it's always something new with him.
And when I do have a story to tell, it's 0 percent related to the recipe. Then I struggle trying to connect the two:
"This weekend I went to Kennywood for season pass holder day. It was so cold, I couldn't feel my fingers so I Ieft. Enjoy this cake recipe!"
I get maybe I'm compromising on personality, but it's so much easier for me to write a 1,000 word essay on how to make frosting than to tell you about my day.
But maybe I'm not compromising on who I am. I don't have a big personality. I'm an introvert who has trouble connecting to large crowds. I'm that girl everyone forgets because I don't like to stick out.
I don't want to be on camera. I try to push myself to do on-camera Instagram stories so you can see my face, but it's definitely out of my comfort zone.
I actually have a lot of emotion about this, but I'm not ready to share that, if ever. Which is another mark against me – you're supposed to overshare in blogging, yet I want to keep stuff private.
I want to post pretty photos about recipes and tell you how to make them, not tell you about how lonely some nights get or how I don't know how to write a 5 year plan because I don't know where I want to be in 5 years.
And before I finally get to the recipe, I want to say thank you. I feel like I never say it enough.
You have such a huge impact on my life. With every click, like, and comment, you help me out in a big way. I wouldn't be here if you weren't making my recipes.
So yea, here I am 12 years into blogging and figured the best way to celebrate is with cake and sprinkles. And when you think cake and sprinkles, you think about this Small 6 Inch Funfetti Cake.
I grew up with the box mix, so naturally I had to make it from scratch without cake mix.
Whether you're celebrating an occasion or having a really rough week and need some cake to cheer you up, this Small 6 Inch Funfetti Cake is the perfect size for two people.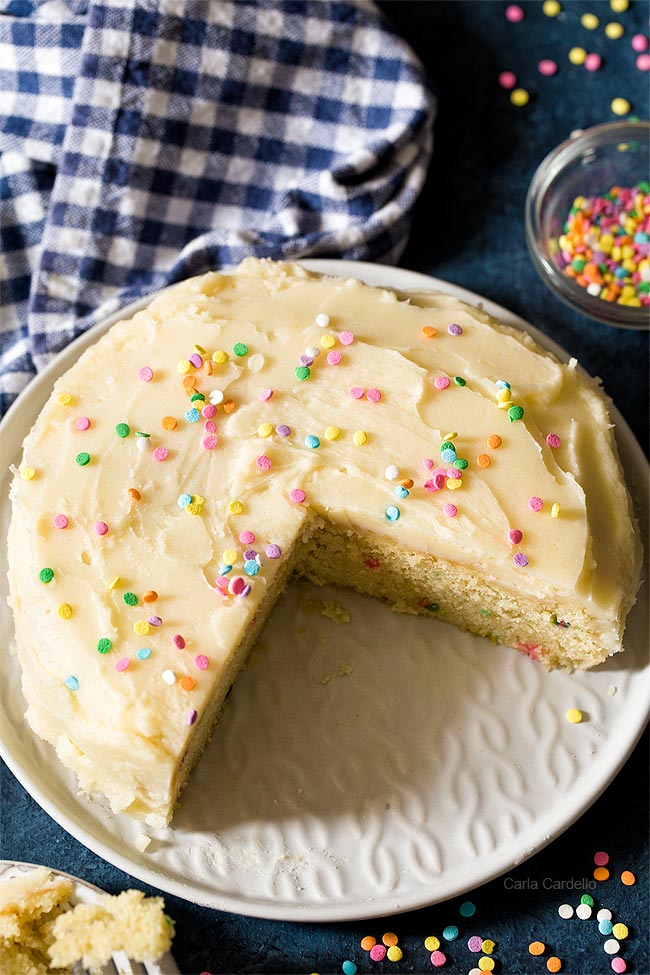 What is funfetti cake?
Let's talk about what funfetti cake is. Sometimes called confetti cake, it's a small vanilla cake with sprinkles stirred into the cake batter and tastes like butter and vanilla.
Sometimes a funfetti cake is a white cake with sprinkles. Sometimes it's a yellow cake with sprinkles. It really depends on what you want to eat.
A white cake is made with all egg whites. Some recipes even use a mixture of butter and shortening because using all butter can tint the batter yellow.
A yellow cake is made with whole eggs and all butter. I prefer yellow funfetti cake because of the richness the yolks add compared to white cake.
This recipe is adapted from my Small 6 Inch Yellow Cake. I added more vanilla flavor and adjusted the leavenings since I was using whole milk and not buttermilk (which contains acid to react with baking soda).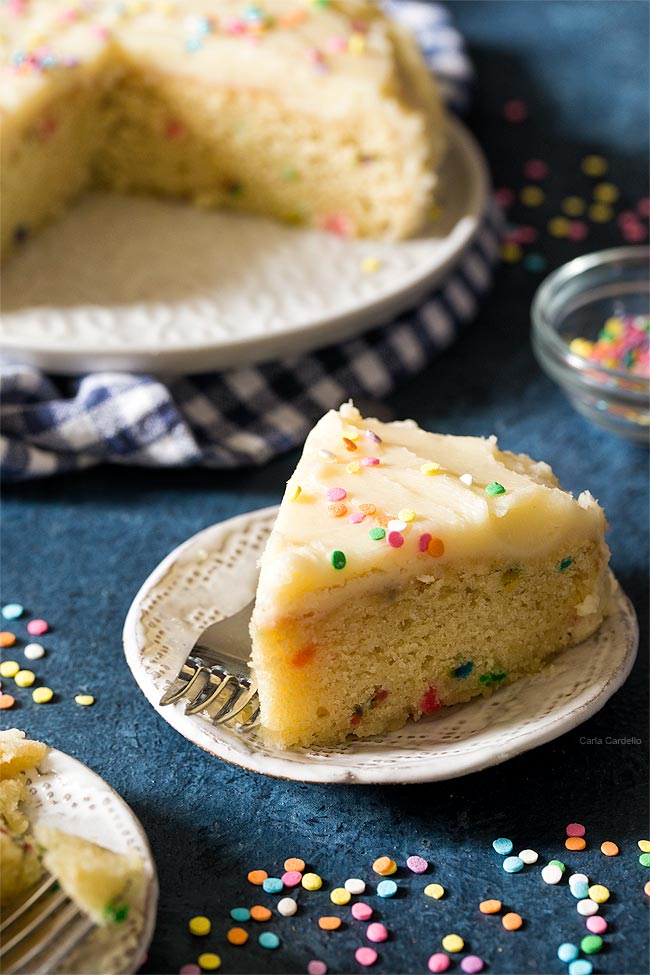 How to make funfetti cake from scratch
In order to make a 6 inch cake, you need to buy a 6 x 2 inch round cake pan. Easy enough, right? You can buy one online from Amazon (affiliate link) or from your local craft store in the cake decorating aisle.
First, cream together the butter and sugar. Then add the egg and vanilla, then gradually add your dry ingredients and sprinkles.
I love using confetti sprinkles, but you can use what you have on hand EXCEPT nonpareils. Nonpareils are so tiny, they'll melt and bleed into an ugly mess.
Transfer the batter to a greased 6 inch round cake pan lined with some parchment paper. This ensures your cake won't stick when you invert it after cooling.
Bake at 350F for about 20-25 minutes. To tell if your cake is done, insert a toothpick in the center. If it comes out clean, the cake is ready. A few crumbs are ok, but you definitely don't want wet batter.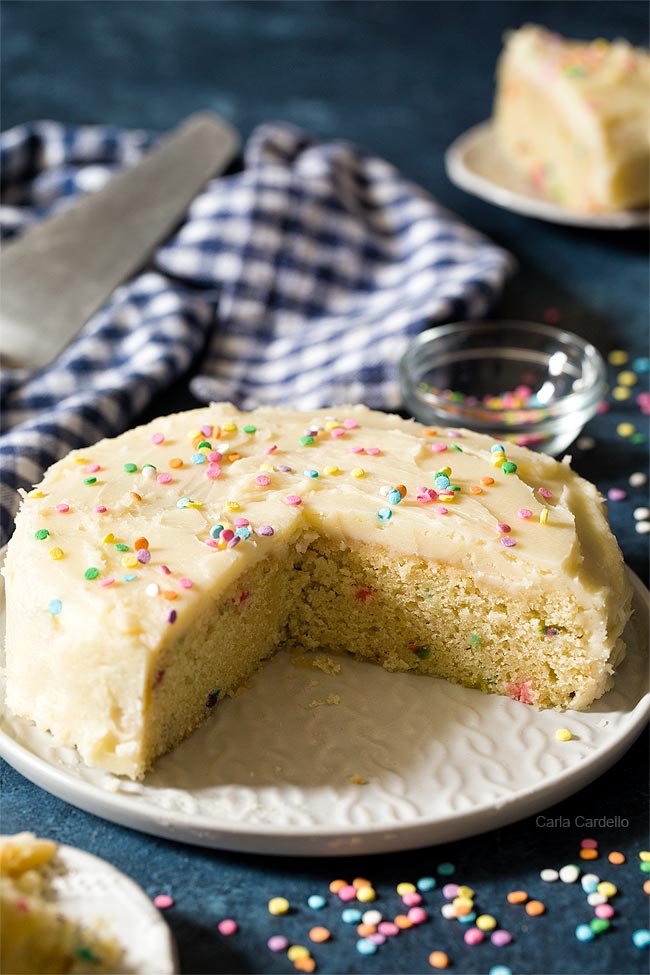 Frosting your funfetti cake
No cake is complete without frosting! I paired it with my Small Batch Buttercream Frosting, which covers a 6 inch cake without leftovers.
Want to make it pretty in pink? Check out my strawberry cream cheese frosting, strawberry buttercream, and raspberry cream cheese frosting.
Looking for something else? I wrote a guide on Small Batch Frosting recipes where you can mix and match flavors.
Do you have to refrigerate funfetti cake after frosting it?
The biggest question I get about frosted cakes is do you have to refrigerate a cake with buttercream frosting?
The answer is no. Because it uses a good amount of powdered sugar, buttercream frosting is safe to leave out at room temperature for 2-3 days.
That means this small funfetti cake can sit out overnight for up to 2-3 days.
However, buttercream frosting does tend to melt if it's too warm because of the butter's melting point. In the winter I can leave my cake out, but in the summer I refrigerate my cakes.
How to refrigerate a funfetti cake with buttercream frosting
To refrigerate a cake with buttercream frosting, first put it in the fridge uncovered for about 15 minutes. This will harden the frosting just enough so it won't smear if accidentally touched.
Next, you want to cover the cake so it doesn't dry out in the refrigerator.
You can either loosely wrap with plastic wrap (you can use toothpicks if you don't want it touching the frosting) or store in an airtight cake container (affiliate link).
I highly recommend using a cake container because it won't actually touch your cake and you can store other items on top in the fridge.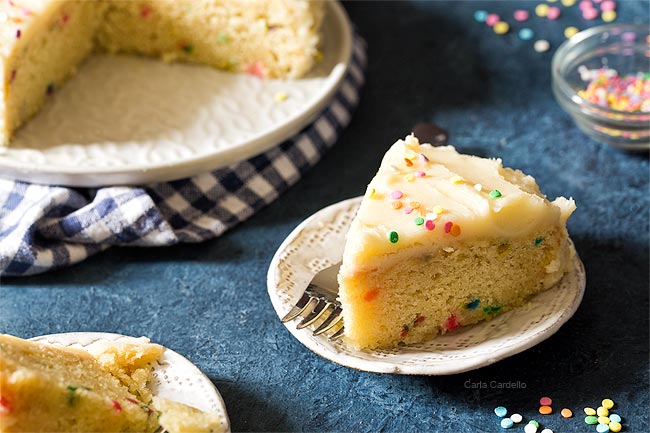 Servings In A 6 Inch Cake
Serving sizes are subjective, especially if you only want a small bite of cake. Generally this 6 inch funfetti cake can be sliced into 4-6 slices, making it about 4-6 servings.
However, if you slice the cake small enough, you can push for 8 slices, equaling 8 servings.
Ultimately serving size is up to you depending on how small you cut your slices.
More Small Cake Recipes

Funfetti not your thing? Here are some more small cake recipes you can make:

For the full list, check out my 6 Inch Cake Recipes guide!
Small 6 Inch Funfetti Cake
Yield: 4-6 servings
Prep Time: 20 minutes
Cook Time: 25 minutes
Total Time: 45 minutes
Small 6 Inch Funfetti Cake with buttercream frosting and sprinkles helps make life a little sweeter. Recipe made from scratch without cake mix.
Ingredients
1/2 cup + 2 tablespoons all-purpose flour
1 tablespoon cornstarch
1 teaspoon baking powder
1/4 teaspoon salt
6 tablespoons unsalted butter, softened
1/2 cup granulated sugar
1 egg, room temperature
2 teaspoons vanilla extract
1/4 cup whole milk, room temperature
2 tablespoons sprinkles (not nonpareils) plus more for garnish
Frosting Options (Pick One)
Instructions
Preheat oven to 350F. Lightly grease one 6-inch round cake pan then line the bottom with parchment paper.
In a medium bowl, sift together the flour and cornstarch. Stir in the baking powder and salt.
In a large mixing bowl, beat together the butter and sugar until light and creamy, about 2 minutes.
Beat in the egg and vanilla.
Add the flour mixture alternately with the milk, adding the flour in 3 additions and the milk in 2 additions (begin and end with dry ingredients). Stir in the sprinkles.
Transfer the batter to the pan. Bake 23-25 minutes or until a toothpick inserted in the middle comes out with a few crumbs (no wet batter). Cool for about 15 minutes, run a knife along the edge of the pan to loosen, and invert onto a cooling rack. Cool right-side-up.
Once cool, decorate with frosting of choice.

If using buttercream, store at room temperature for up to 3 days or in the refrigerator for up to 1 week.

If using cream cheese frosting, store in the refrigerator for up to 1 week. Let sit at room temperature for about 15-30 minutes before serving to get rid of the chill.
Notes
Enjoyed this recipe? Check out my full list of 6 Inch Cake Recipes, including chocolate, vanilla, and more!
Recommended Products
As an Amazon Associate and member of other affiliate programs, I earn from qualifying purchases.
This post may contain affiliate links. As an Amazon Associate and member of other affiliate programs, I earn from qualifying purchase.