Mini Chocolate Guinness Cake
Make this sinful Mini Chocolate Guinness Cake with Bailey's Ganache Frosting as a St. Patrick's Day dessert for two. Made in three 4 inch springform pans or one 6 inch pan..
Comparison is the thief of joy.
That quote plays over and over in my head a lot.
There was a discussion in one of my online groups about comparing yourself to others, how you always feel like you're running behind the pack to keep up with the latest trends, the posting schedule, the social media, everything we bloggers do and more.
And just when you think you're doing everything you can to stay current, you start peeking at other bloggers and think:
I'm not posting enough. My photographs aren't good enough. My blog isn't good enough.
Then you start losing sight of why you're really blogging in the first place.
In honor of that quote, I am putting my blinders on and sharing my first attempt at frosting this Mini Chocolate Guinness Cake with Bailey's Ganache Frosting because if I start comparing my, uh, impeccable decorating skills, then I'd never frost a cake again.
(Update: This cake was published in 2013. I have frosted plenty of cakes since then, but the verdict is still out on whether I got better LOL).
It's the ideal dessert for two to make for St. Patrick's Day after you eat your shepherd's pie for two because Guinness and Bailey's are reminiscent of Ireland.
On the inside is a 3 layer 4 inch mini chocolate cake with Guinness in the batter.
On the outside is a Bailey's ganache frosting. That's fancy talk for a silky smooth decadent chocolate frosting with Irish cream. Better than any buttercream frosting out there.
My mini Guinness chocolate cake for two is inspired by Nigella Lawson's Guinness cake because I loved every bite of it.
I scaled it down into a 4 inch cake to make as a dessert for two. Except I had envisioned two layers and not three. Oops.
I've also made it as an 8 Inch Chocolate Stout Cake if you're looking for a bigger cake.
Want to know how easy it is to bake the cake layers? I made it twice in one night.
The first time I overfilled my pans, so I cut the recipe down even more and still got three layers.
Meanwhile, it was 11 PM and managed to start over and be in bed by midnight. Except it was 1 AM because of the time change.
Of course frosting the cake takes a little longer, but at least the cakes cooled while I was sleeping.
Does Guinness cake contain alcohol?
Given Guinness is a stout beer, yes this cake for two contains alcohol.
However, the beer bakes off in the oven, leaving behind the taste without the alcohol effects.
You won't get drunk off of Guinness cake and you can technically serve this to everyone, but just know there is still a small bit of beer left behind.
If you know someone abstaining from alcohol, they will not want to eat this cake.
What can I substitute for a stout in chocolate cake?
Although it wouldn't be a Guinness cake without the Guinness, you can substitute coffee for the beer.
Don't drink coffee either? You can use water, but please note the batter won't be as flavorful.
How many does a 4 inch cake serve?
You can get 4 slices out of a 4 inch cake, so that translates into 2-4 servings. I say it's dessert for two because each person gets 2 slices – one for dessert, one for breakfast.
Where To Buy 4 Inch Cake Pans
The 4 inch cake pans I used is a set of 3 mini springform pans (Amazon affiliate link), which you can buy online or at most stores that sell baking pans.
How To Make Mini Chocolate Guinness Cake
This chocolate Guinness cake batter is different than most chocolate cakes because you make everything on the stove, much like you would with Guinness brownies.
First, melt together the butter and beer. Then you whisk in the sugar and cocoa powder then the egg, sour cream, and vanilla.
Finally, switch to a rubber spatula and stir in the flour, baking soda, and salt.
Divide the batter evenly among three 4 inch pans then bake at 350F for roughly 15-20 minutes.
What is ganache?
Ganache is a chocolate glaze made from chocolate and heavy cream. Depending on the ratio of chocolate to cream, it can be used for truffles, fillings, and frostings.
For this chocolate Guinness cake, we're using it as the base for the Bailey's Irish cream frosting.
The Irish cream frosting is to DIE for. I first made it from Baked's third cookbook when I made my parent's anniversary banana cake.
How is ganache different from frosting?
Chocolate ganache frosting is made a bit differently than buttercream frosting, but the end result is much more silky and elegant.
Buttercream is made from beating together butter and powdered sugar.
Ganache is made by stirring together chocolate and heavy cream until the chocolate melts. You then turn it into frosting by beating butter into the melted chocolate mixture.
What can I substitute for the Irish cream?
I used Bailey's Irish cream in my frosting because both Guinness and Bailey's are associated with Ireland.
However, if you don't want to buy Irish cream due to the small amount in the frosting, you can use an equal amount of beer since you already used it for the cake batter.
If you don't want to use any alcohol, substitute vanilla extract.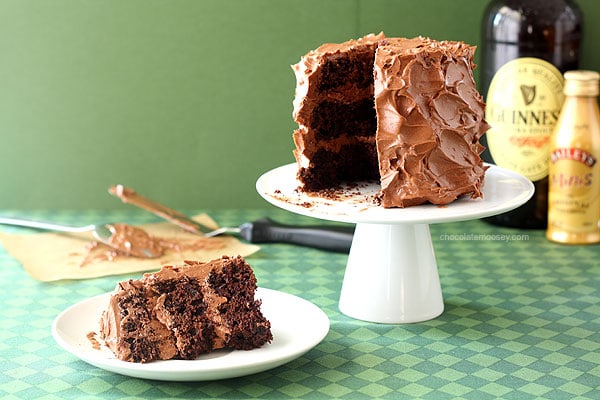 How To Make Bailey's Ganache Frosting
To make the Bailey's ganache frosting, first add your chopped chocolate to your mixing bowl. Then heat the cream and corn syrup on the stove.
Once hot, pour the cream over the chocolate and let it sit for a few minutes. The cream should be hot enough to melt the chocolate without burning it. Stir until completely smooth.
Next, beat in the butter and Irish cream until the frosting is nice and fluffy.
Due to melted chocolate, ganache frosting will harden when cold from the refrigerator. Ideally you'd keep the cake at room temperature, but if it's too warm outside the frosting will melt.
If you do refrigerate the cake, bring it to room temperature before serving so the frosting softens a bit.
Do I need to refrigerate ganache frosting?
You can keep the frosted Guinness cake at room temperature for 2 days, but you'll want to refrigerate it after that.
If your kitchen is warm, store the cake in the refrigerator so the frosting doesn't melt.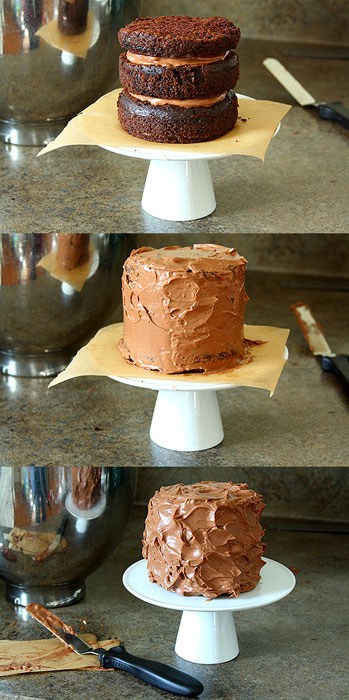 How To Frost A Mini Chocolate Guinness Cake
This mini Guinness cake was my first attempt at frosting where presentation actually mattered.
Most of the time it's just my parents and brother eating the cake, so as long as frosting made it on top, they really don't care how it looked.
I could probably serve a slice of cake in a bowl with a scoop of frosting (much like ice cream), and they'd still be happy.
But to decorate a cake to show off to the world? Talk about (delicious) pressure.
I envisioned my cake with a messy look, especially after pinning this How To Perfectly Frost A Messy Cake tutorial awhile back.
It looked simple enough, and if I didn't do a perfect job, well it is called a messy cake for a reason.
I tried adding sprinkles to the top but didn't like the look, so I scraped them off and refrosted.
That's one benefit of having a messy cake look.
Also, it is much easier to decorate on the cake stand itself. Just put small pieces of wax or parchment paper underneath the edges of the cake. Once you are done, carefully remove the pieces.
It's best to start with a thin layer of frosting called the crumb coat. This seals in the loose crumbs so they're not stuck in the frosting.
Once you refrigerate the crumb coat, you should be able to finish frosting the cake without worrying about crumbs everywhere.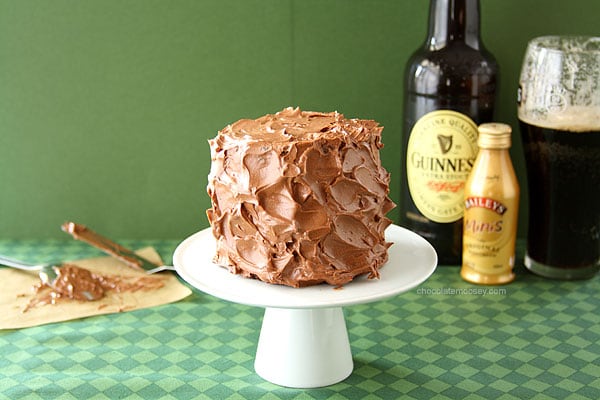 How long does chocolate Guinness cake last?
Assuming you have more will power than I do, Guinness cake will last up to 1 week in the refrigerator.
Can I freeze Guinness cake?
Yes, you can freeze Guinness cake, both before and after frosting.
Place the cake on a baking sheet or plate and freeze uncovered for 1 hour or until firm.
Wrap the cake in plastic wrap and place inside a freezer-proof plastic bag. Freeze for up to 3 months.
More Mini Cake Recipes

Looking for more 4 inch cake recipes? Check out these additional mini cake recipes: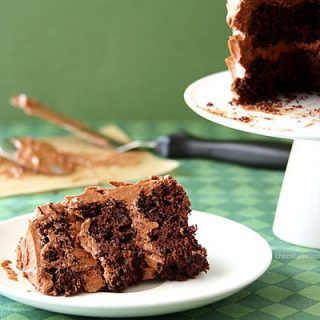 Mini Chocolate Guinness Cake
Yield: 2-4 servings
Prep Time: 30 minutes
Cook Time: 20 minutes
Total Time: 50 minutes
Make this sinful Mini Chocolate Guinness Cake with Bailey's Ganache Frosting as a St. Patrick's Day dessert for two.
Ingredients
1/4 cup (2 ounces or 4 tablespoons) unsalted butter, softened
1/4 cup stout beer, such as Guinness, room temperature (or substitute coffee for non-alcoholic)
1/4 cup unsweetened cocoa powder
1/4 cup granulated sugar
2 tablespoons sour cream or plain Greek yogurt, room temperature
1 egg, room temperature
1 teaspoon vanilla extract
1/2 cup all-purpose flour
1/2 teaspoon baking soda
1/4 teaspoon salt
Ganache Frosting
1 ounce semisweet chocolate, chopped
1 ounce bittersweet chocolate, chopped
3 tablespoons heavy whipping cream
1 teaspoon corn syrup
3 tablespoons unsalted butter, softened and cut into 3 pieces
1 teaspoon Irish cream or stout beer (or substitute vanilla extract for non-alcoholic)
Instructions
Preheat the oven to 350F. Grease three 4-inch springform pans and place onto a baking sheet.

Alternatively, you can use one 6x2-inch cake pan. Lightly grease the pan. No baking sheet needed.
In a medium saucepan, heat the butter and beer until melted and smooth.
Remove from the heat and whisk in cocoa and sugar then whisk in sour cream, egg, and vanilla.
Switch to a rubber spatula. Stir in flour, baking soda, and salt.
Divide the batter among the three pans (roughly 1/2 cup batter per pan). Bake for 15-20 minutes or until a toothpick comes out clean. Cool completely before frosting.
For the frosting: In a large mixing bowl, add the chopped chocolate. Set aside.
In a small saucepan, bring the cream and corn syrup to a boil. Remove from the heat and immediately pour over the chocolate. Let sit for 3-5 minutes then whisk until smooth. Cool to room temperature.
Once cool, gradually beat in the butter until the frosting is smooth and silky. Beat in Irish cream.
Run a knife around the inside rim of each springform pan then remove the cake from the pans. If necessary, cut just enough of each top off to create a flat top.
On a cake stand or plate, place one cake layer. Place a few strips of parchment or wax paper underneath the edges of the cake (you will be pulling them out later).
With an off-set spatula, add some of the frosting on top and spread evenly. Add another cake layer and more frosting on top. Add the final layer. Add enough frosting to thinly cover the top and outside of the cake (it is ok to still see the cake through the frosting. This seals the crumbs for clean frosting later). Refrigerate the cake for 30 minutes.
Remove from the refrigerator. Wipe off the spatula to remove crumbs. Finish frosting the rest of the cake (to get the messy look, use the back of a spoon to swirl).

Store at room temperature for 2 days or refrigerate for up to 1 week. The frosting will harden in the fridge, so let sit at room temperature until softened before serving.
Recommended Products
As an Amazon Associate and member of other affiliate programs, I earn from qualifying purchases.
Sources: Adapted from
Nigella Lawson
and
Baked Elements
This post may contain affiliate links. As an Amazon Associate and member of other affiliate programs, I earn from qualifying purchase.