This one layer 6 inch Small Pumpkin Cake recipe with cream cheese frosting is made from scratch using canned pumpkin. Make it for your Thanksgiving For Two dessert!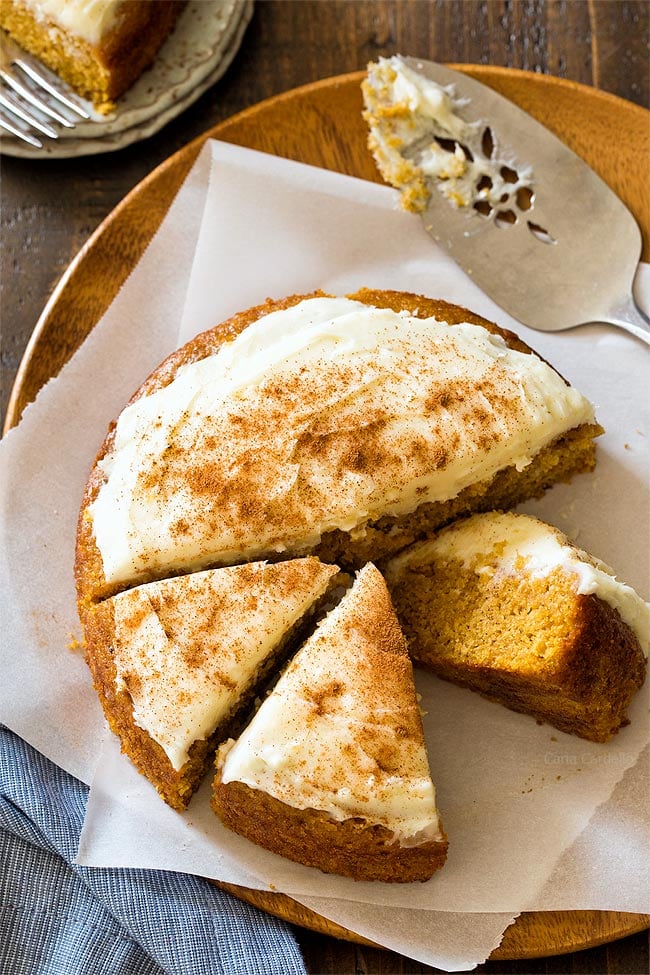 Thanksgiving. It's a tough food holiday for those who cook for 1-2 people. So much food. So many leftovers.
Over the years I've learned most Thanksgiving recipes don't cater towards small serving sizes. Luckily for you, I'm solving that problem with my Thanksgiving Dinner For Two menu!
Not everyone has a giant family gathering for Thanksgiving. If that's you, then you need a small Thanksgiving dessert. Or maybe you want to make multiple desserts but don't want a ton of leftovers.
A few years ago I posted my Pumpkin Layer Cake.
Although it's a holiday favorite, it makes too much cake for a proper Thanksgiving for two.
I decided it's time I scaled it down and turn it into a one layer 6 Inch Small Pumpkin Cake with cream cheese frosting.
It's moist and pumpkin-y, perfect to get you in the mood for fall. Serve with a dusting of cinnamon on top.
How To Make A Pumpkin Cake From Scratch
The pumpkin cake batter is really easy to make because it uses vegetable oil instead of softened butter, meaning there are less steps to do.
Plus you don't have to worry about creaming together the butter and sugar.
With this small pumpkin cake recipe, you beat together the sugar and liquid ingredients together until smooth. Then you gradually add your dry ingredients.
Once the batter is made, you transfer it to a 6 inch cake pan and bake.
Your pumpkin cake is done baking when a toothpick inserted in the center comes out clean.
If you don't have one already, you're going to need a 6 inch round cake pan. You can buy one either on Amazon (affiliate link) or you can buy one in the cake decorating section of your local craft store.
Don't have a cake pan? Make Pumpkin Pie Cupcakes in a muffin pan instead!
How do you make a pumpkin cake for two from scratch moist?
This pumpkin cake for two stays incredibly moist thanks to the vegetable oil, brown sugar, and pumpkin.
The best oil to use in pumpkin cake is either vegetable or canola, which are both neutral oils.
Can I use butter instead of oil in pumpkin cake?
Don't have vegetable oil? Use an equal amount of melted butter.
Which frosting pairs best with pumpkin cake?
Cream cheese frosting is definitely a classic pairing for pumpkin. Its tanginess balances the pumpkin spice.
Because it's a 6 inch cake, I made my Small Batch Cream Cheese Frosting. The best part is you won't have any leftover frosting!
Not a fan of cream cheese? Check out my other small batch frosting recipes.
You can also frost pumpkin cake with small batch whipped cream.
How To Store Pumpkin Cake
Store unfrosted pumpkin cake at room temperature in an airtight storage container for up to 3 days.
Store frosted pumpkin cake in an airtight storage container in the refrigerator for up to 1 week. Let the cake sit at room temperature for 15-30 minutes before serving.
Can you freeze pumpkin cake?
You can freeze unfrosted pumpkin cake for up to 6 months. Wrap it in plastic wrap first then place in a freezer bag.
What To Do With Leftover Canned Pumpkin
Because you won't use a whole can of pumpkin, you'll have extra pumpkin. Check out my other easy pumpkin recipes to use up your leftover canned pumpkin.
More Small Cake Recipes

Looking for more small cake recipes? Check out my 6 Inch Cake Recipes guide. Some favorites are:
Small Pumpkin Cake
This one layer 6 inch Small Pumpkin Cake recipe with cream cheese frosting is made from scratch using canned pumpkin. Make it for your Thanksgiving For Two dessert!