Small Strawberry Cake
This Small Strawberry Cake is a 6 inch strawberry cake made from scratch using fresh strawberries. No cake mix and no strawberry jello! Makes enough cake to have dessert for two.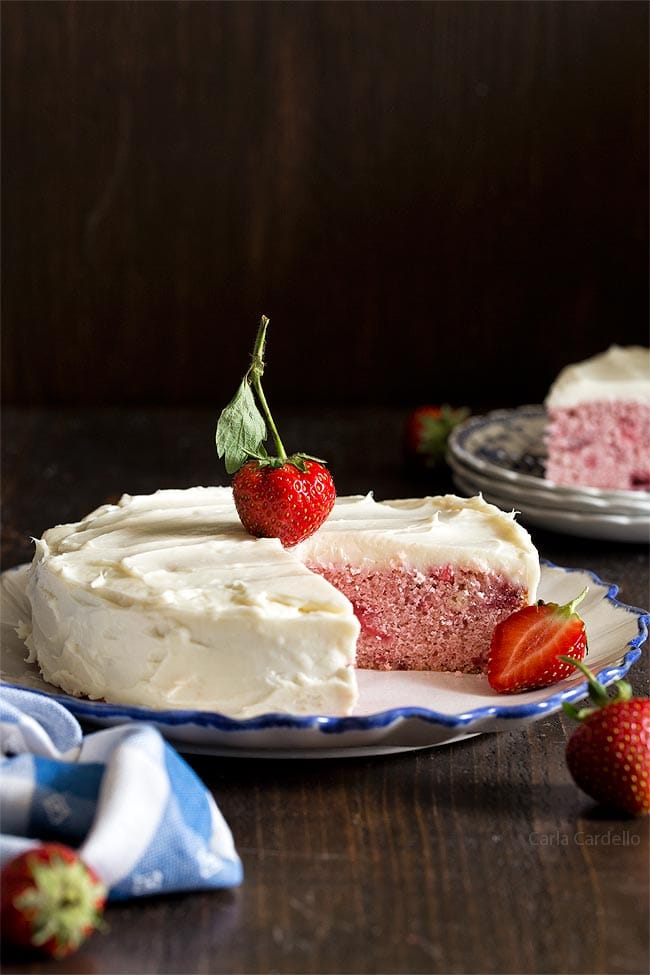 Earlier this week I shared my recipe for
Small Batch Cream Cheese Frosting
.
Today I'm sharing the cake recipe I used it for – Small Strawberry Cake. I tested this recipe 5 times to get the ingredient list just right without it sinking in the middle.
I decided to do a miniseries of 6 inch cake recipes which includes my small chocolate cake recipe, small yellow cake recipe, and small vanilla cake recipe.
When you're making dessert for two, you definitely don't need a large layer cake!
I'm hoping to redo a lot of my past layer cakes into small one layer cakes. Leave a comment below if you have a special request!
Two weekends ago Dad and I went strawberry picking like we do every summer. We walked away with about 5 pounds of fresh berries. I knew right away I wanted to work on a small strawberry cake.
Over the years I've been working on several strawberry cake recipes. The problem with most strawberry cake recipes is they're usually made with a cake mix.
Or if they are made from scratch, they're made using jello and not fresh strawberries.
The problem with using fresh strawberries, however, is it tends to add too much liquid to the batter. The solution?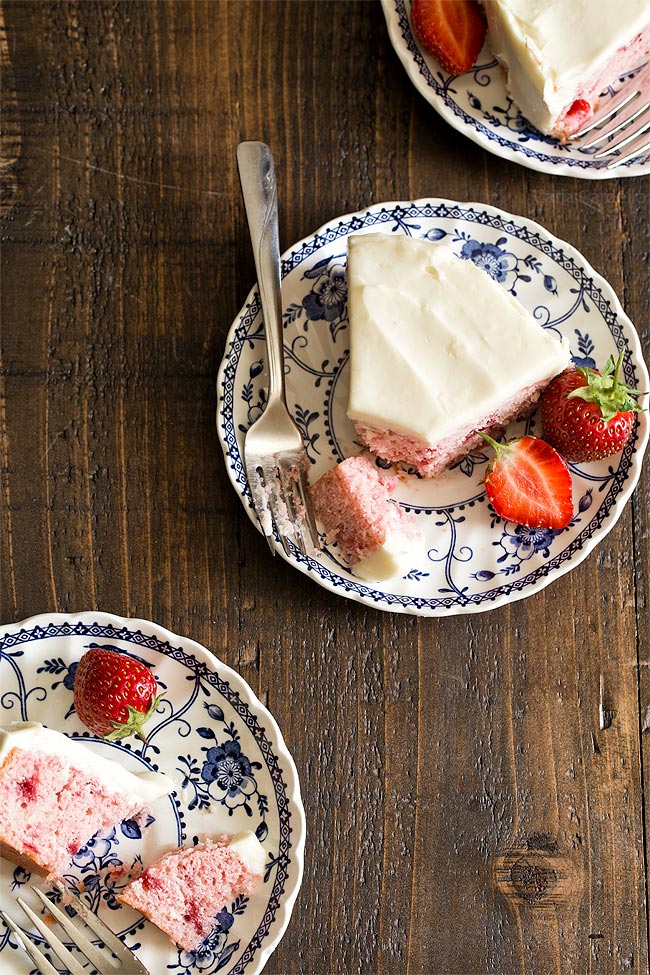 Cooking the strawberries down to a jam-like consistency. This allows you to add fresh strawberry flavor while also controlling the amount of excess liquid added.
Using only egg whites instead of a whole egg means the pink color shines through.
However, that also means leftover egg yolks. No worries! Check out my list of recipes using leftover egg yolks.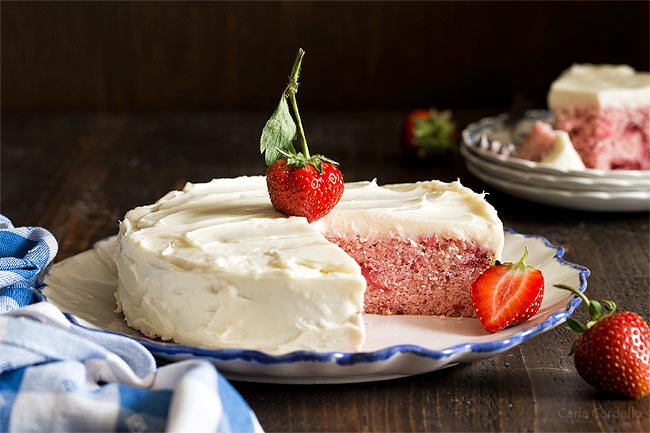 If you don't have one already, you're going to need a 6 inch round cake pan.
You can buy one either on Amazon (affiliate link) or you can buy one in the cake decorating section of your local craft store.
I frosted this particular cake with traditional cream cheese frosting, but you can also use Strawberry Cream Cheese Frosting, Strawberry Buttercream, Lemon Buttercream Frosting, or even Chocolate Frosting.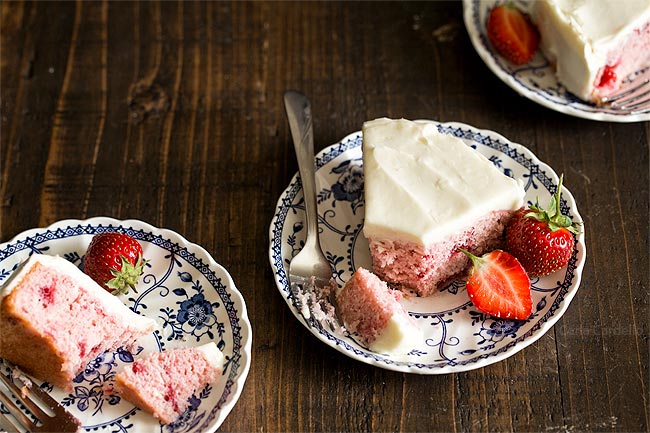 More Strawberry Cake Recipes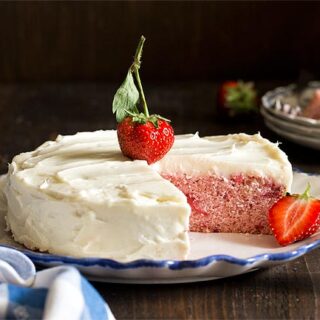 Small Strawberry Cake
Yield: 4-6 servings
Prep Time: 45 minutes
Cook Time: 30 minutes
Total Time: 1 hour 15 minutes
This Small 6 Inch Strawberry Cake is made from scratch using fresh strawberries. No cake mix and no strawberry jello! Makes enough cake to have dessert for two.
Ingredients
1 cup sliced fresh strawberries
1 tablespoon water
3/4 cup + 2 tablespoons all-purpose flour (when measuring, spoon the flour into the measuring cup and level it off)*
2 tablespoons cornstarch
1/2 teaspoon baking powder
1/2 teaspoon table salt
1/4 cup (1/2 stick or 2 ounces) unsalted butter, softened
1/2 cup + 1 tablespoon granulated sugar
2 large egg whites, room temperature
1/2 teaspoon vanilla extract
2 tablespoons whole milk, room temperature (do not use low fat or fat free)
Few drops red food coloring (optional)
Frosting Options (Pick One)
Instructions
Preheat oven to 350F. Lightly grease one 6-inch round cake pan then line the bottom with parchment paper.
In a small saucepan, stir together 3/4 cup strawberries, water, and 1 tablespoon sugar. Bring to a boil, stirring occasionally. Boil for 4-5 minutes or until the strawberries cook down and are a jam-like consistency. You should have about 2 heaping tablespoons of cooked strawberries. Remove from the heat and cool 15 minutes.
In a large bowl, sift together the flour and cornstarch. Stir in the baking powder and salt.
In a large mixing bowl on medium-high speed (with paddle attachment if using stand mixer), beat together the butter and remaining 1/2 cup sugar until creamy, about 1 minute.
Scrape down the bowl. Beat in the egg whites, one at a time, until mixed in then add the vanilla. You do NOT need to whip the egg whites. Just add them like a regular egg.
On low speed add the flour mixture alternating with the milk, adding the flour in 3 additions and the milk in 2 additions (begin and end with dry ingredients).

When you add the final addition of flour, switch to a rubber spatula and gently stir in by hand. You do not want to overmix this part.
Stir in the cooked strawberry mixture and remaining 1/4 cup strawberries. Add a few drops of food coloring until your batter is pink as desired (make it brighter than you want because it'll dull a bit after baking).
Transfer the batter to the cake pan. Bake 30-35 minutes or until a toothpick inserted in the center comes out clean. Cool for 15 minutes then invert cake onto cooling rack. Cool completely.
Once cool, decorate with frosting of choice. Cover and store at room temperature for up to 2 days (buttercream only) or in the refrigerator for up to 1 week (buttercream and cream cheese).

For best results, let the refrigerated cake sit at room temperature 30 minutes before serving.
Recommended Products
As an Amazon Associate and member of other affiliate programs, I earn from qualifying purchases.
This post may contain affiliate links. As an Amazon Associate and member of other affiliate programs, I earn from qualifying purchase.