Small Batch Cupcake Recipes
A comprehensive dessert for two guide about Small Batch Cupcake Recipes for two people made from scratch for beginners.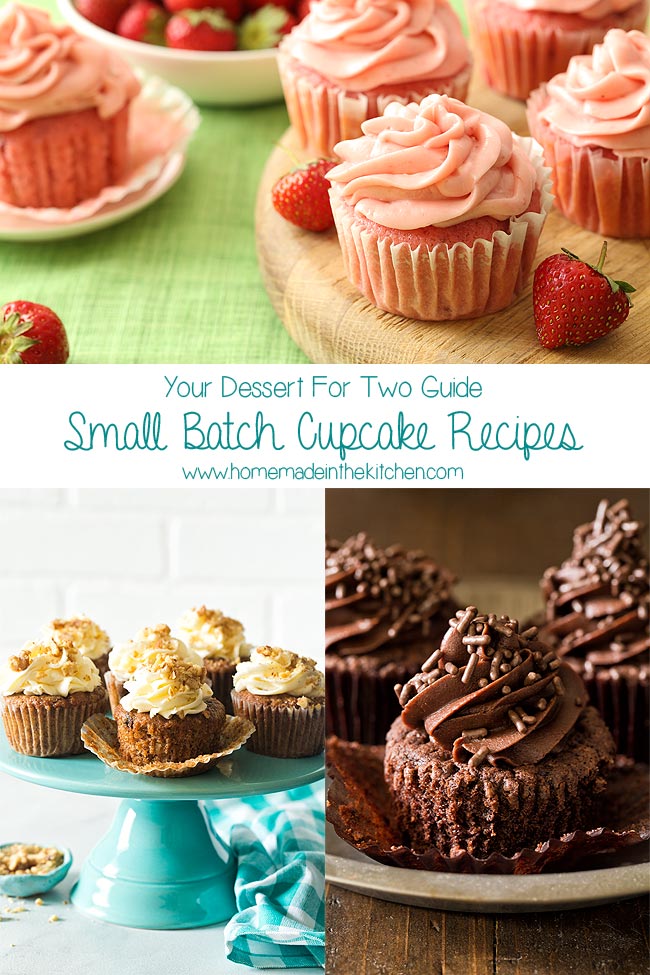 As I'm working to post more cupcakes, I realized I have quite a bit of small batch cupcake recipes already.
That inspired me to create this dessert for two guide so all you need to do is refer to it when the mood to bake cupcakes strikes.
All of these cupcakes are made from scratch without a box mix. They use basic pantry ingredients such as all-purpose flour, sugar, and eggs.
These small batch cupcake recipes make roughly 6-8 cupcakes. They may not make literally two servings, but they're catered for two people because they make less than a dozen.
This means you can eat your cupcake now then eat more later without having to throw away stale cake. Cupcakes for dessert, cupcakes for breakfast.
Or maybe you are having a small party where each guest eats 1 cupcake without leftovers.
Whatever your reason, I got you covered.
This guide will be updated as I post more recipes for small batch cupcakes. Bookmark this page or pin it to your Pinterest board and check back often!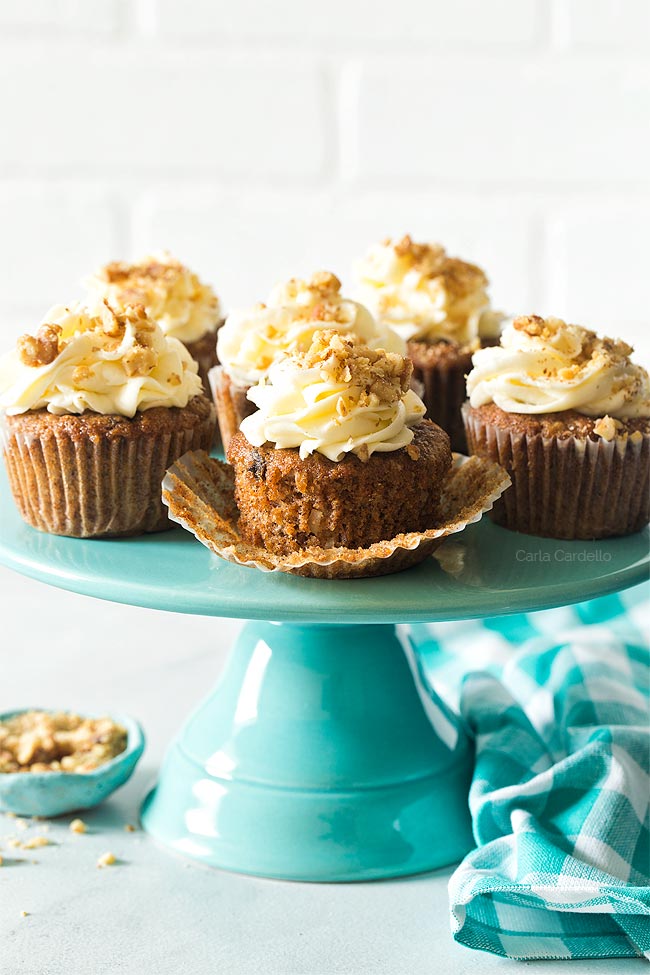 Before we get to the recipes (which are at the bottom if you want to scroll past this part), let's talk about some of the questions I get often:
How do you make a small batch of cupcakes from scratch?
Most cupcake recipes follow the same steps: Cream together the butter and sugar, add the egg and any flavorings, then gradually add your dry ingredients.
Sometimes you use vegetable oil or melted butter, but you still mix together the wet ingredients before adding the dry ingredients.
Then you transfer the batter to a cupcake pan lined with paper liners. This ensures your cupcakes won't stick to the pan as well as making them easier (and more sanitary) to serve.
Depending on the batter, you bake small batch cupcakes at 350F for about 18-20 minutes.
Why You Should Buy An Oven Thermometer
It's important your oven temperature is accurate. Just because your dial says it's 350F degrees doesn't mean it actually is 350F.
For example: My old gas oven heats 25F hotter than what the dial says. That means if I set it to 350F, it actually heats up to 375F.
Baking cupcakes at 375F means they'll bake faster, so I have a high chance of overbaking or even burning, resulting in a dry, not so fluffy cake.
On the flip side, if your oven heats up to 325F, that means your cake will bake slower, which affects the rise from your leavening plus takes much longer to finish baking.
I highly recommend investing in an oven thermometer. It's inexpensive and will help prevent you from ruining your cake and wasting ingredients.
If your temperature is way off, you can sometimes calibrate your oven to be more accurate. Check with your oven's manual to see how to do this.
To tell if your cupcakes are done, insert a toothpick in the center. If it comes out clean, they're ready. A few crumbs are ok, but you definitely don't want wet batter.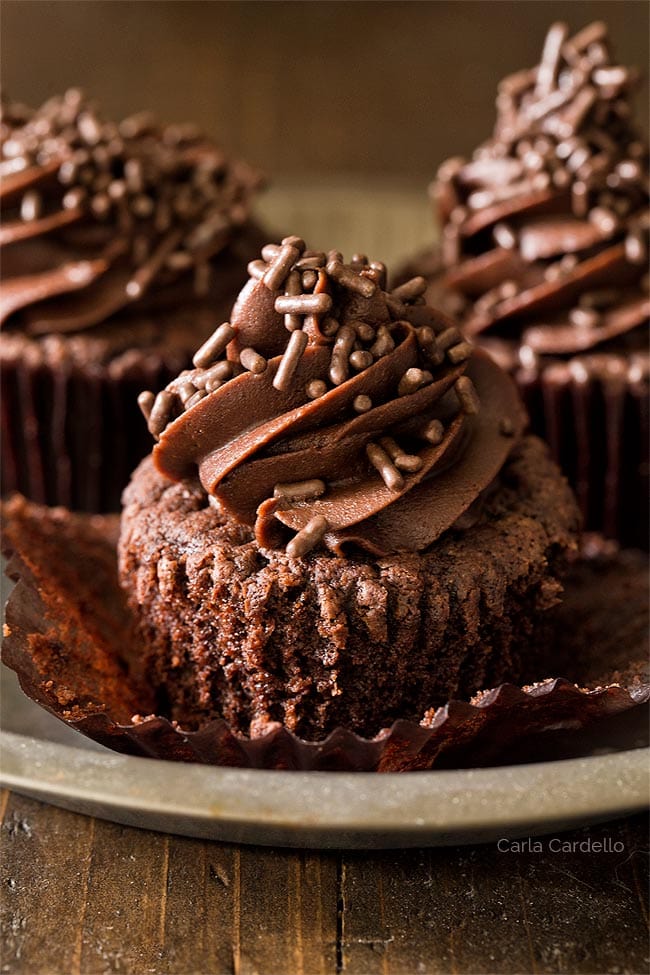 Buying A Cupcake Pan
Of course you can't bake cupcakes without a cupcake pan! I use a standard 12-cup cupcake pan (affiliate link) you can buy from most stores.
Don't have a cupcake pan? Check out my 6 inch cake recipes.
Why are my cupcakes overflowing?
The most challenging part about baking cupcakes is making sure you don't overfill (or underfill) the paper liners before baking.
Too much batter and the cupcakes will overflow, flatten, and sometimes even sink in the middle after cooling.
Too little batter and they won't rise to the top of the liner.
What I do is measure a one big scoop using my #40 cookie scoop into the bottom of each liner the recipe calls for then I go back and finish filling each one with the remaining batter.
This helps me distribute the batter more evenly so the last cupcake has just as much batter at the first. I hate when you get to the end and realize you don't have enough batter left.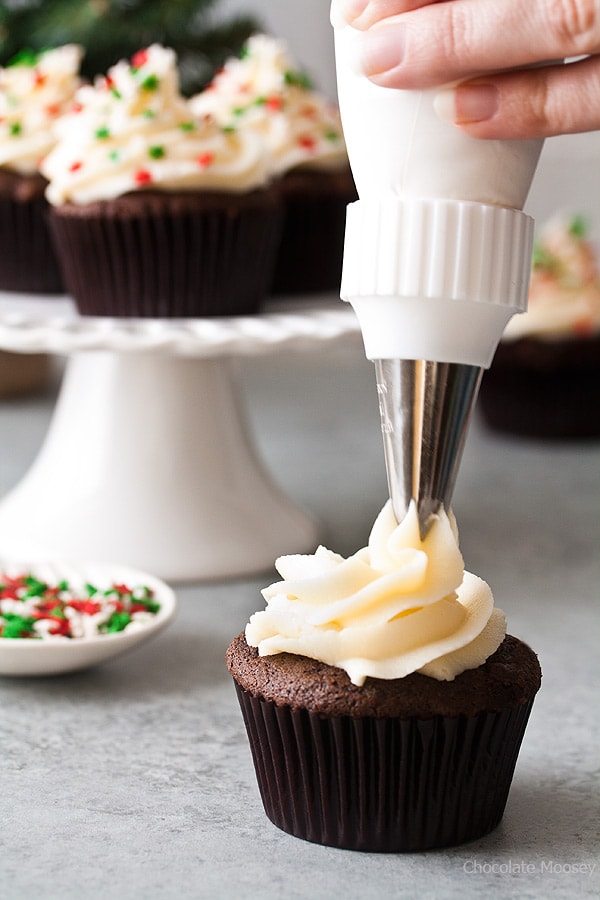 How to Decorate Cupcakes
There are two ways to decorate cupcakes with frosting.
First method is using a piping kit. You'll need a piping bag (reusable or disposable) and a few piping tips.
I use the 8 inch reusable piping bag (affiliate link) for my small batch frostings.
However, if you're doubling the recipe you'll need the larger 12 inch reusable piping bag (affiliate link).
For the piping tips, I personally love using the open star tip (affiliate link). It makes the frosting look a little fancy with minimal effort.
If you find yourself switching tips during piping, you may want to use a coupler. This allows you to switch tips without having to remove it completely from the bag.
Second method for decorating cupcakes is using an offset spatula or a knife. This technique does require a little bit of skill so it doesn't look like a 5 year old frosted your cupcakes, but I love this method when I don't want to fuss with a piping kit.
Rather than trying to explain how in words, check out this tutorial from My Cupcake Addiction on how to frost cupcakes with a knife.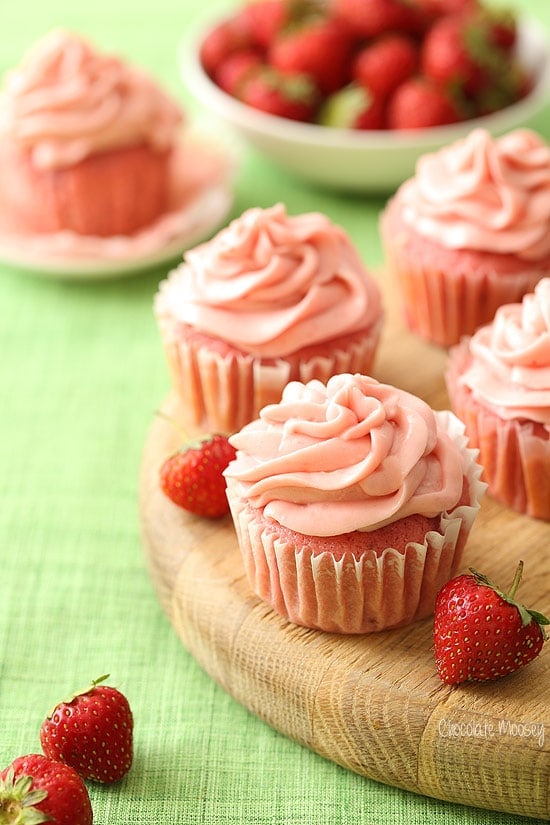 How To Store Cupcakes
To store cupcakes, place them in an airtight container (deep enough so you don't mess up the frosting). Let them sit at room temperature for up to 1 week.
You don't need to refrigerate cupcakes unless it's really warm and your frosting starts to melt or you want them to last longer.
You will also need to refrigerate any cupcakes with cream cheese frosting.
Let sit at room temperature for about 15-30 minutes before serving to get rid of the chill.
Can you freeze cupcakes?
Like with most cakes, yes you can freeze cupcakes.
To freeze unfrosted cupcakes, place them on a cookie sheet and freeze for an hour. Once firm, wrap each one in plastic wrap then stick in a freeze-safe plastic bag. Freeze for up to 3 months.
If you're worried they'll get squashed in the freezer, you can put the plastic bag in a container to maintain their shape.
How To Freeze Frosted Cupcakes
Although I recommend freezing unfrosted cupcakes, you can also freeze frosted cupcakes.
Use a buttercream frosting as that type of frosting freezes best. Cream cheese frosting can become grainy after freezing, although it'll still be edible.
To freeze frosted cupcakes, place them on a cookie sheet and freeze for an hour. Once firm, place each one in a deep enough container that won't squash the frosting. Freeze for up to 3 months.
How To Thaw Frozen Cupcakes
To thaw frozen cupcakes, place them on a wire rack and let them come to room temperature, about 15-30 minutes.
The wire rack helps keep the cupcake bottoms dry as they thaw.
Can you double this recipe?
Yes, all cupcake recipes can be doubled to make a regular batch.
Frosting Your Cupcakes

You can't serve cupcakes without frosting! That's why I also have recipes for small batch frosting so you're not stuck with leftovers. Mix and match your favorite flavors!

I wrote a complete small batch frosting recipes guide for all of my frosting recipes in one place, but below are a few fan favorites:
Equipment You Will Need
Small Batch Cupcake Recipes
A comprehensive dessert for two guide about Small Batch Cupcake Recipes for two people made from scratch for beginners.
Homemade Small Batch Chocolate Cupcakes are moist and delicious chocolate cupcakes from scratch without a cake mix. Top them with peanut butter or chocolate frosting.
Moist and tender Small Batch Vanilla Cupcakes from scratch is a 6 cupcake recipe to make your day a little sweeter.
Looking to recreate yourfavorite yellow cake mix from scratch? Make these Small Batch Yellow Cupcakes with homemade chocolate buttercream frosting.
Small Batch Red Velvet Cupcakes with cream cheese frosting are moist and delicious homemade cupcakes from scratch without a cake mix.
Moist and tender small batch Lemon Cupcakes with lemon buttercream frosting are a delicious dessert for two to brighten up your day.
Small Batch Carrot Cake Cupcakes with pineapple, coconut, walnuts, and raisins is super moist with homemade cream cheese frosting.
Learn how to make small batch Strawberry Cupcakes with Strawberry Cream Cheese Frosting with real strawberries from scratch without using strawberry Jello.
Small Batch Boston Cream Pie Cupcake recipe with a homemade custard filling and chocolate ganache makes half a dozen cupcakes, perfect for small households.
Looking for a recipe to use up leftover egg whites? These Small Batch Angel Food Cupcakes from scratch use 2 egg whites and doesn't require a special tube cake pan to make them.
Put a fun twist on Thanksgiving dessert with these Pumpkin Pie Cupcakes! Decorate with cream cheese frosting or with whipped cream to look like mini pies.
These small batch Chocolate Gingerbread Cupcakes with homemade cream cheese frosting makes a half dozen cupcakes. Ideal for when you want a small Christmas dessert without too many leftovers.
Disclosure: This post includes Amazon affiliate links, which means I earn a small percentage from sales. Thank you for supporting my blog!
This post may contain affiliate links. As an Amazon Associate and member of other affiliate programs, I earn from qualifying purchase.