Small Chocolate Cake Recipe (6 Inch)
This homemade Small Chocolate Cake recipe is a moist and delicious one layer 6 inch chocolate cake for two from scratch without cake mix. Top it with strawberry cream cheese frosting or chocolate ganache.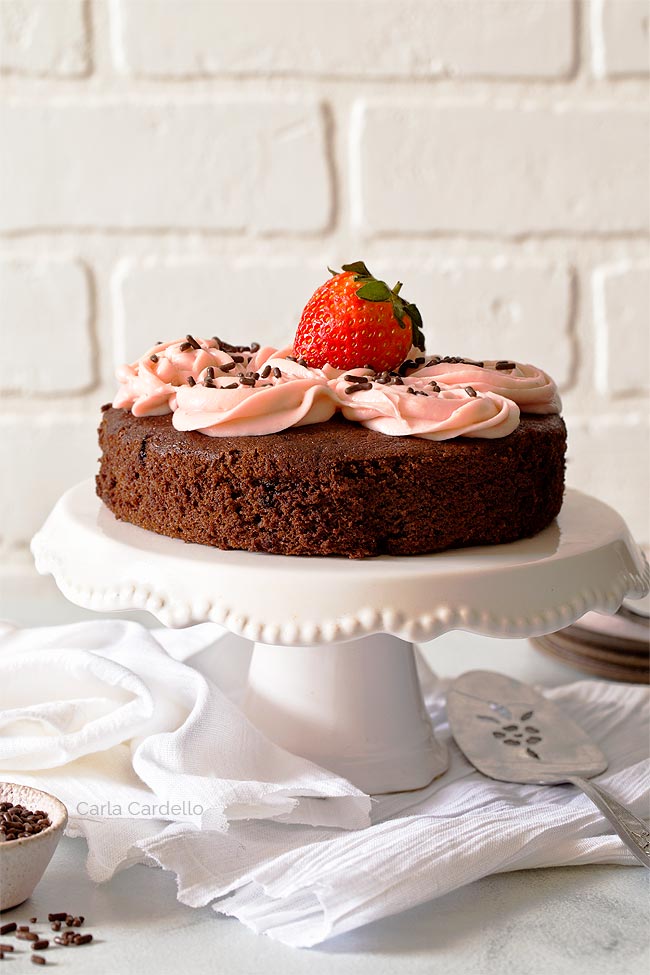 Chocolate cake was probably one of the first cakes my mom ever made for me.
Of course hers was from a box mix, but she always made sure my dad, brother, and I had birthday cakes with our names written on top with cake writing gel.
Nowadays I make everyone's birthday cakes from scratch. But since my mom can't eat sugar anymore and I'm being more mindful of what I eat as I get older, we always have too much cake leftover.
That's why I usually opt to bake my Small Chocolate Cake recipe. It's a moist and delicious one layer 6 inch chocolate cake recipe.
You certainly don't need to wait for someone's birthday to make it. Homemade chocolate cake is always a classic go-to and sometimes you're craving chocolate. Hard.
Maybe you're having a bad day. Maybe you're having a great day. Maybe you need a chocolate cake for two for Valentine's Day or a romantic dessert for date night.
Whatever the occasion, this small chocolate cake recipe will be your new favorite dessert for two.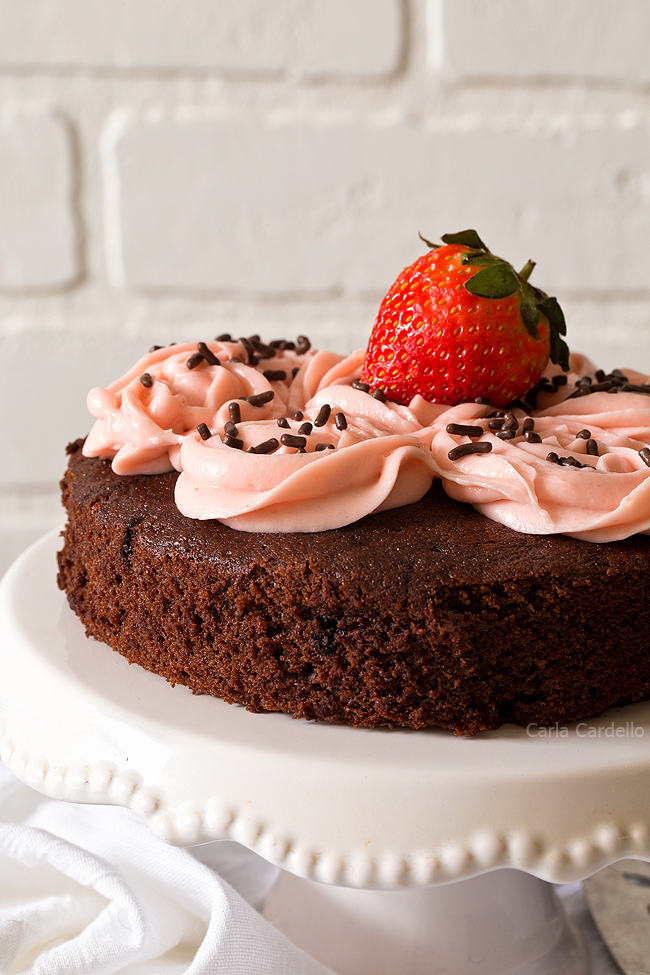 Buying A 6 Inch Cake Pan
In order to make this small chocolate cake, you need to buy a 6 inch cake pan. Easy enough, right?
A 6 x 2 inch round cake pan has a volume of 3 cups and holds about 2 cups batter (leaving room at the top for the cake rising). You can buy one online from Amazon (affiliate link) or from your local craft store in the cake decorating aisle.
If all you have are ramekins, check out my Mini Lava Cakes instead.
How To Convert Chocolate Cake Into Chocolate Cupcakes

Don't have a 6 inch cake pan? I also turned this recipe into small batch chocolate cupcakes and a small Bundt cake.

I also scaled it up slightly to bake in an 8 inch pan with one layer chocolate cake.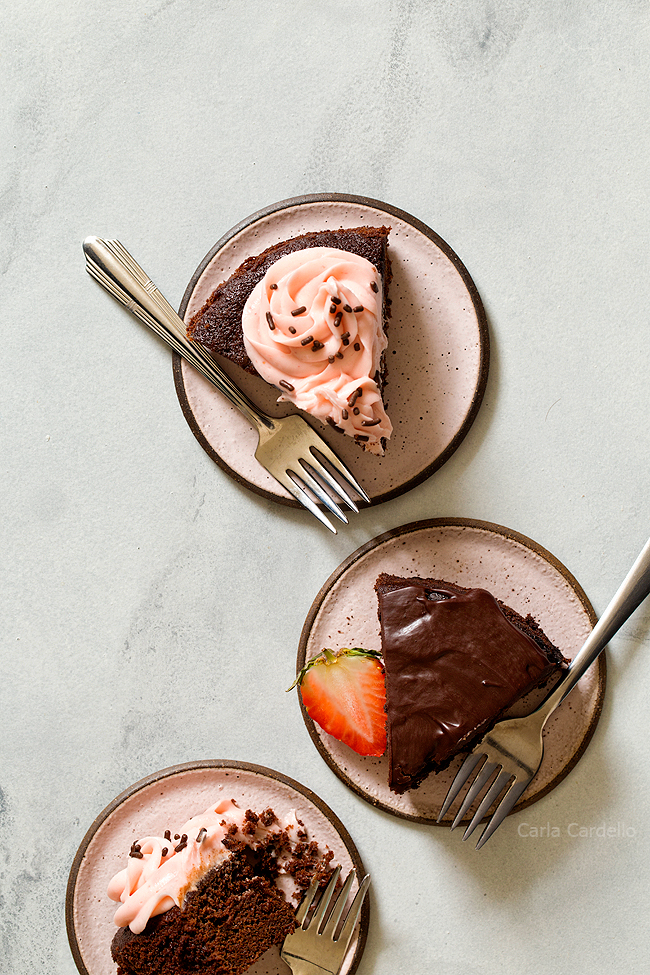 Ingredients For Small Chocolate Cake
To make the best 6 inch chocolate cake recipe ever, you'll need the following ingredients:
Semisweet chocolate: Baking chocolate is made from ground cocoa nibs containing both cocoa solids and cocoa butter. Look for semisweet chocolate that is around 55% cacao.
All-purpose flour: I make all of my cakes with all-purpose flour, the standard flour in almost every pantry. Make sure you're spooning it into your cup. Using the scoop and pack method means you'll end up with more flour than directed.
Cocoa powder: Adds a deep chocolate flavor you cannot accomplish with baking chocolate alone. Make sure it says unsweetened.
Baking soda: This leavening agent is what makes your cake rise.
Espresso powder: Adding coffee to chocolate really brings out the chocolate flavor. Don't worry – adding a small amount won't make your cake taste like coffee. It's only noticeable if you leave it out.
Salt: Nobody wants a bland cake! Salt makes sure you get as much flavor as possible out of your cake.
Butter: Not only does fat add flavor, butter helps the cake rise from its steam when it melts, trapping carbon dioxide in the batter as it bakes. This creates a tender crumb texture. Do not substitute margarine.
Granulated sugar: Sugar helps sweeten the cake.
Brown sugar: Because brown sugar includes molasses, it helps make the cake a little more moist than using all granulated.
Egg: Use 1 standard large egg that's been brought to room temperature. Using a cold egg means the batter won't rise as much.
Vanilla: Much like salt and coffee, vanilla enhances the chocolate flavor.
Buttermilk: The acidity from the buttermilk is needed to activate the baking soda. If you don't have any, substitute whole milk plus lemon juice or vinegar. I highly recommend whole milk and not low fat or skim because the extra fat helps keep the chocolate cake moist.
Hot coffee: As mentioned, coffee enhances the chocolate flavor. If you don't want to use coffee, substitute hot water.
What is espresso powder?
The key to the best small chocolate cake recipe is espresso powder.
Espresso powder is concentrated instant coffee crystals that can be dissolved quickly in liquid, similar to instant coffee but stronger in flavor.
It doesn't add any coffee flavor. Rather it enhances the chocolate to taste more chocolately, similar to adding salt to otherwise bland baked goods.
You can buy espresso powder at an Italian grocery store or the Italian section of your grocery store. If you can't find it, you can use instant coffee (although the flavor isn't as intense).
Some readers ask to leave espresso powder out of their chocolate cake. Although the recipe will work fine without it, please note it won't be as chocolatey as it should be.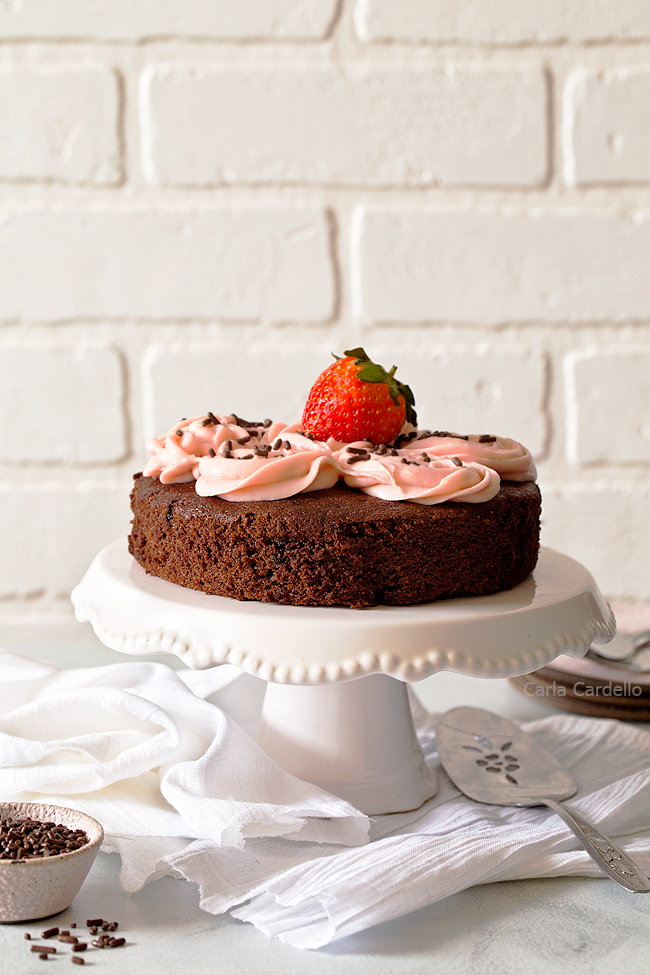 How To Make Small Chocolate Cake
Here's how to make your chocolate cake for two from scratch:
Sift together your flour and cocoa powder then stir in your baking soda, espresso powder, and salt.
Cream together your butter and both sugars until smooth. The airiness will help your cake rise with a tender crumb.
Beat in your egg, vanilla, and melted chocolate, scraping down your bowl if necessary.
Add the dry ingredients alternately with the buttermilk and coffee, adding the flour in 3 additions and the milk in 2 additions (begin and end with dry ingredients).
Pour the batter into your 6 inch cake pan lined with parchment paper.
Bake at 350F for 25-30 minutes or until a toothpick inserted in the center comes out with a few crumbs (but not wet batter).
How many servings will does a 6 inch cake make?
Serving sizes for small cakes are subjective, especially if you only want a small bite. Generally 6 inch cakes can be sliced into 4-6 slices, making it about 4-6 servings.
However, if you slice your small chocolate cake small enough, you can push for 8 slices, equaling 8 servings.
Ultimately serving size is up to you depending on how small you cut your 6 inch chocolate cake.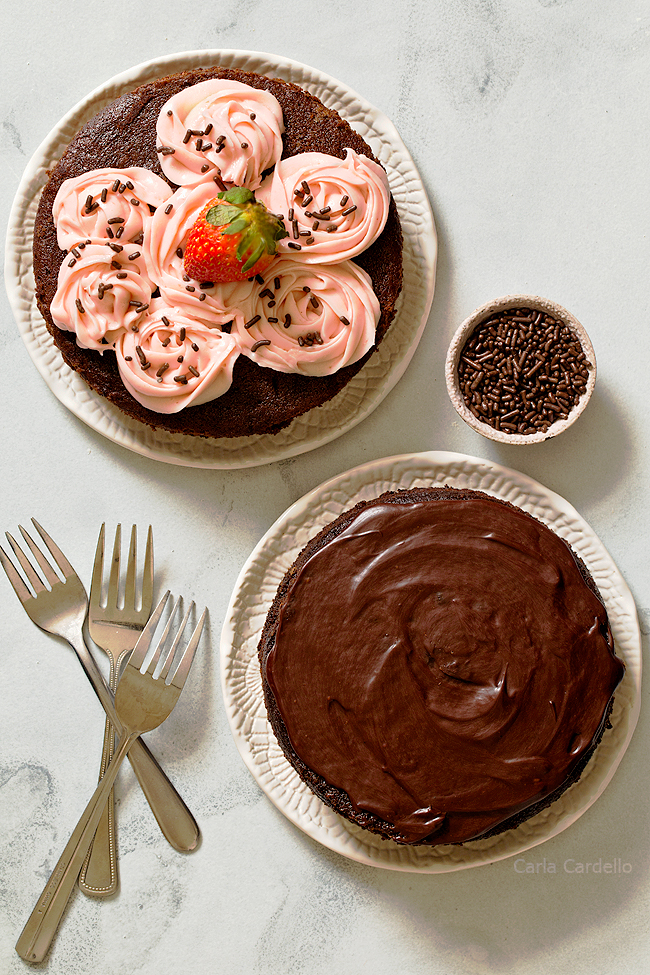 How To Decorate A Small Chocolate Cake
As you can see from the photos, there's more than one way to frost chocolate cake for two.
You can dress it up for Valentine's Day with Strawberry Cream Cheese Frosting, Raspberry Cream Cheese Frosting, or Strawberry Buttercream.
Looking for double chocolate? Make my chocolate frosting, chocolate cream cheese frosting, chocolate whipped cream, or chocolate ganache (which you can learn how to make ganache complete with step by step photos!).
Love peanut butter cups? Decorate it with my peanut butter frosting, peanut butter cream cheese frosting, or a dollop of peanut butter whipped cream.
Want another flavor? Check out my full list of small batch frosting recipes.
How To Freeze A Chocolate Cake
Although a 6 inch chocolate cake only makes a few slices, sometimes you want to bake it ahead of time then freeze for freshness.
To freeze a whole cake, first make sure it's completely cooled to room temperature.
If your cake is already frosted, place it on a baking tray or plate lined with parchment paper or plastic wrap then freeze uncovered for 1 hour or until firm. This will prevent the plastic wrap from sticking to your frosting and ruining it.
Next, wrap the cake in plastic wrap then stick in a freeze-safe plastic bag. Squeeze out as much air as possible.
Write the date on your plastic bag then freeze for up to 3 months.
How To Thaw A Chocolate Cake
When you're ready to serve your small chocolate cake recipe, place it in the refrigerator overnight to thaw. Then let it sit at room temperature for 15-30 minutes before serving so it's not cold.
It's harder to taste the flavors if you eat the cake straight from the fridge without warming up first.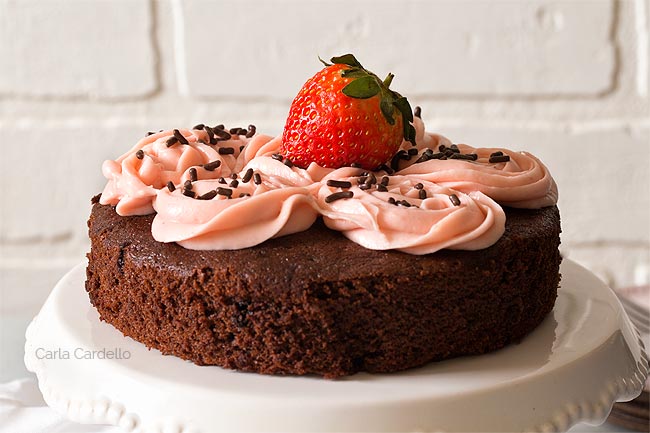 More Small Cake Recipes

Looking for more small cake recipes? I wrote a 6 Inch Cake Recipes guide with every flavor I've made.

Some popular recipes are: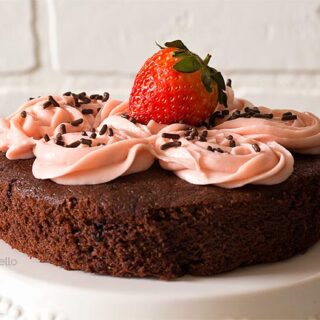 Small Chocolate Cake Recipe
Yield: 4 servings
Prep Time: 20 minutes
Cook Time: 30 minutes
Total Time: 50 minutes
This homemade Small Chocolate Cake recipe is a moist and delicious one layer 6 inch chocolate cake for two from scratch without cake mix.
Ingredients
1 ounce semisweet chocolate, chopped
1/2 cup all-purpose flour (when measuring, use the spoon and level method)
1/4 cup unsweetened cocoa powder
1/4 teaspoon baking soda
1/4 teaspoon espresso powder
1/4 teaspoon table salt
1/4 cup (2 ounces or 4 tablespoons) unsalted butter, softened
1/4 cup granulated sugar
1/4 cup packed brown sugar (soft and moist, not dry and crumbly)
1 large egg, room temperature
1 teaspoon vanilla extract
1/4 cup buttermilk, room temperature (or substitute whole milk with 1 teaspoon vinegar added. Do not use skim or low fat.)
2 tablespoons hot coffee (or substitute beer or hot water)
Pick One To Decorate
Instructions
Preheat oven to 350F. Lightly grease one 6-inch round cake pan then line the bottom with parchment paper.
Add about an inch of water to a pan and bring to a simmer. Turn off the heat and place a heatproof bowl over top. Add the chopped chocolate and melt until smooth. Remove from the heat and cool for 10 minutes.

Alternatively, add chocolate to a microwave-safe bowl then microwave for 30 seconds. Stir then continue microwaving in 15 second increments until melted and smooth.
In a medium bowl, sift together the flour and cocoa then stir in the baking soda, espresso powder, and salt.
In a large mixing bowl on medium-high speed (with paddle attachment if using stand mixer), beat together the butter, sugar, and brown sugar until light and creamy, about 1 minute.
Scrape down the bowl then beat in the egg, vanilla, and melted chocolate.
On the lowest speed possible, add the flour mixture alternately with the buttermilk and coffee, adding the flour in 3 additions and the liquid in 2 additions (begin and end with dry ingredients).

When the flour is about 90% incorporated, stop the mixer and switch to a rubber spatula. Finish adding the flour by hand as you don't want to overmix the batter.
Transfer the batter to the pan. Bake 25-30 minutes or until a toothpick inserted in the middle comes out with a few crumbs (no wet batter). Cool for about 15 minutes, run a knife along the edge of the pan to loosen, and invert onto a cooling rack. Cool right-side-up.
Decorate with frosting of choice.

Cover and store the frosted cake at room temperature for up to 2 days (buttercream only) or in the refrigerator for up to 1 week (buttercream, cream cheese, and ganache). For best results, let the refrigerated cake sit at room temperature 15-30 minutes before serving.
Recommended Products
As an Amazon Associate and member of other affiliate programs, I earn from qualifying purchases.
Originally posted January 29, 2018
This post may contain affiliate links. As an Amazon Associate and member of other affiliate programs, I earn from qualifying purchase.