Small 6 Inch Red Velvet Cake
Homemade Small 6 Inch Red Velvet Cake is a moist and delicious one layer red cocoa cake from scratch without a cake mix. Top it with cream cheese frosting.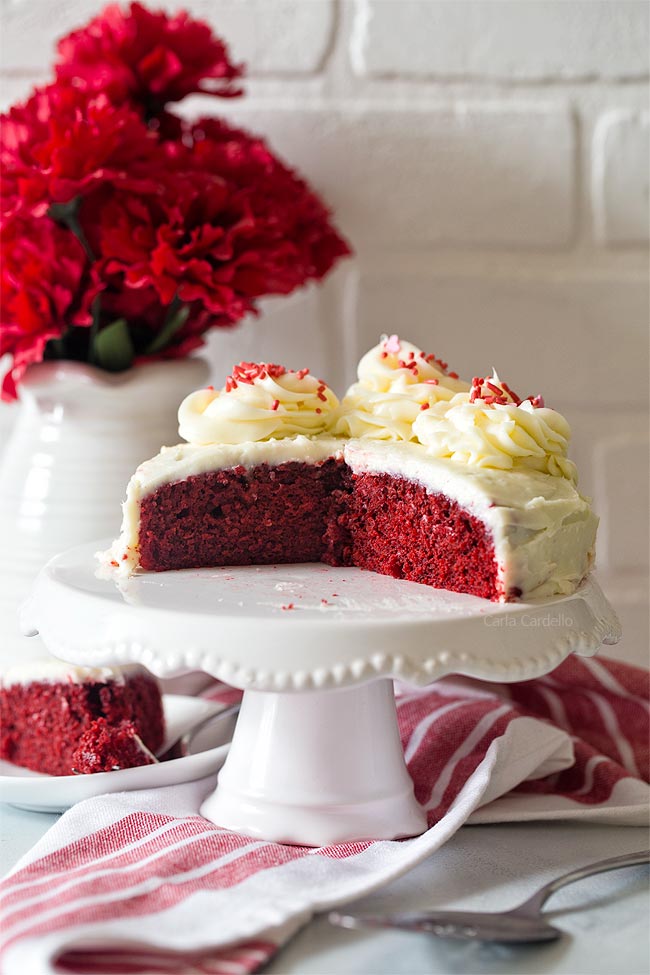 You asked – I answered!
Recently on Instagram I asked what 6 inch cake recipe you want to see next. Several of you said red velvet cake.
I knew that answer was coming, but I kinda dreaded it.
You see, red velvet and I haven't always gotten along. What really turned me off of red velvet for years was ordering a red velvet flavored latte (I know) from a national coffee chain.
All I could taste were chemicals. Not wanting to waste coffee and money, I tried to sip through it. Finally about halfway I gave up and threw the rest away.
Over the years I slowly warmed back up to red velvet. My rule now is it must be a cake (with some exception for red velvet sugar cookies and red velvet bars) and not be red velvet flavored random crap.
With Valentine's Day coming up shortly, what better time than now to share my Small 6 Inch Red Velvet Cake recipe?
This is an easy red velvet cake recipe I'm happy to stand behind. No funky chemical taste like that mistake of a latte I bought.
It's perfect for February because it's red for Valentine's Day and makes dessert for two. Ok maybe there's a slice or two leftover, but it IS an easy one layer red velvet cake.
I say this every year and this year is no different: I'm single for Valentine's Day.
Which don't me wrong – I'm ok with being single. Quite confident even.
However, sometimes I look at these cutesy holidays and realize how different I am. I've never been on a Valentine's Day date. I don't want kids. I'd rather travel solo than with a friend.
It's good to be different, but sometimes it's also isolating.
But I'm not here to whine. Instead, I want to inspire you. If you're single, treat yourself with your favorite dessert. Take yourself out on a coffee date. Don't be afraid to eat at a restaurant alone.
And if you do have a date this year, stay home. Make one of my romantic meals for two at home then follow it up with my Small 6 Inch Red Velvet Cake for dessert.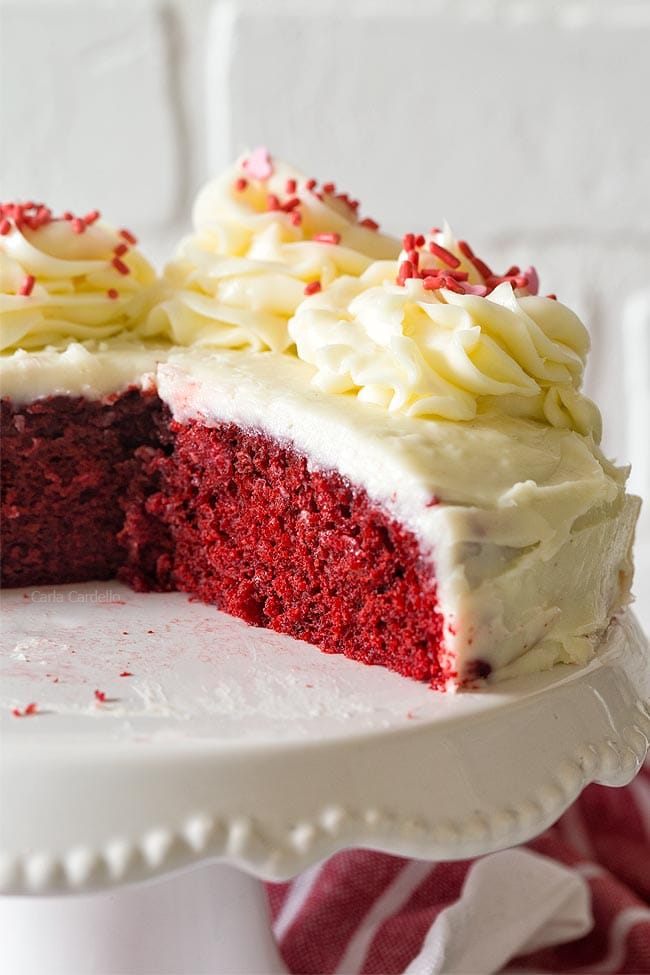 What is red velvet cake?
While researching red velvet cake recipes for testing, I realized not every recipe was the same.
Some used only butter. Some used on oil. Some used both butter and oil. Some used a lot of cocoa. Some only used a tablespoon. One recipe even used only egg whites.
So let's talk about what red velvet cake is exactly. It's not a vanilla cake with red food coloring, yet it's not just a chocolate cake with such a small amount of cocoa powder.
Red velvet cake is a subtle chocolate cake flavored with buttermilk and vinegar then enhanced in color with red food coloring.
What is the difference between chocolate cake and red velvet cake?
The difference between chocolate cake and red velvet cake is the amount of chocolate used.
Chocolate cakes like my small chocolate cake have a deep rich chocolate flavor, thanks to melted chocolate and cocoa powder. The brown color is also too dark for red food coloring to shine through.
Red velvet cake uses a small amount of cocoa powder, allowing the red to shine through. It's not meant to be a rich chocolate cake.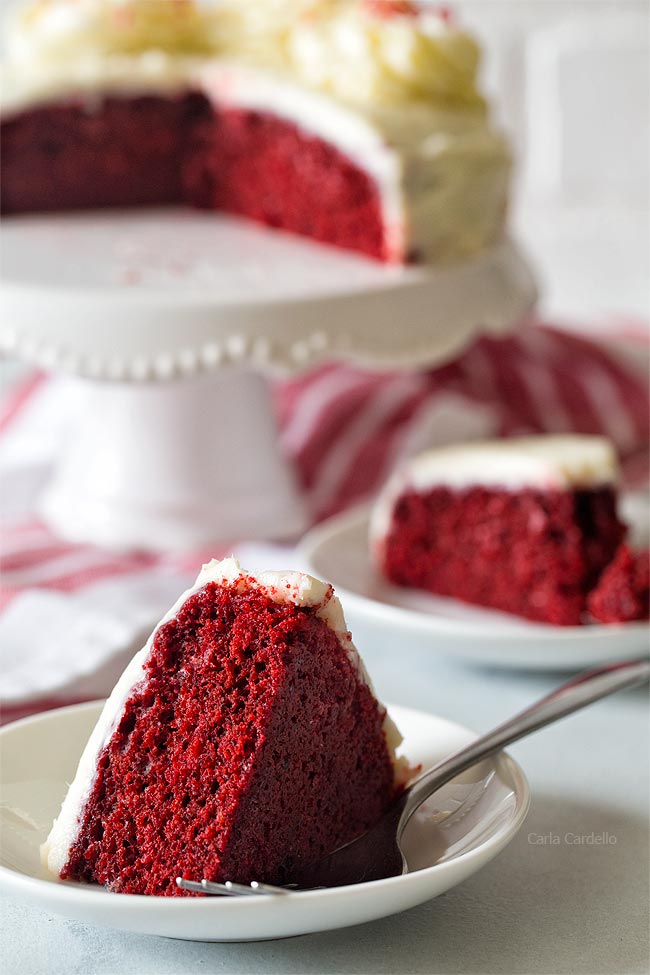 Red Velvet Ingredients
The ingredients that make red velvet cake unique are cocoa powder, buttermilk, vinegar, baking soda, and red food coloring.
The chemical reaction among these ingredients helps give red velvet a natural deep maroon color, which is often enhanced with food coloring.
If you're ever reading a red velvet recipe without those ingredients, run. Don't make it.
For the fat, you want to use a neutral flavored oil such as vegetable or canola oil. Using all oil allows the tangy buttermilk flavor to shine while also making a moist cake.
I saw some recipes using butter. However, if you used butter, its flavor would overpower the buttermilk and vinegar.
Red velvet cake also uses whole eggs. I saw one recipe using only egg whites, which I thought was weird because red velvet cake is not a white cake.
Buying A 6 Inch Round Cake Pan
In order to make this small red velvet cake recipe, you need to buy a 6 inch round cake pan. Easy enough, right?
A 6 x 2 inch round cake pan holds about 2 cups of batter. You can buy one online from Amazon (affiliate link) or from your local craft store in the cake decorating aisle.
Don't have a 6 inch pan? Make my small batch Red Velvet Cupcakes instead.
Got a 6 inch springform pan? Make my Red Velvet Oreo Cheesecake.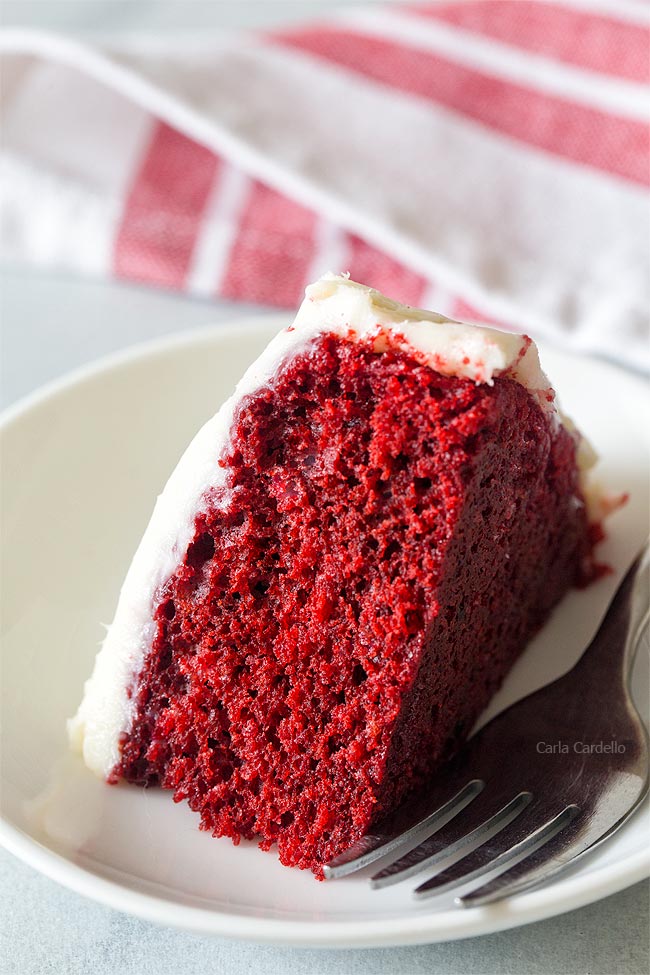 How To Make Red Velvet Cake
Like most cake recipes, first you beat together the fat and sugar. Then you beat in the egg followed by food coloring, vinegar, and vanilla.
Next, you want to alternate adding your dry ingredients with the buttermilk. This method is important.
Adding the buttermilk all at once could saturate the batter, causing it to split.
However, adding all of the dry ingredients at once will thicken the batter greatly and will likely overmix, causing a tough cake.
Add the dry ingredients in three additions while adding the buttermilk in two additions, beginning and ending with the dry ingredients.
Transfer your batter to a 6 inch round cake pan and bake until done.
How long do you bake a 6 inch cake?
You bake a 6 inch red velvet cake at 350F for about 20-23 minutes.
It's important your oven temperature is accurate. Just because your dial says it's 350F degrees doesn't mean it actually is 350F.
I highly recommend investing in an oven thermometer. It's inexpensive and will help prevent you from ruining your cake and wasting ingredients.
To tell if your cake is done, insert a toothpick in the center. If it comes out clean, the cake is ready. A few crumbs are ok, but you definitely don't want wet batter.
Servings In A 6 Inch Cake
Serving sizes are subjective, especially if you only want a small bite of cake. Generally 6 inch cakes can be sliced into 4-6 slices, making it about 4-6 servings per 6 inch cake.
However, if you slice the cake small enough, you can push for 8 slices, equaling 8 servings.
Ultimately serving size is up to you depending on how small you cut your 6 inch cake.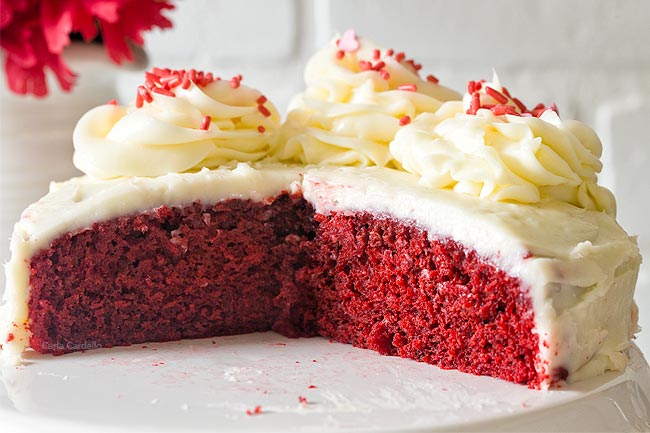 What can I use instead of buttermilk?
Buttermilk is necessary because its acidity reacts with the baking soda and cocoa powder. If you're going to substitute for buttermilk, you need to make sure its replacement is also acidic.
To substitute for buttermilk, use 1/4 cup whole milk plus 1 teaspoon lemon juice or vinegar. Let sit for 5 minutes until it curdles.
What kind of food coloring should I use?
I used liquid food coloring, the kind you add by the drop.
You can also use gel or paste, but the amount used will vary. The color will bake out a little, so make your batter a little brighter than what you want.
How do I get red food coloring off my counter?
Food coloring is messy, leaving stains everywhere including your countertop.
To remove red food coloring, cover the stain with some liquid dish soap. Let sit about 1 minute then use a wet paper towel to remove. Repeat until the stain is gone.
What kind of frosting do you use for red velvet cake?
Traditionally, you frost red velvet cake with cream cheese frosting.
I published my Small Batch Cream Cheese Frosting in a separate post, which makes just enough to frost a 6 inch cake without leftovers.
Although not traditional, you can also make Small Batch Buttercream Frosting or even Small Batch Chocolate Frosting.
More Small Cake Recipes

Looking for more small cake recipes? I wrote a 6 Inch Cake Recipes guide. Some of my favorites are:
Equipment You Will Need
Small 6 Inch Red Velvet Cake For Two
Yield: 4-6 servings
Prep Time: 20 minutes
Cook Time: 23 minutes
Total Time: 43 minutes
Homemade Small 6 Inch RedVelvet Cake For Two is a moist and delicious one layer red cocoa cake fromscratch without a cake mix. Top it with cream cheese frosting.
Ingredients
1/2 cup all-purpose flour
1 tablespoon cornstarch
1 tablespoon unsweetened cocoa powder
1/4 teaspoon baking soda
1/4 teaspoon salt
1/2 cup granulated sugar
1/4 cup vegetable or canola oil
1 egg, room temperature
2 teaspoons red food coloring
1 teaspoon vanilla extract
1/2 teaspoon white distilled vinegar
1/4 cup buttermilk (or substitute whole milk with 1 teaspoon lemon juice added)
Small Batch Cream Cheese Frosting (get recipe here)
Instructions
Preheat oven to 350F. Lightly grease one 6-inch round cake pan then line the bottom with parchment paper.
In a medium bowl, sift together the flour and cornstarch then whisk in cocoa powder, baking soda, and salt.
In a large mixing bowl, beat together the sugar and oil until moistened and smooth, about 1 minute.
Beat in the egg, food coloring, vanilla, and vinegar.
Add the flour mixture alternately with the buttermilk, adding the flour in 3 additions and the milk in 2 additions (begin and end with dry ingredients).
Transfer the batter to the pan. Bake 20-23 minutes or until a toothpick inserted in the middle comes out with a few crumbs (no wet batter). Cool for about 15 minutes, run a knife along the edge of the pan to loosen, and invert onto a cooling rack. Cool right-side-up.
Top with Small Batch Cream Cheese Frosting (get recipe here).
To store frosted cake, refrigerate in an airtight container. Let sit at room temperature for 15-30 minutes before serving.
Recommended Products
As an Amazon Associate and member of other affiliate programs, I earn from qualifying purchases.
This post may contain affiliate links. As an Amazon Associate and member of other affiliate programs, I earn from qualifying purchase.