Christmas Dinner For Two
Cooking a small Christmas dinner this year? Here's a menu to help plan your Christmas Dinner For Two including small batch recipes of your favorite Christmas dishes.
Now that the biggest food holiday of the year is over in the US, it's time to look forward to celebrating the next big food holiday – Christmas.
Although most people don't host nearly as many people for Christmas dinner as they do for Thanksgiving, they still have family coming over.
But maybe that's not you. Maybe it's only you and your partner. Maybe it's only you and your roommate. Maybe you're unable to travel this year. Or maybe you simply don't have a huge family.
I got you. I've been scaling down recipes for years.
You enjoyed my Thanksgiving Dinner For Two so much, I decided to write about Christmas Dinner For Two.
Most of the recipes will look familiar because there is a lot of overlap between Thanksgiving and Christmas.
However, I did swap out most of the desserts for gingerbread, peppermint, and eggnog.
This isn't meant to be a full menu; rather, I'm giving you choices to pick and choose. It's like one of those build your own adventures books but with food!
The list of Christmas dinner for two ideas is at the bottom, but here is a breakdown of Christmas dinner ideas for a small family: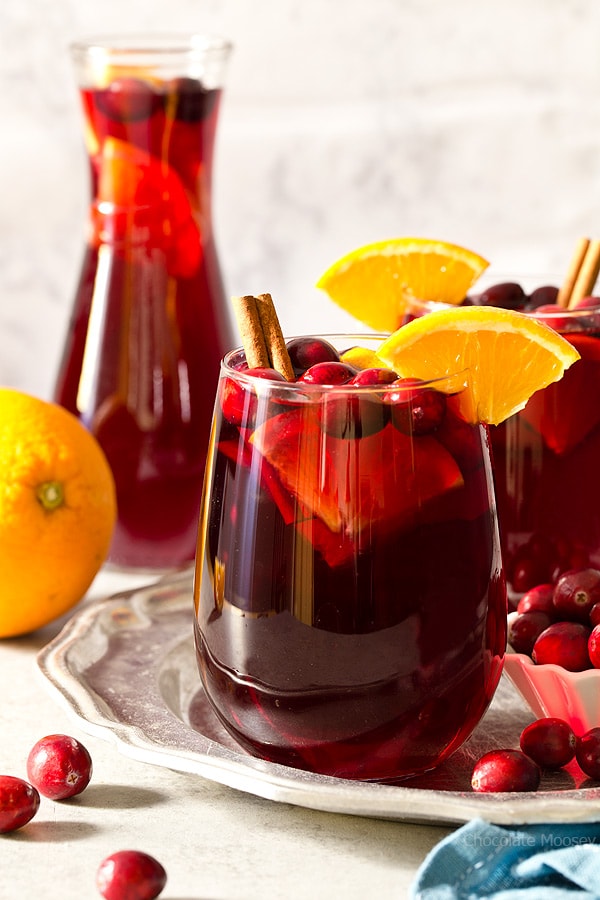 Christmas Drinks
Since you'll be busy cooking, you don't have to make drinks. Open a bottle of your favorite drink and pour.
However, you can make your Christmas dinner for 2 more special with Cranberry Sangria or Pomegranate Punch.
Not sure about finishing a whole bottle of wine? You can now buy little wine bottles, which is about 1-2 glasses.
Not a wine drinker? Serve a sparkling non-alcoholic drink, such as grape or apple juice. Or cozy up with Thick Hot Chocolate.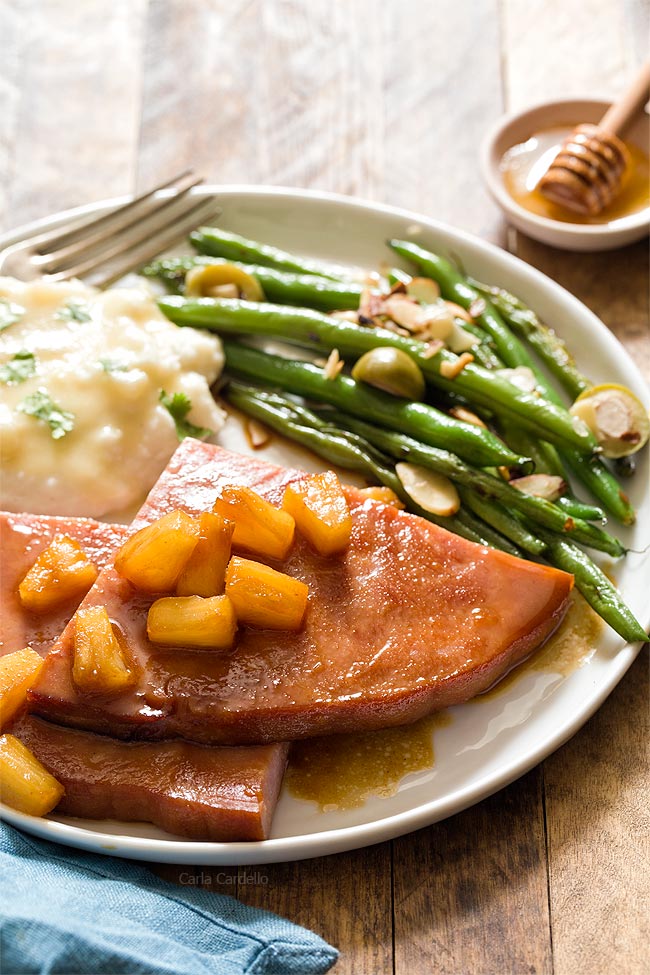 What To Make For Christmas Dinner
Thanksgiving dinner may be practically synonymous with turkey, but Christmas dinner is all about ham and lamb.
Of course ham usually comes in giant sizes. Luckily for us, we can make a honey glazed ham steak recipe so you're not stuck with 10 pounds of leftovers.
If you still find yourself with leftover ham, use it up in Ham and Cheese Soup or Baked Eggs with Ham and Cheese.
Want to make lamb for Christmas? Make Lamb Chop Dinner for two complete with a pan sauce on top.
In the mood for poultry? Check out my recipes for stuffed turkey breasts and stuffed Cornish hen.
One Cornish hen is enough for two people, although if you have your heart set on making chicken pot pie for two with the leftovers, you can always roast two.
Another easy Christmas dinner for two is Small Pork Roast made in the oven or Instant Pot Pork Roast With Vegetables.
Or how about Pork Chops with Mushroom Gravy?
Don't eat meat? No problem! Make my Vegan Stuffed Butternut Squash and Vegan Mushroom Gravy for a meatless Christmas dinner for 2.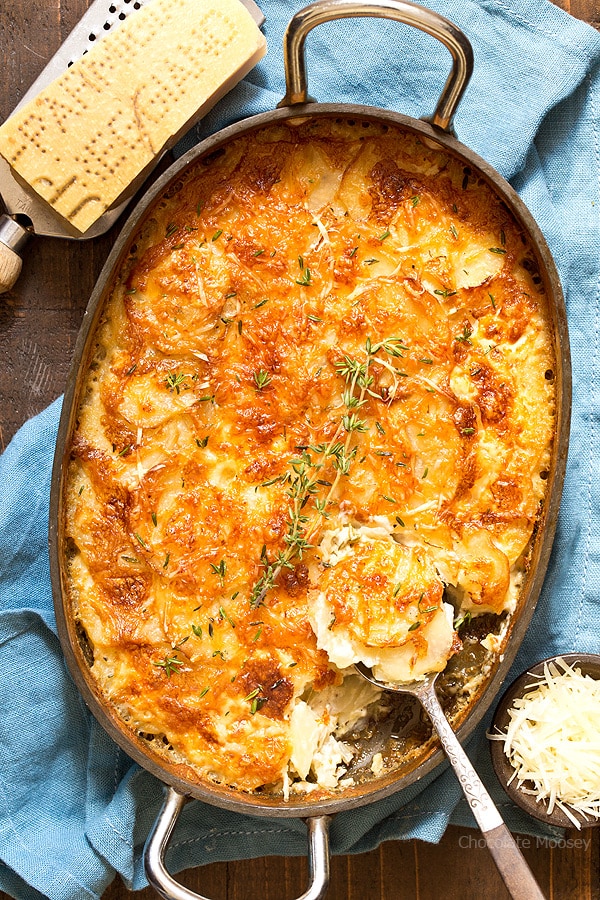 Christmas Side Dishes
Personally I think Christmas side dishes are the best part!
As much as it pains me to say this, the best way to keep leftovers to a minimum for two people is limit the side dishes.
The good news is most of these side dish recipes make roughly 4 servings (2 helpings each), so if there are any you don't make for your easy holiday meal for two, make them throughout the weekend.
I usually opt for stove top scalloped potatoes or au gratin potatoes for two, but you can also make mashed potatoes for two.
Casseroles are easy to make ahead of time, such as my sweet potato casserole for two or green bean casserole without mushroom soup.
Another recipe you can make ahead of time is small batch dinner rolls. Nothing says Christmas dinner for two like homemade bread!
Don't forget the gravy! You can make either homemade gravy without drippings or pan gravy from drippings.
Christmas Desserts
Of course no Christmas dinner for two is complete without dessert!
December brings lots of peppermint, gingerbread, and eggnog.
It also brings lots of cookies. You can check out my recipes for Small Batch Christmas Cookies then learn how to make the best Christmas Cookie Tray to serve at the end of your meal.
Love gingerbread? Bake up a small Gingerbread Cake or Mini Gingerbread Cheesecakes.
A bit less traditional, but if you're still in the mood for pumpkin, you can bake my Small Pumpkin Pie in a homemade small pie crust or mini pumpkin pies.
Still want pie but not pumpkin? You can't go wrong with a classic Small Pecan Pie!
Need something special for Christmas morning? Or maybe you're tired of all the seasonal flavors? Check out my Small Coffee Cake recipe or 6 Inch Cheesecake recipe.
Christmas Dinner For Two
Cooking a small Christmas dinner this year? Here's a menu to help plan your Christmas Dinner For Two including small batch recipes of your favorite Christmas dishes.

First published December 2, 2019
This post may contain affiliate links. As an Amazon Associate and member of other affiliate programs, I earn from qualifying purchase.