Best Small Batch Christmas Cookie Recipes
Love to bake cookies from scratch? Here are the Best Small Batch Christmas Cookie Recipes to add to your cookie tray this holiday season.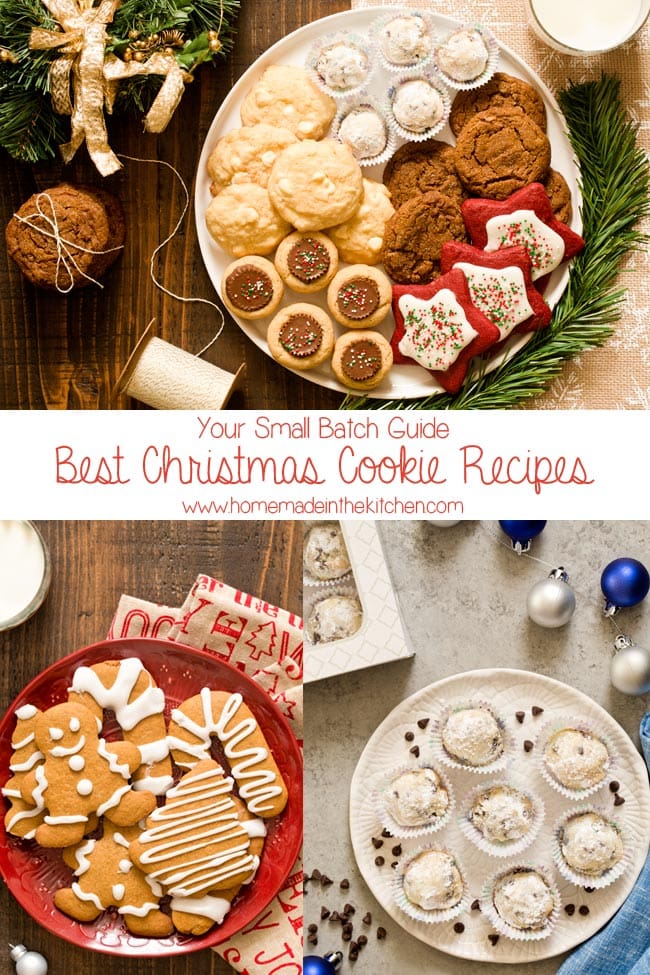 With December around the corner, that means one thing.
Start getting your ovens ready for the Best Small Batch Christmas Cookie Recipes! All of these recipes are from scratch. No premade cookie mix or dough here.
Now small batch Christmas cookies may seem like an oxymoron, but let me explain.
Holiday baking isn't about making one batch of cookies. It's about making multiple cookie recipes then creating a cookie tray afterwards.
When I posted my guide on how to make the best Christmas cookie tray, I mentioned how baking small batches of your favorite cookies makes cookie trays more manageable.
So although 1 dozen may not be enough for hosting, making several recipes as a whole is.
And there is no obligation to host with a cookie tray! Make them to eat after your Christmas dinner for two.
If you're like me where you want to bake gingerbread cookies but don't want to spend all day chilling, rolling, and cutting, make a half batch then get on with your day.
This list is made up of my favorite small batch cookie recipes. Some are unique Christmas cookies, like cherry snowballs. Others are among the most popular and most traditional, like chocolate chip.
Most recipes make about 1 dozen cookies or less. I do have some snowball cookies that make around 15 or so, but they're smaller than the average cookie.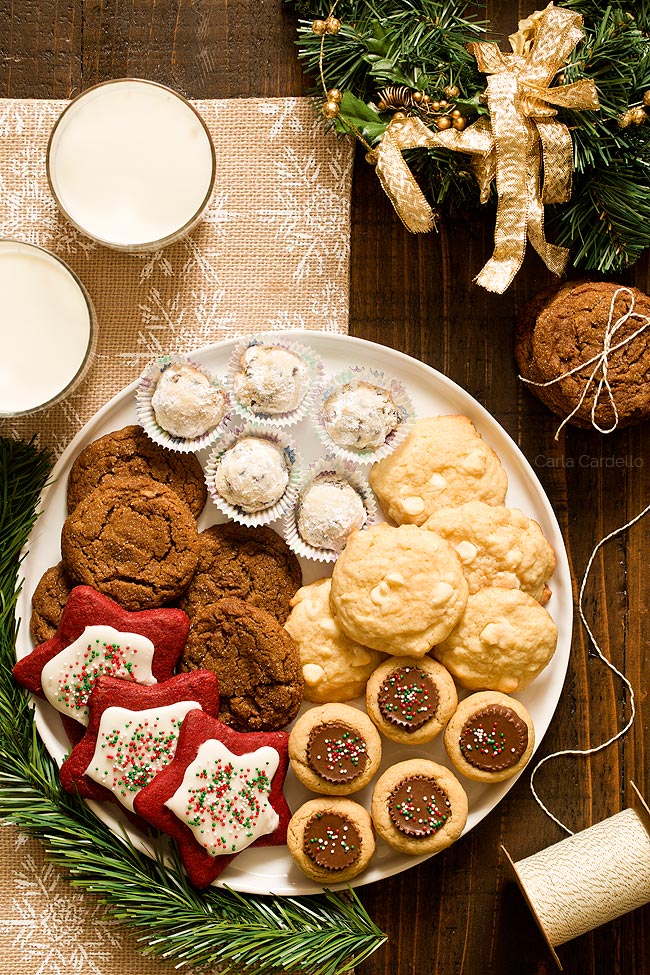 Before I get to the recipes, I want to address a few of your cookie troubleshooting questions.
How do you decorate cookies for Christmas?
The most popular way to decorate Christmas cookies is with cookie cutters, but what about those recipes that aren't cut out cookies?
One way is to decorate with red and green sprinkles. As you can see in the photo above, I amped up my basic peanut butter cookie cup recipe by adding sprinkles while the chocolate was warm.
Another way is to use red and green candies, such as M&Ms and chocolate chips.
A third way is to use Christmas cupcake liners for smaller cookies such as chocolate chip snowballs.
How do you make cookies ahead of time?
One of the best ways to reduce stress for the holiday season is to make your cookies ahead of time.
Most cookies can last about 2-3 weeks at room temperature as long as they're properly stored in an airtight container.
Another option to making cookies ahead of time is to freeze them for up to three months. There are two ways you can freeze cookies:
Make the dough as directed, scoop into dough balls, then freeze until ready to bake. You'll still need time to bake and cool before serving, but the majority of the work is already done.
Bake the cookies fully then freeze after they cool completely. Let them thaw for a few hours before serving.
How to mail Christmas cookies
One of the fun parts about baking Christmas cookies is giving them away as gifts. However, not everybody lives in the same town.
One solution is to ship Christmas cookies in the mail, surprising your recipient with a tasty treat. I share my tips for mailing cookies in another post.
What to do with leftover egg whites?

Because a lot of my small batch cookie recipes use egg yolks, that means you'll have leftover egg whites.

To cut back on food waste this season, here are some recipes using leftover egg whites:
Best Small Batch Christmas Cookie Recipes
Love to bake cookies from scratch? Here are the Best Small Batch Christmas Cookie Recipes to add to your cookie tray this holiday season.
This post may contain affiliate links. As an Amazon Associate and member of other affiliate programs, I earn from qualifying purchase.