Mini Apple Pies
Craving an easy apple pie recipe but don't want leftovers? These Mini Apple Pies are individual apple pies for two baked in ramekins with a homemade pie crust and apple pie filling. No special 6 inch pie pan needed!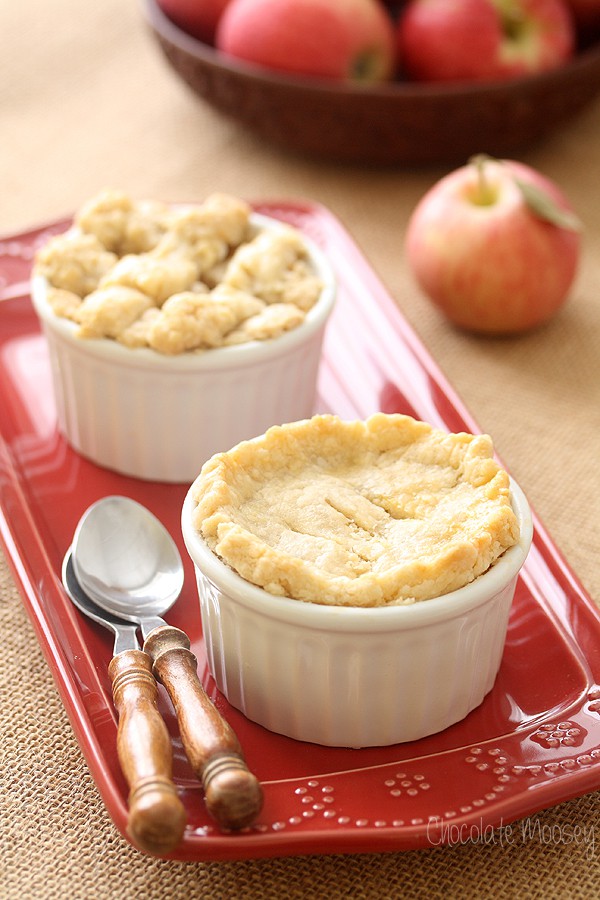 It's apple season in Pennsylvania, which means you're going to be seeing quite a few
apple recipes
in September and October.
Dad and I always kick off the season by picking apples at our favorite farm south of Pittsburgh.
Since I bake with apples a lot, I had a recipe idea list leftover from last year. At the very top were these Mini Apples Pies.
They're two individual apple pies baked in ramekins. It's like baking a single serve apple pie because you get your own pie!
Or you can eat both – one now, one later. Baker's choice.
These mini apple pies also make a great dessert for your Thanksgiving Dinner For Two if you don't want to eat pumpkin.
And much like a traditional apple pie, these ramekin apple pies are double crusted – one crust for the bottom and sides then another for the top.
I could have easily skipped the bottom crust, but then it wouldn't be apple pie for two.
Of course every apple pie for two needs homemade apple pie filling! I'll show you how to scale down apple pie filling for exactly two mini apple pies.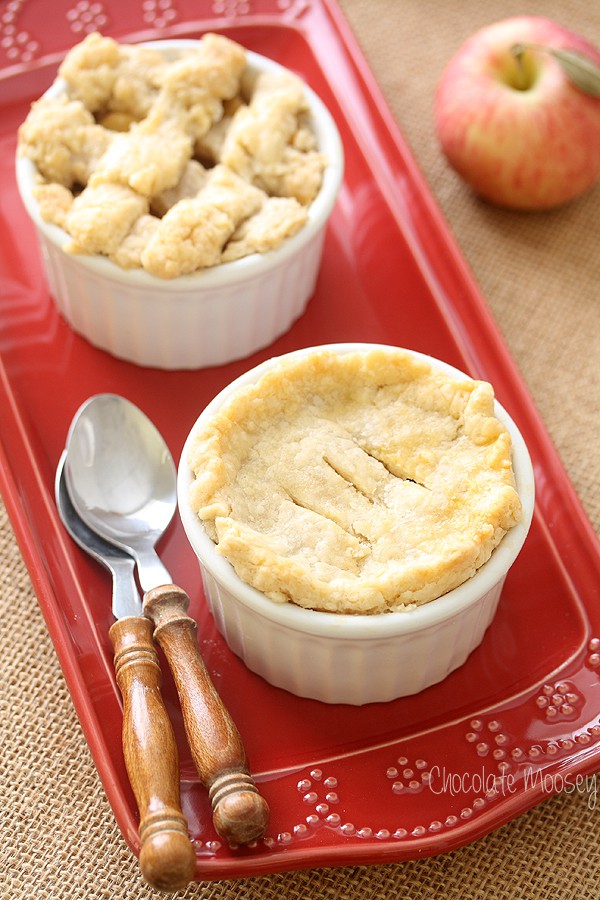 Ingredients For Mini Apple Pies
To make your individual apple pies, you'll need the following ingredients.
For the crust:
All-Purpose Flour – Flour helps make a tender crust with its gluten as well as helps keep the dough from getting too sticky. To properly measure your flour, spoon it into your measuring cup then level it off with a knife. Do not dip your measuring cup into the flour to fill it as you may accidently over-pack it with too much flour.
Sugar – Sugar adds a touch of sweetness to the crust.
Salt – Salt is a flavor enhancer and will only make your pie crust taste even better, especially if you're using unsalted butter.
Cold Butter – It's not pie dough without the fat! Butter adds the most flavor and melt-in-your-mouth quality, although it doesn't make the most tender dough…
Cold Shortening – …which is why I also add shortening. Shortening may lack flavoring, but it makes the most tender, flaky crust. You can now buy sticks of shortening that are easy to cut into tablespoons, exactly like a stick of butter. I usually keep a stick in the freezer to ensure it's extra cold for when I need it.
Cold Water – Water creates steam in the dough, which helps create flakes. It also helps bind everything together to form a dough. Be careful you don't add too much water! If your dough is too wet, it'll puff too much from the excess steam.
For the apple pie filling:
Sugar: Apples may be sweet on their own, but you still need to add sugar.
Water: Needed to make the syrupy filling. For extra apple flavor, you can use apple cider or juice.
Cornstarch: To thicken the filling
Cinnamon, nutmeg, and clove: It isn't apple pie without spices! I call these three the holy trinity of baking spices.
Lemon juice: To balance all the sweetness
Vanilla: To enhance the apple flavor
Apples: You'll want to use a baking variety (more on that below) and peel them before cooking.
Not in the mood for apple? Substitute peach pie filling or cherry pie filling.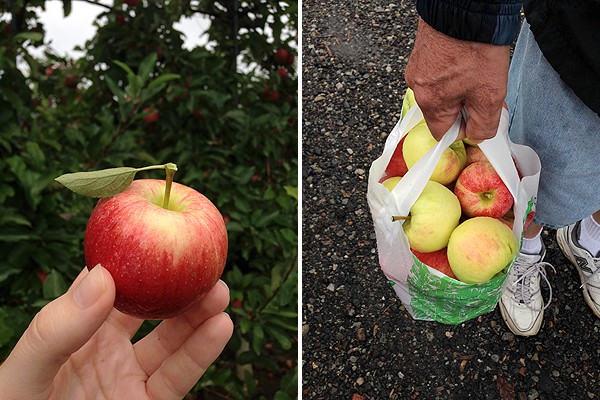 What are the best apples for apple pie?
One question I get a lot is "which type of apples are best for apple pie?"
The two varieties I picked at the farm were Ginger Gold and Gala, both which are recommended for apple pie filling because they hold their shape and don't disintegrate after a long baking time.
Other apples you can use are Jonathans, Jonagolds, Golden Delicious, Cortland, and McIntosh.
You can get away with most apple varieties, but please stay away from Red Delicious. Those are only good for snacking.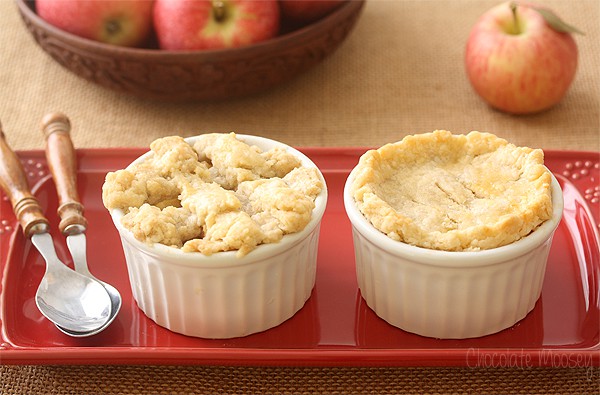 How To Make Mini Apples Pies
Time to make your apple pie for two! First, make the homemade pie dough because it needs to chill for at least 1 hour.
The easiest way to make homemade pie crust is to use the food processor. Of course you can still make it by hand, but I find the food processor the most efficient and quickest way to make the dough.
Refer to my Small Pie Crust post for step by step photos.
While the dough is chilling, make your filling. I scaled down my homemade apple pie filling for you so you don't have leftovers.
Although if you do make a full batch, use the leftovers in one of these recipes using apple pie filling.
Once the dough is ready, line two 6-ounce ramekins with half of the dough. The other half will be used for the top crust. You can either fully cover the top or get fancy with some lattice work.
For more ideas on different pie crust looks, here's a handy tutorial from Martha Stewart.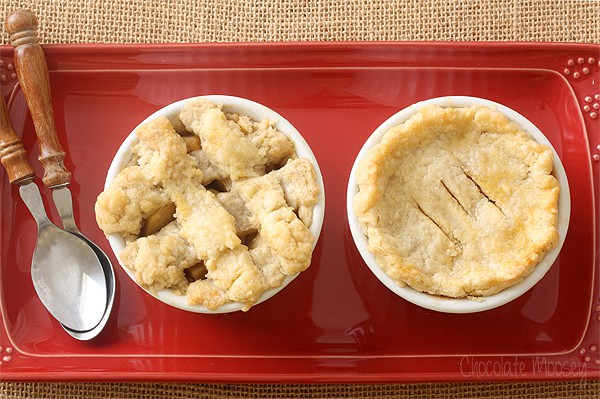 How long to bake mini apple pies?
Your ramekin apple pies are done when the tops are golden brown; they shouldn't look raw. This should take about 35-40 minutes this mini apple pie recipe.
Apple pie will last up to two days at room temperature, although I don't think you'll have any problems eating it before then. If you need to prolong your pies, refrigerate them to add an extra day or two.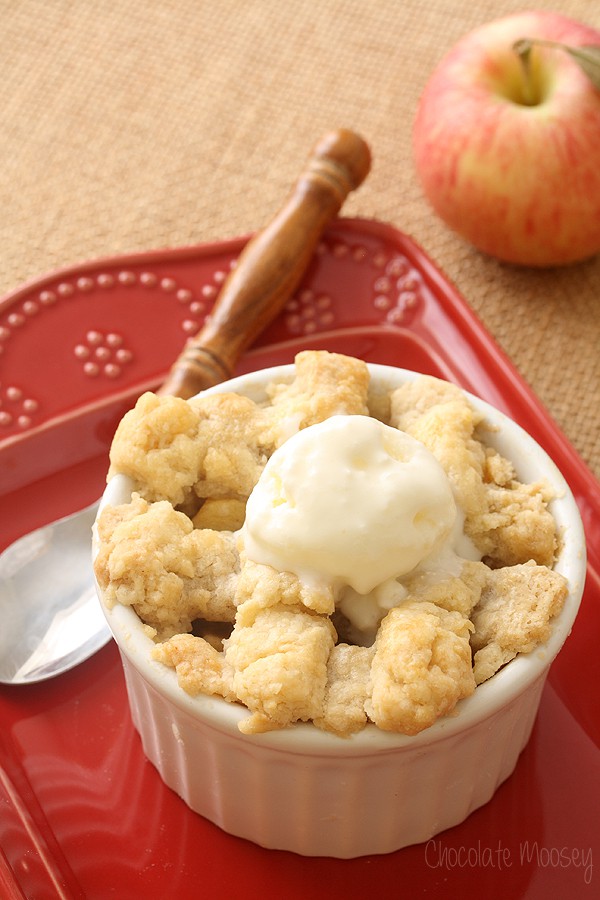 What To Serve With Mini Apple Pies
Of course what is apple pie without ice cream on top? I topped mine with buttermilk ice cream, but you are welcome to use vanilla bean ice cream or apple cider ice cream.
You can also top your individual pies with homemade whipped cream.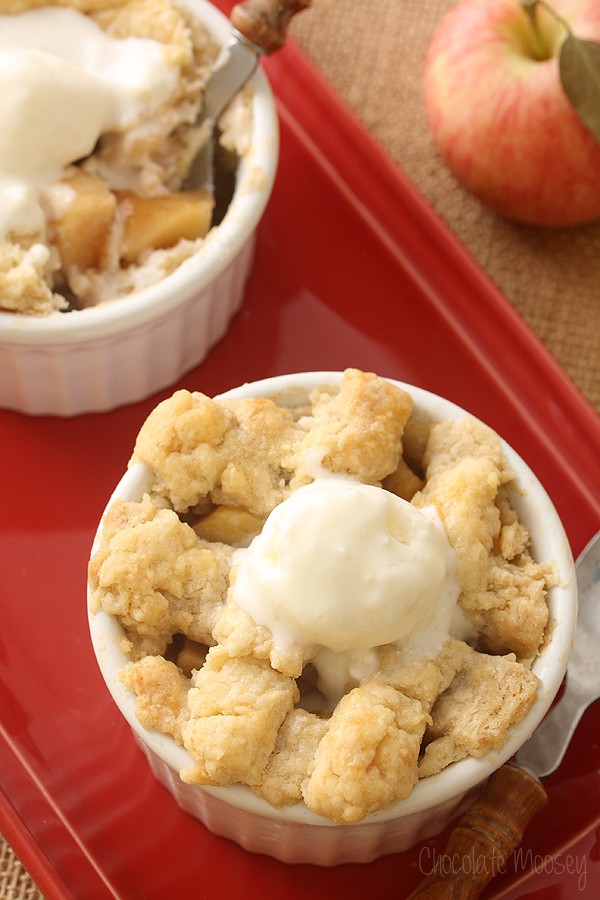 Items You May Need (affiliate links)
More Ramekin Recipes

Enjoyed your pie? Here are more ramekin dessert recipes you can make:

For a full list, check out my Ramekin Dessert Recipes.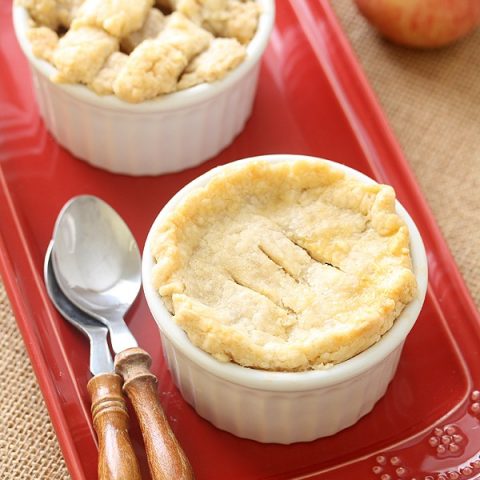 Mini Apple Pies
Yield: 2 mini pies
Prep Time: 15 minutes
Cook Time: 40 minutes
Chill Time: 1 hour
Total Time: 1 hour 55 minutes
Craving an easy apple pie recipe but don't want leftovers? These Mini Apple Pies are individual apple pies for two baked in ramekins with a homemade pie crust and apple pie filling. No special 6 inch pie pan needed!
Ingredients
Pie Crust
1 cup all purpose flour
2 tablespoons granulated sugar
1/2 teaspoon salt
3 tablespoons cold shortening, cut into 3 pieces
3 tablespoons cold unsalted butter, cut into 3 pieces
2 tablespoons cold water
Apple Pie Filling
1/4 cup water
1 teaspoon lemon juice
1/4 cup granulated sugar
1 tablespoon cornstarch
1/2 teaspoon ground cinnamon
1/4 teaspoon ground nutmeg
1/8 teaspoon ground clove
1/4 teaspoon vanilla extract
1 1/2 cups chopped, peeled baking apples (such as Gala, Golden Delicious, or Jonagold)
Instructions
In the bowl of a food processor, add the flour, sugar, and salt. Add the cold butter and shortening and pulse until butter and shortening are cut into the flour, looking like large pebbles. Add the water and pulse until a dough forms. Alternatively, you can do this by hand with a pastry blender.
Divide the dough into four even pieces and flatten each piece into an evenly round disk. Wrap in plastic wrap and refrigerate at least 1 hour or until cold.
For the apple filling: In a large saucepan, combine the water, juice, sugar, cinnamon, nutmeg, clove, and cornstarch. Stir over medium heat until thickened and bubbly. Stir in vanilla and apples then cook for 5 minutes or until the apples start to soften (don't fully cook them), constantly stirring. Remove from the heat and let cool.
Preheat oven to 350F. Have two six-ounce ramekins* and a cookie sheet ready.
Take one pie crust piece out of the refrigerator. On a lightly floured surface, roll it into a circle slightly bigger than your ramekin. Line the bottom and sides of the ramekin with the crust, patching it together if necessary. Fill the crust with half of the pie filling.
Take another pie crust piece and roll into a circle just big enough to cover the top. Place it on top and seal the edges. Cut a few slits in the top to let steam escape. If making the lattice crust, cut the dough in strips and lay the pieces on top in a criss-cross pattern.
Repeat these steps with the remaining pie crust and filling.
Place each ramekin on the cookie sheet and bake 35-40 minutes or until the top is golden brown. Cool for 15 minutes. Serve warm with ice cream or cool to room temperature.
Notes
If you use ramekins that are not six ounces, you may need to adjust the amount of pie crust and filling used. Use your best judgement.
Enjoyed this recipe? Check out my other Ramekin Dessert Recipes.
Originally published on September 15, 2014
This post may contain affiliate links. As an Amazon Associate and member of other affiliate programs, I earn from qualifying purchase.