Baked Cheesecake In A Jar
Creamy cheesecake baked in a jar makes the perfect gift to give from the kitchen.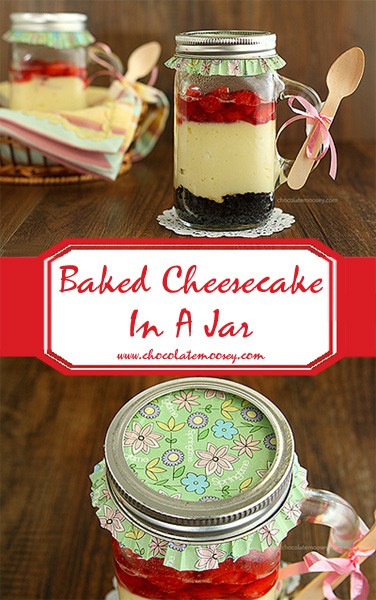 "Hi, my name is Carla, and I am addicted to cheesecake."
When I am brainstorming new recipes to try, cheesecake almost always appears on the list.
Seriously, I should consider getting stock in cream cheese or something because there is always blocks of cream cheese in my fridge, waiting to be made into something sinful at a moment's notice.
Since a cheesecake is so hard to give as a gift, why not make Baked Cheesecake In A Jar? I don't know about you, but I would thrilled if I got cheesecake as a gift.
I know the whole serving foods in jars seems like a trend that's been overdone, but it's actually quite clever if you do it right.
To me, gifts in jars have always been some kind of baking mix. And although that may be fine for those who know how to bake, what about those who don't?
Baking is an art and a science rolled into one, and I've had people tell me they are too scared or simply just don't know how to bake.
And even if the instructions are easy to follow, some people just don't have the equipment or supplies.
That's where desserts in jars comes in handy. Give people a dessert they can eat right on the spot. Bonus points if you include a spoon.
Here's the beauty in this baked cheesecake recipe – it is extremely versatile.
For the crust, use graham crackers, Oreos, peanut butter cookies, chocolate chip cookies, gingersnaps, anything that can be crushed into crumbs.
For the topping, you can use apple pie filling, cherry pie filling, caramel sauce, hot fudge sauce, crumbled up cookies, chocolate chips, jam, etc.
I topped mine with strawberry sauce.
Like how I decorated my jars? I stole this idea from
Erin of The Spiffy Cookie
.
You know those lids that come apart into two pieces? What you do is put the center piece onto the jar, stick a cupcake liner upside down over the lid, then screw the rim on top of that, securing the liner in place.
The jars I used aren't actual canning jars. My parents bought jam from the store and saved the jars. Then I fit a canning lid on top. After measuring the volume, they are 14 ounces each.
This baked cheesecake recipe can be made in a variety of jar sizes, so it's hard to say how many this recipe will make.
It made two 14-ounce jars, totaling 28 ounces, but it didn't fill the jars up all the way. My rule of thumb would be take 28 ounces and divide by however many ounces your jar is (6 ounces, 8 ounces, etc).
That should give you a rough estimate as to how many jars you would need. The cheesecake doesn't rise too much, so just make sure you leave some room for the topping.
Own an air fryer? Check out my Air Fryer Cheesecake!
Baked Cheesecake In A Jar
Yield: 2 servings
Prep Time: 15 minutes
Cook Time: 20 minutes
Chill Time: 2 hours
Total Time: 2 hours 35 minutes
Creamy cheesecake baked in a jar makes the perfect gift to give from the kitchen.
Ingredients
2/3 cup crumbs of choice (graham cracker, chocolate wafers, etc.)
2 tablespoons butter, melted
8 ounces cream cheese, softened
1/3 cup granulated sugar
1 egg, room temperature
1/3 cup sour cream
1 teaspoon vanilla
Topping of choice (pie filling, caramel sauce, hot fudge sauce, strawberry sauce, etc.)
Instructions
Preheat oven to 325F degrees. Have an 8x8 pan and two 14-ounce jars ready.* Bring some water in a kettle or pan to a boil (you will use it for a water bath later).
In a medium bowl, mix together the crumbs and butter. Divide the mixture between the two jars and press down firmly (I couldn't reach the bottom, so I used the handle of an ice cream scoop).
In a large mixing bowl, beat together the cream cheese and sugar until incorporated, 2-3 minutes. Beat in the egg then beat in the sour cream and vanilla. Divide the batter between the two jars.
Place the jars inside the 8x8 pan. Fill the pan halfway up with boiling water. Bake 20-25 minutes or until the centers are almost set (the jars should wiggle a little). Remove the pan carefully then remove the jars from the pan. Cool completely then add topping. Cover and refrigerate for at least 2 hours.
Notes
*If you want to use smaller jars, divide 28 ounces by however many ounces your jars are to determine how many jars you will need.
This post may contain affiliate links. As an Amazon Associate and member of other affiliate programs, I earn from qualifying purchase.