Small Pumpkin Pie
Cooking a small Thanksgiving for two this year? Bake up this Small Pumpkin Pie from scratch in a 6 inch pie pan! Recipe includes an easy substitute for evaporated milk.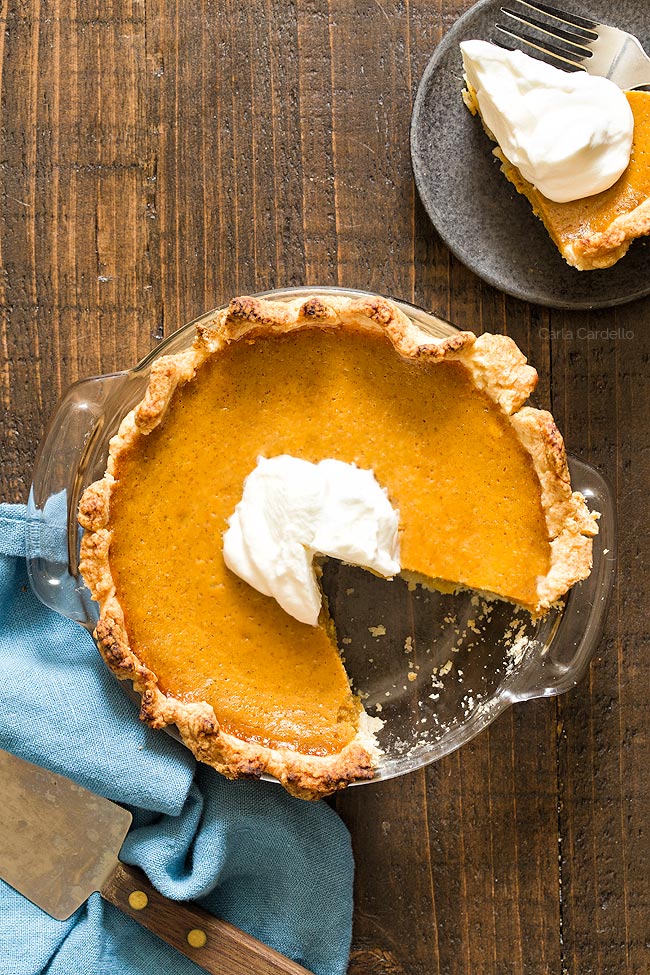 As mentioned in my last post, every year I take inventory of my Thanksgiving recipes and see what I'm missing.
Can you believe I don't have a traditional pumpkin pie recipe?! There's Mini Pumpkin Pie,Eggless Pumpkin Pie, and even Pumpkin Pie Cupcakes, but no straight-up pumpkin pie.
And of course I'm a dessert for two blog, so that means I'm making you this Small Pumpkin Pie, which is essentially a pumpkin pie for two baked in a 6 inch pie plate.
At first I couldn't decide which 6 inch pan to use. Glass plate? Disposable? Springform? Cake Pan?
I asked you on social media which pan I should use. And… the results were split.
Because there was no clear winner, I tested my small pumpkin pie recipe in all of those pans so you can easily use what you have on hand.
This 6 inch pumpkin pie recipe is pretty traditional and follows the famous Libby's pumpkin pie recipe. However, I changed one thing to make the result even better (besides the size, of course).
Can you guess what it is?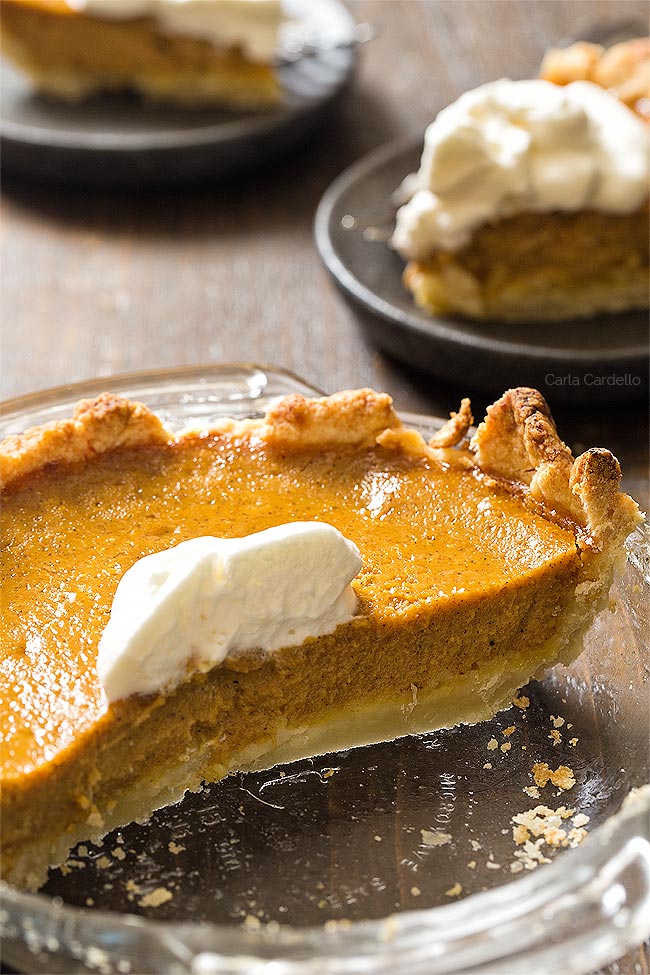 Where To Buy A 6 Inch Pie Plate
Most stores don't sell 6 inch pie plates, so I bought mine online. There weren't many options I liked, so I chose this 6 inch glass pie plate (Amazon affiliate link).
Because you're going to refrigerate your pie dough, cold glass cannot be put directly onto a hot oven rack or hot baking sheet. It will shatter if you do this.
To prevent this, place your glass plate onto a room temperature baking sheet.
Now that you bought your pie plate, check out my Mini Lemon Meringue Pies where you can make a 6 inch version.
Can you use disposable pie pans?
Yes, you can use 6 inch disposable pie pans. I tested my mini pumpkin pie in these aluminum foil mini pie pans online (Amazon affiliate link).
I found they aren't as deep as the glass pie plate, so you'll have extra dough and filling. That means you can make a second mini pie in a ramekin to bake next to your 6 inch pie.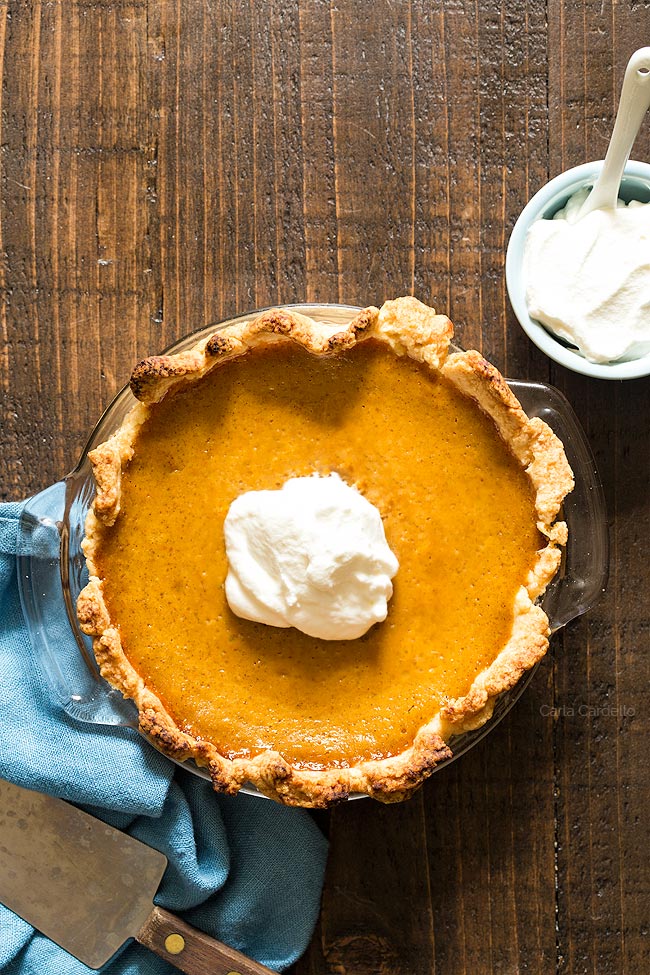 Do you need a pie dish to make a pie?
Although using a pie dish is the easiest way to serve your pie, you can also use a 6 inch cake pan or 6 inch springform pan (Amazon affiliate links).
With the springform pan, you can remove the pan side and slice as normal.
However, with the cake pan it's challenging to cut and serve your pie. Because pumpkin pie is a delicate custard filling, you can't invert the pan like you would with a cake.
Instead, you can remove the pie one slice at a time.
How many does a 6 inch pie serve?
A 6 inch pie can be cut into 4-6 slices, which is an ideal dessert for two.
The slices are much smaller than the average slice because they aren't as long.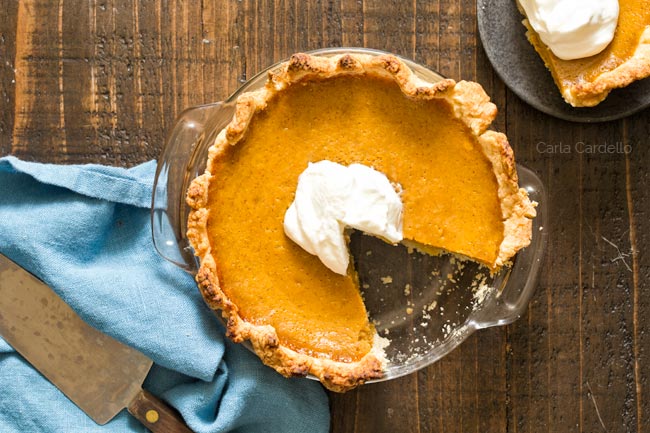 Pumpkin Pie Ingredients
My small pumpkin pie recipe is made up of these ingredients:
Canned Pumpkin Puree: It's ready-to-use pumpkin puree without having to roast a fresh pumpkin. Although technically speaking, pumpkin puree is made up of several winter squash varieties.
Sugar: It isn't dessert without sugar to sweeten it!
Egg: Pumpkin pie actually has a custard filling, which uses egg for the base.
Cinnamon, Nutmeg, Ginger, and Clove: Sometimes referred to as pumpkin pie spice, these ground spices gives pumpkin pie its iconic flavor.
Salt: Salt is a flavor enhancer and will only make everything taste better.
Vanilla: Vanilla is another flavor enhancer. If your desserts ever taste like they're missing something, add vanilla. Make sure you use real vanilla extract and not imitation vanilla.
Evaporated Milk: It's shelf-stable canned milk where roughly 60 percent of water is removed from fresh milk. It adds body and richness to your pumpkin pie filling.
Small Pie Crust: It's not pie without pie crust! Although your pie will taste a thousand times better with homemade pie crust, you can also buy pre-made dough, roll it out, then cut to fit your 6 inch pan.
Since you'll likely have leftover pumpkin, serve up some pumpkin mac and cheese for dinner.
Is canned pumpkin the same as pumpkin pie filling?
No, canned pumpkin puree and pumpkin pie filling are not the same. The puree is pure without anything added to it.
Pumpkin pie filling is pre-sweetened with added spices.
Make sure your can says "100% Pure Pumpkin".
What is a substitute for evaporated milk in pumpkin pie?
Let's talk about evaporated milk and why you don't really *need* it.
Canned products are especially difficult to use in small batch baking because most of the time, you don't need the whole can. This leaves you with leftovers and no clue on what else to make.
My 6 inch pumpkin pie recipe uses half of a small 5 ounce can. However, you can also substitute 3 tablespoons heavy cream + 2 tablespoons whole milk for evaporated milk.
The fat content is important, so please don't use skim milk.
Can I substitute sweetened condensed milk for evaporated milk?
No, you cannot substitute sweetened condensed milk for evaporated milk. Condensed milk is much thicker and sweeter.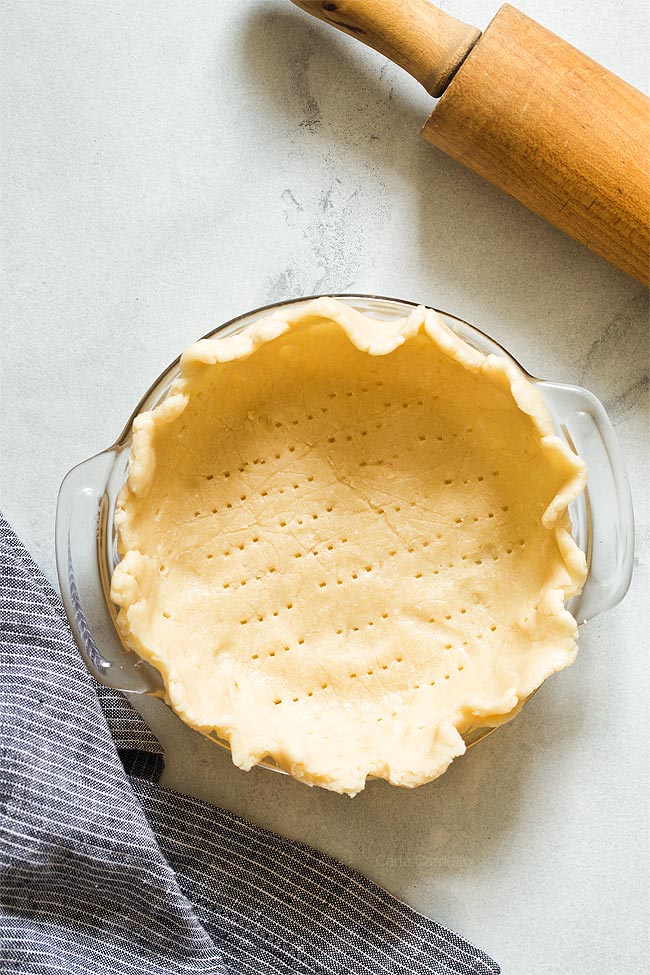 Pumpkin Pie Crust Recipe
Because we're making a 6 inch pumpkin pie, you're going to need a 6 inch pie crust.
Unfortunately, that's not something you can buy so you will be making my Small Pie Crust recipe by hand. I promise it's easy, especially if you have a food processor!
However, I can hear some of you panicking. Maybe you're a mess when it comes to homemade pie crust.
Or maybe it's the night before Thanksgiving and you needed to get that pie in the oven an hour ago.
No worries! You can buy premade pie dough then roll it out and cut to fit your pan. You'll need about an 8 inch circle so you'll have enough to decorate your crust.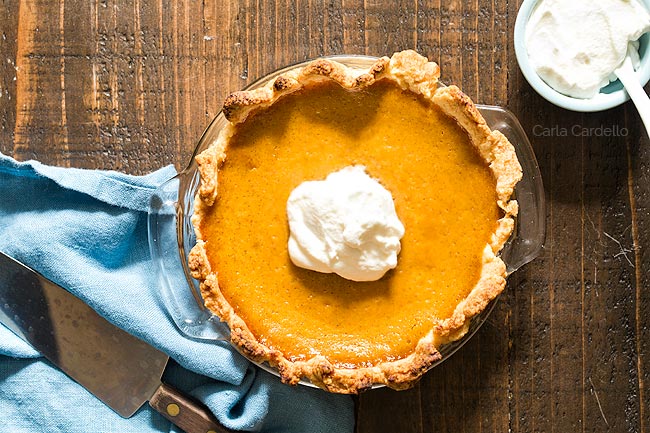 How To Make A Small Pumpkin Pie
There are two parts to making your pumpkin pie from scratch – the crust and the filling.
First, make the crust. As mentioned earlier, I used my small pie crust recipe. I have step by step photos and tips on that post, so I won't rehash it here.
However, there is one controversial method we need to discuss, which is…
Do you need to bake the crust first for pumpkin pie?
When I first made my 6 inch pumpkin pie, I followed Libby's pumpkin pie recipe but reduced the ingredient amounts.
However, I noticed you poured the filling into an unbaked pie crust and bake both parts together. I knew based on experience this would happen:
The crust will be soggy by absorbing the filling and will never crisp up into a tender, flaky crust.
The filling, which is a custard, has a high chance of overbaking and cracking on top because you cook it at a high temperature in the beginning.
For testing purposes I continued with the recipe. As predicted, it cracked and had a soggy pie crust.
To fix both of these issues, I blind baked the pie crust. That means you bake the pie crust on its own without any filling inside.
This allows the crust to crisp up and become flaky because it's not absorbing the wet filling.
Plus you can now bake the filling at a lower temperature without overcooking it.
Baking Pumpkin Pie
While the crust is cooling, time to make your filling.
Making the filling is so easy, you don't even need a mixer! All you need is a whisk and some elbow grease.
First, whisk together the pumpkin, sugar, egg, spices, and vanilla. Then slowly whisk in your milk.
Pour the filling into your crust then bake at 350F degrees for roughly 40-45 minutes or until done.
How To Know When Pumpkin Pie Is Done
Another slightly controversial issue with pumpkin pie is knowing when it's done. Most recipes will tell you until a knife or toothpick inserted in the center comes out clean.
However, pumpkin pie is a custard, similar to how a cheesecake is also custard-based. That means the toothpick will not come out clean. If it does, you likely overbaked it.
Your pie will also slightly wiggle in the middle, although it shouldn't be too noticeable.
The best way to know when your pumpkin pie is done? Use a digital thermometer. The internal temperature should be between 160F-170F, which I found to be true after 40 minutes in a gas oven.
Sure, there's a hole in the middle but then you can cover it up with homemade whipped cream.
Why did my pumpkin pie crack?
If your pumpkin pie is cracked on top, chances are you overbaked your pie.
Make sure you're using a digital thermometer to check for doneness. Do not rely on the clean toothpick test.
You will also want to use an oven thermometer to ensure you're baking your pie at a true 350F degrees.
Does pumpkin pie need to be refrigerated?
Yes, you need to refrigerate your pumpkin pie. Cool your freshly-baked pie to room temperature for 2 hours then carefully cover and refrigerate.
Do not put plastic wrap directly on the pie surface or it'll rip it up. Trust me.
If you really need to use plastic wrap, place a toothpick in the center then tent the wrap over it.
Can you serve pumpkin pie right away?
Although you can technically eat your pie 2 hours after you baked it, it'll taste much better if you refrigerate it overnight.
This allows the flavors to develop even more while resting. Plus I personally think it tastes better served cold.
How long does pumpkin pie last in the fridge?
Want to bake your 6 inch pie ahead of time? You can store it in the fridge for about 3 days.
Homemade whipped cream will deflate after 48 hours, so it's best to make that as close to serving time as possible.
Can you freeze pumpkin pie?
Yes, you can freeze your freshly-baked pumpkin pie. After it cools for 2 hours, wrap in plastic wrap then place in a freezer-safe bag. Freeze for up to 1 month. The texture may be compromised if frozen longer.
To serve your frozen pie, thaw it overnight in the refrigerator. If you thawed it at room temperature, the filling may weep and result in a soggy crust.
What To Serve With Pumpkin Pie

If you're making my small pumpkin pie, chances are you're getting ready for Thanksgiving or Christmas. Here are some holiday recipes for two you can make:

For a full list of recipes, check out my Thanksgiving For Two and Christmas For Two menus.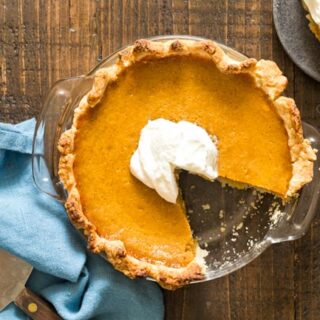 Small Pumpkin Pie
Yield: 4-6 servings
Prep Time: 30 minutes
Cook Time: 40 minutes
Cool Time: 2 hours
Total Time: 3 hours 10 minutes
Cooking Thanksgiving for two? Bake Small Pumpkin Pie from scratch in a 6 inch pie pan! Recipe includes substitute for evaporated milk.
Ingredients
1 recipe Small Pie Crust (get recipe here)
1/2 cup canned pumpkin puree (not pumpkin pie mix)
1/4 cup granulated sugar
1 egg, room temperature
1/2 teaspoon ground cinnamon
1/4 teaspoon ground nutmeg
1/4 teaspoon ground ginger
1/4 teaspoon salt
1/8 teaspoon ground clove
1/2 teaspoon vanilla extract
5 tablespoons evaporated milk (or substitute 3 tablespoons heavy cream + 2 tablespoons whole milk)
Whipped cream, for serving (get recipe here)
Instructions
Make the Small Pie Crust dough and chill for 1 hour (get directions here - post includes step by step photos).
If you haven't already, roll your dough into an 8 inch circle between 1/8 - 1/4 inch thick. You can roll it out in between the plastic wrap or on a lightly floured surface.

If your dough is sticking, refrigerate for another 15 minutes or until cold.
Transfer your dough to a 6 inch ungreased glass pie plate, 6 inch greased disposable pie plate, 6x2 inch greased springform pan, or 6x2 inch greased cake pan. If you're having trouble, you can patch the dough back together in the pan.

Trim off any excess dough then shape crust as desired. Prick the bottom with a fork then refrigerate for at least 30 minutes.
Preheat the oven to 400F. Have a room temperature baking sheet ready.
Line the pie crust with greased foil covering the top (touching the dough) then fill with pie weights, such as dried lentils or beans.
Place your pie pan onto the room temperature baking sheet. Bake for 15 minutes.

Do not put a cold pan directly onto a hot oven rack or hot baking sheet. The sudden change in temperature may cause your pan to shatter.
Remove the foil and weights then bake another 5 minutes or until the bottom is golden brown and no longer looks uncooked.
Turn the oven down to 350F and let the crust cool while you make the filling.
For the filling: In a large bowl, whisk together the pumpkin, sugar, egg, cinnamon, nutmeg, ginger, cloves, salt, and vanilla. Slowly whisk in the milk.
Transfer your filling to the warm pie crust. Bake 40-45 minutes or until the center is mostly set with some wiggling and internal temperature reaches 160F-170F degrees.

If your pan is small and the filling doesn't fit, place remaining filling in a ramekin and bake on the same tray.
Cool for 2 hours then cover and refrigerate until ready to serve with whipped cream. Store in the refrigerator for up to 3 days.
Recommended Products
As an Amazon Associate and member of other affiliate programs, I earn from qualifying purchases.
This post may contain affiliate links. As an Amazon Associate and member of other affiliate programs, I earn from qualifying purchase.