Small Pecan Pie
Cooking a small Thanksgiving or Christmas for two this year? Bake up this Small Pecan Pie from scratch in a 6 inch pie pan! Recipe includes homemade pie crust that stays crispy and flaky after baking.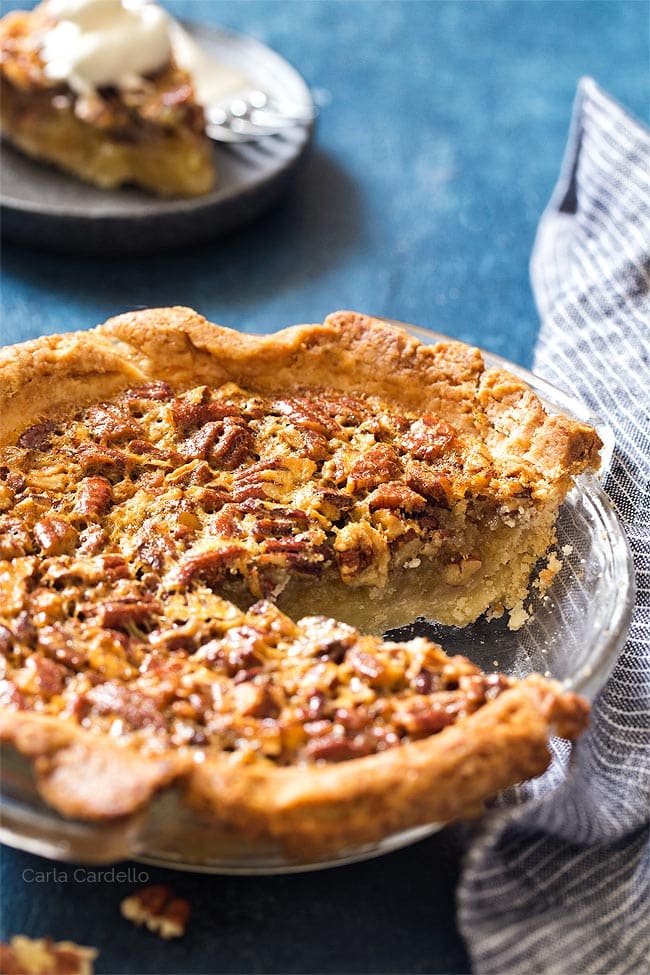 After making my
small pumpkin pie
for Thanksgiving, I knew I wanted to make a Small Pecan Pie next.
I have my 9 inch German Chocolate Pecan Pie and 9 inch Pecan Pie Cheesecake, but not a traditional pecan pie.
But of course you don't have to save this for a special holiday. That's the best part of making my small pecan pie recipe – make it any day of the year without having too many leftovers!
The slices are smaller than a regular pie, so you can have some portion control if you're being mindful about what you're eating.
Oh and based on all the pecan pie recipes I was reading, I changed one direction to make mine even better than all of theirs.
Can you guess what I did?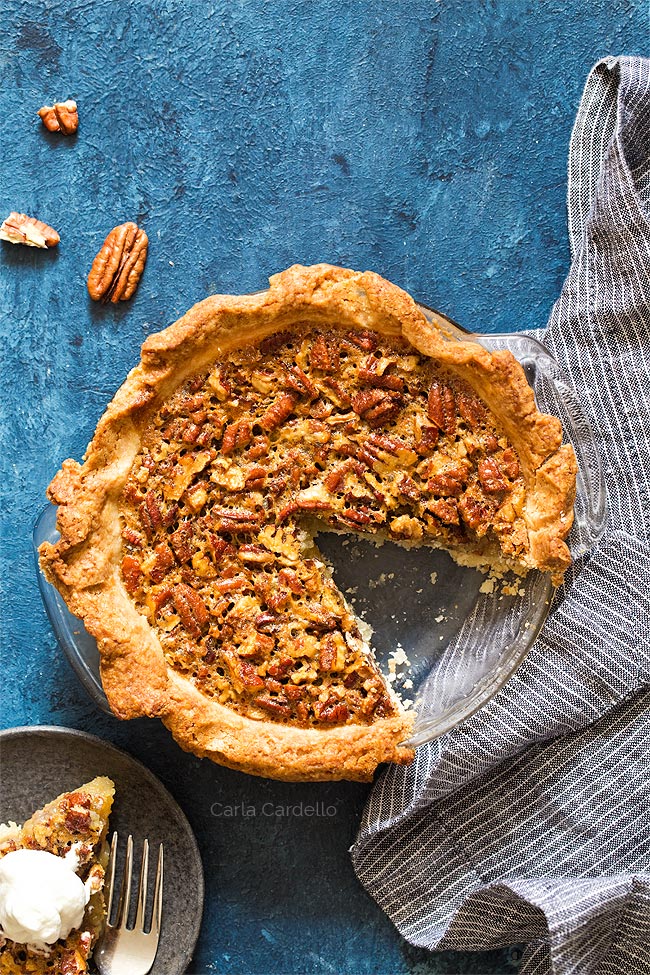 What is pecan pie?
Pecan pie is a custard based pie made of pecans, corn syrup, butter, and egg. The recipe originated from the Southern U.S.
The pecans magically float to the top while baking, leaving you with a crunchy, nutty layer on top and a jelly-like custard on the bottom.
Where To Buy A 6 Inch Pie Plate
I have yet to see a 6 inch pie plate at the store, so I bought mine online.
There weren't many options I liked, so I chose this 6 inch glass pie plate (Amazon affiliate link).
Because you're going to refrigerate your pie dough, cold glass cannot be put directly onto a hot oven rack or hot baking sheet. It will shatter if you do this.
To prevent this, place your glass plate onto a room temperature baking sheet.
Now that you bought your pie plate, check out my Mini Lemon Meringue Pies where you can make a 6 inch version.
Can you use disposable pie pans?
Yes, you can use 6 inch disposable pie pans. I used these aluminum foil mini pie pans (Amazon affiliate link).
They aren't as deep as the glass pie plate, so you'll have extra dough and filling. That means you can make a second mini pie in a ramekin to bake next to your 6 inch pie.
Do you need a pie dish to make a pie?
I highly recommend a pie dish as it's the easiest way to serve your small pecan pie, but I understand not wanting to buy yet another pan for your small kitchen.
That's why I tested it using a 6 inch cake pan or 6 inch springform pan (Amazon affiliate links).
With the springform pan, you can remove the pan side and slice as normal. Make sure you wrap the outside bottom of your pan with foil to catch any leaks.
However, with the cake pan it's challenging to cut. Because pecan pie has a delicate custard filling, you can't invert the pan like you would with a cake.
Instead, you can remove the pie one slice at a time. The first slice may crumble on you, but you can add extra whipped cream on top.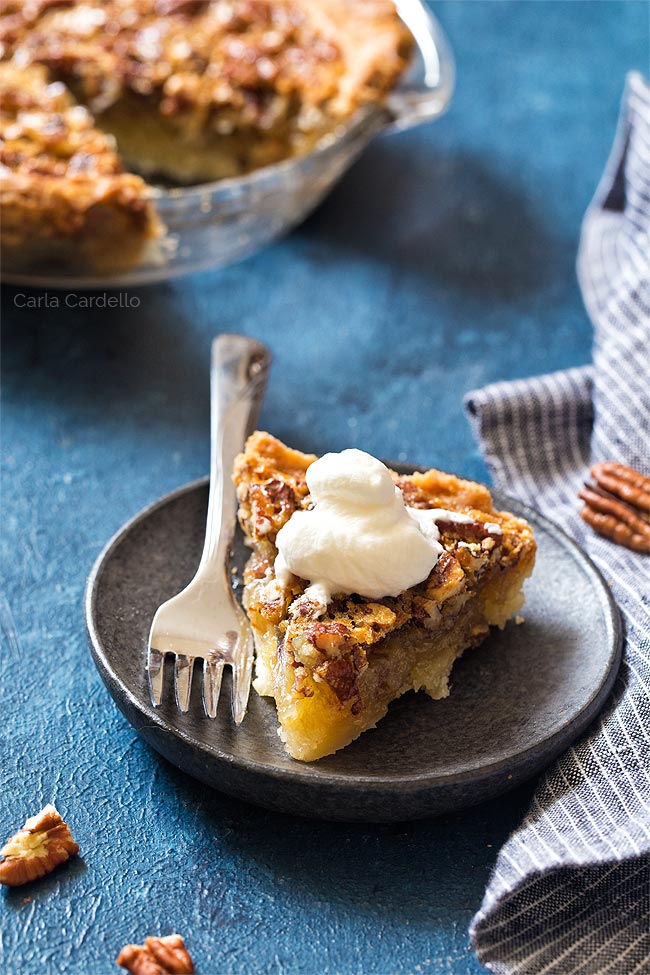 How many does a 6 inch pie serve?
A 6 inch pie can serve 2-4 people after cutting your small pecan pie into 4-6 slices. It really depends on how much everyone will eat.
The slices are much smaller than the average slice because they aren't as long, so I consider it a dessert for two.
Pecan Pie Ingredients
My 6 inch pecan pie recipe is made up of these ingredients:
Corn Syrup: In addition to sweetening your pie, corn syrup plays a very important part in texture. It prevents sugar crystallization during baking, which means your pie won't be grainy.
Sugar: You also want to use granulated sugar because it caramelizes and browns your pie.
Egg: Pecan pie technically has a custard filling, which uses egg for the base.
Butter: Butter adds flavor, like butter pecan on a much smaller scale.
Salt: Salt is a flavor enhancer and will only make everything taste better.
Vanilla: Vanilla is another flavor enhancer. If your desserts ever taste like they're missing something, add vanilla. Make sure you use real vanilla extract and not imitation vanilla.
Pecans: Pretty sure you can't make pecan pie without pecans! You want to coarsely chop them but not too finely.
Small Pie Crust: Can't forget the pie crust! Although your pie will taste a thousand times better with homemade pie crust, you can also buy pre-made dough, roll it out, then cut to fit your 6 inch pan.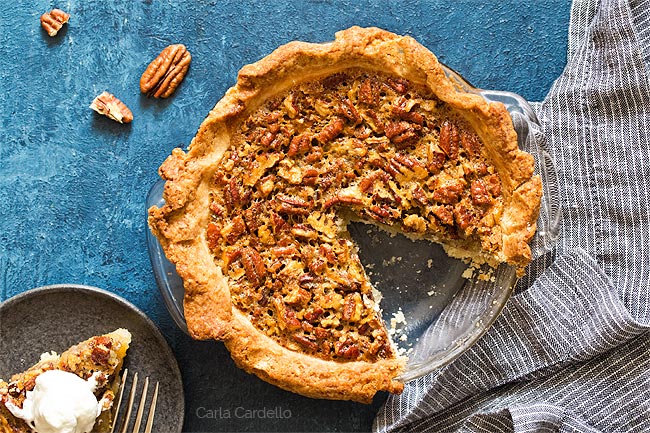 Can you substitute the corn syrup?
I get it. We've been raised to believe corn syrup is bad for you but the kind you buy at the store is not high fructose corn syrup. Really it's just liquid sugar that helps prevent crystallization when baking.
Pecan pie is synonymous with corn syrup, so I highly recommend just buying it and using it for best results.
If you can't find it at the store, check next to the maple syrup. For some reason it's there and not in the baking aisle.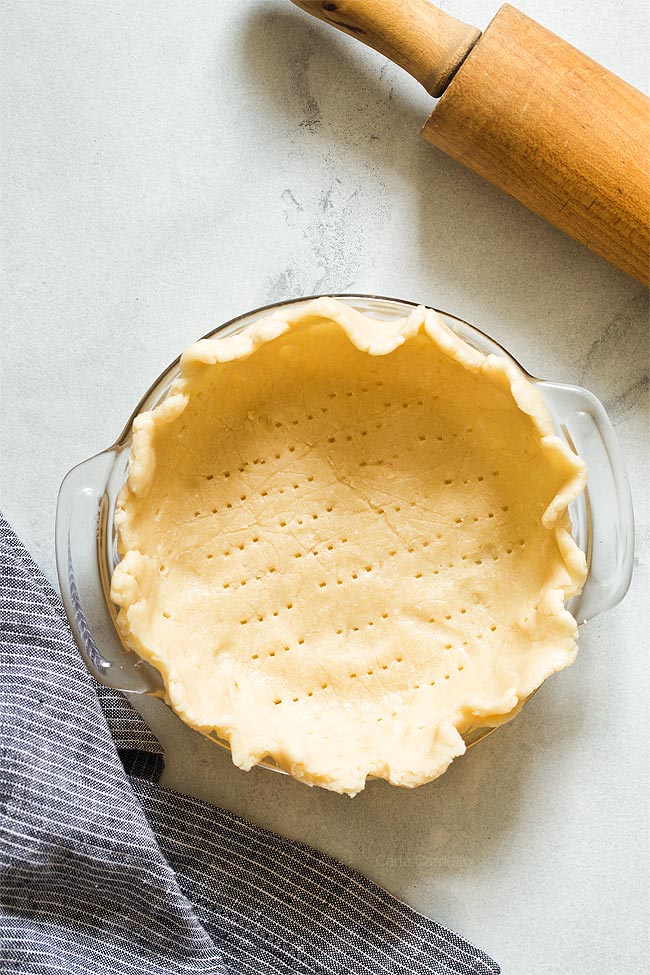 Pecan Pie Crust Recipe
Because we're making a 6 inch pecan pie, you're going to need a 6 inch pie crust.
Since it's not something you can buy, you will be making my Small Pie Crust recipe by hand. I promise it's easy, especially if you have a food processor!
However, I can hear some of you panicking. Maybe you're a mess when it comes to homemade pie crust.
Or maybe it's the night before and you needed to get that pie in the oven an hour ago.
No worries! You can buy premade pie dough then roll it out and cut to fit your pan. You'll need about an 8 inch circle so you'll have enough to decorate your crust.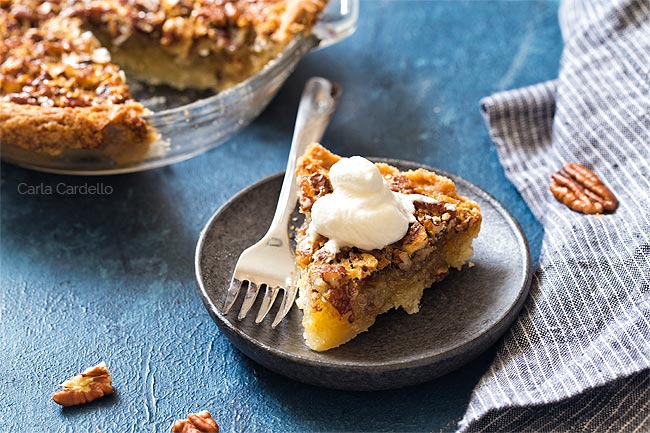 How To Make A Small Pecan Pie
There are two parts to making your pecan pie from scratch – the crust and the filling.
First, make the crust. As mentioned earlier, I used my small pie crust recipe. I have step by step photos and tips on that post, so I won't repeat myself here.
However, there is one controversial method we need to discuss, which is…
Should I prebake my crust for Pecan Pie?
When researching how to make a pecan pie, I noticed you added the filling into an unbaked pie crust and bake both parts together.
Much like my small pumpkin pie, I knew the crust would get soggy by absorbing the filling and will never crisp up into a tender, flaky crust.
That's why I blind baked the pie crust, which means you bake the pie crust on its own without any filling inside.
This allows the crust to crisp up and become flaky because it's not absorbing the wet filling.
Baking Pecan Pie
While the crust is cooling, time to make your filling.
Making the filling is so easy, you don't even need a mixer! All you need is a whisk and some elbow grease.
First, whisk together the corn syrup, sugar, egg, melted butter, vanilla, and salt. Then stir in your pecans.
Pour the filling into your crust then bake at 350F degrees for roughly 40-45 minutes or until done.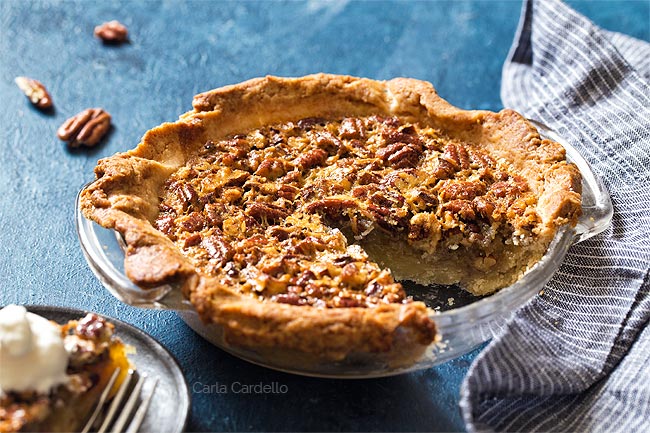 How To Tell When Pecan Pie Is Done
One of the challenging parts about baking pecan pie is knowing when it's done. If you pull it too soon, the filling will be runny.
Your small pecan pie is done when the internal temperature reaches 200F degrees, which I found to be true after 40 minutes in a gas oven.
Sure, there's a hole in the middle but then you can cover it up with homemade whipped cream.
Does pecan pie need to be refrigerated?
Because pecan pie has a custard filling underneath the pecans, yes you need to refrigerate your pecan pie. Cool your freshly-baked pie to room temperature for 2 hours then carefully cover and refrigerate.
Can you serve pecan pie right away?
Although you can technically eat your pie 2 hours after you baked it, it'll taste much better if you refrigerate it overnight. This allows the flavors to develop even more while resting.
Plus the pie is more likely to fall apart if you cut into it while still warm.
How long does pecan pie last in the fridge?
Want to bake your 6 inch pie ahead of time? You can store it in the fridge for about 3 days.
Homemade whipped cream will deflate after 48 hours, so it's best to make that as close to serving time as possible.
Can you freeze pecan pie?
Yes, you can freeze your freshly-baked pecan pie. After it cools for 2 hours, wrap in plastic wrap then place in a freezer-safe bag. Freeze for up to 1 month.
To serve your frozen pie, thaw it overnight in the refrigerator. If you thawed it at room temperature, the filling may weep and result in a soggy crust.
What To Serve With Pecan Pie

If you're making my small pecan pie, chances are you're getting ready for Thanksgiving or Christmas. Here are some holiday recipes for two you can make:

For a full list of recipes, check out my Thanksgiving For Two and Christmas For Two menus.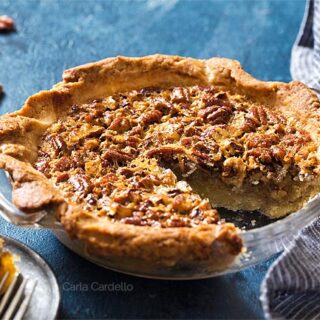 Small Pecan Pie
Yield: 4-6 servings
Prep Time: 30 minutes
Cook Time: 40 minutes
Cool Time: 2 hours
Total Time: 3 hours 10 minutes
Cooking a small Thanksgiving or Christmas? Bake up this Small Pecan Pie from scratch in a 6 inch pie pan! Recipe includes homemade pie crust that stays crispy and flaky after baking.
Ingredients
1 recipe Small Pie Crust (get recipe here)
1/4 cup granulated sugar
1/4 cup light corn syrup
1 egg, room temperature
1 tablespoon unsalted butter, melted
1/2 teaspoon vanilla extract
1/8 teaspoons salt
1/2 cup coarsely chopped pecans
Whipped cream, for serving (get recipe here)
Instructions
Make the Small Pie Crust dough and chill for 1 hour (get directions here - post includes step by step photos).
If you haven't already, roll your dough into an 8 inch circle between 1/8 - 1/4 inch thick. You can roll it out in between the plastic wrap or on a lightly floured surface.

If your dough is sticking, refrigerate for another 15 minutes or until cold.
Transfer your dough to a 6 inch ungreased glass pie plate, 6 inch greased disposable pie plate, 6x2 inch greased springform pan, or 6x2 inch greased cake pan. If you're having trouble, you can patch the dough back together in the pan.
Trim off any excess dough then shape crust as desired. Prick the bottom with a fork then refrigerate for at least 30 minutes.
Preheat the oven to 400F. Have a room temperature baking sheet ready.
Line the pie crust with greased foil covering the top (touching the dough) then fill with pie weights, such as dried lentils or beans.
Place your pie pan onto the room temperature baking sheet. Bake for 15 minutes.

Do not put a cold pan directly onto a hot oven rack or hot baking sheet. The sudden change in temperature may cause your pan to shatter.
Remove the foil and weights then bake another 5 minutes or until the bottom is golden brown and no longer looks uncooked.
Turn the oven down to 350F and let the crust cool while you make the filling.
For the filling: In a large bowl, whisk together the sugar, corn syrup, egg, melted butter, vanilla and salt. Stir in the pecans.
Transfer your filling to the warm pie crust. Bake 40-45 minutes or until the center reaches an internal temperature of 200F degrees.

If your pan is small and the filling doesn't fit, place remaining filling in a ramekin and bake on the same tray.
Cool for 2 hours then cover and refrigerate until ready to serve with whipped cream. Store in the refrigerator for up to 3 days.
Recommended Products
As an Amazon Associate and member of other affiliate programs, I earn from qualifying purchases.
Originally published December 3, 2021
This post may contain affiliate links. As an Amazon Associate and member of other affiliate programs, I earn from qualifying purchase.