Creamy Sausage Mushroom Pasta
Creamy Sausage Mushroom Pasta with rigatoni and a creamy white Alfredo sauce is a hearty and comforting dinner for two. Serve it with a side salad for a complete meal.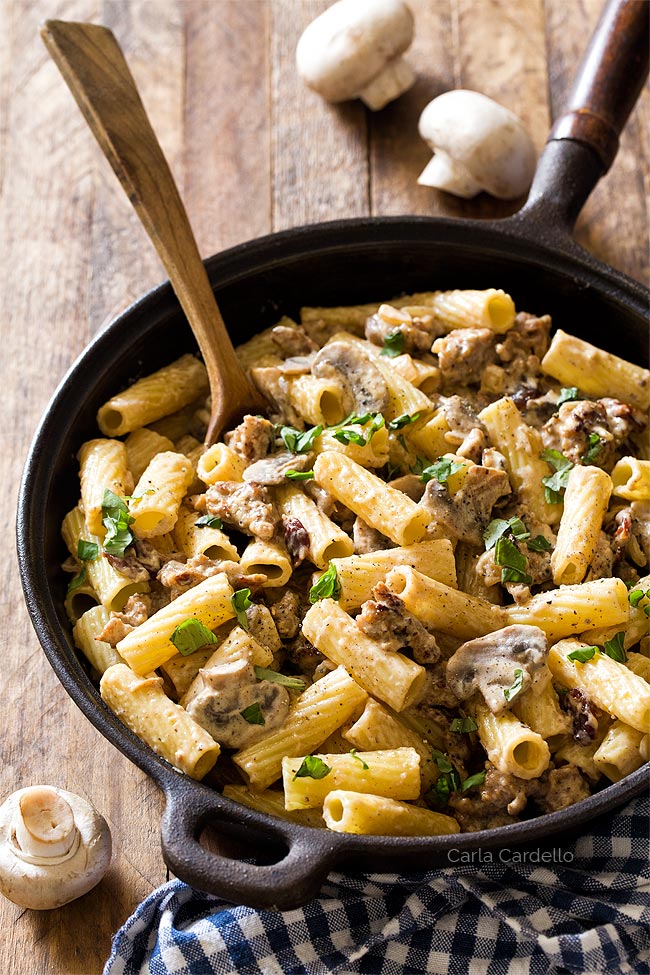 Hello there! It's been a minute since I last posted a brand new recipe. I promise it's for a good reason.
If you didn't hear the news through my email list, I've been working on launching a new business. It's not related to food but still hope you're interested.
And I promise this is the only time I'll mention it here. I know you only want recipes from me and nothing else.
When I'm not shooting food, I'm out capturing the streets and bridges of Pittsburgh. I decided to take those photos and officially launch City Life Adventures where you can buy my photos as prints, magnets, coasters, and more.
I can also print food photos by special request to decorate your kitchen.
Don't worry – I'm not giving up food! In fact, I came back today to share this brand new dinner for two recipe with you: Creamy Sausage Mushroom Pasta with rigatoni in a white cream sauce.
Because I've been so busy launching my new business, I couldn't spend too much time cooking dinner. As tempting as it is to throw a frozen pizza in the oven and call it a day, that wasn't going to work every night for two months.
That's when having quick dinner ideas come in handy.
When you've been cooking for as long as I have, you memorize certain formulas, such as how to make Alfredo sauce with my Alfredo mac and cheese.
With this knowledge, I can look at what I have on hand and come up with a hearty and comforting dinner in under an hour.
Here I made a creamy Alfredo sauce with sausage, mushrooms, onion, and garlic. Then I tossed it with some rigatoni.
Serve it alongside a salad or roasted vegetables to make it a complete meal.
This creamy sausage and mushroom rigatoni recipe was inspired by a dish I ate at a local Pittsburgh restaurant called Revival On Lincoln.
Their chef Jamie Sola along with eight other chefs across the U.S. teamed up with Walmart in a program called Rediscovering America.
This program showcases Walmart's commitment to supporting local farmers and chefs with fresh and affordable locally grown produce.
I was invited to try Jamie's recipe in person then create my own recipe featuring Giorgio Farms white button mushrooms. He made sausage stuffed mushrooms with a mushroom cauliflower puree and roasted mushrooms with dried cherries.
It's amazing how something so simple can be cooked in multiple ways for the same dish.
Because his recipe was a little small for a full meal, I decided to take some of the ingredients – the mushrooms, sausage, and dried cherries – and turn them into a hearty pasta dinner for two.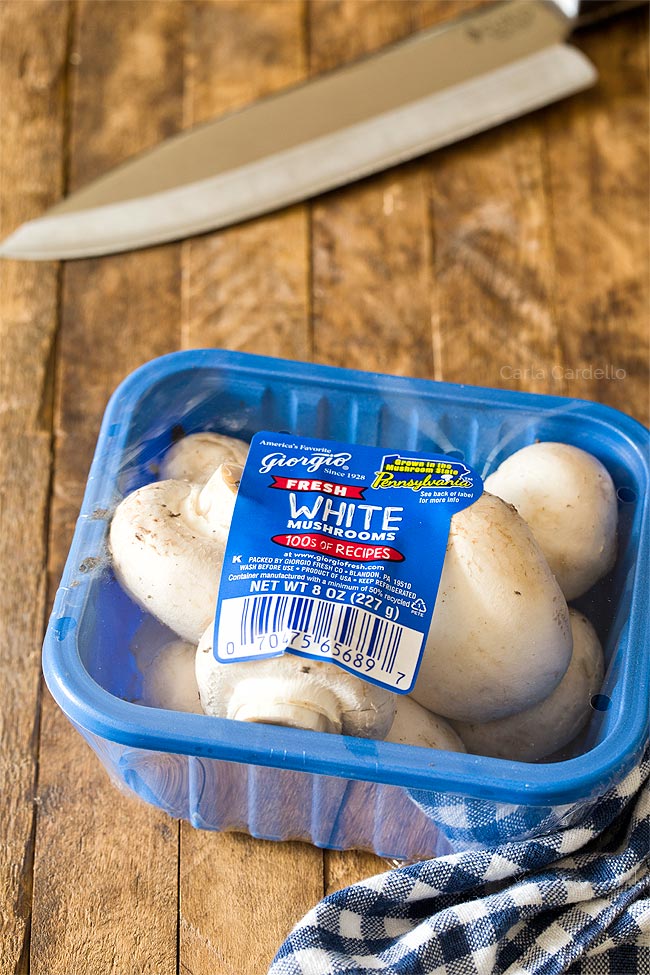 How To Cook Sausage Mushroom Pasta
There are two parts to making this dinner for two recipe: Cooking the pasta then making the sauce.
First, bring a large pot of water to a boil. Don't add salt just yet because if you get distracted and the water reduces, it may become too salty.
Once the water comes to a rolling boil, add a handful of salt (preferably kosher but table salt works too) then the pasta. Cook until al dente.
While the pasta is cooking, you can practice your time management skills by making the sauce.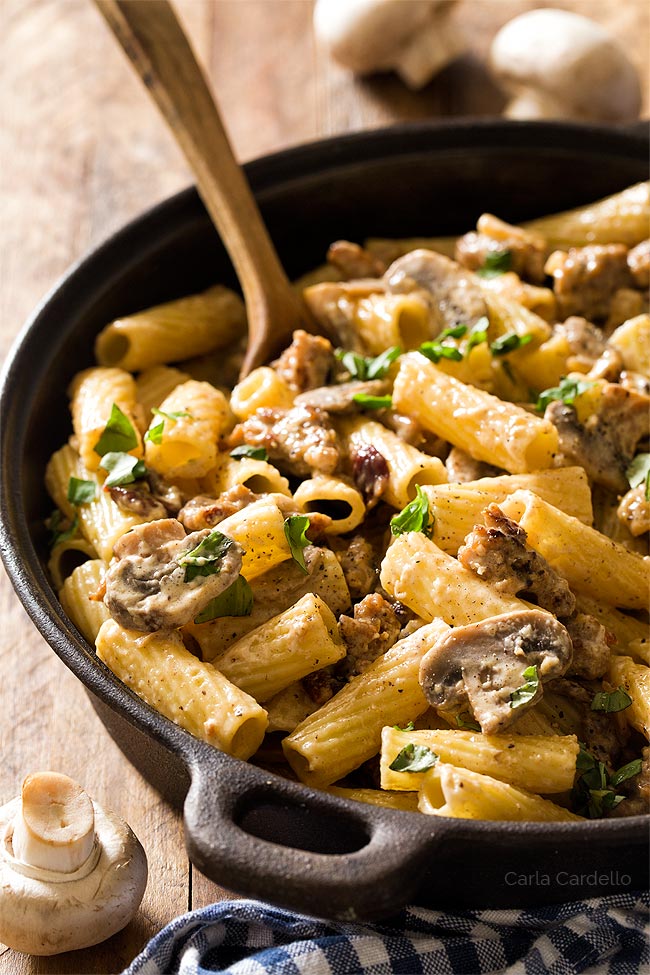 Which sausage should I buy?
When choosing which sausage to buy for rigatoni, look for Italian sausage.
Italian sausage is pork sausage already seasoned, usually with fennel and garlic. Sometimes chili pepper is added, turning it into hot Italian sausage.
You can often buy it ground in a package. However, if all you see are links, you can squeeze the meat out of the casings.
And if you find yourself with leftover sausage, make my sausage gravy recipe for 2 and serve over biscuits and gravy for two or mashed potatoes for two.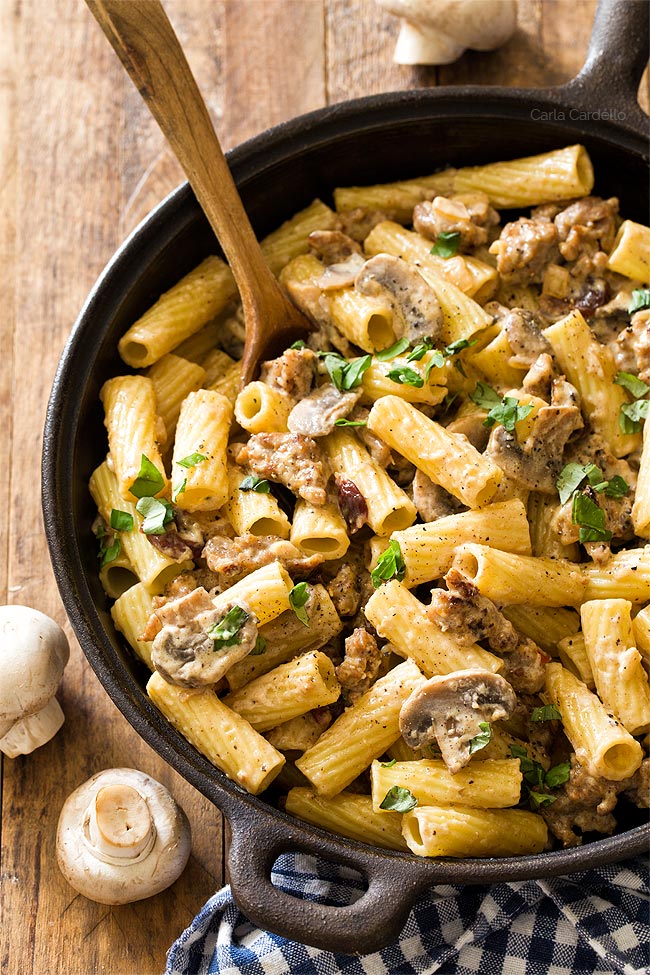 Which pasta should I use?
I chose rigatoni because the grooves on the pasta hold the sauce more efficiently. You can also use penne or even medium shells, anything that will catch and hold the sauce.
Adding Dried Cherries To Dinner
You don't often see dried cherries in dinner recipes, but they were a surprisingly nice touch with mushrooms and cream.
They add a small burst of sweetness, which helps balance out all of the savoriness. There's a reason everyone says opposites attract!
Typically you would rehydrate dried cherries ahead of time, but I saved time and plumped them up by cooking them in the cream sauce.
I promise they taste good, but if you're a bit skeptical you don't have to add them.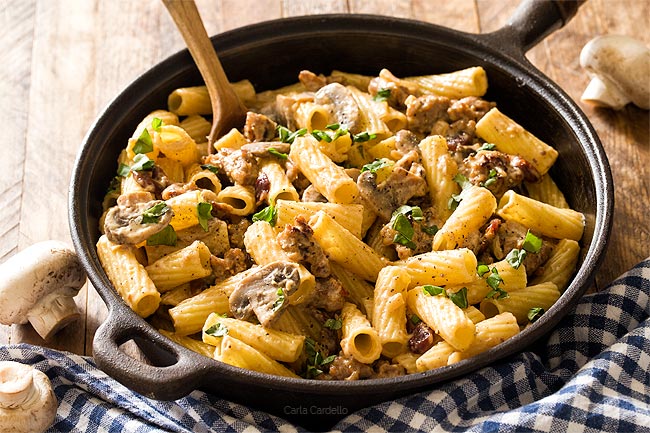 More Mushroom Recipes

Since you'll have leftover mushrooms in the package, here are more mushroom recipe ideas: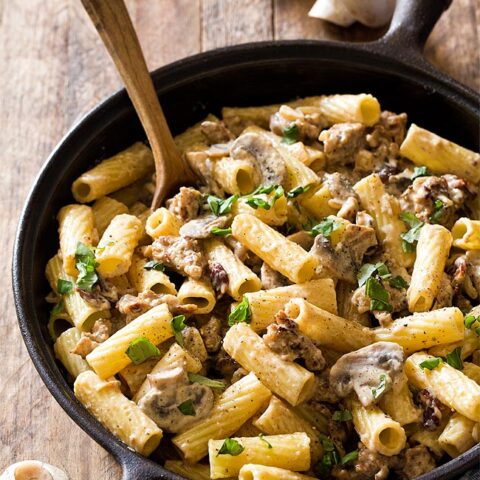 Creamy Sausage Mushroom Pasta (Dinner For Two)
Yield: 4 servings
Prep Time: 15 minutes
Cook Time: 30 minutes
Total Time: 45 minutes
Sausage Mushroom Pasta with rigatoni and a creamy white Alfredo sauce is a hearty and comforting dinner for two. Serve it with a side salad for a complete meal.
Ingredients
1/2 pound (8 ounces) uncooked rigatoni pasta
Kosher salt, to taste
1 teaspoon vegetable oil
1/2 pound (8 ounces) ground Italian sausage
1 tablespoon unsalted butter
1/2 cup chopped white or yellow onion
4 large white button mushrooms, sliced
1 large garlic clove, minced
1 cup heavy whipping cream
1/3 cup dried cherries
1/2 cup shredded Parmesan cheese
1 tablespoon fresh chopped basil
Instructions
Bring a large pot of water to a boil. Once boiling, add a big
handful of salt then add rigatoni. Cook as directed on the package until al dente, about 12-13 minutes. Drain into colander.
Meanwhile, make the sauce: In a large skillet over medium heat, heat the oil until hot. Add the sausage and cook until brown and no longer pink, about 8-10 minutes. Transfer to a bowl and keep warm.
In the same skillet, add the butter and heat until melted., scraping up any brown bits left behind from the sausage.
Add onion, mushrooms, and a big pinch of salt. Cook until
softened, about 5-8 minutes. Add the garlic and cook 1 minute.
Stir in the cream and dried cherries. Bring to a boil.
Once boiling, turn the heat down to low and simmer until thickened, about 3-5 minutes. Leave the sauce a little loose because once you add the sausage and pasta, it'll absorb some of it.
Stir in the cheese, basil, and cooked sausage. Taste and adjust for salt.
Add the cooked rigatoni to the sauce and stir until coated.
Disclosure: This post is sponsored by Walmart. Thank you for supporting me and the companies I work with as sponsored posts help pay for website hosting and groceries.
This post may contain affiliate links. As an Amazon Associate and member of other affiliate programs, I earn from qualifying purchase.