Red Velvet Sugar Cookies With Eggless Royal Icing
Change up your traditional sugar cookie cut out recipe with homemade Red Velvet Sugar Cookies from scratch! Cut them into fun Christmas and Valentine's Day shapes and decorate with an eggless royal icing.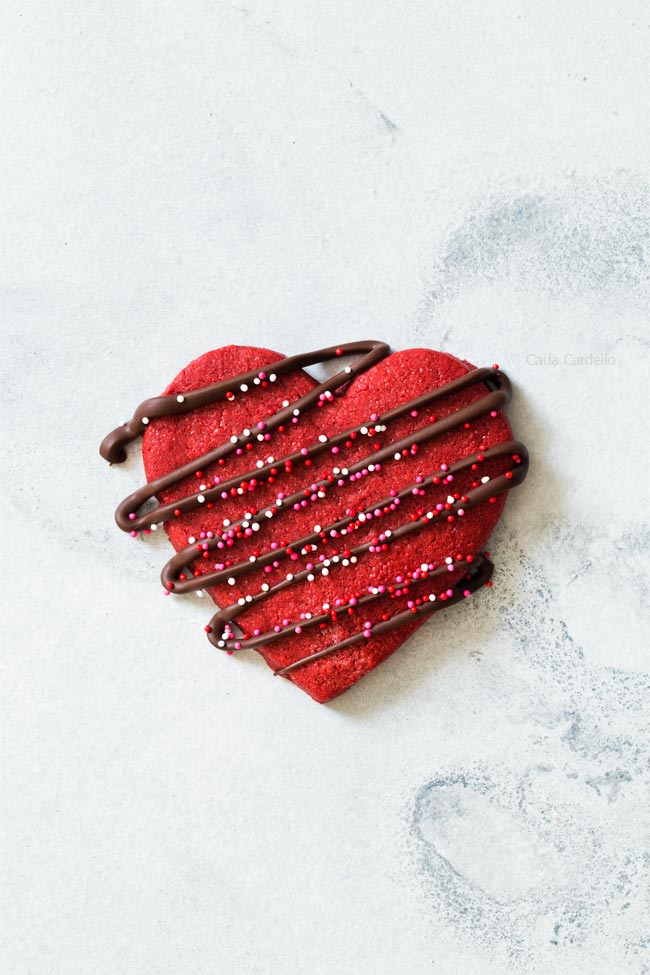 Red velvet. It's one of those flavors you either love it or hate it.
I once had a really bad experience with red velvet coffee (please just say no), but fortunately I can handle my small red velvet cake, small batch red velvet cupcakes, red velvet oreo cheesecake, and these Red Velvet Sugar Cookies.
Red Velvet Sugar Cookies, as the name suggests, are cut out sugar cookies inspired by red velvet cake that you can cut out with fun cookie cutters and decorate with sprinkles.
Most people make red velvet sugar cookie cut outs as hearts for Valentine's Day or add them to their best Christmas cookie tray.
To decorate them, I used an eggless royal icing so you don't have to deal with egg whites or meringue powder.
And of course don't forget the sprinkles!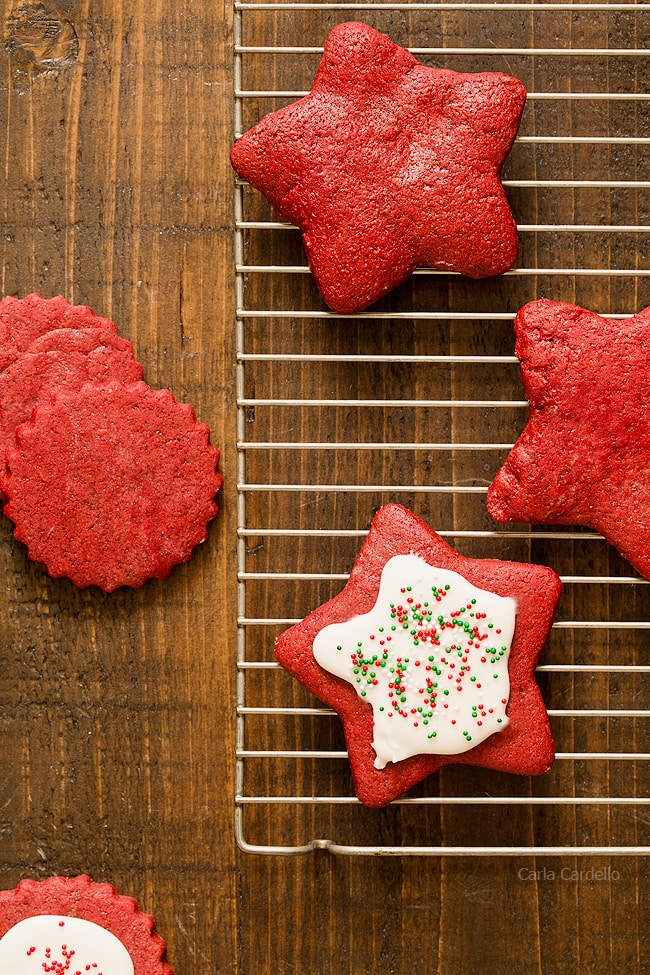 How many cookies does this red velvet sugar cookie cut out recipe make?
It's hard to give an exact yield for cut out cookies due to the size of your cookie cutters, but I got about 12 large hearts.
If you use small cookie cutters, you will get more cookies, a little more than small batch.
Different sizes also means different baking times. Smaller cookies are done around 8 minutes while the larger cookies are done around 10 minutes.
Check your cookies at 8 minutes then remove any that are done baking while you finish the rest.
Don't want to cut out cookies? Make my Red Velvet Bars instead!
How do you roll out cookie dough without sticking?
Nothing is more frustrating than having your cookie dough stick to everything before you can bake them.
The key to keep the dough from sticking is making sure it doesn't get warm. One trick is to roll out the dough between two sheets of plastic wrap before you chill it.
First: it's much easier to roll out room temperature dough than cold dough. If you're rolling out cold dough, you have to wait for the dough to warm up. Warm dough = unhappy baker.
Second: Pre-rolling the dough means less time working with the dough.
The more time you spend on the dough, the more likely it'll get warm and stick to everything. You're working against the clock, so the faster you can cut out cookies, the better.
If your dough is ready to cut straight from the fridge, you'll waste no time cutting out your cookies with ease.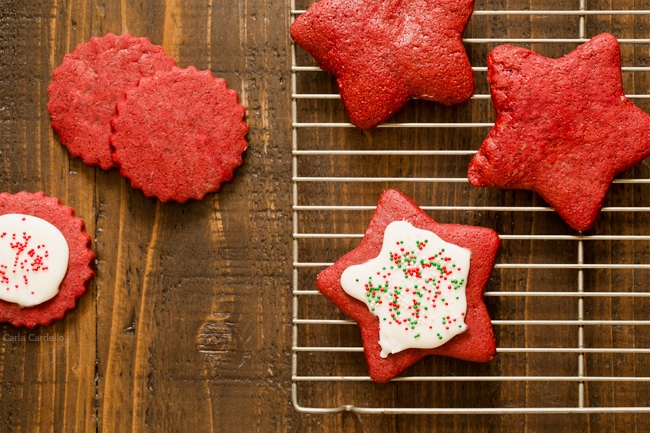 How do you keep sugar cookies from spreading in the oven?
Ever cut out beautifully shaped cookies, only to have them turn into blobs after baking? That's because they spread too much when baking, losing their distinctive shapes.
The key to keep your red velvet sugar cookies from spreading is keeping the dough cold (notice the theme here?).
I highly recommend popping them into your freezer while your oven preheats, about 15-20 minutes.
By the time your oven is ready, they should be cold enough to prevent spreading.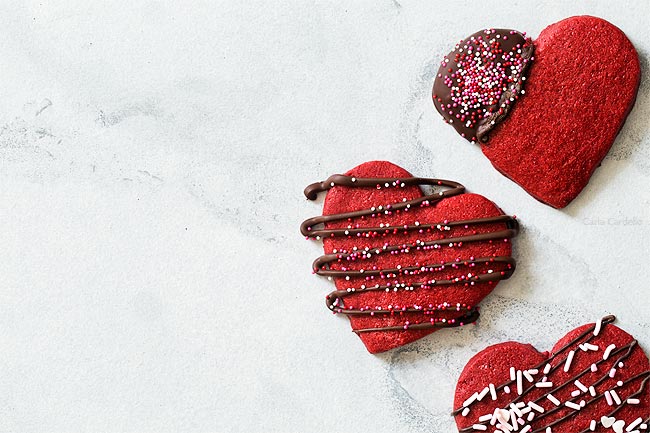 How do you make royal icing without eggs?
Traditionally, royal icing is made with egg whites or meringue powder. However, I didn't want to deal with raw egg whites nor buy an ingredient I'd only use 1-2 times a year.
That's why I chose to make a small batch of eggless royal icing using powdered sugar, milk, and corn syrup.
The corn syrup adds a bit of a shine as well as makes the icing a little smoother to pipe.
However, if corn syrup isn't available (or you don't feel like buying a bottle for a tiny amount), you can leave it out.
The icing should be super thick. In fact, you'll be really tempted to add more milk. Don't.
If you do, the icing will spread while you're trying to pipe details. Your dots and squiggles will become puddles.
If you do accidentally add too much liquid, add about 1 tablespoon of powdered sugar at a time until the icing thickens up again.
Although the royal icing will harden, it is a bit fragile so you don't want to stack the cookies. Otherwise, the icing will get squashed.
How do you store red velvet sugar cookies?
Sugar cookies can last 1-2 weeks, so the best way to store them is in an airtight container on the counter.
Because the royal icing is fragile, you may not want to stack them.
More Cut Out Cookie Recipes
Red Velvet Sugar Cookies with Eggless Royal Icing
Yield: 1 dozen large cookies
Prep Time: 50 minutes
Cook Time: 10 minutes
Chill Time: 1 hour
Total Time: 2 hours
Change up your traditional sugar cookie cut out recipe with homemade Red Velvet Sugar Cookies from scratch! Cut them into fun Christmas and Valentine's Day shapes and decorate with an eggless royal icing.
Ingredients
1 2/3 cups all-purpose flour
2 tablespoons unsweet­ened cocoa powder
1/2 teaspoon bak­ing pow­der
1/4 teaspoon salt
3/4 cup granulated sugar
1/2 cup (4 ounces or 8 tablespoons) unsalted but­ter, room tem­per­a­ture
1 egg, room temperature
1 teaspoon vanilla extract
1 tablespoon red food coloring
Melted chocolate, for drizzling (optional if not using royal icing)
Royal Icing
1 cup powdered sugar, sifted
2 teaspoons milk
2 teaspoons corn syrup
1/4 teaspoon vanilla extract
Sprinkles
Instructions
In a large bowl, whisk together flour, cocoa powder, baking powder, and salt.
In another large bowl, beat together the sugar and butter until light and creamy, about 2-3 minutes.
Add the egg, vanilla, and food coloring then beat until incorporated.
Gradually beat in flour until dough forms.
Divide the dough into two pieces. Place each piece between two sheets of plastic wrap. Roll each dough flat until 1/4-inch thick. Refrigerate for at least 1 hour or until firm.
Preheat oven to 350F. Have 1 large or 2 small ungreased baking sheets ready (use parchment paper for easy clean up if desired).
Working with one piece at a time, cut out shapes with a floured cookie cutter. Gather up the scraps and repeat until dough is gone. If the dough sticks too much, refrigerate until cold. Repeat with the remaining dough disk.
Bake 8-10 minutes or until the edges are firm. Cool for 5 minutes then transfer to a wire rack to finish cooling completely.
For the icing: In a large mixing bowl, beat together powdered sugar, milk, corn syrup and vanilla until smooth. It should be on the thick side. If it's too runny, add 1 tablespoon powdered sugar at a time until thick again.
Transfer to a plastic sandwich bag, snip off the corner, and pipe onto corners. Alternatively, drizzle top with melted chocolate. Immediately top with sprinkles. Let harden before serving. Store in a single layer in an airtight container for up to 1 week.
Source: Adapted from Cake Artisan (link appears to be broken)
This post may contain affiliate links. As an Amazon Associate and member of other affiliate programs, I earn from qualifying purchase.