These Chocolate Chip Snowball Cookies are little buttery cookies with a melt in your mouth texture covered in powdered sugar. They are the perfect size for your holiday cookie tray!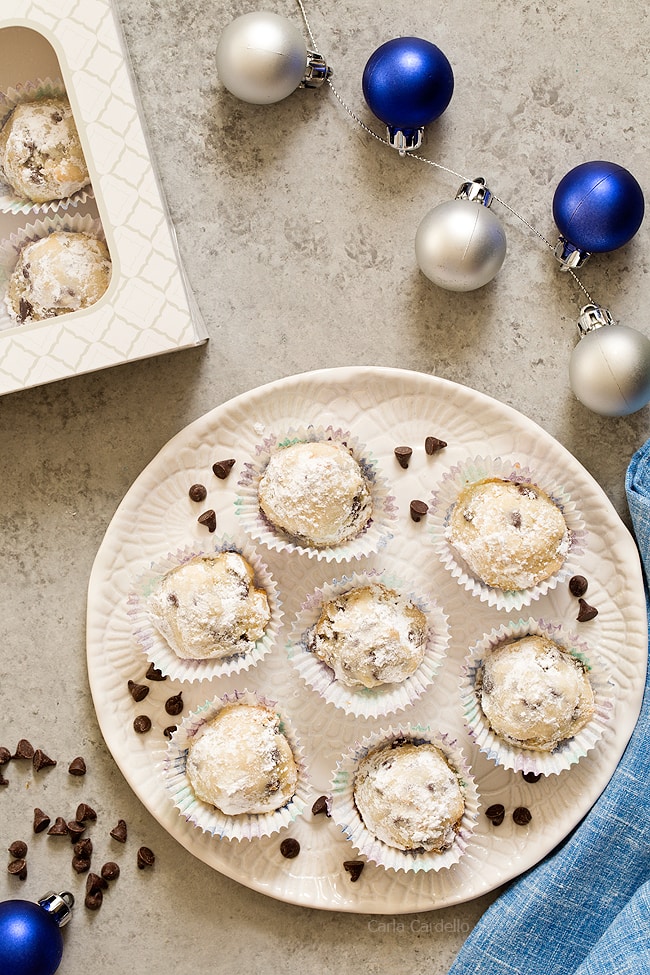 Here is the first new cookie recipe in my Christmas Cookie Tray Series – Chocolate Chip Snowball Cookies!
Yesterday I talked about how to make the best Christmas cookie tray.
When I think of cookie trays, I always think of snowball cookies – little cookies with a melt in your mouth texture covered in powdered sugar. They also go by the name of wedding cookies, but snowballs are more fitting thanks to the powdered sugar.
I already have several variations – lemon snowballs and cherry coconut snowballs.
I wanted to do a more traditional flavor but then added mini chocolate chips because everything is better when chocolate chips are involved.
Most snowball cookie recipes make about 2 dozen or more. Mine is scaled down to make about 15 1-inch balls.
They may seem small on their own, but they are the perfect size to squeeze onto a cookie tray (or into your stomach when you just want "one more bite").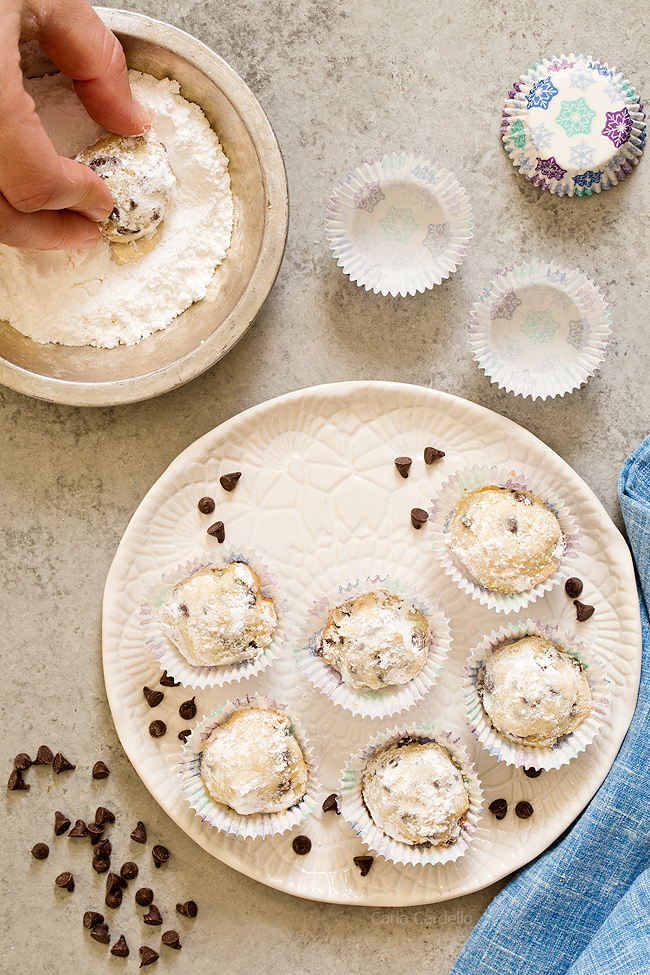 The best part about cookie season is giving them away.
Ok fine eating them too, but I love seeing the positive reactions when I give away a box.
That's why I'm teaming up with Bob's Red Mill who is all about spreading the love 1 dozen cookies at a time using their premium flour milled from the highest quality wheat.
I gave away a lot of homemade cookies throughout college, mainly because I couldn't afford to buy gifts for everyone I encountered.
Plus they're much more personal than obvious cheap stuff you bought from the dollar store. Nothing says I love you like a generic dollar store mug, right?
Not able to see everyone you love this year? Luckily cookies are easy to mail! You can read my
8 tips for shipping cookies
then apply them to these snowballs.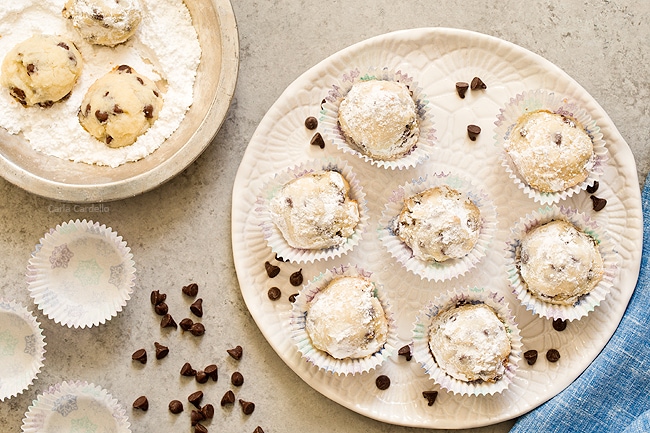 To give the snowballs a more festive look, I used mini cupcake liners printed with snowflakes. Not only does this help contain the powdered sugar, they look better for presentation.
Love chocolate chip? Check out my Small Batch Chocolate Chip Cookies!
Items You May Need (affiliate links):
Chocolate Chip Snowball Cookies
Ingredients
1/4 cup (2 ounces or 4 tablespoons) unsalted butter, softened
3 tablespoons powdered sugar
1/2 teaspoon vanilla extract
1/2 cup Bob's Red Mill all-purpose flour
1/4 teaspoon salt
1/4 cup mini chocolate chips
Instructions
Preheat oven to 375F. Have a baking sheet ready.
In a large mixing bowl, beat together the butter and 2 tablespoons powdered sugar until light and creamy, about 2-3 minutes. Beat in the vanilla.
Gradually beat in the flour and salt until a dough forms, about 1 minute (it'll look crumbly and dry, but it'll come together.). Add the chocolate chips.
Using a small cookie scoop or your hands, shape the dough into 1-inch balls. Place on the baking sheet.
Bake 6-8 minutes or until firm and lightly browned. Cool for a few minutes, then roll in remaining 1 tablespoon powdered sugar. Cool completely.
Disclosure: This post is sponsored by Bob's Red Mill and also contains Amazon affiliate links. Thank you for supporting me and the companies I work with as sponsored posts help pay for website hosting and groceries.