Not sure what to do with leftover egg whites? Whip up a batch of these chewy Small Batch Flourless Chocolate Cookies (aka Egg White Cookies)! They're naturally gluten free and taste so sinfully fudgy, nobody will miss the flour.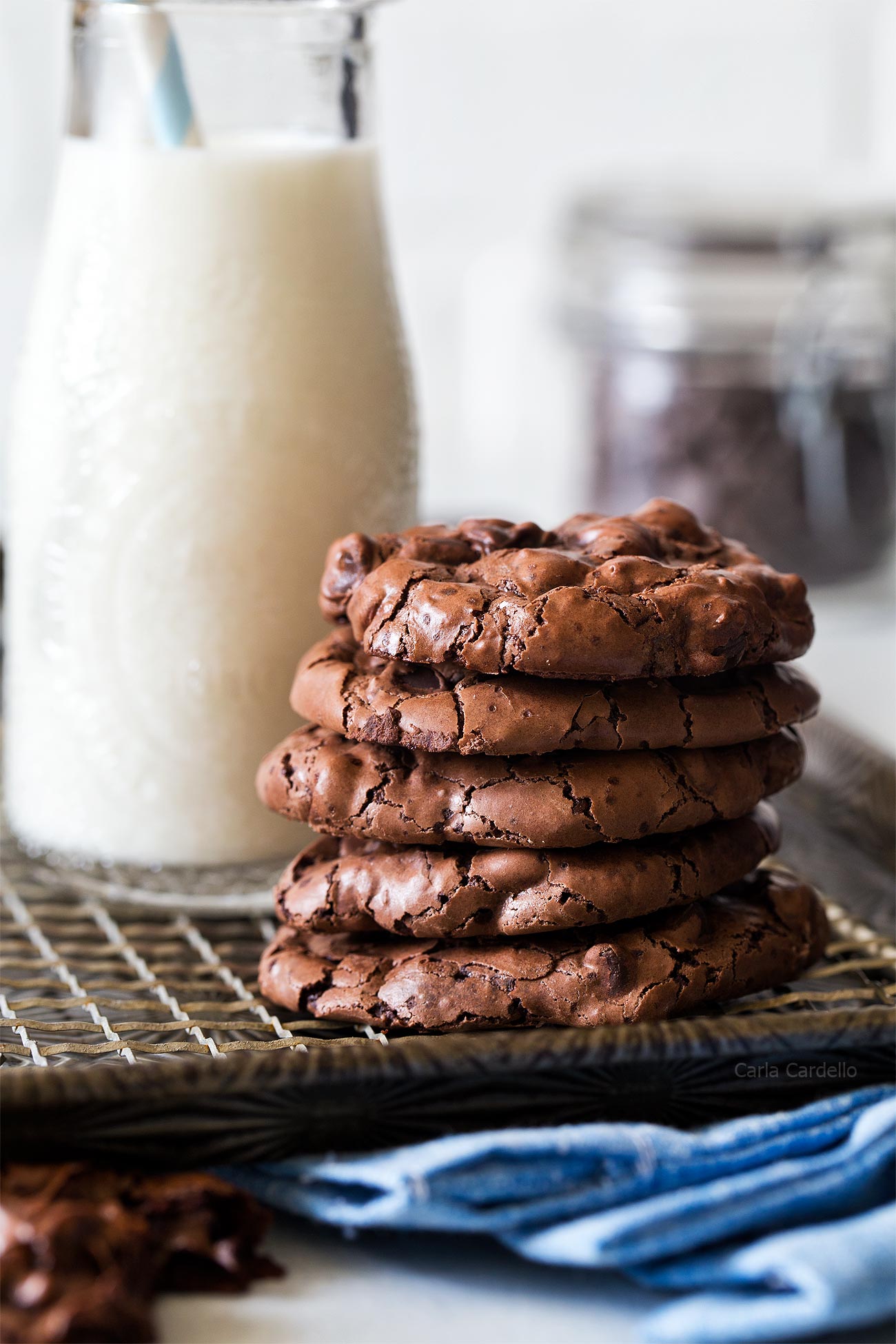 Let's talk about egg whites! Are you tired of wondering what to do with leftover egg whites? Do you want to cry every time you toss one in the trash? I know I am.
Between many rounds of small batch chocolate chip cookies and small batch lemon bars, I probably had at least a dozen egg whites in my fridge. Egg whites I end up throwing out unless I have a recipe ready to go.
Sure, I could freeze them, but then six months later I end up tossing them anyway.
Since I had so many egg whites, I thought about what I could make. Originally I wanted to make meringue cookies, the kind you pipe into triangles.
However, that involved whipping egg whites to stiff peaks then piping onto a baking sheet. I didn't want to deal with any of that.
Then I remembered these Small Batch Flourless Chocolate Cookies. They have a similar chewy texture but way less work, not to mention out-of-this-world fudgy between the cocoa powder and chocolate chips.
All you do is whisk the egg white by hand with a few ingredients. You don't need to whip egg whites. In fact, you don't need a mixer at all.
And since they're flourless, they're also naturally gluten free. If you need a dessert for someone who is gluten free, these cookies will say "I didn't forget about you".
They taste so sinfully good, nobody will miss the flour.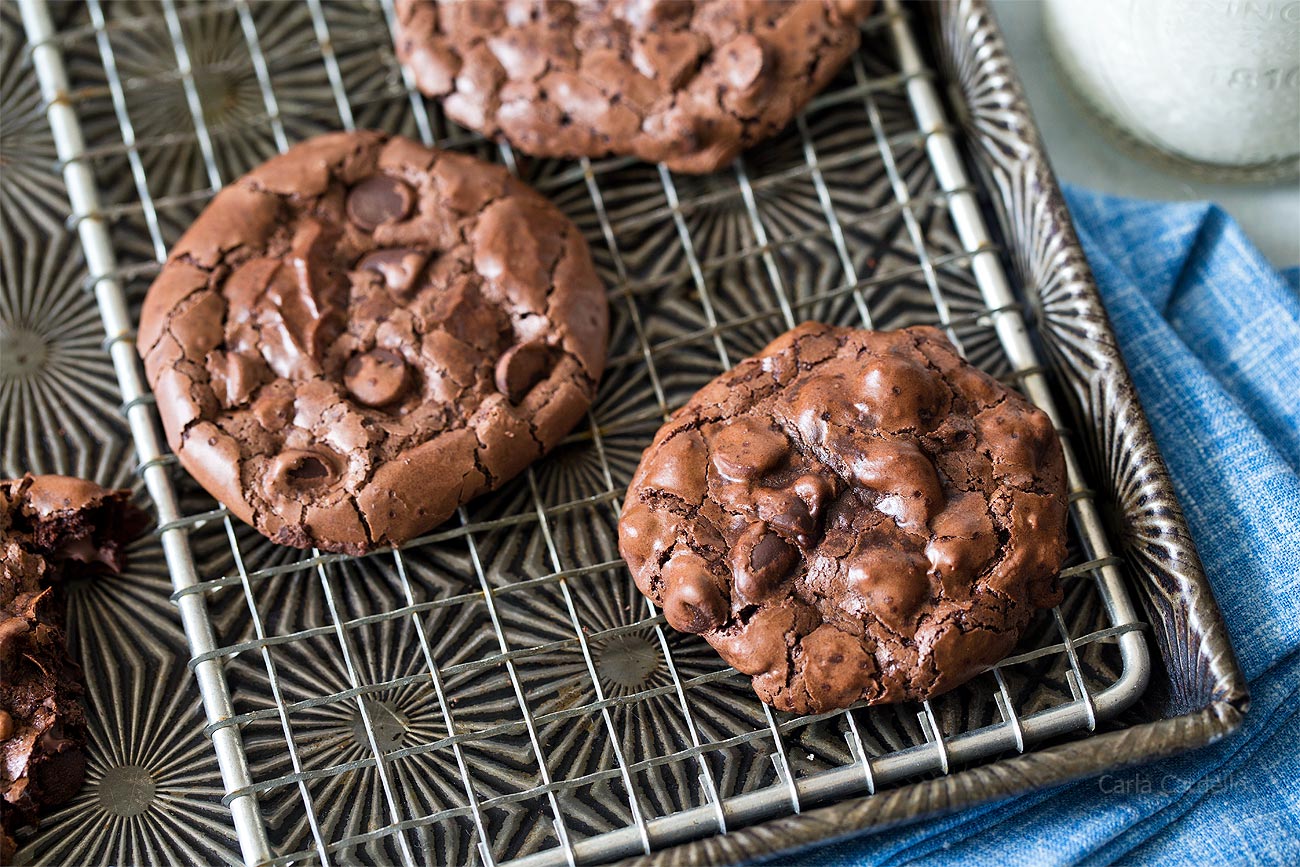 The batter is similar to my
brownie cookies
where after sitting for 30 minutes a skin forms on the outside. If you've ever made macarons, the concept is similar to that.
I highly encourage you follow the recipe and let the batter rest for 30 minutes. However, if you do skip this part, your cookies will still be edible albeit a lot thinner.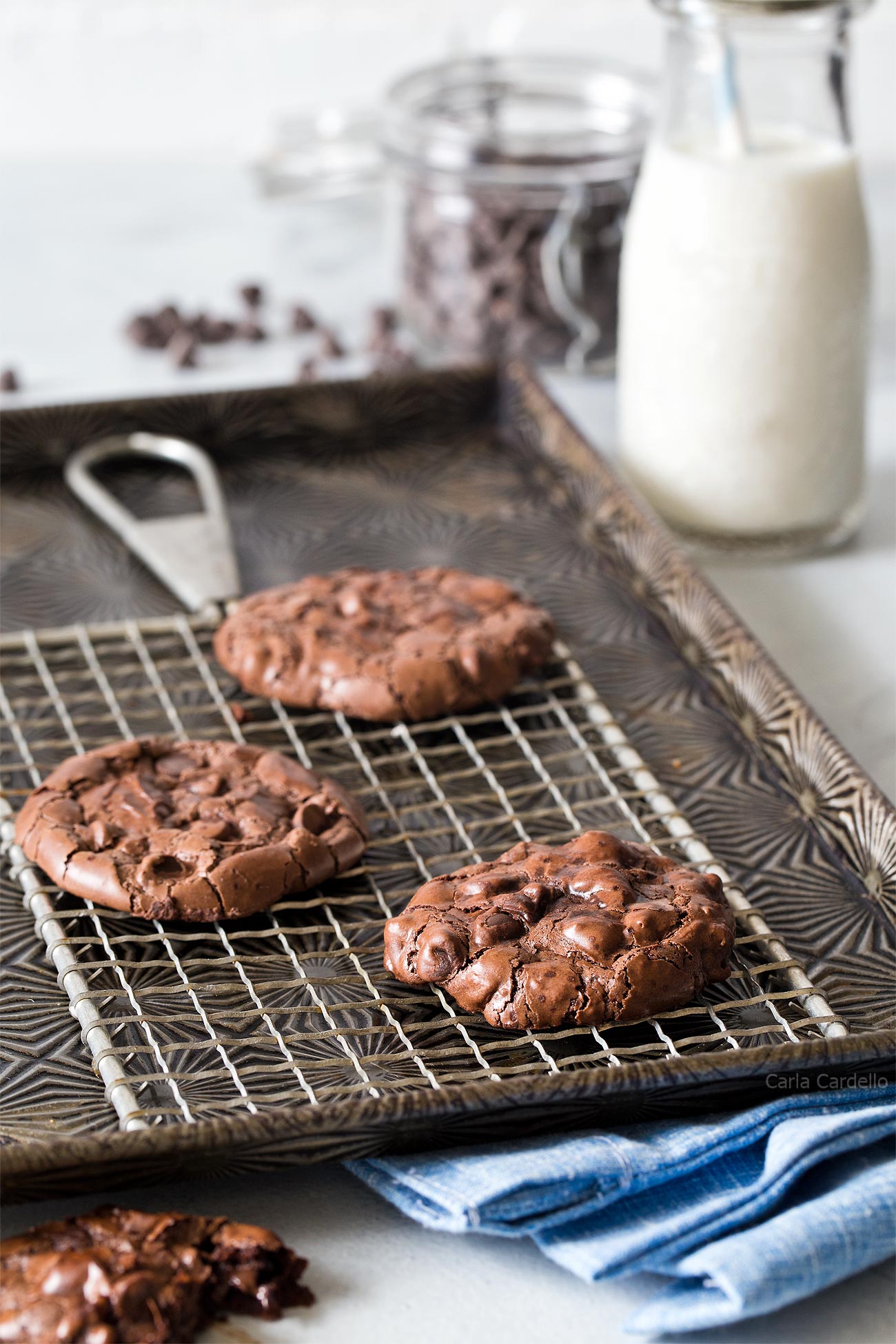 The first batch I baked was perfect. I thought, "Great! These should be pretty easy to make again." Except it wasn't.
The second, third, and even fourth times the batter was too stiff and ended up more like cookie dough. Delicious but not the chewy, fudgy texture I was expecting.
I reduced both the sugar and cocoa power. Better! But now I'm getting anywhere from 4-6 cookies. What happened to the perfect 6 cookies I got from the first round?
I started thinking about the only ingredient left – the egg white. Exactly how accurate is 1 egg white? Do all egg whites weigh the same?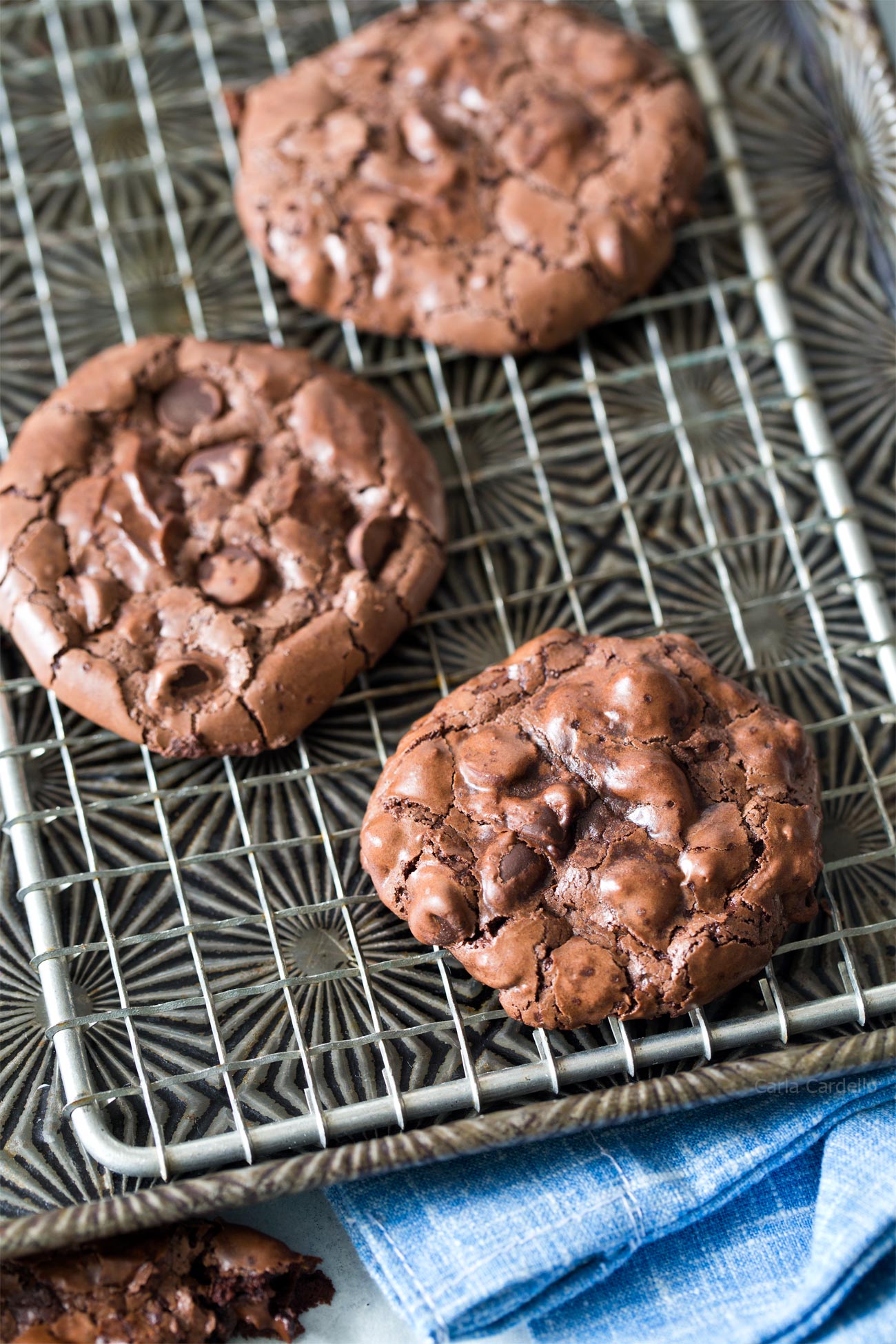 Turns out 1 large egg white can weigh anywhere from 7/8 ounce to 1 1/4 ounce. That small difference will determine how many cookies you make.
You don't need to break out the digital scale (although if you're buying one, I have this one), but if the yield is important to you, here's how many cookies you will make:
1 egg white weighing 7/8 ounce = 4 cookies
1 egg white weighing 1 ounce = 5 cookies
1 egg white weighing 1 1/4 ounce = 6 cookies
I was hesitant in posting this recipe because the yield is dependent on the egg white, but it's such an excellent cookie I decided to take a chance.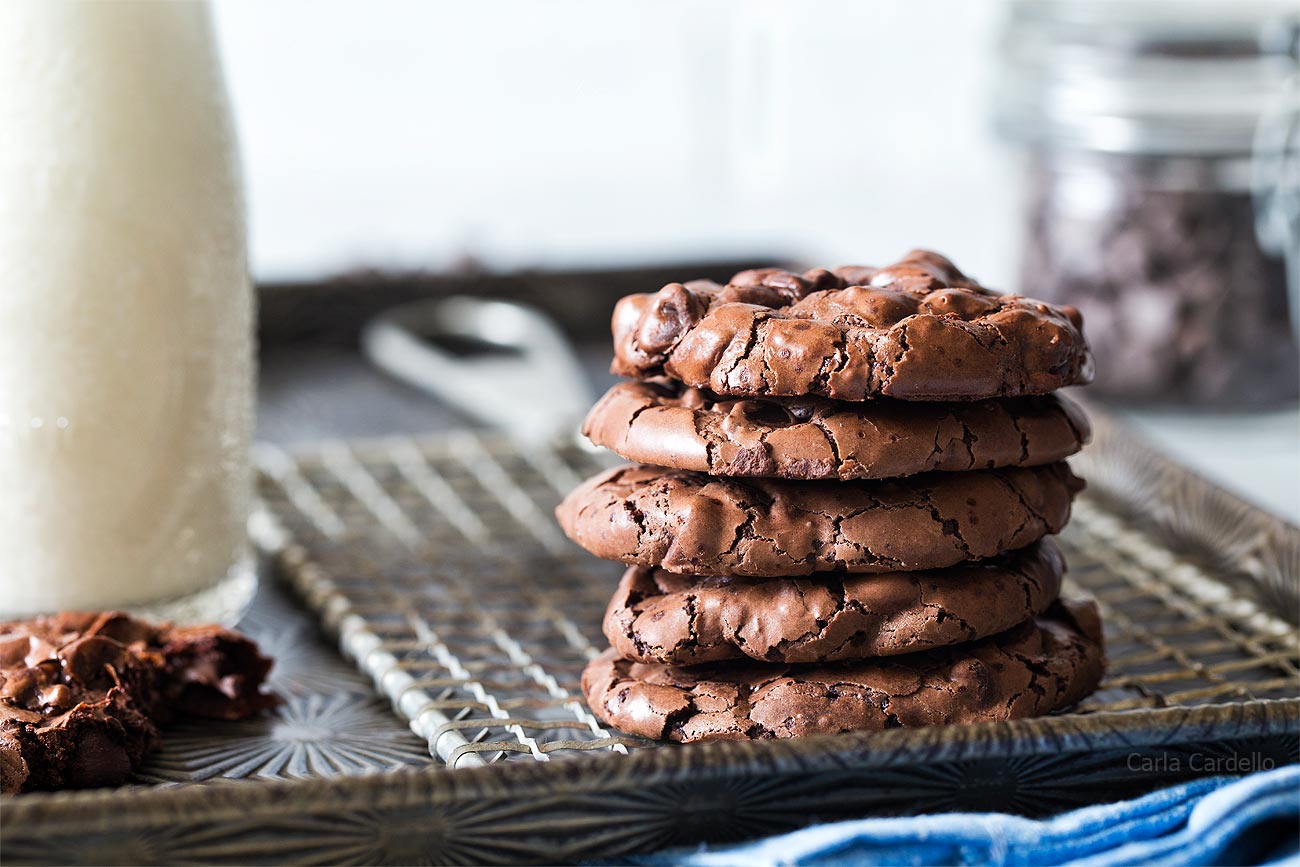 What To Do With Leftover Egg Yolks

Using only the egg white in these flourless cookies gives them their chewy texture, but it also gives you a leftover egg yolk. Here are some recipes to use up that extra egg yolk: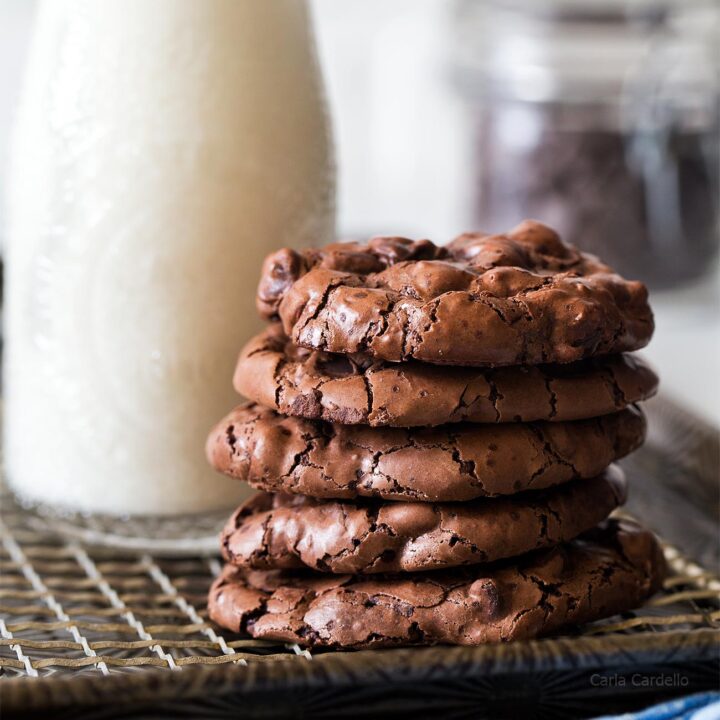 Small Batch Flourless Chocolate Cookies
Not sure what to do with leftover egg whites? Whip up a batch of these chewy Small Batch Flourless Chocolate Cookies! They're naturally gluten free and taste so sinfully fudgy, nobody will miss the flour.
Ingredients
3/4 cup powdered sugar
3 tablespoons unsweetened cocoa powder
1/8 teaspoon salt
1 large egg white, room temperature
1/4 teaspoon vanilla extract
1/4 cup semisweet chocolate chips, raisins, or combination of both
Instructions
In a large bowl, sift together the sugar and cocoa powder then stir in the salt.
By hand using a spoon, stir in the egg white and vanilla until batter is fully moistened. It'll be thick yet loose, similar to brownie batter.

Make sure you're measuring your vanilla and not eyeballing it. Any extra vanilla will add more liquid, making your batter a little too loose.

The measurements are correct. However, egg whites are finicky between different sizes and humidity outside. If it's too soupy, you can add an extra 1-2 tablespoons powdered sugar but it'll never be firm like cookie dough.
Stir in the chocolate chips and/or raisins.
Using a #40 cookie scoop or two spoons, spoon the batter into 1 1/2 tablespoon portions and drop onto a parchment lined cookie sheet about 2 inches apart. Let sit for 30 minutes. They should form a "skin" on the outside with no batter sticking to your finger when lightly touched.
Preheat oven to 350F. Bake for 10-12 minutes or until tops are cracked and glossy. Cool on the baking sheet for 10 minutes then carefully transfer to a cooling rack.
Notes
1 large egg white can weigh anywhere from 7/8 ounce to 1 1/4 ounce. That small difference will determine how many cookies you make. You don't need to break out the digital scale, but if the yield is important to you, here's how many cookies you will make:
-1 egg white weighing 7/8 ounce = 4 cookies
-1 egg white weighing 1 ounce = 5 cookies
-1 egg white weighing 1 1/4 ounce = 6 cookies
Adapted from
Mama Gourmand