Small Batch M&M Cookies
Learn how to make soft and chewy Small Batch M&M Cookies for all of your cookie craving needs! Makes 9 cookies and easily freezes well.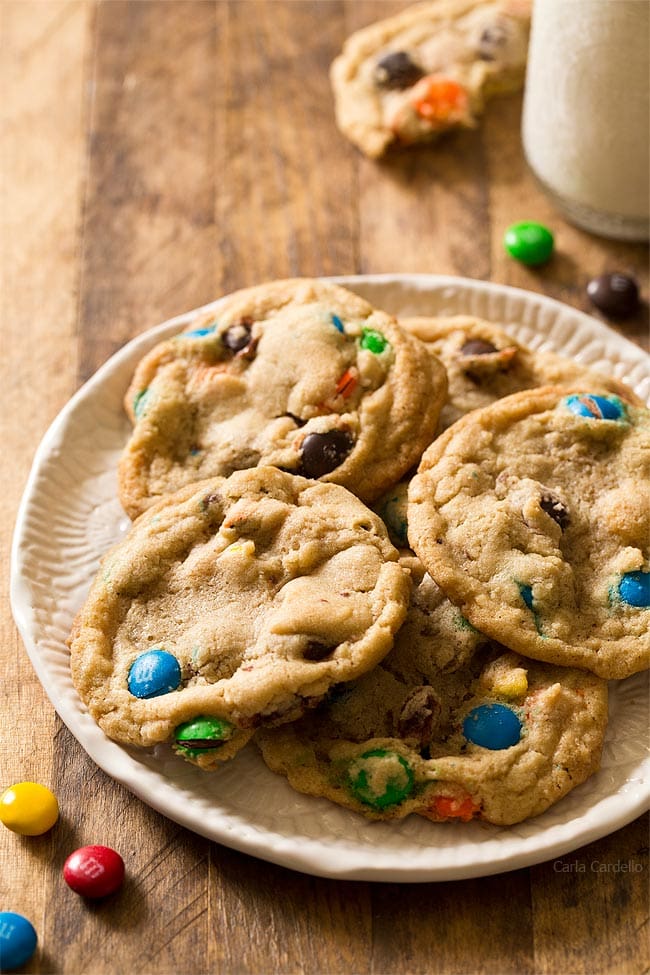 Funny story: Last month I had to buy red and green M&Ms for a client's Christmas recipe. The problem was it was the week before Halloween and nobody had Christmas candy for sale.
Plenty of Christmas trees and decorations mid October, but no red and green M&Ms.
Part of me wondered if I could buy the colors separately in bulk at a candy store. However, that meant stopping at yet another store after already stopping at numerous stores beforehand.
As I stood in the candy aisle, I got the brilliant idea to buy a giant party-sized bag of M&Ms and hope there were enough green and red I could pick out.
In case you find yourself in a similar situation, the answer is yes. There ARE plenty of red and green M&Ms you can pick out. Just plan to spend the night on the couch sorting through the colors.
Since I had all of these M&Ms leftover, I really wanted M&M cookies. I always say my small batch chocolate chip cookies are my favorite, but truth is I think I love M&M cookies a little more. It's like chocolate chip but with an extra crunch.
As much as I'd love two dozen cookies to eat, I knew it would be a bad idea for my waist line (seriously zero self control around these cookies).
That's why I scaled them down to 9 cookies with Small Batch M&M Cookies. I wanted to go for 6 but kept getting 9, sometimes even 10. As long as it's under 12, it's still small batch in my book.
They're soft and chewy, my idea of the perfect M&M cookie texture.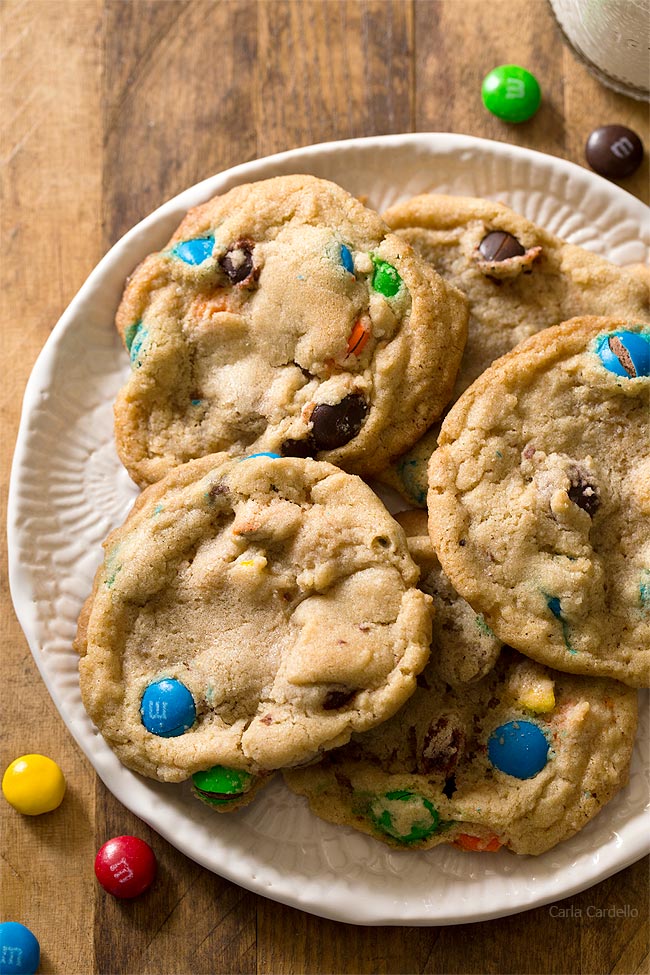 M&M cookies are a year-round cookie, but you can dress them up for any occasion. They make pretty much all kinds of colors and flavors throughout the year.
Want to serve them for Christmas? Check out my How To Make The Best Christmas Cookie Tray guide for tips and ideas!
What are the ingredients for M&M cookies?
Luckily for you, the ingredients are basic pantry staples – flour, baking soda, salt, sugar, brown sugar, softened butter, vanilla, egg, and of course M&Ms. This means you can run into your kitchen and make these cookies right now!
Why chill the cookie dough before baking?
As annoying as adding an extra hour to your prep time is, chilling the dough for these M&M cookies are important.
Chilling the dough helps keep them from spreading too much when baking. It also allows the flavors to sit and develop (think of it like marinating chicken where the flavors are better after waiting).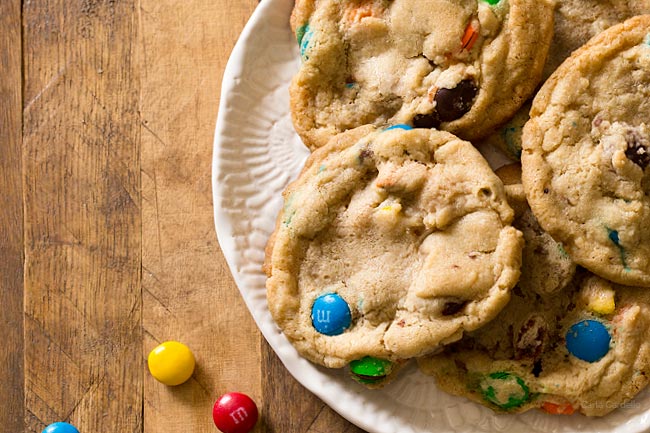 Can you freeze M&M cookies?
If these small batch cookies are still too much for you to eat at once, you can always freeze them. There are two ways to freeze them.
You can freeze scooped cookie dough in a single layer on a cookie sheet. Once frozen, transfer them to a freezer bag.
You can also bake the cookies first then freeze. Once completely cool, wrap each cookie individually in plastic wrap then put them collectively into a freezer bag.
What do you do with the leftover egg white?
Because I used 1 egg yolk in the recipe, you will have 1 leftover egg white. Instead of tossing it, check out my recipes for using leftover egg whites.
More Small Batch Cookie Recipes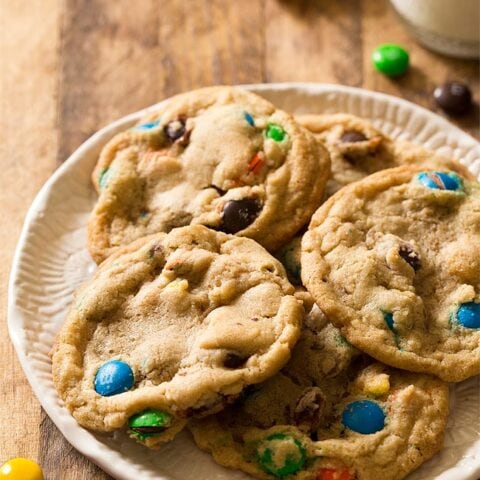 Small Batch M&M Cookies
Yield: 9 cookies
Prep Time: 15 minutes
Cook Time: 10 minutes
Chill Time: 1 hour
Total Time: 1 hour 25 minutes
Learn how to make soft and chewy Small Batch M&M Cookies for all of your cookie craving needs!
Ingredients
3/4 all-purpose flour, sifted
1/4 teaspoon baking soda
1/4 teaspoon salt
1/4 cup (2 ounces or 4 tablespoons) unsalted butter, softened
1/3 cup packed brown sugar
2 tablespoons granulated sugar
1 egg yolk
1 teaspoon vanilla extract
1/2 cup M&Ms
Instructions
In a medium bowl, mix together the flour, baking soda, and salt.
In a large mixing bowl, beat together the butter, brown sugar, and sugar until smooth and creamy, about 1-2 minutes.
Beat in the egg yolk and vanilla until incorporated.
Gradually beat in the flour mixture until a dough forms. Add the M&Ms.
Refrigerate for at least 1 hour or until the dough is firm enough to scoop.
Preheat oven to 350F. Have an ungreased cookie sheet ready.
Using a #40 cookie scoop or by hand, roll the dough into 1 1/2-inch balls then place on the baking sheet about 2 inches apart.
Bake 8-10 minutes or until golden brown and center no longer looks wet. Cool on the sheet for a few minutes then transfer cookies to a wire rack to finish cooling.
This post may contain affiliate links. As an Amazon Associate and member of other affiliate programs, I earn from qualifying purchase.