Lemon Snowball Cookies (Small Batch)
Easy melt-in-your-mouth small batch lemon snowball cookies tossed in powdered sugar are a burst of lemon flavor with a bit of crunch from lemon chocolate chips.
I love my friends, but they sure can be picky eaters. One isn't a fan of chocolate. One doesn't like coconut, nuts, or peppermint. One coworker is allergic to coconut. Another is allergic to pineapple. Then of course you got the ones on Weight Watchers, so they rarely eat anything I make.
Then there's my friend Jen who I have bonded with quite well over the past year, so we exchanged Christmas cookies. The problem is she doesn't like chocolate, peanut butter, or ginger.
Um, hello? It's Christmas cookie season! How can you make Christmas cookies without those three ingredients?!
I knew she has a love affair with lemon, so I baked her these small batch Lemon Snowball Cookies.
Think melt-in-your-mouth lemon shortbread cookies coated with powdered sugar. They're similar to traditional snowball cookies but with a burst of lemon flavor and a bit of crunch.
If you thought I lived in the middle of nowhere, it took my cookies one week (!) to arrive in Texas. One week. Seven days. Those poor, neglected cookies. I was so worried that they would arrive stale.
Then one day I get this message that she wanted the recipe. Now. Then she asked what the crunchy part was. Then five minutes later, she bought lemon chocolate chips to recreate them.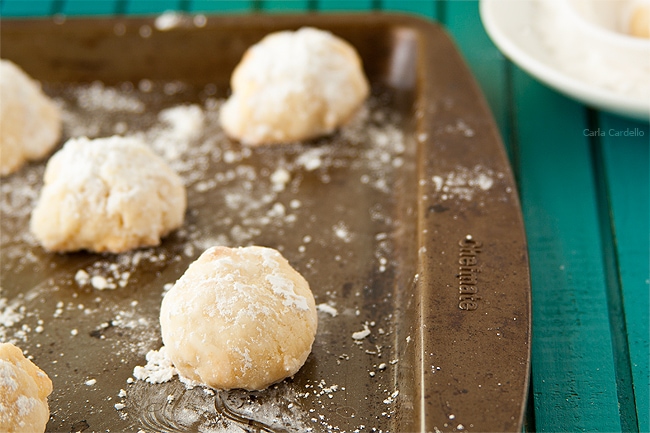 Yes, I said lemon chocolate chips. As I was browsing the one local country market, I found lemon chocolate chips. I had no clue what I was going to do with them, but who sees lemon chocolate chips every day?
The original recipe called for crushed lemon drops, but I used the chips instead. When the cookies are fresh from the oven, they are soft and melted. When they cool, however, they become crunchy.
You can buy
lemon chocolate chips
online (affiliate link). If you can't find them or don't want to special order them, substitute crushed lemon drop candies.
Looking for more snowball cookie recipes? Check out my Cherry Coconut Snowball Cookies (stuffed with a fun surprise!) and Chocolate Chip Snowball Cookies (a more traditional recipe).
Lemon Snowball Cookies
Yield: 10 cookies
Prep Time: 15 minutes
Cook Time: 8 minutes
Total Time: 23 minutes
asy melt-in-your-mouth small batch lemon snowball cookies tossed in powdered sugar are a burst of lemon flavor with a bit of crunch from lemon chocolate chips.
Ingredients
1/4 cup (2 ounces or 4 tablespoons) unsalted butter, softened
3 tablespoons powdered sugar
1/2 teaspoon lemon zest
1/4 teaspoon lemon extract
1/4 teaspoon vanilla extract
1/2 cup all purpose flour
1/8 teaspoon salt
2 tablespoons lemon chocolate chips or crushed lemon drop candy
Instructions
Preheat oven to 400F degrees. Line one cookie sheet with parchment paper.
In a large mixing bowl, beat together the butter, 2 tablespoons powdered sugar, and zest until light and creamy, about 2-3 minutes. Beat in the lemon and vanilla extracts.
Gradually beat in the flour and salt until a dough forms, about 1 minute (it'll look crumbly and dry, but it'll come together.). Add the chocolate chips.
Using a cookie scoop or your hands, shape the dough into 1 1/2 inch balls. Place on the baking sheet.
Bake 6-8 minutes or until firm. Cool for a few minutes, then roll in remaining 1 tablespoon powdered sugar. Cool completely.
Source: Adapted from Gold Medal Flour
Easy Holiday Gifts
This post may contain affiliate links. As an Amazon Associate and member of other affiliate programs, I earn from qualifying purchase.