Chocolate Gingersnap Cookies
Soft and chewy Chocolate Gingersnap Cookies with chocolate chips and spices taste like Christmas wrapped up inside a cookie (and won't break your teeth).
Christmas baking not only means sticking with traditional recipes but also trying new ones.
Once upon a time these Chocolate Gingersnap Cookies were brand new to my Christmas cookie repertoire, but I've been making them for so many years, it's become a new tradition for me.
Once December rolls around, it's time to make the gingersnaps. Usually a gingersnap is a ginger cookie with cinnamon, nutmeg, and clove, but I love throwing in chocolate.
These chocolate gingersnaps get a double dose of chocolate from the cocoa powder and chocolate chips. The dough is then rolled around in sugar for a tiny bit of crunch.
One thing I love about this recipe (besides chocolate + gingerbread <3) is they don't break your teeth.
Sometimes I wonder if calling them gingersnap is still accurate since they aren't exactly crispy, but hey who's counting when they taste so soft and chewy?
The original recipe made 3 dozen cookies, which is fine if you're baking for a party or as gifts, but for when I'm craving chocolate gingerbread (which is practically every day in December), I don't trust my willpower with that many cookies.
I cut the recipe down to 1 dozen so I can enjoy making a batch and hopefully find someone to eat the rest so I don't devour all 12 myself (the downfall of living in a single household).
Because the dough is chilled, you can keep them in the freezer for when you're ready to bake, perfect for a last-minute dessert for unexpected holiday guests.
Or for when you're not supposed to eat all 12 at once but still want a cookie or two.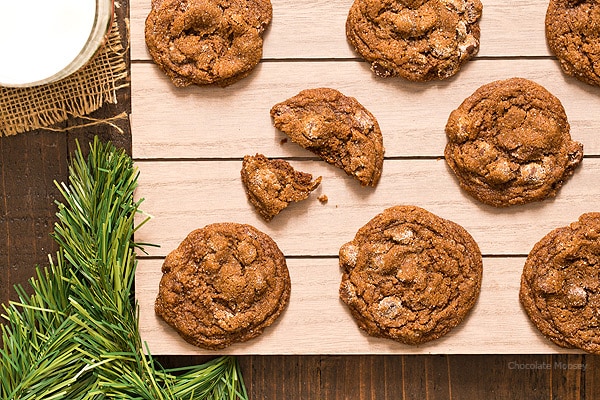 Chocolate Gingersnap Cookies are ideal for mailing to friends and family too far away to visit for Christmas.
Read my Best 8 Tips On Mailing Cookies before sending.
Hope everyone is enjoying the holidays and filling their bellies (and waistline) with lots of holiday baking. I know we are, right Murray?
Items you may need (affiliate links):
Chocolate Gingersnap Cookies
Yield: 1 dozen
Prep Time: 15 minutes
Cook Time: 10 minutes
Chill Time: 1 hour
Total Time: 1 hour 25 minutes
Soft and chewy Chocolate Gingersnap Cookies with chocolate chips and spices taste like Christmas wrapped up inside a cookie (and won't break your teeth).
Ingredients
3/4 cup all-purpose flour
2 teaspoons unsweetened cocoa powder
1/2 teaspoon baking soda
1/2 teaspoon ground ginger
1/4 teaspoon ground cinnamon
1/4 teaspoon salt
1/8 teaspoon ground nutmeg
1/8 teaspoon ground cloves
1/4 cup (2 ounces or 4 tablespoons) unsalted butter, softened
1/4 cup packed brown sugar
3 tablespoons molasses
1/2 cup semisweet chocolate chips
1 tablespoon granulated sugar
Instructions
In a large bowl, whisk together the flour, cocoa powder, baking soda, ginger, cinnamon, salt, nutmeg, and cloves.
In another large bowl, beat together the butter and brown sugar until smooth and creamy, about 2-3 minutes. Beat in the molasses.
Gradually beat in the flour mixture then add the chocolate chips.
Cover and refrigerate for at least 1 hour.
Preheat oven to 350F. Line a baking sheet with parchment paper.
Add the granulated sugar to a bowl. Using a #40 cookie scoop or by hand, roll the dough into 1 1/2-inch balls, roll in the sugar until coated, then place on the baking sheet about 2 inches apart.
Bake for 10-12 minutes or until tops begin to crack. Cool 5 minutes before transferring to wire rack to finish cooling.
Adapted from
Taste of Home
Post last updated on 11/30/16
This post may contain affiliate links. As an Amazon Associate and member of other affiliate programs, I earn from qualifying purchase.