These chewy and fudgy Small Batch Brownie Cookies really do taste like brownies in cookie form and are unbelievably chocolatey thanks to one secret ingredient.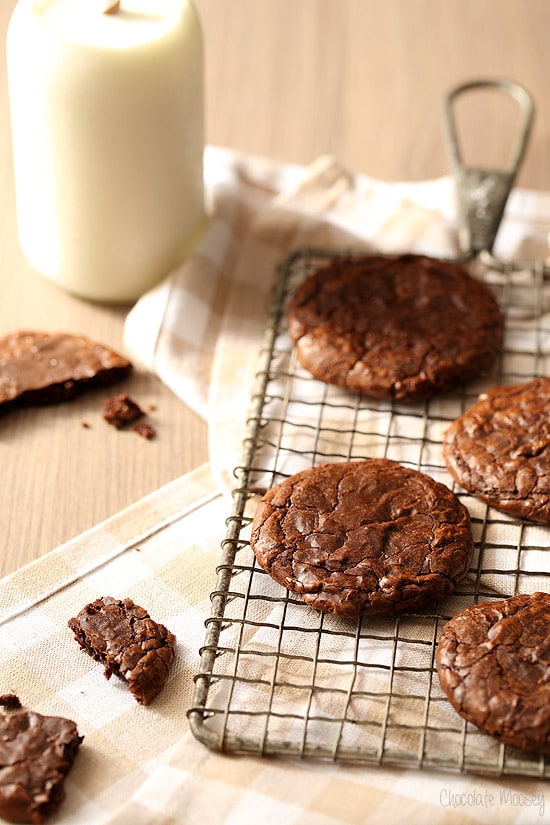 It occurred to me recently that I don't bake cookies very often, which is funny because my favorite dessert is a fresh-from-the-oven chocolate chip cookie.
Maybe because I know given the opportunity, I would eat the entire dozen in one sitting. There is something irresistible about warm, melted chocolate in a cookie.
Since I haven't posted a cookie recipe in awhile, I consulted my recipe idea list to see what I should bake next.
Brownie cookies have been on my list since I made my peppermint mocha brownie cookies a few years ago.
As much as I enjoy that holiday flavor, I wanted plain brownie cookies – ones I could eat all year round.
Peppermint mocha always reminds me of Christmas, which I'm totally not ready for yet (I can't believe I even typed out that sentence).
These Brownie Cookies are the best of both worlds as they taste like brownies with the texture and shape of cookies.
They are best eaten by serious chocoholics because they are very fudgy and very decadent, thanks to one special ingredient that really brings out the chocolate.
My secret ingredient to making the best brownie cookies? Espresso powder.
Coffee has been known to enhance chocolate, bringing out an even more rich flavor; you won't notice the coffee flavor at all.
If you can't find espresso powder at your regular grocery store, try a specialty Italian grocery store near the coffee.
Since I made these cookies the same week I made my
Mexican Chocolate Ice Cream
, I decided to combine the two and make an
ice cream cookie sandwich
.
I did freeze the cookies for a bit to firm them up because I was afraid the cookies would break when sandwiching the ice cream.
Small Batch Brownie Cookies
These chewy and fudgy Small Batch Brownie Cookies really do taste like brownies in cookie form and are unbelievably chocolatey thanks to one secret ingredient.
Ingredients
4 ounces semisweet chocolate, chopped
2 tablespoons unsalted butter, softened
1/4 cup all purpose flour, sifted
1 tablespoon unsweetened cocoa powder, sifted
1 teaspoon espresso powder
1/8 teaspoon baking powder
1/8 teaspoon salt
1 egg, room temperature
1/3 cup granulated sugar
1/2 teaspoon vanilla extract
Instructions
Preheat oven to 350F. Line one large or two small baking sheets with parchment paper or a silicone mat.
In a heatproof bowl over a saucepan of simmering water (don't let the bottom of the bowl touch the water), melt together the chocolate and butter. Remove from the heat and cool.
In a small bowl, whisk together the flour, cocoa powder, espresso powder, baking powder, and salt.
In a large mixing bowl on medium speed, beat together the egg, sugar, and vanilla until pale and creamy, about 3 minutes.
Beat in the melted chocolate until smooth.
Turn the mixer speed down to low and gradually beat in the flour mixture. Batter will be loose but thick, like brownie batter.
Using a #40 cookie scoop or by hand, scoop the batter into 1 1/2-inch balls then drop onto the baking sheet two inches apart. Bake 6-8 minutes or until the edges are set and tops are cracked and dry.
Cool on the baking sheet 5 minutes (they will deflate a little) then transfer the cookies to a wire rack to cool completely. Store in an airtight container for up to 1 week.
Recommended Products
As an Amazon Associate and member of other affiliate programs, I earn from qualifying purchases.
Source: Adapted from Love and Olive Oil
More Chocolate Recipes
Peppermint Mocha Brownie Cookies