Looking for a recipe to use up leftover egg whites? These Small Batch Angel Food Cupcakes from scratch without a cake mix use 2 egg whites and doesn't require a special tube cake pan to make them.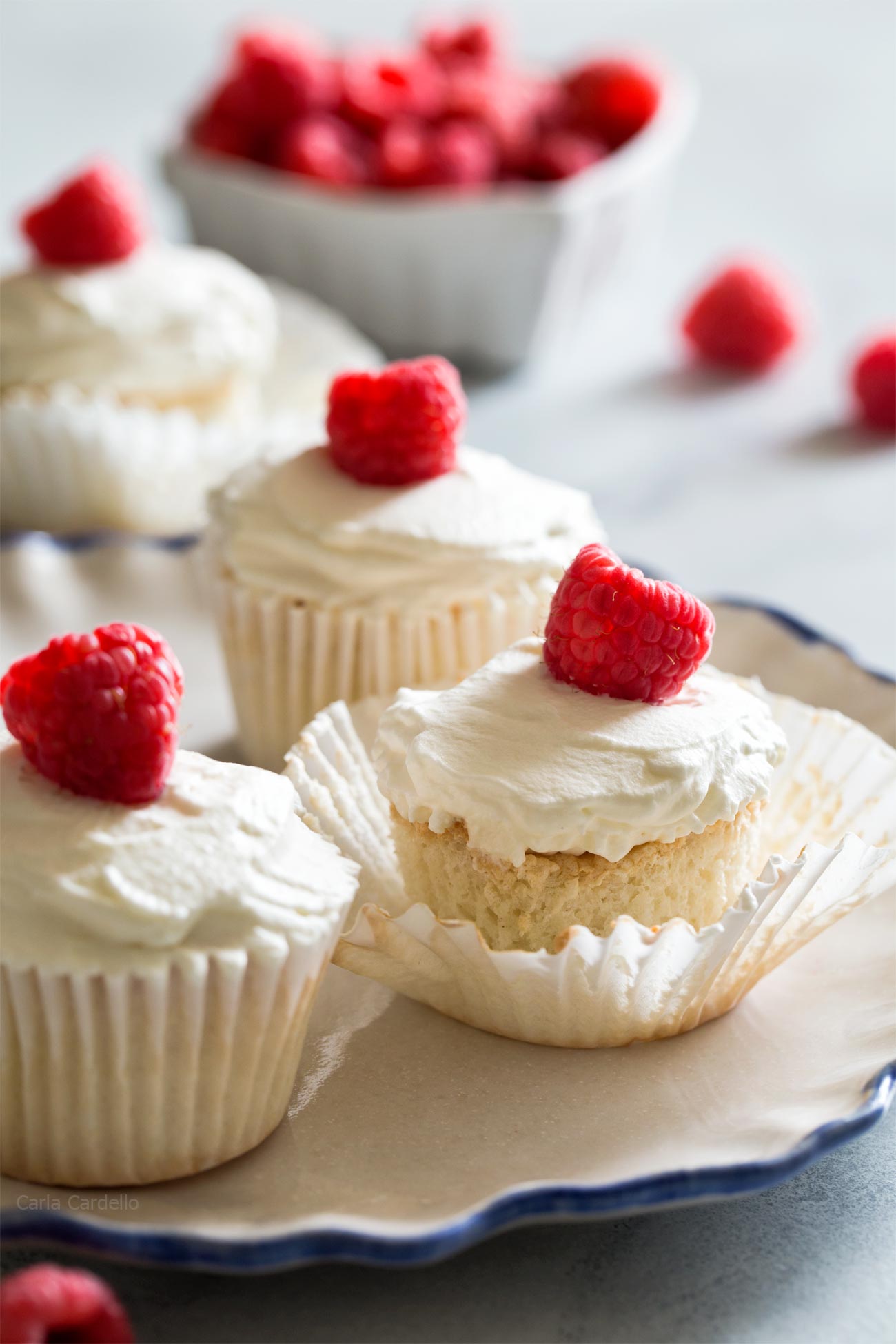 For the past year or so, I've been putting more emphasis on small batch recipes and recipes for two.
This includes going back to older recipes from the past 11 (!!!) years and rescaling them. I will never get to all of them, but I'm reworking my favorites.
One problem with small batch baking is figuring out how to cut an egg in half. Since you don't literally cut an egg in half, you either use an egg white or egg yolk. Which means you're stuck with the part of the egg you didn't use.
Not wanting to waste food, you put it in the fridge. Then a few weeks later, you clean out the fridge and toss it out. That was pointless, wasn't it?
Good thing I have recipes dedicated to leftover egg whites and leftover egg yolks.
I posted the recipe for these Small Batch Angel Food Cupcakes with whipped cream back in 2009 then again in 2013, although at the time they made a dozen. Staring at the leftover egg whites in my fridge, I wanted to update the recipe.
Angel food cake is probably one of my favorite cakes. However, I rarely make it homemade because it requires a special tube pan. I did discover you can make Angel Food Cake in a loaf pan.
A lot of you told me you struggle with having a small kitchen. My last apartment was like that; I barely had any counter space to do anything. Last thing you need is to buy a cake pan with limited use.
That's why I opted for a pan you already have – the cupcake pan. Yes, you *can* make angel food cake in a cupcake pan.
This small batch recipe makes 6-7 cupcakes.
As I learned from my Flourless Chocolate Cookies, not all egg whites weigh the same, which is why the yield varies slightly.
You will have enough batter for 6 cupcakes, but if you do have a little extra batter, think of the 7th as a bonus.
The cupcakes won't rise much, so fill the paper liners all the way full and smooth out the top. They will pretty much bake the way they go in, so you have little peaks in the batter, they won't be perfectly flat.
One trick I learned in my middle school cooking class (which I still remember all of these years later) is to separate the egg while still cold then let the whites come to room temperature for at least 30 minutes.
Eggs are easier to separate when cold because the yolks are firmer but easier to whip at room temperature.
Typically angel food cake uses cream of tartar, which is essentially powdered acid. Acid helps stabilize the egg whites while beating because the batter can be quite delicate.
However, I couldn't find my cream of tartar (nor did I want to spend money on something I rarely use).
To substitute for cream of tartar, use white distilled vinegar or fresh lemon juice instead. It really comes down to using some form of acid rather than focusing on which one.
To be honest, these angel food cupcakes don't need frosting.
However, for presentation purposes I topped them with homemade whipped cream and fresh raspberries. You can also top them with homemade chocolate whipped cream.
This video tutorial demonstrates how to frost with a knife rather than a piping bag (I did a combination of techniques 1 and 2).
You can also serve them with strawberry sauce spooned on top right before serving.
To store angel food cupcakes, place them in an airtight container at room temperature for up to 2 days. After this time, the eggs will start to weep and the top will become sticky and wet.
If you already frosted them with whipped cream, store them in the refrigerator.
Recipes Using Leftover Egg Yolks
Looking for more cupcake recipes? Check out my Small Batch Cupcake Recipes guide.
Items You Will Need (affiliate links):
Small Batch Angel Food Cupcakes
Looking for a recipe to use up leftover egg whites? These Small Batch Angel Food Cupcakes from scratch use 2 egg whites and doesn't require a special tube cake pan to make them.
Ingredients
1/4 cup + 2 tablespoons granulated sugar
1/4 cup all-purpose flour
2 egg whites, room temperature (clean with no trace of egg yolk)*
1 teaspoon white distilled vinegar or fresh lemon juice
1/2 teaspoon vanilla extract
1/8 teaspoon salt
6-7 fresh raspberries
Homemade Whipped Cream (get the recipe here)
Instructions
Preheat oven to 350F. Line a cupcake pan with 6-7 paper liners.
In a small bowl, sift together flour and 2 tablespoons sugar.
In a large mixing bowl on high speed (with whisk attachment if using a stand mixer), beat egg whites until foamy, about 1 minute. Add vinegar, vanilla, and salt.
Gradually beat in the remaining 1/4 cup sugar. Then continue beating on high speed until stiff peaks form, about 4-5 minutes (when you pull the beaters straight up, peaks will form but not fall over).
Fold in the flour mixture using a rubber spatula until all of the flour is incorporated, being careful not to deflate the egg whites.
Fill paper liners all the way to the top (they won't rise much). Bake for 16-18 minutes or until golden brown and tops spring back when touched. Cool completely.
Once cool, frost cupcakes with whipped cream and top with raspberries.
Notes
*Eggs are easiest to separate when they are cold because the yolks are firmer and less likely to break. However, egg whites are best whipped at room temperature to maximize their volume potential. If there is any yolk in the egg white, you need to start over.
Don't know what to do with the extra egg yolks? Check out my recipes using leftover egg yolks.
Recommended Products
As an Amazon Associate and member of other affiliate programs, I earn from qualifying purchases.
Source: Adapted from
Two Peas and Their Pod