Peanut Butter Cookie Cups (Small Batch)
In the mood for peanut butter but don't want to make dozens of cookies? Bake up these irresistible small batch Peanut Butter Cookie Cups! Ideal for cookie trays and gift giving.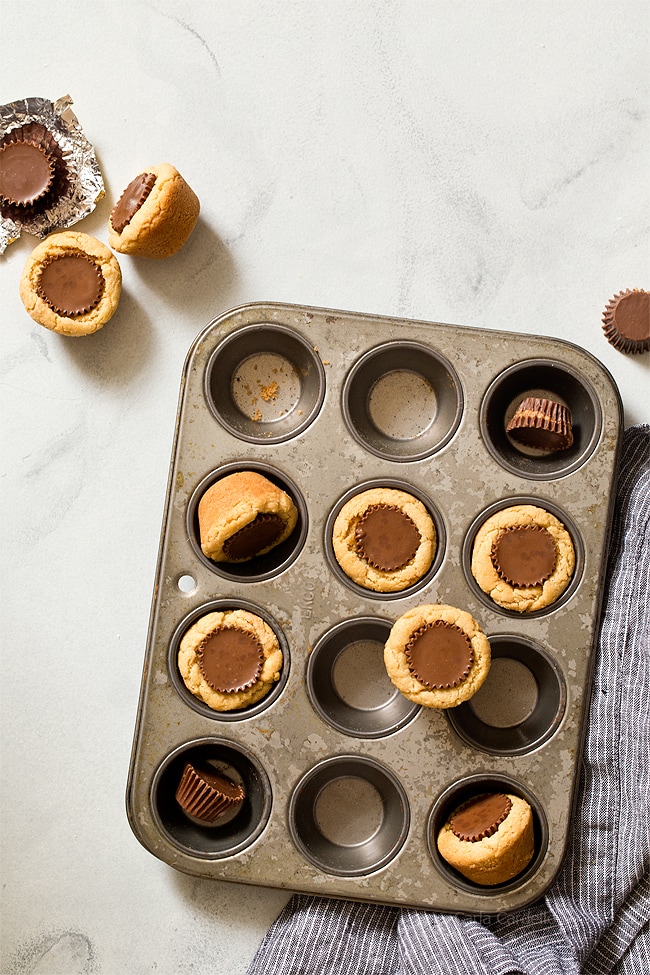 Here we are, the final new recipe for my Cookie Tray Series – a small batch of Peanut Butter Cookie Cups.
A small batch? For a cookie tray? Let me explain.
Since these cookie cups can be enjoyed all year round, I wanted to focus on making a small batch recipe; after all, you've told me time and again you love my recipes for two.
I mean, who doesn't crave small batch peanut butter cookies on a random Wednesday night in April? Just me?
However, since it's cookie season, I doubled the recipe for making the best cookie tray. Best of both worlds, amiright?
Regardless of how many you're making, no holiday season is complete without them. I've been making these peanut butter cookie cups since forever, probably since I discovered the recipe on the back of the peanut butter cup bag.
If you've never had them before, first of all scroll down to the recipe and run to the kitchen right now!
Ahem. I mean keep reading my post to find out what they are. They are soft peanut butter cookies made in a mini muffin tin and topped with a mini peanut butter cup. A peanut butter lover's dream.
These cookie cups are so good, you can give them as a gift, and it'd be voted the best gift of the night.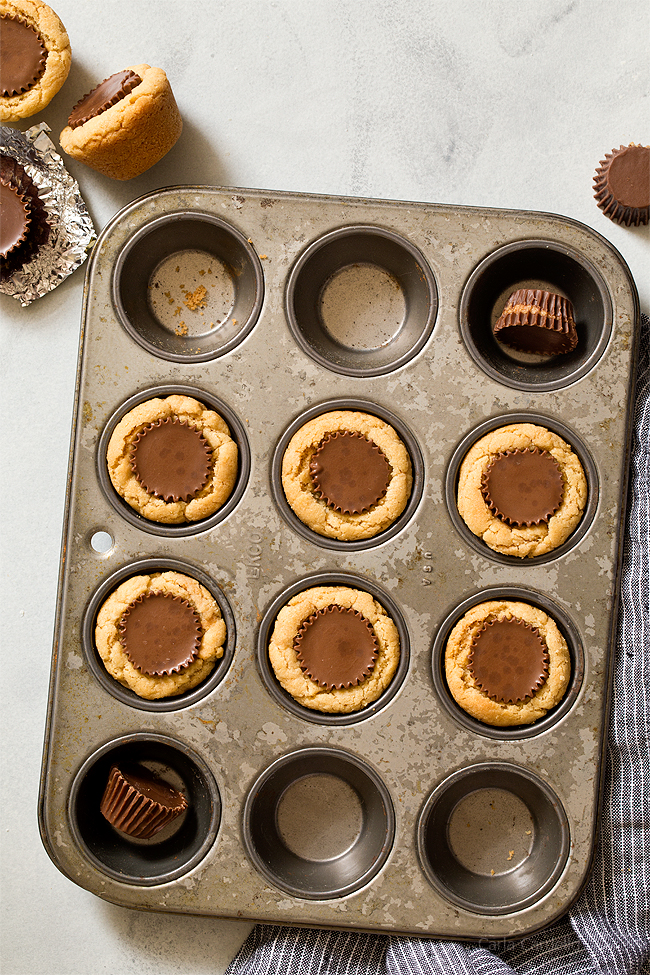 Cutting the recipe down to less than a dozen cookies did have its challenges.
Anyone who makes small batch recipes will tell you their number 1 problem is the egg.
How *do* you cut an egg in half? You can't.
That's where you have to decide – do I use only the egg yolk, only the egg whites, or do I increase the dry ingredients to balance the extra liquid?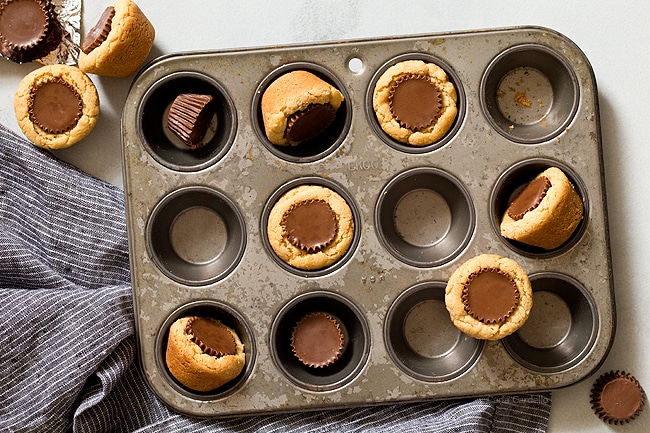 Normally I adjust the dry ingredients to not waste an egg, but in this case using an egg yolk did the trick.
Of course you're stuck with an egg white, but you can make these recipes using leftover egg whites.
To make these cookies more festive for Christmas, just add sprinkles! Wait about 15 minutes after adding the peanut butter cups. The chocolate melts enough for the sprinkles to stick.
Looking for a peanut butter free option? Try my Small Batch Chocolate Chip Cookies, Fudge Filled Chocolate Chip Cookie Cups or Eggnog Sugar Cookie Cups.
Items You May Need (affiliate links):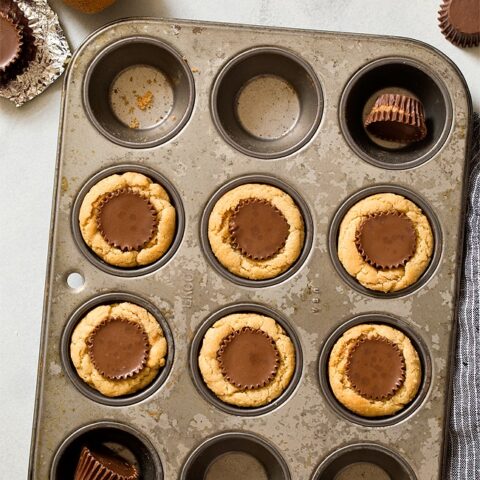 Peanut Butter Cookie Cups (Small Batch)
Yield: 8 cookie cups
Prep Time: 15 minutes
Cook Time: 12 minutes
Total Time: 27 minutes
Ingredients
1/2 cup all-purpose flour
1/8 teaspoon baking soda
1/8 teaspoon salt
2 tablespoons unsalted butter, softened
2 tablespoons creamy peanut butter
2 tablespoons granulated sugar
2 tablespoons brown sugar
1 egg yolk
1/2 teaspoon vanilla extract
8 mini peanut butter cups
Sprinkles (optional)
Instructions
Preheat oven to 350F. Grease 8 cups in a mini muffin pan.
In a medium bowl, whisk together the flour, baking soda, and salt.
In a large mixing bowl, beat together the butter, peanut butter, sugar, and brown sugar until smooth and creamy, about 2-3 minutes.
Beat in the egg yolk and vanilla until incorporated.
Gradually beat in the flour mixture.
Scoop the dough into 1 tablespoon balls then place in the pan. Bake 10-12 minutes or until golden brown and puffed.
Immediately place a peanut butter cup in the center of each one, gently pushing down. Cool for 30 minutes then remove from the pan and cool completely. Store in an airtight container for up to 1 week.
If adding sprinkles, let cool 15 minutes, top with sprinkles, then cool another 15 minutes before removing.
Notes
If doubling the recipe, use 1 whole egg instead of 2 egg yolks.
This post may contain affiliate links. As an Amazon Associate and member of other affiliate programs, I earn from qualifying purchase.