Learn how to make homemade Apple Turnovers with puff pastry and apple pie filling from scratch. Recipe makes one small batch of easy turnovers.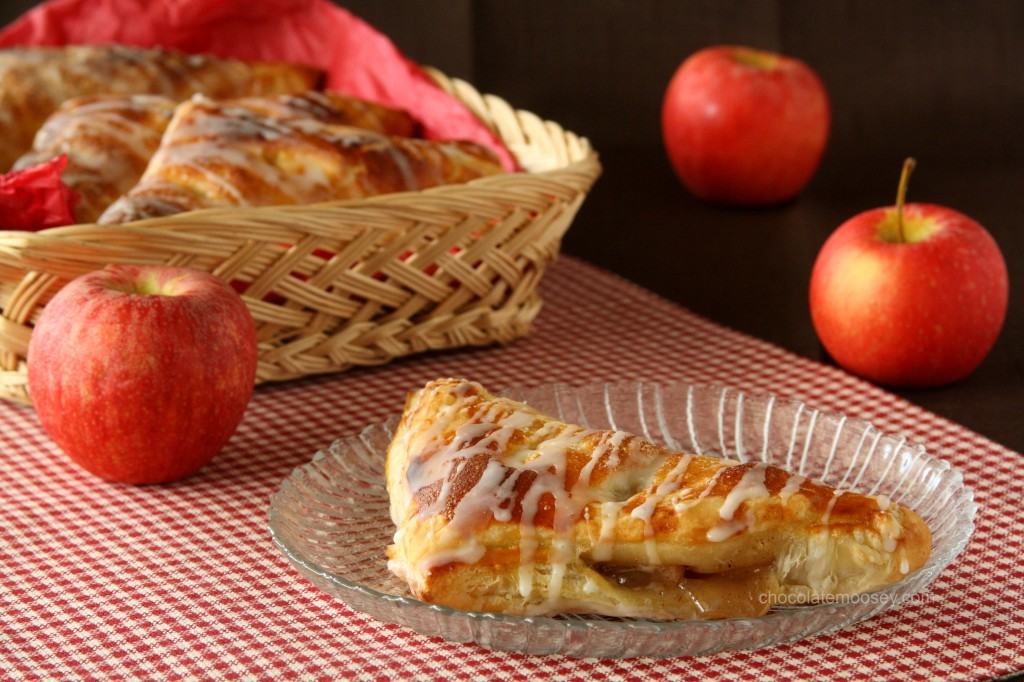 Dear Pie Crust,
It took years for me to love you. Your flaky, buttery crust fresh from the oven. Everybody raves about you no matter the season – pecan and pumpkin when the leaves are falling, hearty stick-to-your-ribs pot pie when it's too cold to venture outside, fresh fruit when the sun is shining.
You can be quite finicky when you want to be. Too warm and you won't roll out into a perfect circle to line my pie plate. Too cold and you simply won't budge.
Don't think I have to love you because you are my only option. I have found a new lover – puff pastry. It knows how to cheer me up when you fail me. That flaky crust. That puffiness. That crunch when you bake it. I mean, look at these easy Apple Turnovers. They puff up a million times more than you ever would, pie crust. Then when you take that first bite, that flaky crunch is met with the sweet taste of homemade apple pie filling.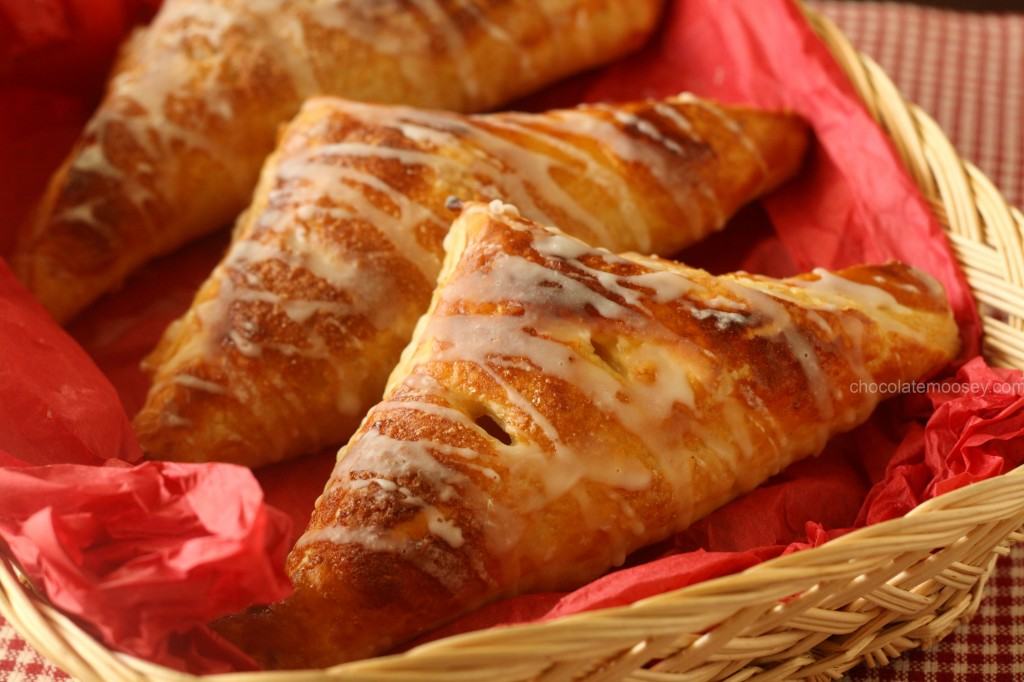 Oh pie crust, do you realize how much easier it is to work with puff pastry? When I took it out of the box, it was already a rectangle. Do you know how hard it is to roll you out into a shape with straight edges?
All I had to do was roll it a few inches to make it a 12×12 square then cut into four equal pieces. Puff pastry made it so easy to fill and fold into triangles. Do you know how hard it is to fold a deformed square into a triangle?
Pie crust, you may be laughing because my Apple Turnovers look burned, but they didn't. Really that's the egg wash bath and the cinnamon sugar shower I gave them. I couldn't leave them cold and naked, so I dressed them in a simple vanilla glaze.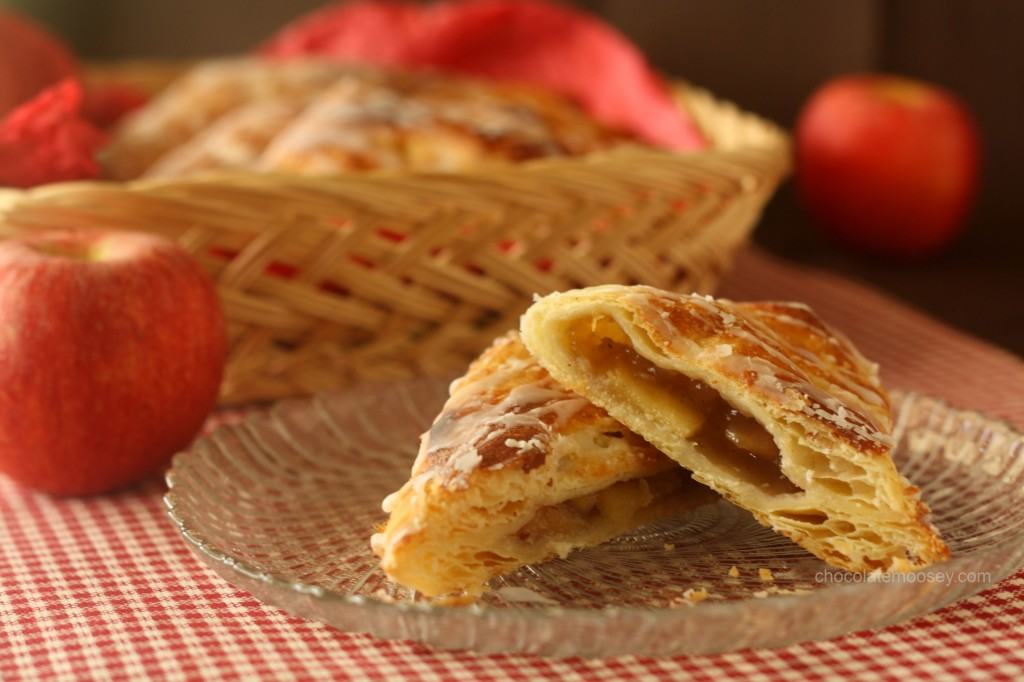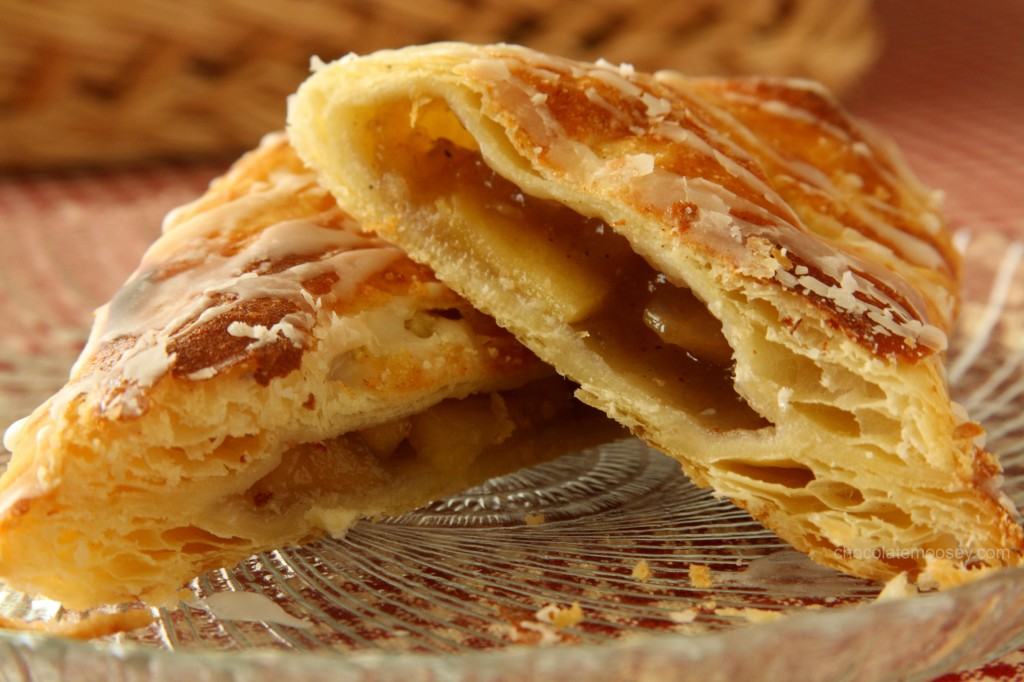 I even made
peach turnovers
with
peach pie filling
for when summer is here. The puff pastry love is all year round.
Don't worry pie crust – your day will come. Just not today.
Looking for more? Check out my full list of recipes using apple pie filling.
Apple Turnovers
Learn how to make homemade Apple Turnovers with puff pastry and apple pie filling from scratch. Recipe makes one small batch of easy turnovers.
Ingredients
1/3 cup granulated sugar
1/3 cup apple cider
1 teaspoon lemon juice
1/4 teaspoon ground cinnamon
1/8 teaspoon ground nutmeg
1/8 teaspoon ground clove
1 1/2 tablespoons cornstarch
1/4 teaspoon vanilla extract
1 cup peeled and finely chopped apple (roughly 1 small apple)
1 sheet puff pastry, thawed according to package directions
1 egg, lightly beaten
1 teaspoon granulated sugar mixed with 1/4 teaspoon cinnamon
Glaze
1/2 cup powdered sugar, sifted
2 teaspoons milk
1/4 teaspoon vanilla extract
Instructions
In a large saucepan, whisk together sugar, cider, lemon juice, cinnamon, nutmeg, clove, and cornstarch. Cook over medium heat until thickened and bubbly, about 3-5 minutes.
Remove from heat and stir in vanilla and apples. Set aside to cool until room temperature, about 15 minutes.
Preheat oven to 400F. Line a cookie sheet with parchment paper.
On a lightly floured surface, roll the puff pastry into a 12x12 square. Cut the dough into four equal squares.
Take one square, brush the edges with some of the beaten egg. Place about 2 tablespoons filling into the middle, being careful not to get too close to the edge. Take one of the corners and fold it diagonally to the other corner, forming a triangle. Press the edges together to seal. Place on the cookie sheet. Repeat with the remaining squares.
Cut 3 slits into each turnover. Brush with the beaten egg then sprinkle with cinnamon sugar mixture.
Bake for 18-20 minutes or until golden brown and puffed. Let cool completely.
Make the glaze: In a small bowl, whisk together the powdered sugar, milk, and vanilla. If it's too thick, add a touch more milk. If it's too thin, add a little more sugar. Drizzle over cooled turnovers. Let glaze harden before serving.
Notes
Turnovers are best eaten the same day. Store in an airtight container for up to 2 days.