Puff Pastry Chocolate Croissants
Rather than making a trip to the French bakery, stay home and make Puff Pastry Chocolate Croissants. This small batch recipe makes 8 small croissants.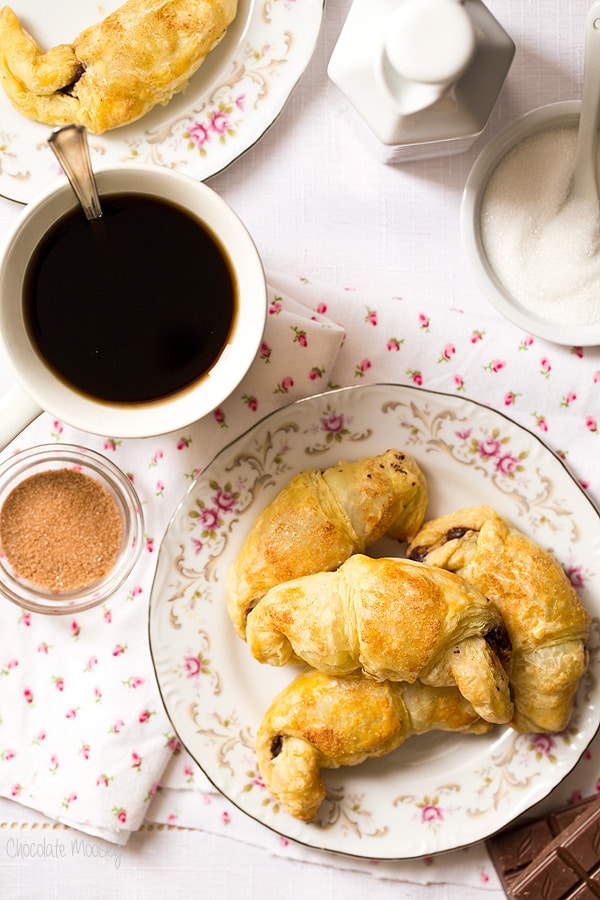 Sometimes inspiration for my recipes comes from personal experience.
At my previous job, we had one cubicle dedicated to what we called The Snack Shop. Someone would go to the local Dollar General, buy a bunch of snacks, then resell it at the office.
It was cheaper with more options than the one vending machine we had, and the money went towards funding our office Christmas party.
Once in awhile, they would buy these individually wrapped chocolate stuffed croissants, which I would buy as my morning breakfast.
Ever since then, any time I'm near a French bakery (we have three in Pittsburgh, two of which are within 5-10 minutes of where I live), I immediately crave a chocolate croissant, more properly known as pain au chocolat which are actually cuboid shaped rather than crescent shaped.
Since buying a pastry every morning can be rather pricey, I opted to try making my own.
Of course I'm no French pastry mastermind and will continue to support French bakeries, but making a small batch at home helps satisfy the craving just as well.
Making traditional croissant dough takes hours of labor and love, so I opted to make Puff Pastry Chocolate Croissants to make the process a bit quicker and easier.
After cutting the puff pastry into triangles, you add chopped chocolate on top and roll them up into crescents.
Sprinkle them with cinnamon sugar and off they go into the oven, puffing up and browning before they are ready for you to devour.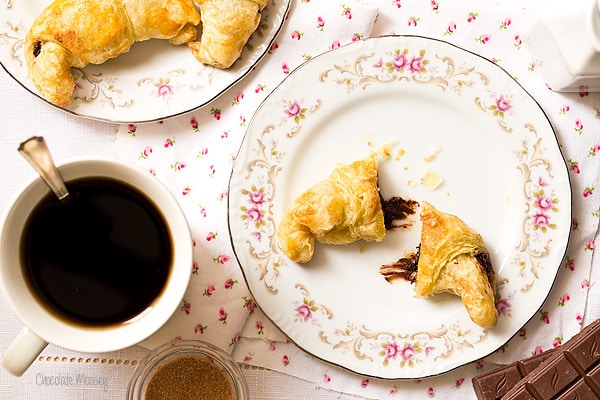 I know these aren't traditional French croissants, which I do want to tackle on one of my days off. Until then, I cheated and used puff pastry because traditional croissant dough takes a few hours to make.
Imagine having freshly baked, warm croissants with chocolate oozing out when you take a bite in 30 minutes.
That means you can easily and quickly make them when you have guests coming over for brunch or when you feel like having a special treat with your morning coffee.
Bonus points if they are already assembled in your freezer and ready to go straight into the oven.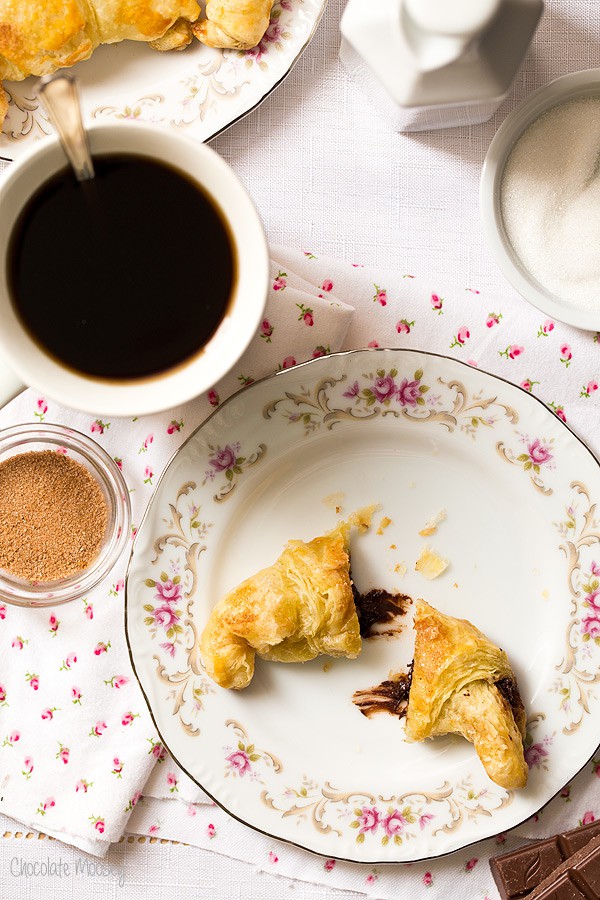 The key to working with puff pastry is making sure it's thawed enough so it doesn't break when rolling but also cold enough that the dough doesn't stick.
It's best to follow the thawing instructions on the packaging then working quickly. If your dough does become too warm, stick it back in the fridge for 15 minutes.
Puff Pastry Chocolate Croissants
Yield: 8 croissants
Prep Time: 15 minutes
Cook Time: 15 minutes
Total Time: 30 minutes
Rather than making a trip to the French bakery, stay home and make Puff Pastry Chocolate Croissants. This small batch recipe makes 8 small croissants.
Ingredients
1 sheet puff pastry, thawed according to package directions (it should still be cold but pliable enough to roll)
1/4 cup chopped semisweet chocolate
2 teaspoons granulated sugar
1/2 teaspoon ground cinnamon
1 egg, lightly beaten
Instructions
Preheat oven to 400F. Line a baking sheet with parchment paper.
Unfold the puff pastry. Cut the dough into 4 equal squares then cut each square diagonally, resulting in 8 triangles.
Working with 1 triangle at a time, position it so the wide end is facing you and the point is away from you, like a 90 degree triangle. Add chocolate to the center.
Roll the dough up from wide end to the point, pinching in the dough so the chocolate pieces don't ooze out. Transfer to the baking sheet and curl the ends towards the center to make a crescent shape. Repeat with the remaining triangles.
In a small bowl, combine the sugar and cinnamon. Brush each croissant with egg then sprinkle with cinnamon sugar. Bake 12-15 minutes or until puffed and golden. Serve warm or at room temperature. Croissants are best served the day they are made.
More Recipes Using Puff Pastry
This post may contain affiliate links. As an Amazon Associate and member of other affiliate programs, I earn from qualifying purchase.