Apple Half Slab Pie
A double-crusted apple pie made in a 5×7 pan rather than a pie plate. That means you can cut it into bars and have pie on-the-go.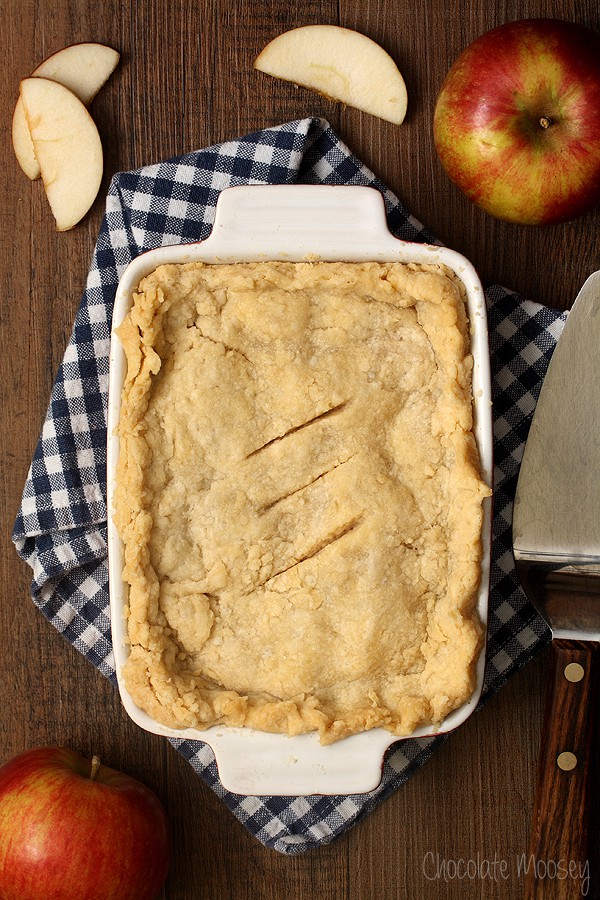 Yesterday I wrote about
the best buttermilk ice cream ever
from the cookbook
Jeni's Splendid Ice Cream Desserts
.
Today I'm sharing the second part of that recipe, which is Apple Half Slab Pie and my review on her latest book.
After all, I couldn't review an ice cream dessert book without doing both an ice cream and a dessert, and nothing goes better with buttermilk ice cream than pie.
Apple pie and ice cream go together like peanut butter and jelly, coffee and donuts, milk and cookies.
Rather than a traditional round apple pie, this Apple Half Slab Pie is a double-crusted rectangular pie stuffed full of fresh apples.
Personally, I think a slab pie is the best way to serve pie because you can easily cut the pie into bars, making them portable. Pie on the go, anyone?
I own Jeni's first book
Jeni's Splendid Ice Creams at Home
and knew I had to get my hands on her second book.
Jeni's Splendid Ice Cream Desserts is broken down into several parts – Ice Cream recipes (because what is an ice cream book without homemade ice cream recipes?), Baked Good recipes (to pair with the ice cream), Sundae ideas (to inspire you to put everything together), and Basic recipes (because Jeni really does make everything from scratch, including jams and sauces).
Because she does make almost everything from scratch, that is one downfall about this book; you have to plan ahead to make the recipes.
For example, in the Sundae section she lists the ingredients you'll need, but chances are you need to make each ingredient separately before putting it altogether.
If you're impatient, then this book may not be for you as there aren't many last-minute treats (unless you have ice cream ready to go in the freezer, homemade or store bought).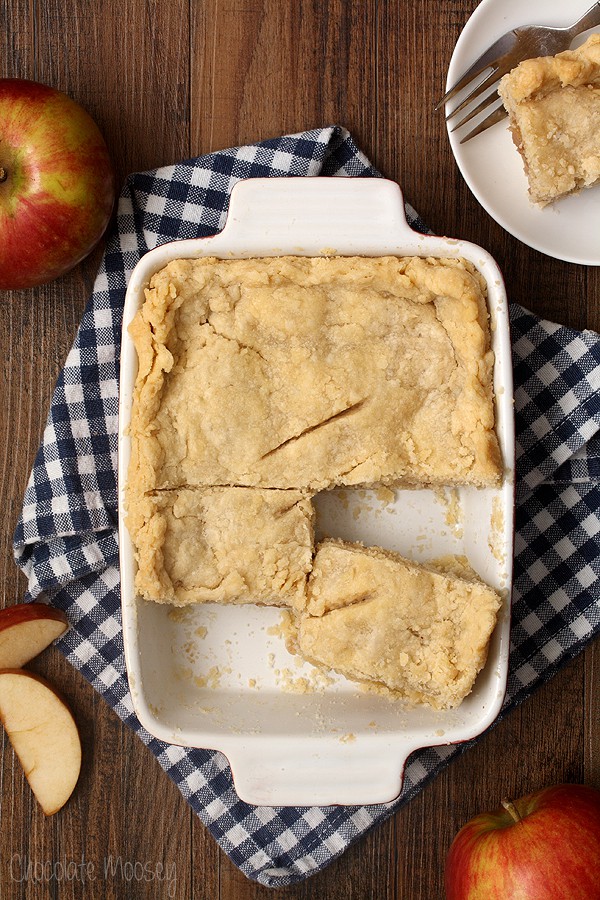 As August was quickly coming and going, I knew I wanted to share a fall-inspired dessert to get ready for September.
The one recipe that screamed fall was this Apple Half Slab Pie.
Confession – Jeni actually calls this recipe Sheet Pie and does not limit it to any one fruit.
These sheet pies are more commonly known as slab pies. Because I didn't want a giant sheet pie in my possession (I mean I did but my hips didn't), I cut the recipe in half. Hence half slab pie.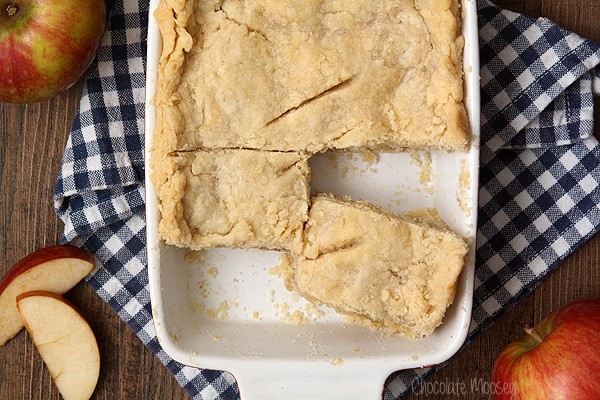 If you are a crust fan, then you will absolutely love this pie recipe as it is very flakey and buttery.
Jeni mentions that because her pie is double-crusted, a good crust dough is essential.
I find slab pies fun to serve. Not only is it much easier to cut and serve (no fruit oozing out everywhere!), you can divide into small, handheld bars, which are much more portable than pie slices.
In fact, I gave a few pieces to a friend who later reported that the crust was perfection.
Don't want to make apple? Substitute peach pie filling or cherry pie filling.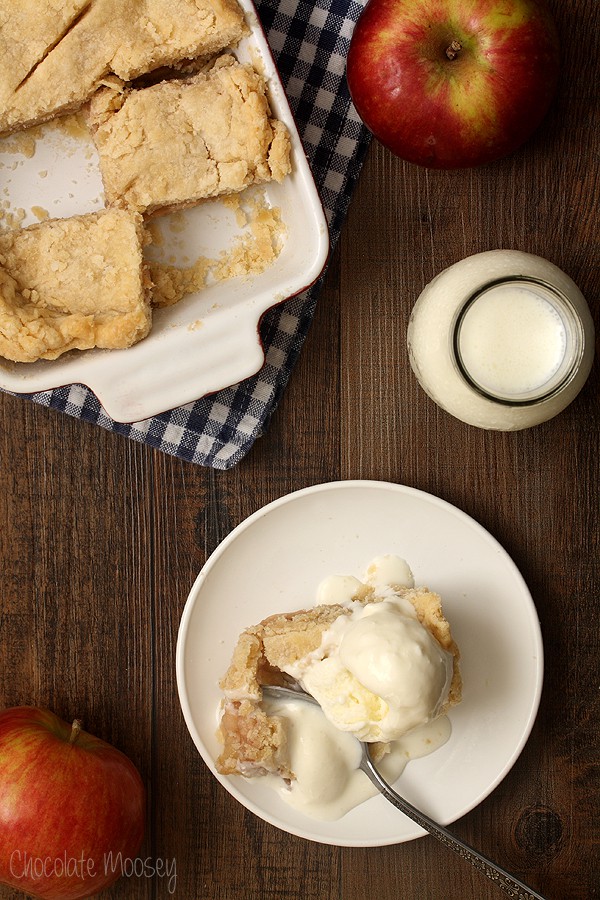 You can serve this half slab pie with your ice cream of choosing.
As I already mentioned, pairing it with buttermilk ice cream was divine. However, you can serve it with traditional vanilla ice cream or even my Apple Cider Ice Cream.
I bet Triple Caramel Pecan Rolo Ice Cream would be amazing too.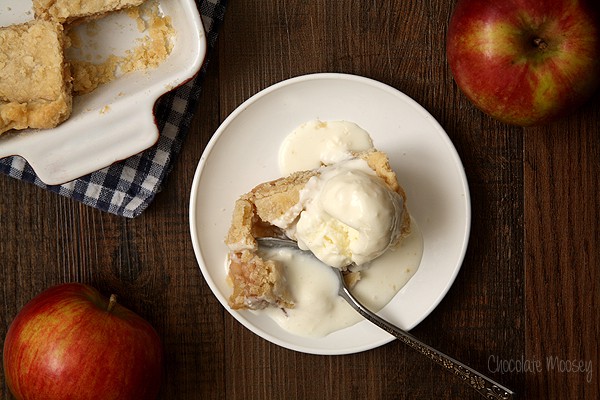 Some recipes I'm looking forward to trying next are Double Toasted Coconut Cajeta Ice Cream, French Toast Frozen Custard, Meringue Cake, French Ice Cream Tarts (with a sugar cookie crust!), and much more.
As with any book, there are a few recipes I probably won't making, such as Absinthe and Meringue Ice Cream and Magnolia Mochi Ice Cream.
I wouldn't mind trying a spoonful, but I don't see myself making those flavors anytime soon.
If you're interested in owning Jeni's Splendid Ice Cream Desserts, you can buy a copy on Amazon.
Apple Half Slab Pie
Yield: 8 servings
Prep Time: 30 minutes
Cook Time: 45 minutes
Additional Time: 1 hour
Total Time: 2 hours 15 minutes
A double-crusted apple pie made in a 5×7 pan rather than a pie plate. That means you can cut it into bars and have pie on-the-go.
Ingredients
1 3/4 cup + 2 tablespoons all-purpose flour
1 teaspoon sea salt
6 tablespoons cold shortening, cut into tablespoons
6 tablespoons cold unsalted butter, cut into tablespoons
1/4 cup ice water
1 egg
1/2 teaspoon water
Apple Filling
1/2 pound baking apples, cored, peeled, and cut into 1/2-inch slices
1/4 teaspoon ground cinnamon
1/8 teaspoon ground nutmeg
1 teaspoon lemon juice
2 tablespoons granulated sugar
1 tablespoon all-purpose flour
Instructions
In a large bowl, mix together the flour and salt.
Using a pastry blender or your fingers, cut the shortening and butter into the flour mixture until the mixture resembles coarse meal. Stir in the ice water and blend well.
On a lightly floured surface, form the dough into a ball and lightly knead it. Divide the dough in half. Flatten each half into an evenly round disk. Wrap in plastic wrap and refrigerate at least 1 hour or until cold.
For the filling: Shortly before assembling the pie, in a large bowl, combine the apples, cinnamon, nutmeg, lemon juice, sugar, and flour until evenly coated.
Preheat oven to 350F. Have a 5x7x1.5 inch pan* or casserole dish ready.
After the dough has chilled, roll out one portion of dough onto a lightly floured surface into an 6x8 rectangle. Transfer it to the pan and press the dough into the bottom and up the sides (if your dough breaks into pieces, just patch everything back together).
Add the apple filling to the pan and spread it out evenly.
Roll out the second portion of dough into a 5x7 rectangle. Transfer it to the top of the pan, covering up the filling. Pinch together the top and bottom crusts to seal. Cut three slits into the middle of the pie to let the steam escape.
In a small bowl, beat together the egg and 1/2 teaspoon water. Brush the top of the pie with the egg wash (you won't use all of it).
Bake for 45 minutes or until the top is golden brown. Let cool 15 minutes before serving warm.
Notes
*If you don't have a 5x7x1.5 pan, try using a similar-sized casserole dish or an 8x8 pan. You may need to adjust how big to roll out your dough.
Source: Adjusted from
Jeni's Splendid Ice Creams at Home
—-
Looking for more apple recipes?

Apple Dumpling Cobbler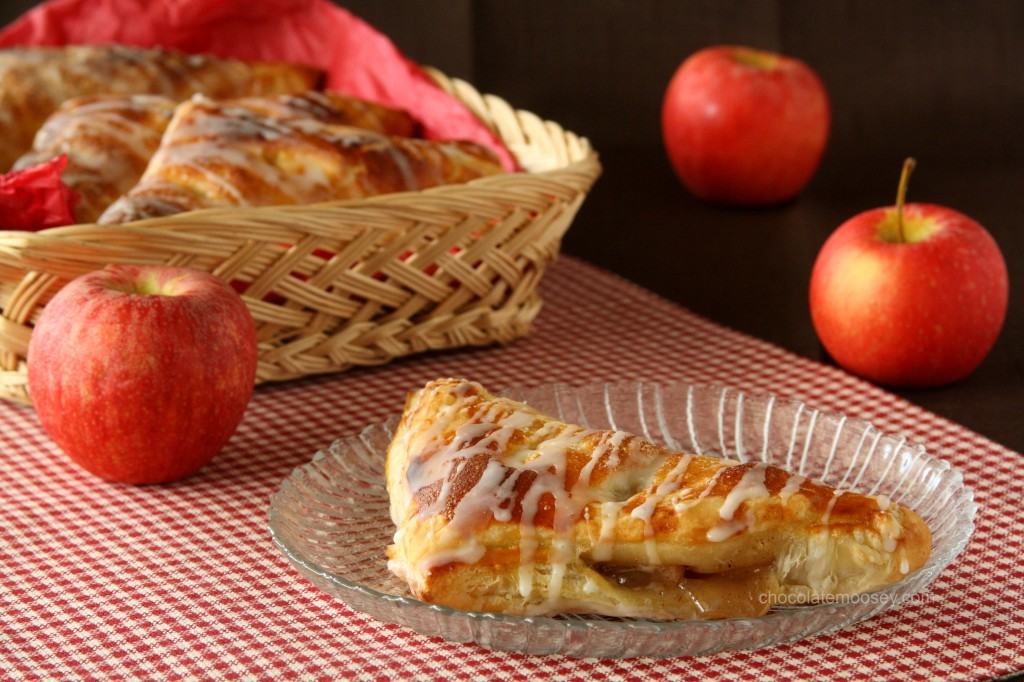 Apple Pie Turnovers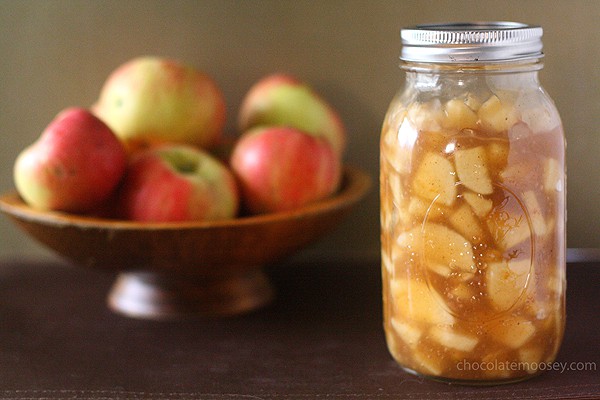 Apple Pie Filling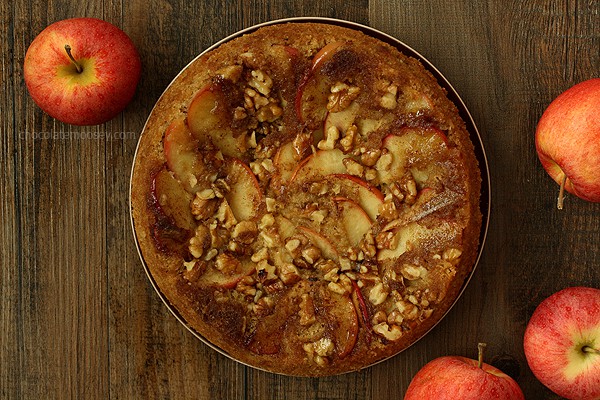 Apple Walnut Upside Down Spice Cake

Apple Cider Cinnamon Rolls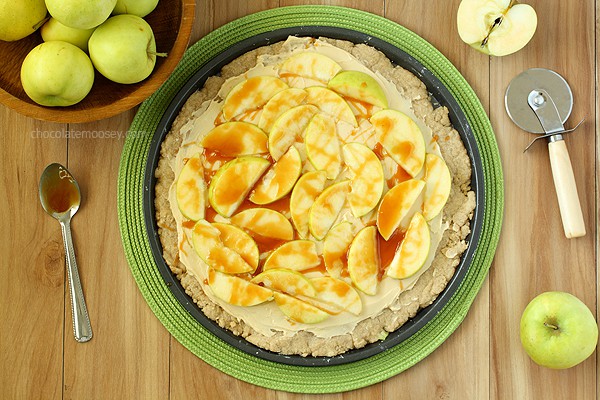 Caramel Apple Sugar Cookie Pizza
This post may contain affiliate links. As an Amazon Associate and member of other affiliate programs, I earn from qualifying purchase.