Apple Hand Pies (Small Batch)
These small batch Apple Hand Pies made with pie crust are a taste of fall in every bite! This recipe freezes well, so you can make them ahead of time and bake when ready.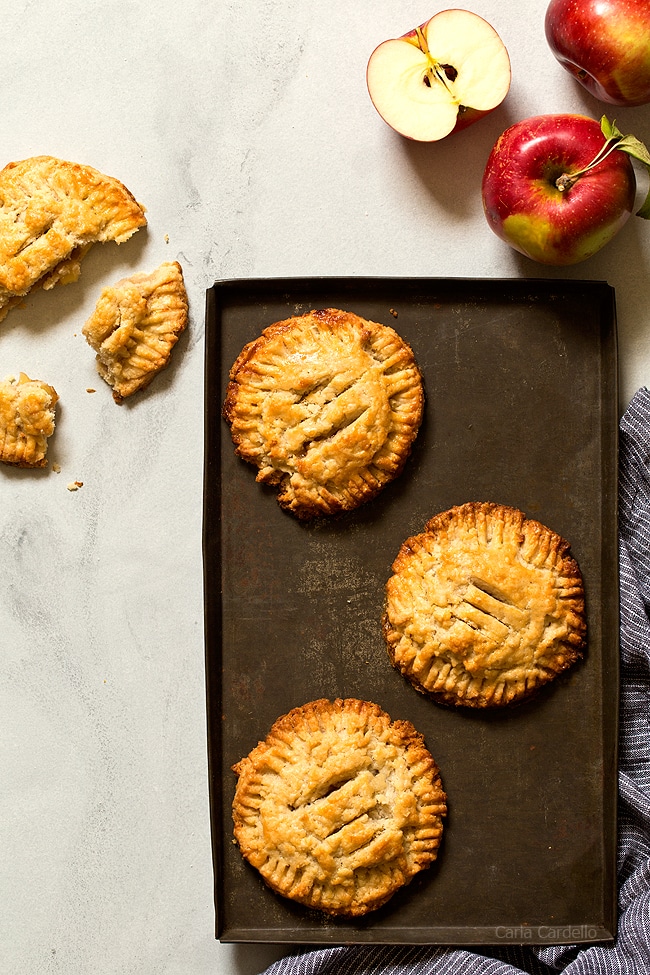 This year was the first year in a long time I'm missing the local apple festival.
Technically I missed it probably about 5 years ago when Dad and I went to a different apple festival located near where I was living at the time, which was pretty much the middle of nowhere. At least it still had apples.
This weekend, however, other plans came up. Pittsburgh did this event last year called Doors Open where you can tour buildings normally not open to the public. Buildings where you pretty much need to work there or have a reason for visiting in order to go inside.
These kinds of events excite me because it means I'd have access to different vantage points around the city for photos, especially the ones that'll let you up on a top floor.
If you're lucky, I may upload them eventually to @citylifeadventures (I have such a backlog of editing photos, I still have yet to share vacation from May).
Last year I missed it because it was the same weekend as the apple festival. This year it was also the same weekend.
Standing (sitting?) at a crossroad, I decided to go to Doors Open on both days, missing the apple festival as a result.
Get it all out of my system. If they do Doors Open again next year, I can hit up any places I missed then spend the other day eating apples.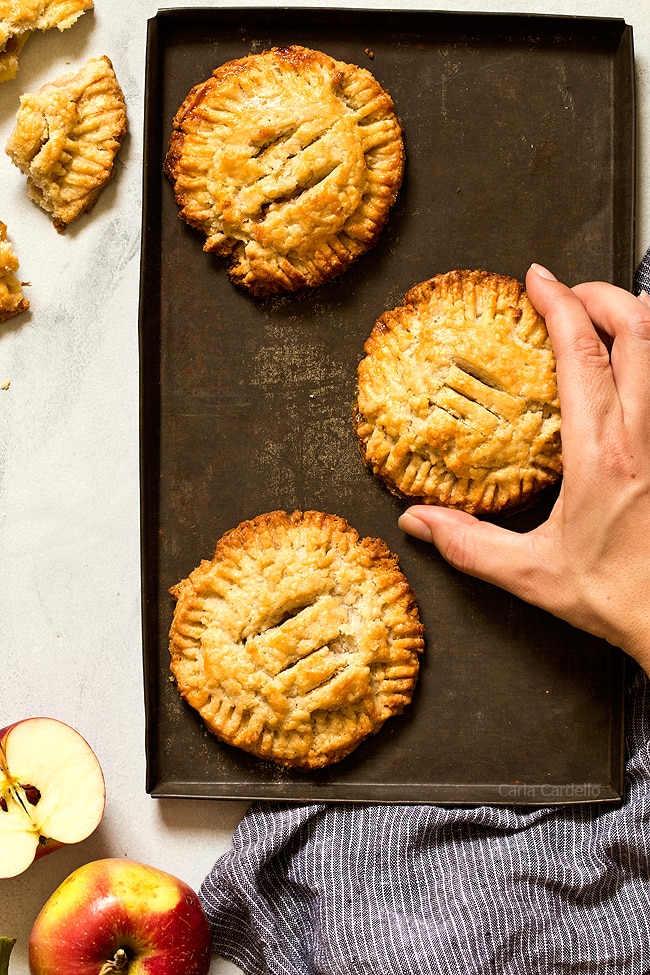 I feel guilty since Dad and I always go to the apple festival, and he won't go without me (I told him to, but he wasn't listening). Hopefully he'll forgive me with these small batch Apple Hand Pies (which if you're reading Dad, there are some in my freezer right now).
Since I've been blogging for over 10 (!!!) years, it becomes harder and harder to think of new apple recipes. I've made apple pie for two, apple dumplings, apple bread. You name it – I've probably made it.
They're similar to apple turnovers but are round and made with pie crust. And since the recipe is small batch, it makes only 4 hand pies. Eat half now. Eat half later.
Apple hand pies are the best because of their flaky, buttery crust and
homemade apple pie filling
. Plus you get your own individual pie! Whether you share the remaining three is up to you.
Most recipes make a dozen (or more!) hand pies. As tempting as it is, you and I certainly don't need to eat 12 hand pies. Or maybe we want to, but our bodies say no. A small batch is great compromise, don't you agree?
Apple hand pies also freeze well. In fact, it's encouraged because warm dough is sad dough. To store them long term, wrap each one in plastic wrap then place the group in a freezer bag. Make all four at once or one at a time.
Looking for more? Check out my full list of recipes using apple pie filling.
Don't want to make apple? Substitute peach pie filling or cherry pie filling.
Apple Hand Pies (Small Batch)
These small batch Apple Hand Pies made with pie crust are a taste of fall in every bite! This recipe freezes well, so you can make them ahead of time and bake when ready.
Ingredients
Pie Dough
1 1/2 cups all-purpose flour
2 tablespoons granulated sugar
1 teaspoon salt
4 tablespoons vegetable shortening, cold
4 tablespoons unsalted butter, cold
3-4 tablespoons cold water
1 egg lightly beaten with 1 teaspoon water (optional but helps with browning)
Apple Pie Filling
2 tablespoons granulate sugar
2 tablespoons apple cider, juice, or water
1/2 teaspoon fresh lemon juice
1/4 teaspoon ground cinnamon
1/8 teaspoon ground nutmeg
1/8 teaspoon ground clove
1 1/2 teaspoons cornstarch
1/3 cup chopped peeled apple (roughly 1 small apple)
1/8 teaspoon vanilla extract
Instructions


For the dough: In the bowl of a food processor, add the flour, sugar, and salt.
Add the cold butter and shortening then pulse until they are cut into the flour, looking like large pebbles.
Add 3 tablespoons cold water then pulse until the dough comes together. If it's too dry, add the remaining water. Alternatively, you can cut in the butter and shortening by hand in a large bowl with a pastry blender.
Flatten the dough into an evenly round disk and wrap in plastic wrap. Refrigerate at least 1 hour or until cold.
For the filling: In a large saucepan, combine the sugar, cider, lemon juice, cinnamon, nutmeg, and cornstarch. Stir over medium heat until thickened and bubbly.
Remove from the heat and stir in vanilla and apples. Cool until room temperature, about 15 minutes.
On a lightly floured surface, roll out the dough until 1/8 inch thick. Using a 3-inch cookie cutter or round glass, cut out as many circles as you can and place on a parchment-lined baking sheet.
Gather up the dough scraps and reroll. Repeat until all of the dough is gone. You should get 8 circles. If the dough gets too warm and sticks, refrigerate until cold again.
Spoon roughly 2 teaspoons of filling in the center of half the circles. Top with the unfilled circles, forming 4 pies. Seal the edges with a floured fork then cut 3 slits into the top. If the dough sticks too much while assembling, refrigerate until cold again.
Once fully assembled, freeze for a minimum of 15 minutes. If you're freezing longer than an hour, wrap each one in plastic wrap then store in a freezer bag until ready to bake.
When ready to bake, preheat oven to 350F.
Brush each pie with the beaten egg. Bake 18-20 minutes or until golden brown. Remove to a cooling rack and cool for at least 15 minutes. Serve warm or at room temperature. Store leftovers in an airtight container for up to 3 days.
This post may contain affiliate links. As an Amazon Associate and member of other affiliate programs, I earn from qualifying purchase.