Peach Turnovers
How can you say no to flaky baked Peach Turnovers filled with peach pie filling and creamy cheesecake? Made with puff pastry.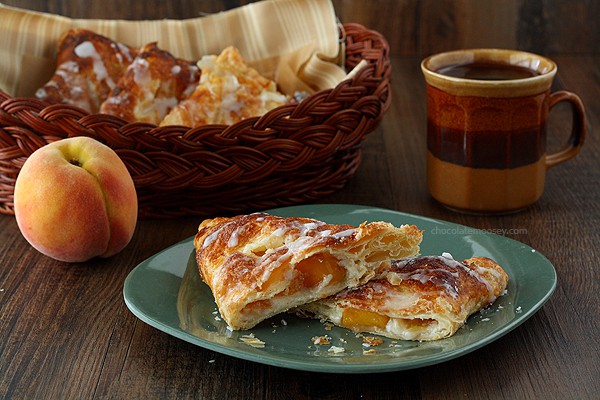 I swear this summer is escaping me, and I don't even have kids.
I had to squeeze in strawberry picking in June, completely missed cherry season in July, and now desperately squeezing in some peaches before August is completely gone.
What happened to summer?!
Trying to slow down time, I bought a quart of peaches from the local fruit stand (it may not sound like a lot, but there's only me eating them).
Peaches are probably one of my favorite fruits. That perfect bite is when the juices run down your arm. Nature's candy, as I like to call them because of their natural sweetness.
The only thing better than a ripe peach is peach pie paired with cheesecake, which is exactly what I did with these Peach Turnovers made with puff pastry.
I love puff pastry much more than pie crust.
In fact, I wrote an ode to puff pastry whenever I made my Apple Turnovers last year.
Those were such a huge hit, I knew I wanted to make them again with a different filling.
Along with the peach pie filling, I amped it up with cheesecake. Double win.
Make sure you check out my step by step photos on How To Peel Peaches for your peach pie filling.
You can also use peach jam without pectin or peach curd for the peach filling.
I love eating these peach turnovers fresh from the oven, still warm and crispy.
Although they are considered dessert by many, I like to consider them as breakfast and pair them with my coffee. After all, the turnovers have fruit and dairy.
Don't want to make peach? Use my cherry pie filling instead.
Peach Pie Cheesecake Turnovers
How can you say no to flaky baked turnovers filled with peach pie and creamy cheesecake filling?
Ingredients
Peach Pie Filling (can make ahead of time)
1/3 cup water
1 teaspoon lemon juice
1/3 cup sugar
1/8 teaspoon ground cinnamon
1/8 teaspoon ground nutmeg
1/8 teaspoon ground clove
1 1/2 tablespoon cornstarch
1/8 teaspoon vanilla extract
1 cup peeled chopped peaches (learn How To Peel Peaches)
Cheesecake Filling (can make ahead of time)
2 tablespoons heavy whipping cream
2 tablespoons granulated sugar
4 ounces cream cheese, softened
1/8 teaspoon vanilla extract
Turnover
1 sheet puff pastry, partially frozen
1 egg
1 teaspoon sugar mixed with 1/4 teaspoon cinnamon
Glaze
1/2 cup powdered sugar
1 tablespoon milk
Few drops of vanilla
Instructions
Preheat oven to 400F. Line a cookie sheet with parchment paper.
Make the pie filling: In a large saucepan, combine water, juice, sugar, and cornstarch. Stir over medium heat until thickened and bubbly. Cook for 2 minutes, constantly stirring. Remove from heat and stir in vanilla and peaches. Set aside to cool.
Make the cheesecake filling: In a small bowl, beat the cream until it thickens and stiff peaks form (when you pull the beaters straight up, peaks will form but not fall over). Set aside.
In a large mixing bowl, beat together the sugar and cream cheese until smooth and creamy, about 2-3 minutes. Scrape down the bowl as needed. Beat in the vanilla.
Fold the whipped cream into the cream cheese mixture. Set aside.
Dust a dry, flat surface with enough flour to roll out the puff pastry. Roll it out into a 12×12 square. Cut the dough into four equal squares.
In a small bowl, beat the egg. Take one square, brush the edges with some of the egg. Spread about 1/4 of the cheesecake filling into the middle then top with 1-2 tablespoons of pie filling (don't overfill), being careful not to get too close to the edge.
Take one of the corners and fold it diagonally to the other corner, forming a triangle. Press the edges together to seal. Place the turnover on the cookie sheet. Repeat with the remaining squares. If you have any leftover filling, refrigerate it for another time.
After all four are on the sheet, cut two slits into each one. Brush them with the beaten egg. Discard any leftover egg. Sprinkle with cinnamon sugar mixture. Bake for 18-20 minutes or until golden brown and puffed. Let cool.
Make the glaze: In a small bowl, whisk together the sugar, milk, and vanilla. Drizzle on top of each turnover. Let sit for a few minutes while the glaze hardens.
—-
If you liked these Peach Pie Cheesecake Turnovers, you may also like these recipes:
From me: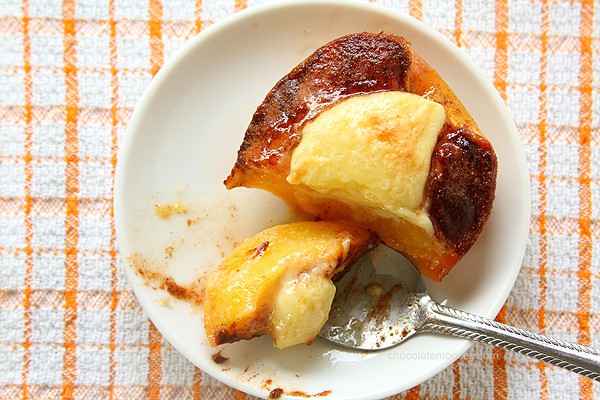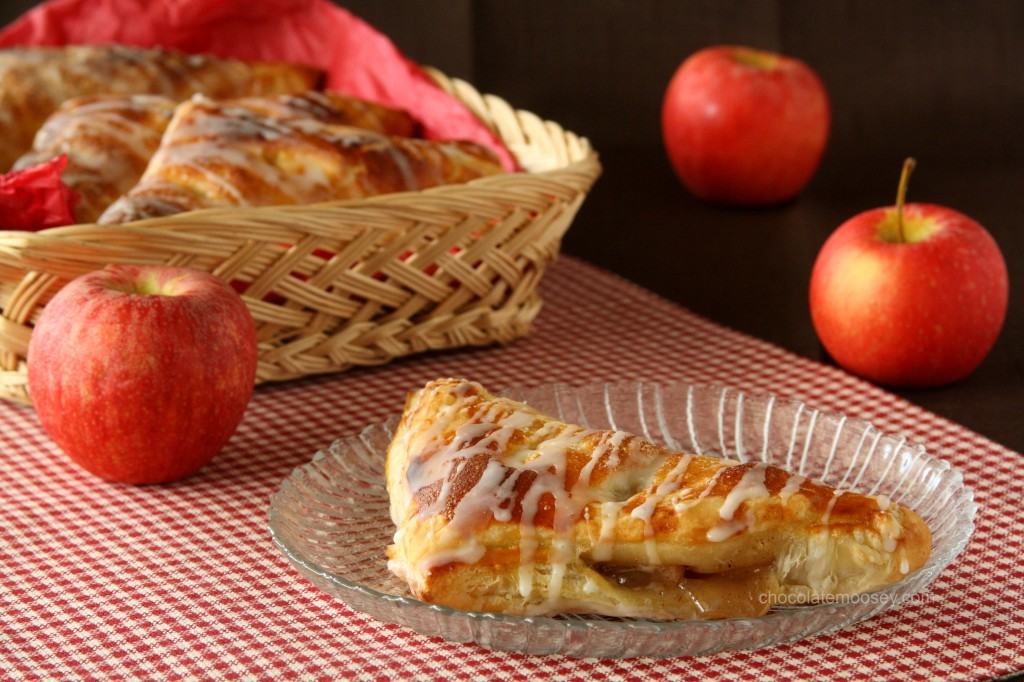 This post may contain affiliate links. As an Amazon Associate and member of other affiliate programs, I earn from qualifying purchase.