Nutella Hot Fudge Sauce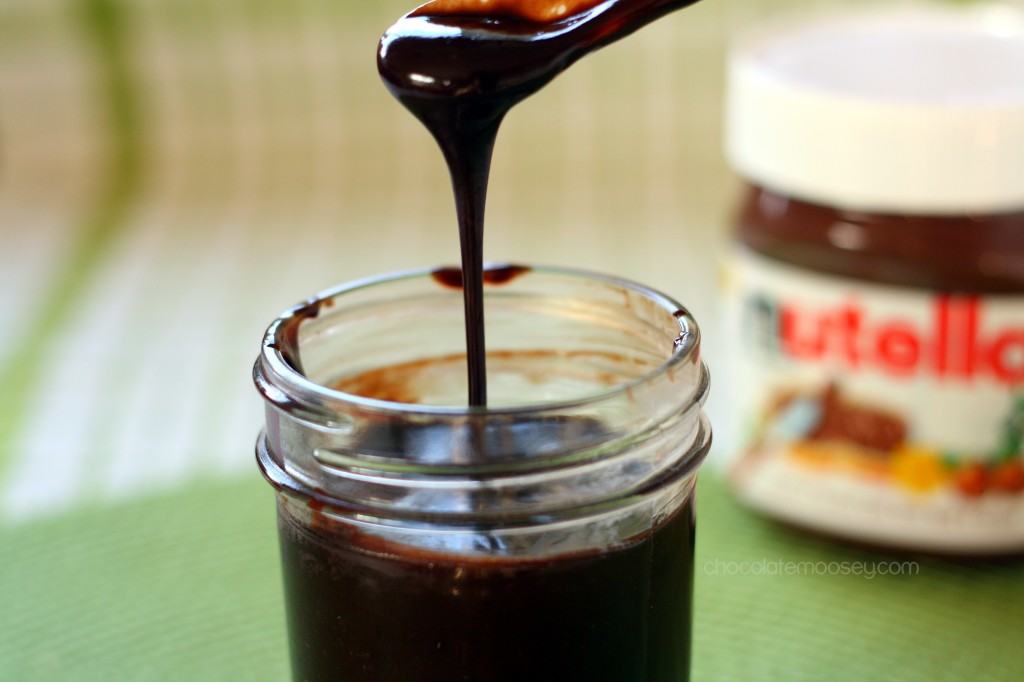 It seems like you guys really like easy, lazy, not a lot work recipes.
Can't blame you though – when you work full time, the last thing you want to do is spend a lot of time in the kitchen (as much as I enjoy it, my housework slacks as a result).
Then you have those nights where it's 9 pm and you want dessert. Too late (and probably too hot) to bake anything.
Usually I throw a bunch of marshmallows and chocolate chips into a ramekin and broil until toasty, but other nights I want ice cream.
Why stop there? If you can melt chocolate, you can make hot fudge sauce in minutes.
But wait, don't stop there! Add Nutella and espresso powder for an elegant and silky Nutella Hot Fudge Sauce.

Because I'm not good at staying ahead of the game, I was looking for a quick recipe to share today. You can't make and photograph ice cream in the same day unless you start early in the morning.
I am not a morning person; therefore, I photograph ice cream the next day.
You can make hot fudge sauce in minutes, but I didn't want plain ol' hot fudge sauce. I wanted to amp it up and make you ask for more.
I thought about chili powder, but most people hate that idea.
Chocolate peanut butter fudge sauce? I already had two peanut butter recipes this week.
Then it hit me – Nutella! I wanted to add another flavor element, so I chose espresso powder because coffee brings out a deeper flavor in the chocolate.
What is Nutella? It is a chocolate hazelnut spread with the same smooth, creamy texture as peanut butter.
Pretty much if you can use peanut butter, you can use Nutella. See the chocolate ice cream in my pictures? That's not chocolate ice cream – that's Nutella ice cream.
I used my Peanut Butter Ice Cream and subbed Nutella for the peanut butter.
Nutella Espresso Hot Fudge Sauce on top of Nutella Ice Cream – I almost died when I took a bite.
If you don't have instant espresso powder, you can either make some espresso or coffee (use 1/4 cup cream + 2 Tbsp coffee), use instant coffee, or leave it out altogether.
I highly recommend buying espresso powder because it has a bolder flavor than instant coffee and you'll find yourself using it a lot – in cakes, in cookies, in ice cream, anything and everything with chocolate.
You can make a regular cup of espresso like you would with instant coffee. It sure beats setting up your coffee maker and making a pot, just so you can have a tablespoon or two.
Espresso powder can be found in the coffee aisle and in specialty Italian groceries.
Since espresso is such a bold flavor, make sure you add enough for your taste. I love espresso, so I added 3 teaspoons.
However, I know some non-coffee drinkers who wouldn't have liked it that strong. And when in doubt, you can leave it out.
Here's me pouring on the hot fudge sauce. I can't take pictures and pour at the same time, so the overflowing over the rim was seriously an accident.
This is a great example of why you should use a tripod. I forgot to lock exposure though, so the lighting varies a little between pictures.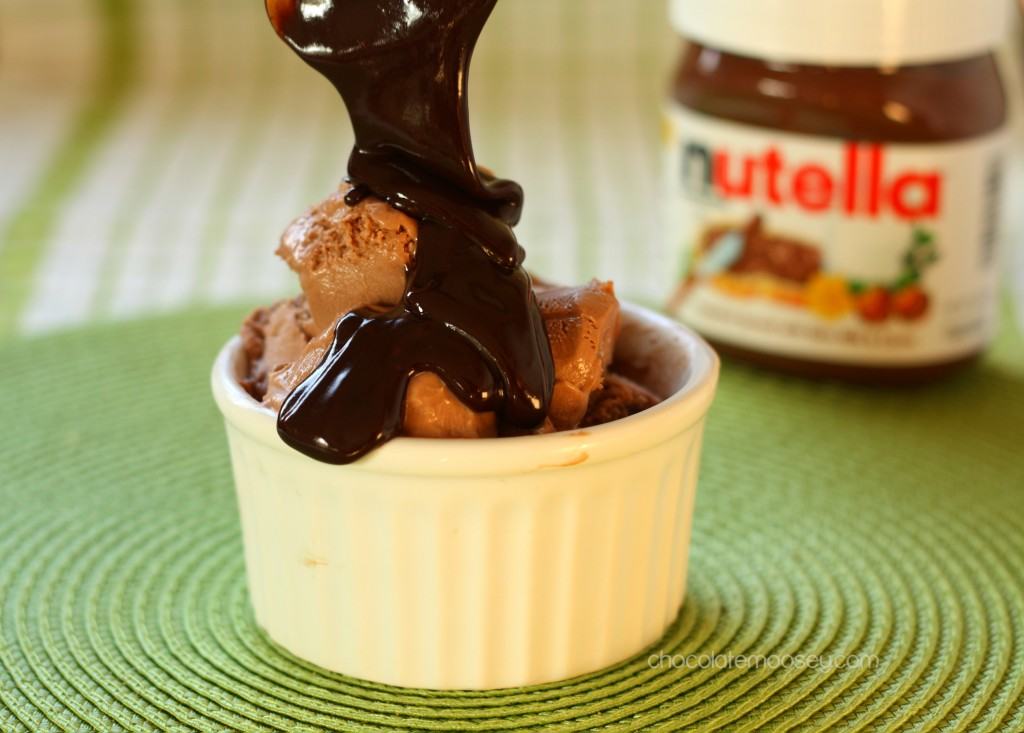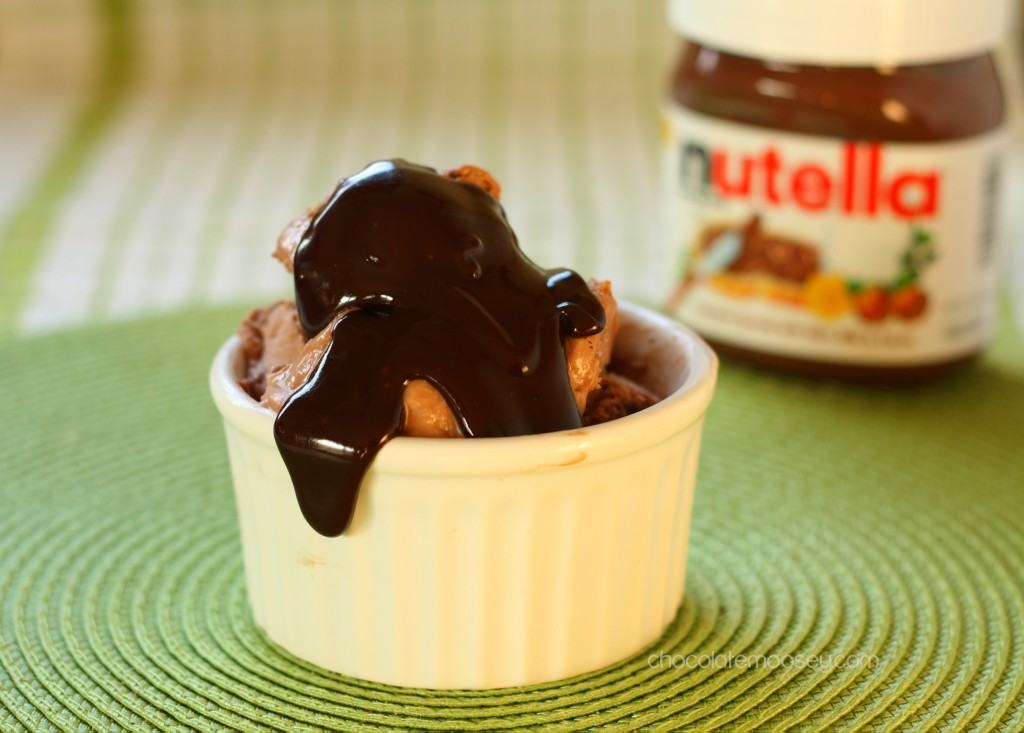 Nutella Espresso Hot Fudge Sauce
Ingredients
1/4 cup bittersweet or semisweet chocolate, chopped into pieces
1/4 cup + 2 Tbsp heavy whipping cream (or 1/4 cup cream + 2 Tbsp coffee if not using espresso powder)
3 Tbsp Nutella
1-3 tsp espresso powder, to taste
Few drops of vanilla extract
Instructions
In a small saucepan, melt the chocolate and cream until smooth.
Remove from the heat. Whisk in the Nutella, espresso powder, and vanilla. Serve immediately. If storing in the refrigerator, warm it up before using.
This post may contain affiliate links. As an Amazon Associate and member of other affiliate programs, I earn from qualifying purchase.