Peach Pie Filling
No more canned pie filling! Learn how to make homemade Peach Pie Filling from scratch using fresh juicy peaches. Use it to make peach pie, peach cobbler, or no bake cheesecake.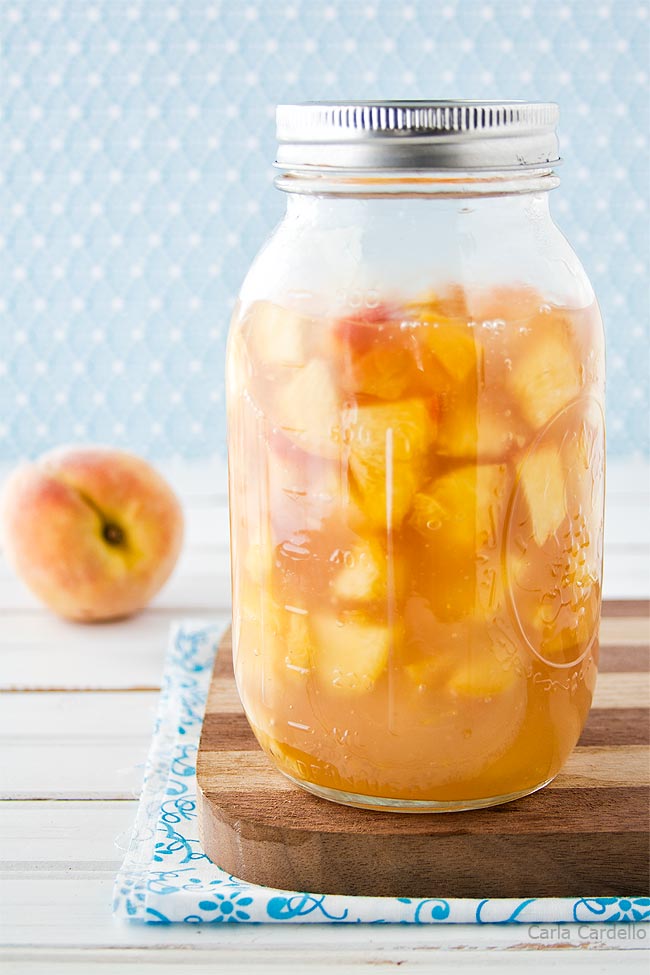 Summer marks peach season in PA and you bet I'm not going to miss it!
Usually Dad and I do pick-your-own-peaches, but when I lived a few hours away in south central PA for a few years, it was difficult to find a weekend together and go to the one farm we love.
When that happened, I would buy a basket of peaches from a fruit stand on the side of the road. I may not have personally picked them, but I knew they were fresh from the farm.
Previously I've posted recipes for apple pie filling, cherry pie filling, and blueberry pie filling.
I've also made it with fresh peaches with this Peach Pie Filling recipe. It's similar to canned pie filling but much fresher and without preservatives or corn syrup.
I personally don't care about those last two items, but I know others do. Whatever you believe, this recipe is easy and delicious.
It's a beautiful start to some freshly baked peach pie, but you can also use the filling in other recipes, such as Peach Crumb Bars and No Bake Peach Cheesecake .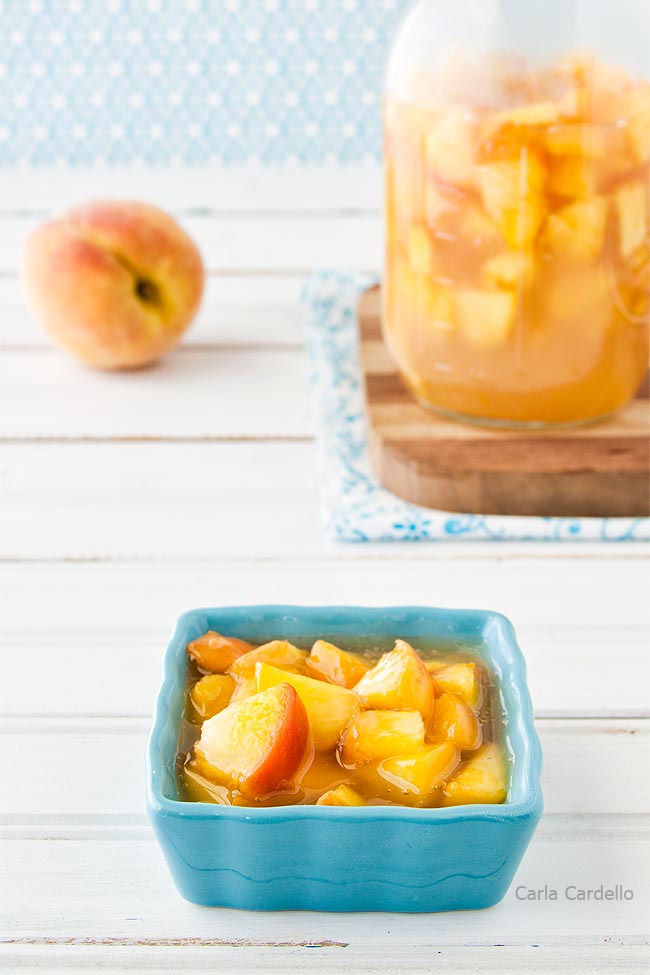 Ingredients For Peach Pie Filling
To make this easy peach pie filling recipe, you'll need the following ingredients:
Sugar: Peaches may be sweet on their own, but you still need to add a little more sugar.
Water: Needed to make the syrupy filling. For extra peach flavor, you can use peach juice.
Cornstarch: To thicken the filling
Lemon juice: To balance all the sweetness
Vanilla: To enhance the peach flavor
Peaches: The best peaches for pie filling are yellow peaches.
Because this recipe for peach pie filling is really simple, it gives you the freedom to add additional flavors.
Add cinnamon and clove for a spiced pie. Add a bit of thyme or basil for some freshness. Add other fruits such as raspberries or blueberries then add pecans or walnuts for a medley.
Should peaches be peeled for pie?

Before I talk about how to make peach pie filling, let's talk about the main ingredient – the peaches!

One question I get for most peach recipes is should you peel the peaches?

Although the skin is totally edible, it's best to peel peaches for pie. Leaving the skin on could result in a bitter taste and texture.

Learn how to peel peaches with step by step photos.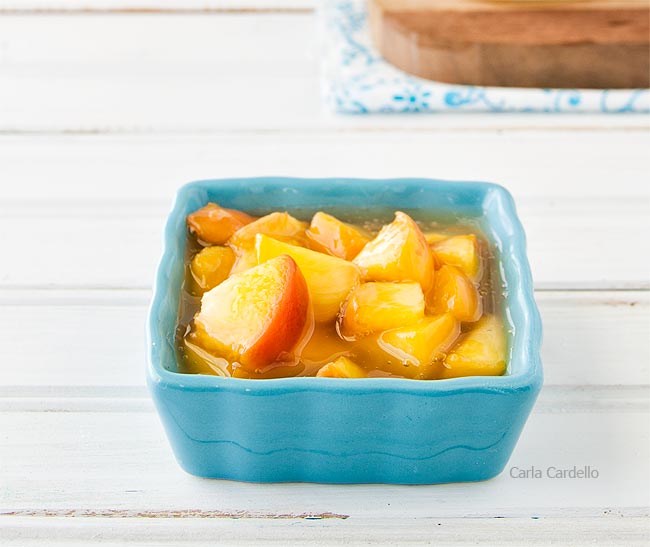 How To Make Peach Pie Filling
This peach pie filling recipe is as easy as boiling water, mostly because that's exactly what you're doing.
First, whisk together water, sugar, cornstarch, and lemon juice then bring to a boil. Once boiling, stir until the sugar dissolves and the mixture thickens.
Once thickened, remove from the heat and stir in the peaches and vanilla. Because the peaches are soft (unlike apples, for example), you don't need to cook it any further.
Cool the filling to room temperature before using.
How To Make Peach Pie
Now that your filling is made, it's time to bake your peach pie!
First, preheat your oven to 400F.
Line a 9 inch pie plate with pie dough then add your peach filling.
Next, take a second piece of pie dough and cover your pie. Seal the edges then make 3 slits into the top to allow steam to escape.
Place your pie on a cookie sheet (to help catch spills) then bake 45 minutes or until golden brown.
You can also follow the directions for my Mini Cherry Pie, Mini Apple Pies, or Cherry Crumble Pie but using peach instead of cherry.
How do you make cobbler with peach pie filling?
In the mood for cobbler instead of pie? Use it for the base of my Peach Cobbler for two or Cherry Cobbler Bars.
Can you can homemade peach pie filling?

I've had people ask if my fresh peach pie filling is suitable for canning.

The answer is no because of the cornstarch. Cornstarch breaks down after awhile, which affects bacteria growth.

To store your filling, refrigerate it for up to 2 weeks. You can also freeze it for future baking.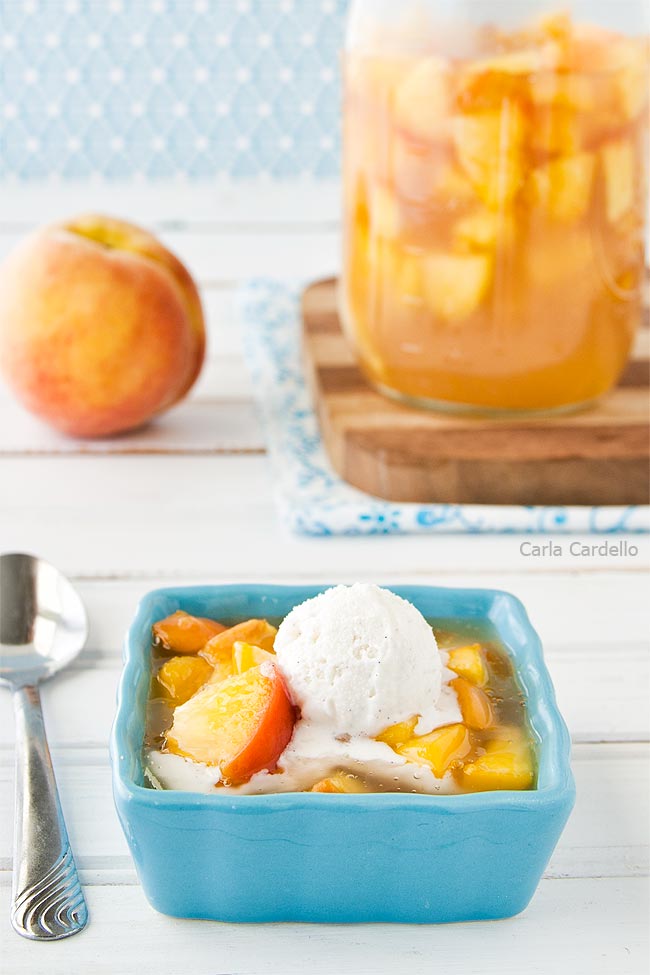 How To Freeze Peach Pie Filling
Much like peach pie itself, you can freeze peach filling. There are two ways you can freeze it:
Line a freezable pie plate (not glass as it may shatter when baked at a cold temperature) with pie dough. Fill the dough with the filling then cover the top with another piece of pie dough. Fully cover with plastic wrap then place in a freezer-safe plastic bag.
Transfer the pie filling to a freezer-safe plastic bag. Place the bag inside an empty pie plate and spread out so it takes the shape of the plate. Freeze until firm. Because it's the shape of the plate, it should be easy to transfer and bake when ready.
Whichever method you choose, freeze for up to 3 months. When ready to bake, cut three slits into the top of the crust and bake at 400F for 45-60 minutes or until the crust is golden brown.
What To Do With Peach Pie Filling

Looking to make more than just pie? Here are more recipes using peach pie filling: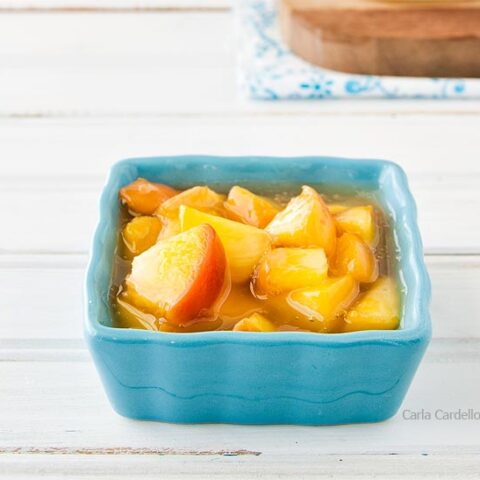 Peach Pie Filling
Yield: 4 cups
Prep Time: 20 minutes
Cook Time: 10 minutes
Total Time: 30 minutes
No more canned pie filling! Learn how to make homemade Peach Pie Filling from scratch using fresh juicy peaches. Use it to make peach pie, peach cobbler, or no bake cheesecake.
Ingredients
1 cup granulated sugar
1 cup water
1/4 cup cornstarch
1 tablespoon lemon juice
1 teaspoon vanilla extract
4 cups peeled and chopped peaches (learn how to peel peaches)
Instructions
In a large saucepan, whisk together sugar, water, cornstarch, and lemon juice. Bring to a boil over medium heat, stirring often. Cook until thickened, about 2-3 minutes.
Remove from the heat and stir in vanilla and peaches. Cool to room temperature then use as desired or refrigerate for up to 2 weeks. Recipe is not suitable for canning due to the cornstarch.

The filling will separate when refrigerated. Reheat everything back up in a saucepan until smooth again.
To make a peach pie:
Preheat oven to 400F. Add the filling to a prepared 9 inch pie crust (homemade or store bought). Top with another 9 inch pie crust, making slits to let steam escape. Bake 40-45 minutes or until golden brown. Cool completely before serving.
Originally posted August 6, 2013
This post may contain affiliate links. As an Amazon Associate and member of other affiliate programs, I earn from qualifying purchase.