Mini Pear Walnut Crisps with Blood Orange Caramel Sauce
Why is it important to be heart healthy? Today's post really hits home as a lot of people are affected by heart disease, whether it runs in the family or whether it's someone they know. Kim from Cravings of a Lunatic and Jen from Juanita's Cocina want to dedicate today to their loved ones and invited me to share a heart-healthy treat. Of course, being the girl who loves fat, it was a little bit of a challenge, but thanks to my dad's love of fruit, I made these Mini Pear Walnut Crisps with Blood Orange Caramel Sauce. With just only two servings, you can share this dessert with your loved one and know that dessert can be heart healthy.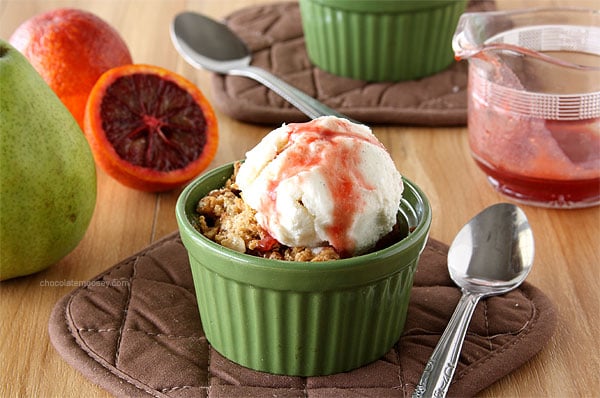 Kim's and Jen's lives were turned upside down one day because of heart disease. Fortunately, I don't have any stories like that in my family, but that doesn't mean we can ignore being heart healthy. My dad's friend suffered a heart attack a few years ago. Then just two weeks ago there were several people in my community who either passed away from or survived a heart attack. Every day that my parents get older, I worry about their health. It almost makes me want to move closer to home (actually, I would in a heart beat, but it's all about job availability).
I thought about doing a healthy dinner or even breakfast, but I wanted to challenge myself and make a heart healthy dessert. After all, you need a little sweetness in life, no matter what your diet is. What makes these Mini Pear Walnut Crisps heart healthy? The fruit and the nuts. Pears are a great source of vitamins, potassium, and antioxidants that help prevent high blood pressure and stroke. Walnuts have been approved by the FDA for being heart healthy. There is also little fat added (the ice cream part is optional if you're super conscious about calories).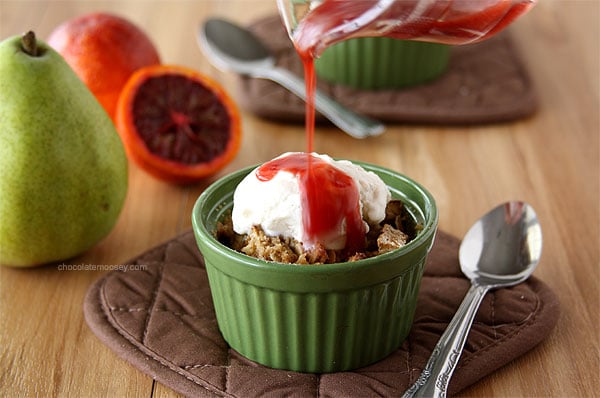 Of course, you can't have a warm crisp without ice cream, and you can't have ice cream without sauce. I still have half a bunch of blood oranges left, which inspired the Blood Orange Caramel Sauce. I remember when I made Dorie Greenspan's Scallops with Orange Caramel Sauce. I took her recipe, used blood orange juice then substituted water for the wine.
Mini Pear Walnut Crisps with Blood Orange Caramel Sauce
Ingredients
1 cup chopped pear, peeled (roughly 1 small pear)
1/4 cup chopped walnuts
1 teaspoon lemon juice
1/8 teaspoon vanilla extract
2 teaspoons cornstarch
1/2 teaspoon cinnamon
1/2 teaspoon clove
Streusel
1 Tablespoon brown sugar
1 Tablespoon flour
1 Tablespoon quick cooking oats
1/8 teaspoon cinnamon
1/8 teaspoon clove
1 Tablespoon butter
Sauce
1 Tablespoon sugar
1 1/2 Tablespoons blood orange juice
1/4 cup water
1/2 Tablespoon butter
Instructions
Preheat the oven to 350F. Have two ramekins ready.
In a medium bowl, toss together the pear, walnuts, lemon juice, vanilla, cornstarch, cinnamon, and clove. Spoon into the ramekins. Set aside.
For the streusel: In another medium bowl, whisk together the brown sugar, flour, oats, cinnamon, and clove. Cut in the butter with a knife until coarse crumbs form. Sprinkle evenly over both ramekins.
Bake 30-35 minutes or until crisp bubbles and the streusel is brown.
For the sauce: While the crisps are baking, in a small saucepan, warm the sugar over medium-high heat until it starts to melt. As soon as you see it turn brown, begin to gently swirl the pan. Once it starts turning a caramel color, very carefully add the orange juice and water (it will bubble and spatter, so you may need to stand back). Stir with a wooden spoon and boil until it is reduced by half (it should roughly be about 2 1/2 tablespoons or so). Remove from the heat and stir in the butter until melted. Serve the crisps with ice cream and caramel sauce.
Source: Adapted from
McCormick
and
Dorie Greenspan's Around My French Table
—-
If you are looking for more heart healthy recipes, check out the other bloggers participating today:
Healthy Snacking with Radish Dip by Juanita's Cocina
Arugula, Walnut Pesto by Dinners, Dishes and Desserts
Farro, Apple & Pecan Salad by It's Yummilicious
Chicken-Quinoa Burgers with an Avocado Yogurt Sauce by The Spiffy Cookie
Pasta House Wilted Salad by Frugal Antics of a Harried Homemaker
Gooey Peanut Butter Oatmeal Chocolate Chunk Bars by The Cooking Actress
Dark Chocolate Covered Walnuts by All Day I Dream About Food
Mini Pear Walnut Crisps with Blood Orange Caramel Sauce by Chocolate Moosey
Kung Pao Chicken Tacos by The Dutch Baker's Daughter
Honey Soy Glazed Salmon by Curry and Comfort
Apple Walnut Spinach Salad by Magnolia Days
Broiled Salmon Gyros with Cucumber Feta Yogurt Dip by Damn Delicious
Maple Mustard Glazed Salmon by That Skinny Chick Can Bake
Make-Ahead Chocolate Oatmeal by Crumb
Roasted Red Pepper Hummus by The Girl in the Little Red Kitchen
Cheesy Quinoa and Asparagus Bake by Hungry Couple
Ahi Tuna Salad by Noshing with the Nolands
Canapes of Apricot, Goat Cheese, Almonds and Rosemary by Cook the Story
Thai Chicken Soup by From Cupcakes to Caviar
Italian Turkey Quinoa Meatloaf by Rachel Cooks
Black Bean Quesadillas by Pastry Chef Online
This post may contain affiliate links. As an Amazon Associate and member of other affiliate programs, I earn from qualifying purchase.