German Chocolate Pecan Pie pairs together two classic desserts with its chocolate, coconut, and pecan filling baked in a chocolate pie dough crust made all from scratch.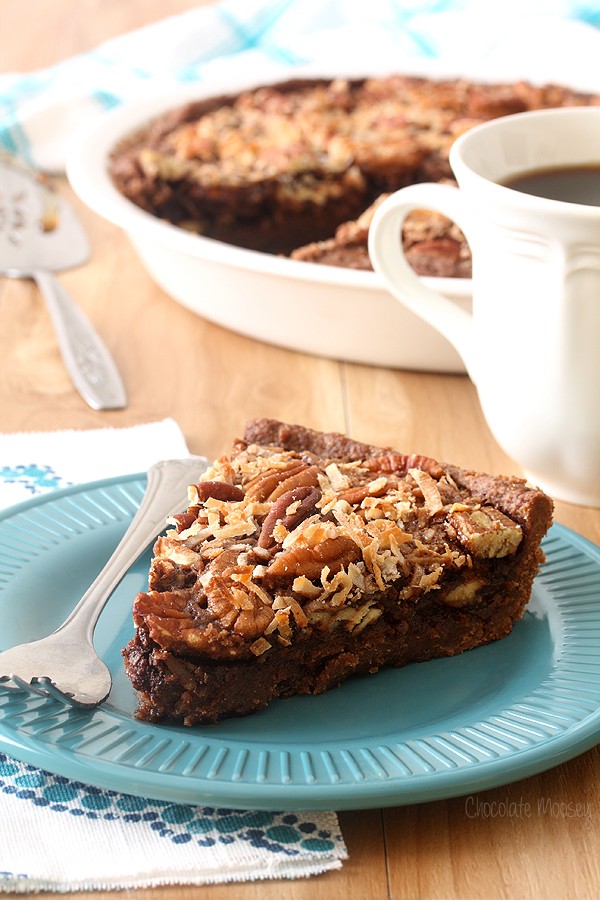 Last week was a roller coaster week of emotions.
It started out hopeful as a golden opportunity for something I've been wanting appeared in my inbox. Here was my chance, my big break! I was nervous, excited, anxious.
I was so proud of the work I turned in that afterwards my adrenaline was pumping. Then I got the response – rejected.
I was a bit shaken up but pulled myself together and did a reshoot. Which was also rejected.
I failed not once but TWICE at something I wanted more than anything.
Needless to say my confidence was a bit broken. But later that same week, something almost magical happened.
Where as I failed in one area of my job, I was succeeding in another. And for the first time in what felt like forever (5 years), I can finally say I love my job – as a recipe developer, as a food photographer, as a full time blogger.
It took me awhile to realize this until I was talking with a friend about how she felt about her job.
That's when it clicked. Despite the ups and downs these past three months, I haven't actually felt miserable since I quit my previous job.
Frustrated, yes. Lonely, yes. Failure, yes. But not miserable.
There's an article my friend shared with me a long time ago that talks about determining success.
It isn't "what do you want to enjoy" but rather "what pain do you want to sustain" because no matter what path we choose, there will always be a struggle in order to get what we want.
Even though I failed, I want it badly enough that I'm willing to put up with the rejection and try again.
So what does that have to do with pie? I also failed at making this German Chocolate Pecan Pie the first time.
The risk about developing recipes is that you don't know if it'll work until it's too late. And it was definitely too late to save the first pie (albeit still edible).
Luckily, I knew what I did wrong (too much liquid), so I adjusted the recipe and tried again. Success!
German chocolate cake with its chocolate, pecans, and coconut meets pecan pie with its gooey pecan filling.
The best part? I even made a chocolate pie crust. Not from Oreos but actual chocolate pie dough.
Whether you serve this pie for Thanksgiving, Christmas, or any day of the year, you don't want to pass up this recipe.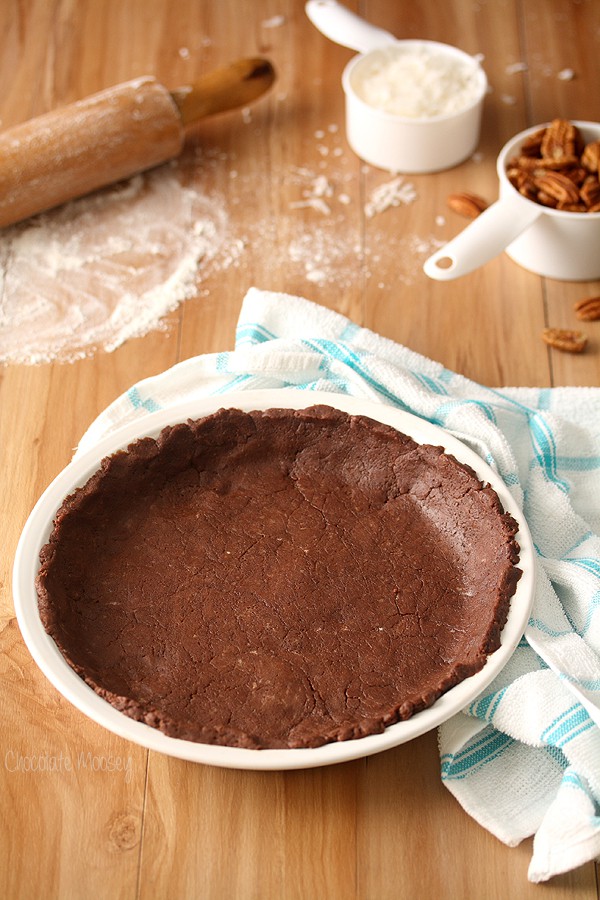 The idea for the chocolate pie dough came to me during Zumba class one evening (because why wouldn't you think about pie while you're exercising?)
I don't even know why I was thinking about pie, but there I was during one of our routine songs where I thought, heyyyyy why don't I add cocoa powder to regular pie dough and make a chocolate-based pie?
The next question became which filling to make.
I'm not entirely sure where combining German chocolate cake and pecan pie into one dessert came from, but I thought the chocolate filling would pair well with the chocolate crust.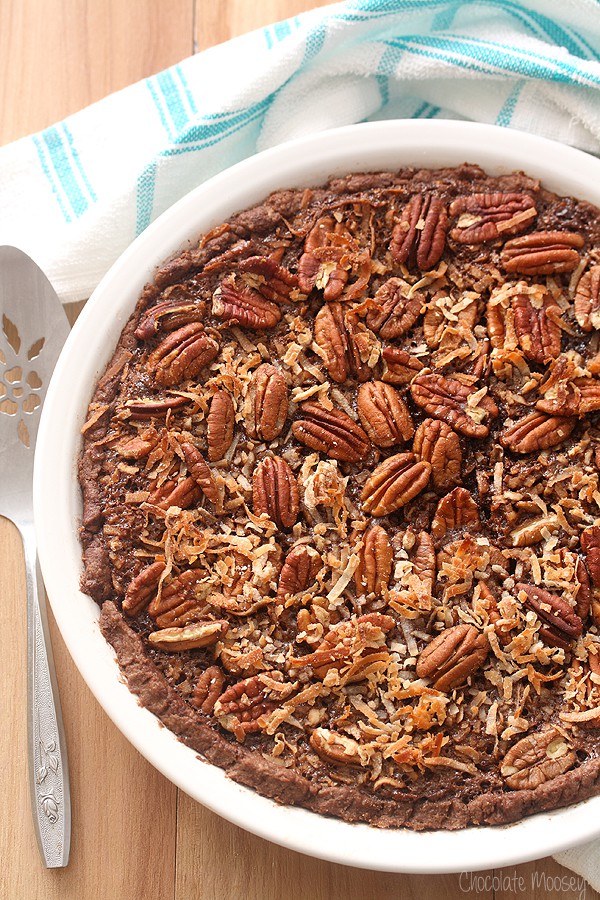 Because pecan pie is typically associated with Thanksgiving, I took my pie to my friend's house who was hosting Friendsgiving (which if you're not familiar, it's just Thanksgiving dinner with friends rather than family).
Turns out her favorite dessert is German chocolate cake, so the pie went over especially well.
Turns out the chocolate cream pie that she made also had a chocolate pie crust. What are the chances?! And here I thought it would be a new concept for everyone :)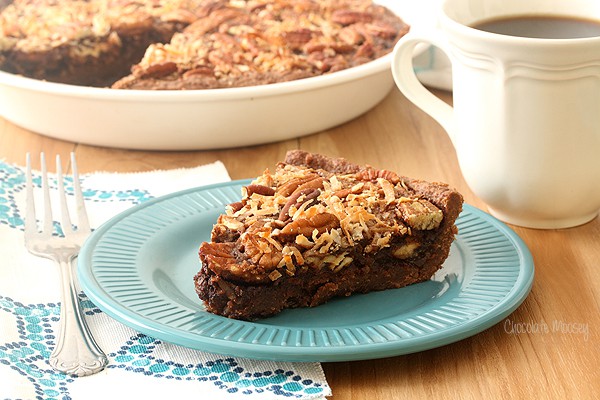 Love this German Chocolate pecan pie? Check out my recipes for
Small Pecan Pie
and
Pecan Pie Cheesecake
.
German Chocolate Pecan Pie
Prep Time:
1 hour
30 minutes
Total Time:
2 hours
30 minutes
German Chocolate Pecan Pie pairs together two classic desserts with its chocolate, coconut, and pecan filling baked in a chocolate pie dough crust made all from scratch.
Ingredients
Chocolate Pie Dough
1 1/4 cups all-purpose flour
1/4 cup unsweetened cocoa powder
1/4 cup granulated sugar
1/4 teaspoon salt
1/2 cup (4 ounces) unsalted butter, cold and cut into 8 pieces
3-4 tablespoons cold water
Pecan Pie Filling
3 ounces German (48% cacao) or semisweet (56% cacao) chocolate, chopped
1 tablespoon unsalted butter
2 eggs, room temperature
3/4 cup packed dark brown sugar
3/4 cup light corn syrup
1/4 teaspoon salt
1 3/4 cups pecan halves
1 cup sweetened flaked coconut
Instructions
For the pie dough
In a food processor with the blade attachment*, pulse together the flour, cocoa powder, sugar, salt, and butter until crumbly, about 3-4 pulses. Add 3 tablespoons water. Pulse until the mixture clumps together and forms a dough. Add the extra 1 tablespoon water if it's not coming together. Form into a round disk and wrap in plastic wrap. Refrigerate for at least 30 minutes or until cold.
On a lightly floured surface (or between two sheets of plastic wrap), roll out the dough into roughly a 12-inch circle. Transfer to a standard 9-inch pie plate (1 1/4 inches deep, not deep dish). Trim off any dough that hangs over the edge. Patch together any empty spots with the extra dough trimmings, if needed. Refrigerate while you prepare the filling.
For the filling
Preheat oven to 350F.
In a heatproof bowl over a pan of simmering water (do not let the bowl touch the water), melt together the chocolate and butter. Cool 15 minutes.
In a large bowl, whisk together the eggs. Whisk in the brown sugar, corn syrup, and salt. Whisk in the cooled melted chocolate. Stir in 3/4 cup pecan halves and 1/2 cup coconut.
Place the pie plate on a baking sheet. Pour in the filling then top with the remaining 1 cup pecan halves and 1/2 cup coconut. Bake 50-60 minutes or until the middle is puffed up and the filling has a very slight wiggle when you gently shake it. Cool completely to room temperature before serving (do not cut while warm).
Notes
Alternatively, you can make the pie dough by hand. In a large bowl, whisk together the flour, cocoa, sugar, and salt. With a pastry cutter or your fingers, cut in the butter until the mixture looks like small pebbles. Mix in 3 tablespoons water until the dough comes together. Add the extra 1 tablespoon water if necessary.
Enjoyed this recipe? Check out my recipes for Small Pecan Pie and Pecan Pie Cheesecake.
Want more pie recipes?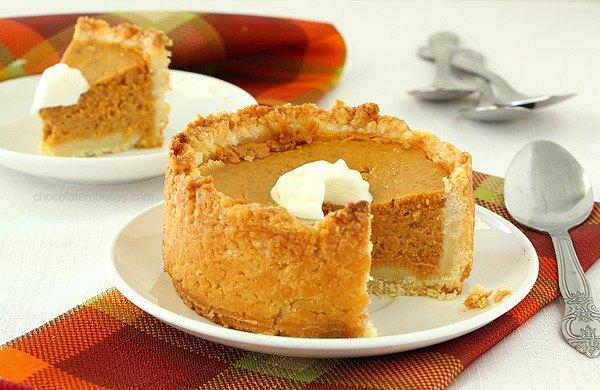 Mini Deep Dish Pumpkin Pies

Mini Deep Dish Lemon Meringue Pies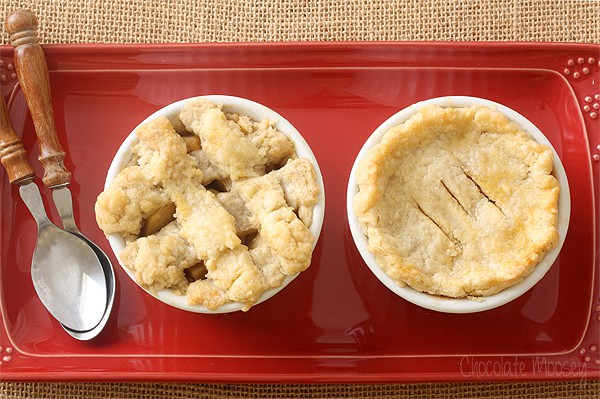 Apple Pie For Two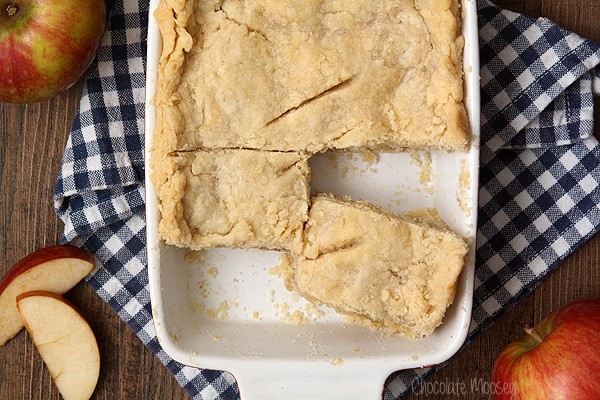 Apple Half Slab Pie

Cinnamon Pecan Cherry Pie