Apple Pie Crumb Bars
Apple Pie Crumb Bars have everything you love about apple pie – buttery dough, homemade pie filling, lots of spices – without needing to make a pie crust.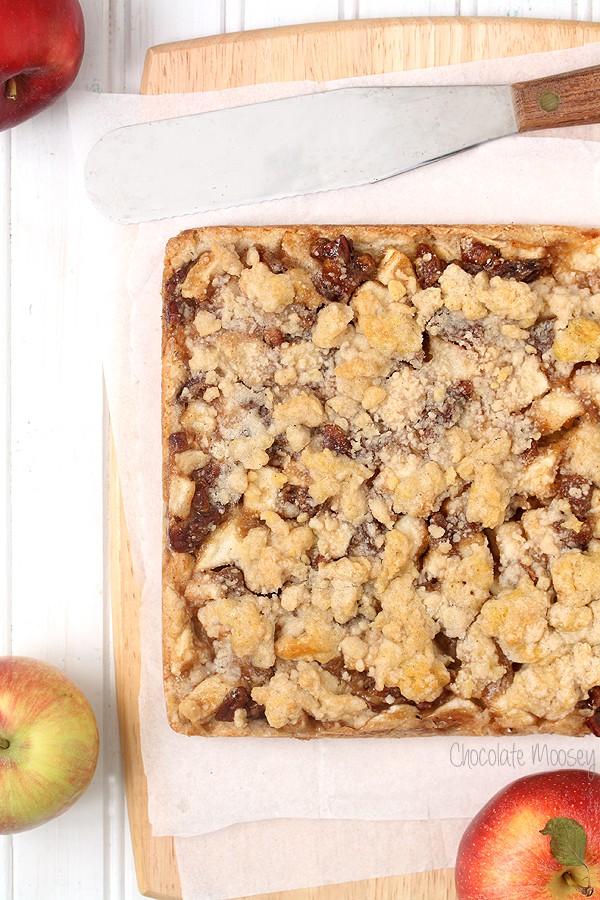 Being the avid baker that I am, I'm often asked how am I not fat eating all of my baked goods.
For the record, I'm not a skinny super model, but I'm certainly not big either. Most people say I have an average body type, and I'm perfectly fine with that.
Truth is I give most of my food away.
When I worked my corporate job, I was always bringing in food on Mondays. Coworkers often (jokingly) accused me of sabotaging people's diets at work. Hey, I'm just here to test your willpower.
Now that I work at home, I have to be a little more creative in giving food away.
My library was taking donations for their bake sale fundraiser, so I showed up with three freezer bags full of peanut butter fudge and rocky road cookie fudge bars.
Earlier this month, my friend invited me over for Supper Club where everyone brought over a dish to eat together.
I wanted to actually cook for it, so I brought pulled chicken sandwiches along with leftover caramel apple cheesecake and these Apple Pie Crumb Bars.
Everybody was full so not many people ate them on the spot, but they did take them home.
Now I attend a coworking space 1-2 times a week, so I drop off goodies in the kitchen. Everything is gone by lunchtime.
These Apple Pie Crumb Bars have the flavors of apple pie yet you don't need to make a pie crust.
Whether you feel uncomfortable about making homemade pie crust or just don't have the time or energy, these crumb bars are perfect for bakers of any skill level.
Crumb bars are nothing new here. I've made both
peach cheesecake crumb bars
and
raspberry cheesecake crumb bars
.
I know, I know. Of all the people in the world, I didn't put a cheesecake layer in my apple pie crumb bars.
It was partly because I was already bringing caramel apple cheesecake to my friend's supper club and partly because I already posted about said cheesecake and my no bake caramel apple cheesecake parfaits.
I thought, why not just make regular crumb bars to change up my routine?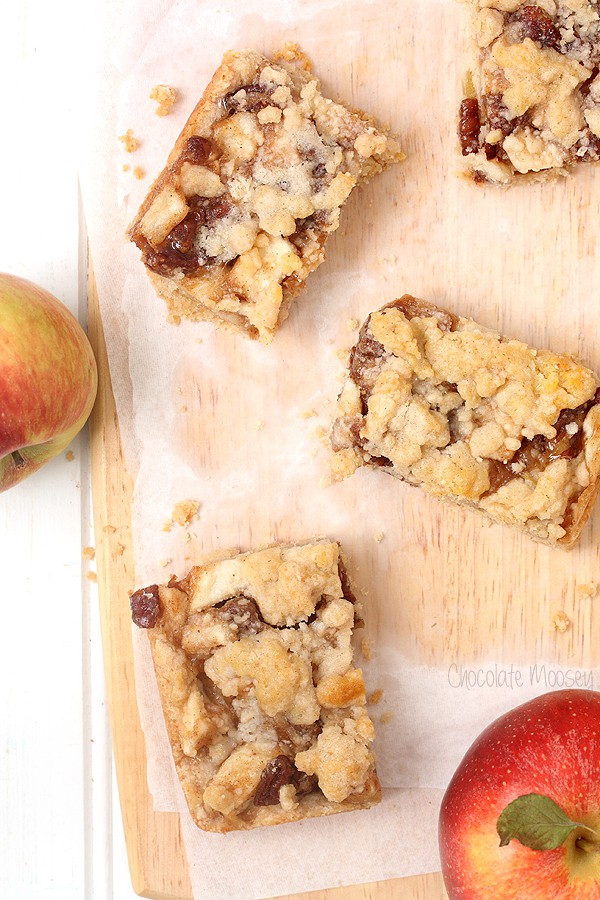 For a bit of crunch I added chopped pecans because they are one of my favorite nuts to bake with (besides hazelnuts).
You could certainly use walnuts instead or just leave the nuts out altogether if somebody has a nut allergy.
I chose to make homemade apple pie filling because it's apple season in October, but these bars are very versatile with most fruits.
Try it with peach pie filling or cherry pie filling.
Use whatever fresh fruit is in season and go crazy. If you do opt for frozen fruit, make sure it is completely thawed and drained of any excess liquid.
Looking for more? Check out my full list of recipes using apple pie filling including homemade apple turnovers.
Apple Pie Crumb Bars
Yield: 12 bars
Prep Time: 30 minutes
Cook Time: 40 minutes
Total Time: 1 hour 10 minutes
Apple Pie Crumb Bars have everything you love about apple pie – buttery dough, homemade pie filling, lots of spices – without needing to make a pie crust.
Ingredients
Apple Pie Filling
1/4 cup water
1 teaspoon lemon juice
1/4 cup granulated sugar
1 tablespoon cornstarch
1/2 teaspoon ground cinnamon
1/4 teaspoon ground nutmeg
1/4 teaspoon ground clove
1/2 teaspoon vanilla extract
2 cups peeled and chopped baking apple
1/4 cup chopped pecans or walnuts
Base
1/2 cup granulated sugar
1 1/2 cups all purpose flour
1 teaspoon ground cinnamon
1/2 teaspoon baking powder
1/8 teaspoon salt
1/2 cup (4 ounces) cold butter, cut into 8 tablespoons
1 egg
Instructions
Preheat the oven to 375F. Line an 8x8 pan with parchment paper.
First make the pie filling: In a large saucepan, stir together the water, lemon juice, sugar, cornstarch, cinnamon, nutmeg, and clove.
Bring to a boil over medium heat. Cook until thickened and bubbly, about 2-3 minutes, stirring often.
Remove from the heat and stir in the vanilla, apples, and nuts. Cool while making the base.
For the base: In a large bowl, whisk together the sugar, flour, cinnamon, baking powder, and salt.
With a pastry cutter or two knives, cut in the butter until the pieces look like small pebbles.
Cut in the egg. Dough will be crumbly but should form a dough when pressed together. Reserve 1/2 cup for the topping.
Pat the rest of the dough into the bottom of the pan. Top with the apple filling then the reserved 1/2 cup of dough, scattering it over the top.
Bake 35-40 minutes or until the top is golden brown and the edges pull away from the pan sides. Cool completely before serving. Store leftovers in an airtight container for up to one week.
More Recipes You May Like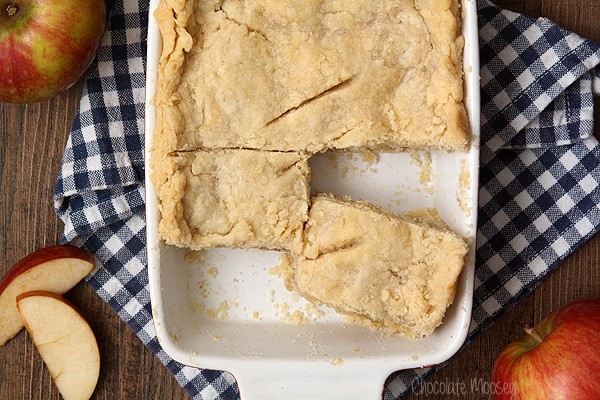 Apple Half Slab Pie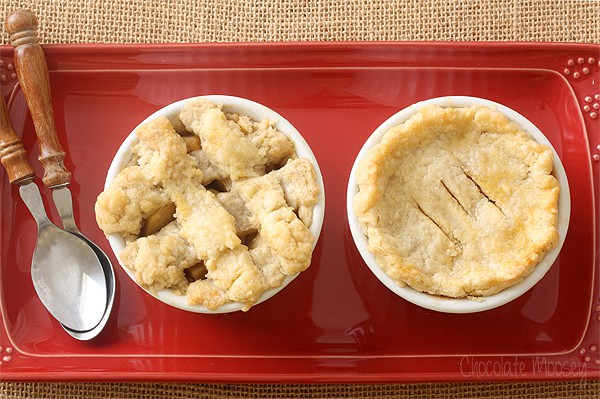 Apple Pie For Two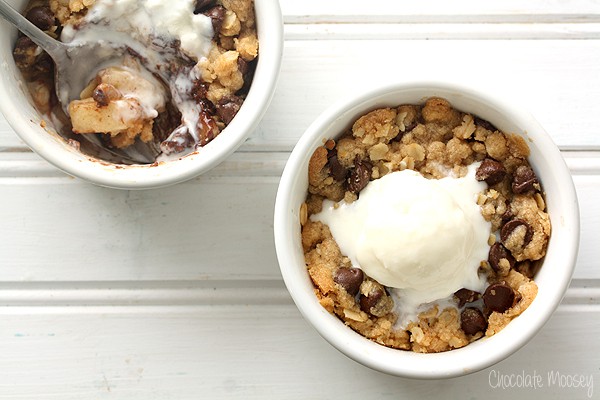 Chocolate Chip Cookie Apple Crumble For Two

Apple Dumpling Cobbler

Peach Cheesecake Crumb Bars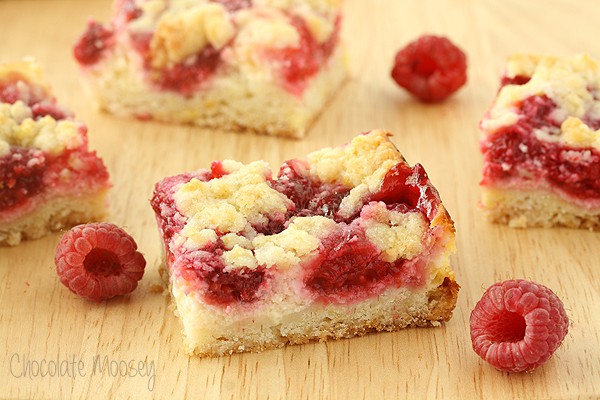 Raspberry Cheesecake Crumb Bars
This post may contain affiliate links. As an Amazon Associate and member of other affiliate programs, I earn from qualifying purchase.