Vanilla Bean Ice Cream
Simple yet very flavorful Vanilla Bean Ice Cream will make you rethink vanilla.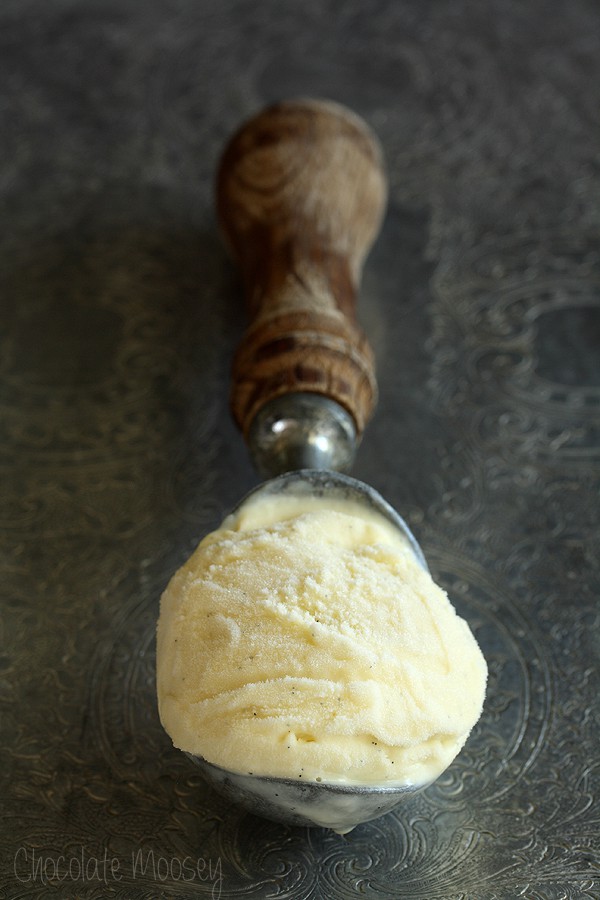 When I was younger, I used to play softball, spending most of my summers in the outfield catching fly balls and batting singles (and sometimes doubles).
The team would often beg the coach to take us out for ice cream afterwards. Occasionally he would give in and take us up to the bright pink building on the hill (seriously, you couldn't miss it).
Chocolate ice cream was always my choice because I remember finding vanilla ice cream so tasteless and boring. Little did I know, that is not what real vanilla ice cream tastes like at all.
I documented my first time trying Vanilla Bean Ice Cream back in my early blogging years, and I still remember how it made me feel.
I couldn't believe how GOOD it tasted and that vanilla bean almost became my new favorite flavor (almost).
Although I've been making it for years, I haven't shared the recipe I used yet and wanted to bring you a (not so boring) ice cream recipe to make this summer.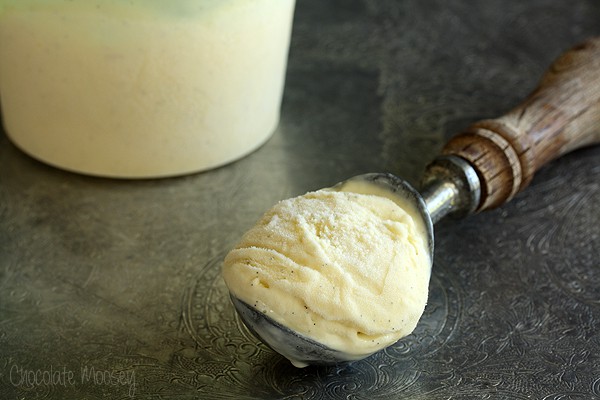 I often tell people if you find vanilla ice cream tasteless and boring, then you haven't tried true vanilla ice cream.
In fact, you'll notice my ice cream isn't even white. That's because the vanilla beans tint the cream a light brown color.
Think about it – what color is vanilla? Brown. What happens when you mix brown and white? Light brown.
It's mainly the bean that gives the ice cream its color; sometimes if you add a small amount of only vanilla extract in a large pot of milk and cream, usually the brown color doesn't take over.
However, you do infuse the bean into the cream mixture, giving it the color you see in the photos.
What's nice about using vanilla beans is you can reuse the pods even after scraping.
Once you are done infusing the vanilla flavor, you can lightly rinse the cream off of the bean, pat dry, and store in a small container of sugar, making homemade vanilla sugar.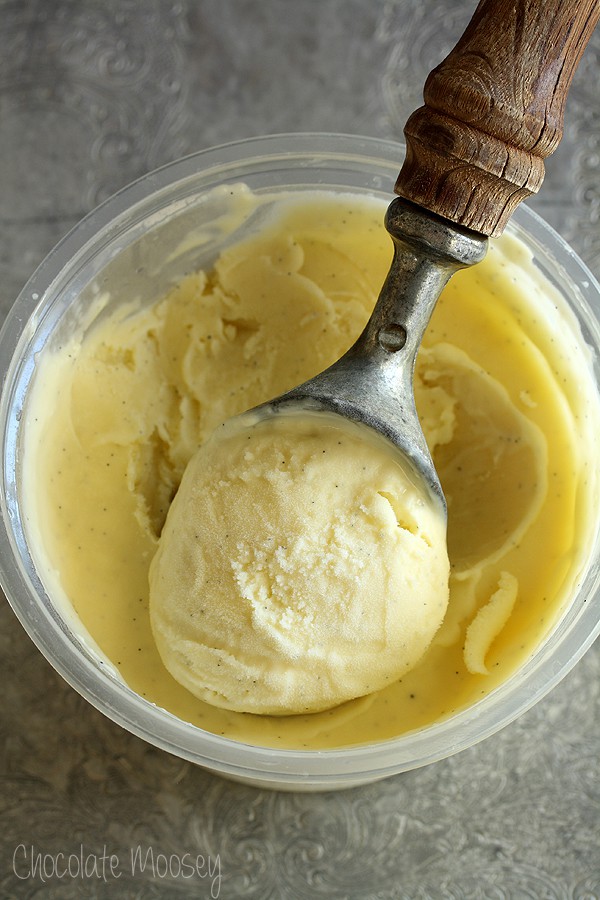 I highly recommend buying vanilla beans online rather than at the store. Not only will you save money by ordering online, you'll get a much fresher product.
Serve your homemade vanilla ice cream on top of some Mini Lava Cakes, Peach Cobbler For Two, Brownies For Two, Chocolate Peanut Butter Mug Cake, Mini Cherry Pies, or Mini Apple Pies.
Or pour thick hot chocolate over a scoop to make a hot chocolate float.
You can also eat a scoop of your vanilla ice cream as is with some strawberry sauce and hot fudge sauce poured over top.
Vanilla Bean Ice Cream
Yield: 1 pint
Prep Time: 45 minutes
Cook Time: 15 minutes
Freeze Time: 4 hours
Total Time: 5 hours
Simple yet very flavorful Vanilla Bean Ice Cream will make you rethink vanilla
Ingredients
1/2 cup whole milk
1 cup heavy whipping cream
1/3 cup sugar
1/8 teaspoon salt
1 vanilla bean, split in half lengthwise
3 egg yolks
1/4 teaspoon vanilla extract
Instructions
In a large saucepan, warm up the milk, 1/2 cup heavy cream, sugar, and salt. Scrape the seeds from the vanilla bean into the milk mixture and add the bean as well. Remove from the heat, cover, and let seep for 30 minutes.
In a small bowl, whisk together the yolks until lightly beaten. Whisk in some of the warm milk mixture then pour it all back into the saucepan.
Bring to a boil, whisking often, until thickened. Remove from the heat and whisk in the remaining 1/2 cup heavy cream and vanilla extract.
Pour the mixture into a heatproof bowl sitting inside an ice bath and cool. Remove the vanilla bean. Chill the mixture in the refrigerator until cold then freeze according to your machine's instructions. If freezing by hand, place the bowl in the freezer then whisk every 30-45 minutes to break up the ice crystals until the mixture is frozen
Source: Slightly adapted from
The Perfect Scoop
—-
Want more recipes?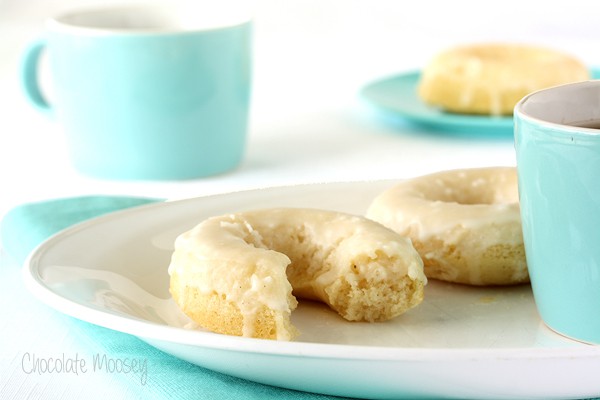 Baked Vanilla Bean Doughnuts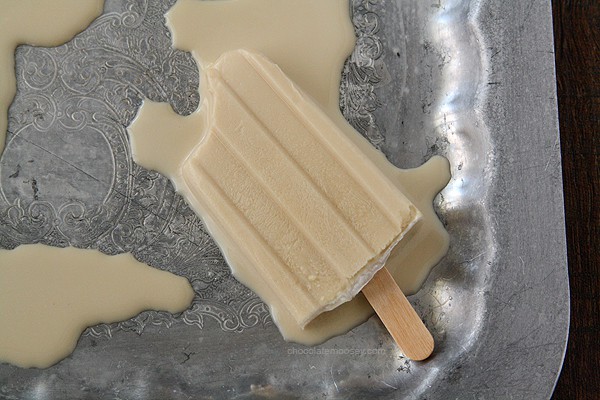 Root Beer Float Ice Cream Bars

Root Beer Float Cupcakes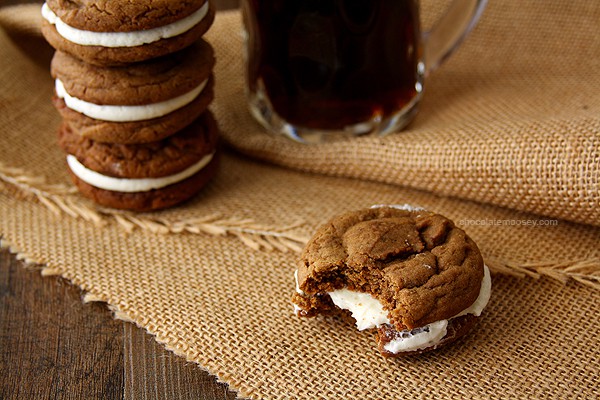 Root Beer Float Sandwich Cookies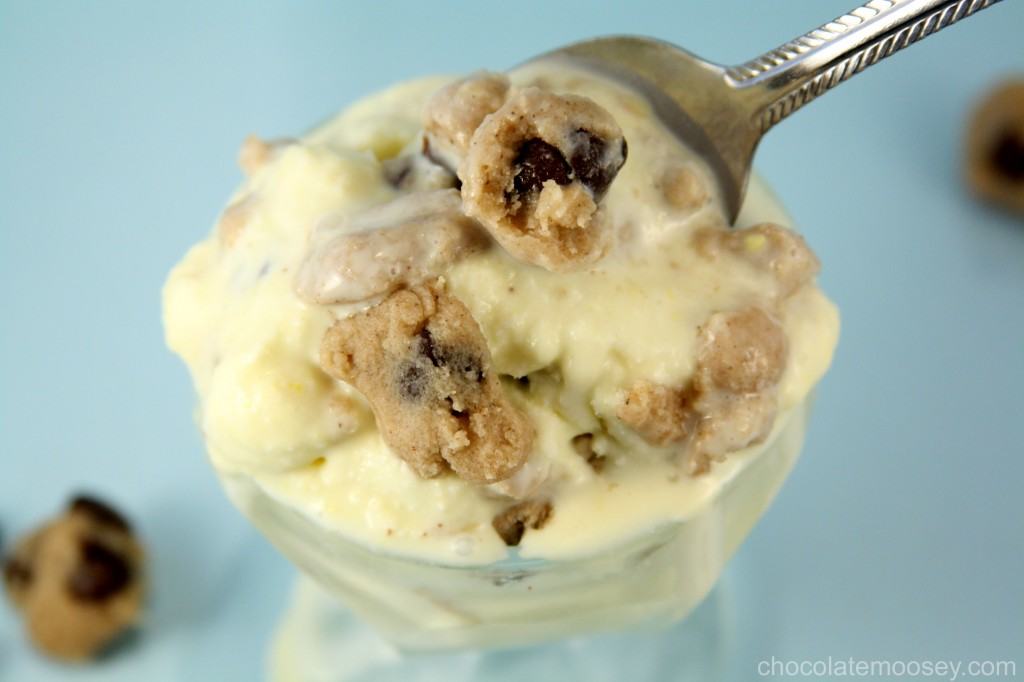 Spiced Cookie Dough Ice Cream

Mini Copycat Dairy Queen Ice Cream Cake
This post may contain affiliate links. As an Amazon Associate and member of other affiliate programs, I earn from qualifying purchase.