Strawberry Lemonade Ice Cream
What's your favorite summertime drink? Mine is an ice cold lemonade (minus the ice – I hate ice in my drinks). The tarter, the better. Whenever I'm outside all day and need to rehydrate but don't want water, I reach for the lemonade. I'll even put fruit in it. But sometimes days get *too* hot, and I reach for the ice cream instead. Why not put the two things together and make Strawberry Lemonade Ice Cream? That's right – a bowl of creamy lemon ice cream with strawberry sauce swirled in.
When I think of ice cream, I think of decadent, "heavy" flavors – chocolate, peanut butter, caramel sauce, brownie batter, cookie dough, cheesecake. Rarely do I think refreshing and "light." (And by light, I mean the brightness of lemon. I'm still using heavy cream and whole milk).
I discovered lemon ice cream when I first received
The Perfect Scoop by David Lebovitz
as a Christmas gift. You see, when I'm not gushing over chocolate, lemon is my next favorite flavor, and David's
lemon speculoos ice cream
caught my eye. It ended up being the first (and certainly not the last) recipe I made from that book.
Don't let not owning an ice cream maker stop you. I've never owned one, ever, and look at how many ice cream recipes I've made. David also wrote how to make ice cream without a machine. I'm pretty sure I'm in love with that man (I also secretly hate him for my increase in ice cream consumption).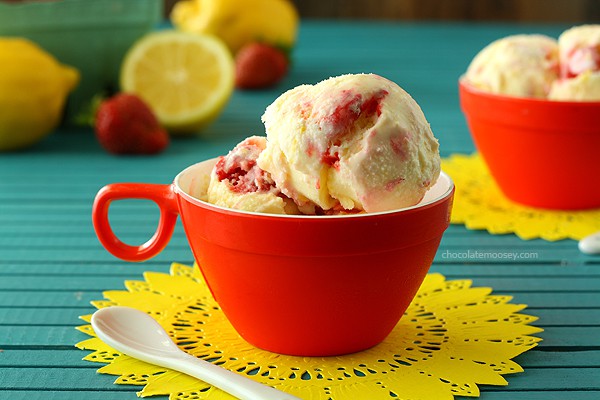 I paired the lemon ice cream with strawberries because fresh berries and lemonade scream summer to me. You are welcome to use fresh raspberries or cherries. I bet peaches would taste great too. I cooked the strawberries a bit on the stovetop until it becomes a bit saucy. Not only do you get strawberry pieces, you'll also get a strawberry sauce to go with it.
Strawberry Lemonade Ice Cream
Lemonade Ice Cream with strawberries
Ingredients
Zest of 1 1/2 lemons
1/3 cup granulated sugar
1/2 cup whole milk
1 cup heavy whipping cream
Pinch of salt
2 egg yolks
Strawberry Sauce
1 cup strawberries, sliced
2 Tbsp sugar
1 Tbsp lemon juice
Instructions
In a medium saucepan, combine and warm up the zest, sugar, milk, 1/4 cup heavy cream, and salt. Cover, remove from the heat, and let infuse for an hour.
Rewarm the milk mixture. Meanwhile, pour the remaining 3/4 cup heavy cream into a medium bowl (if making ice cream by hand, put the bowl in an ice bath).
In a small bowl, whisk together the yolks. Whisk in some of the warm milk then pour it all back into the saucepan. Bring to a boil, whisking often, until thickened. Remove from the heat and whisk into the reserved heavy cream.
Freeze according to your machine's instructions. If freezing by hand, chill the mixture in the refrigerator until cold then place in the freezer. Whisk every 30-45 minutes to break up the ice crystals until the mixture is frozen.
For the strawberry sauce:
In a medium saucepan, combine 1/2 cup strawberries, sugar, and lemon juice. Bring to a simmer and cook until the berries are cooked down and the sauce has thickened. Remove from the heat then stir in the remaining berries.
To assemble:
Place half of the ice cream in the bottom of the container. Top with the strawberry sauce. Cover with the remaining ice cream. Freeze for a few hours until firm.
Source: Adapted from The Perfect Scoop
—-
If you liked this Strawberry Lemonade Ice Cream, you may also like these recipes:
From me:
From others:
Disclosure: There are Amazon affiliate links in this post.
This post may contain affiliate links. As an Amazon Associate and member of other affiliate programs, I earn from qualifying purchase.