Small Batch Vanilla Cupcakes
Moist and fluffy Small Batch Vanilla Cupcakes from scratch with buttercream frosting is a 6 cupcake recipe to make your day a little sweeter.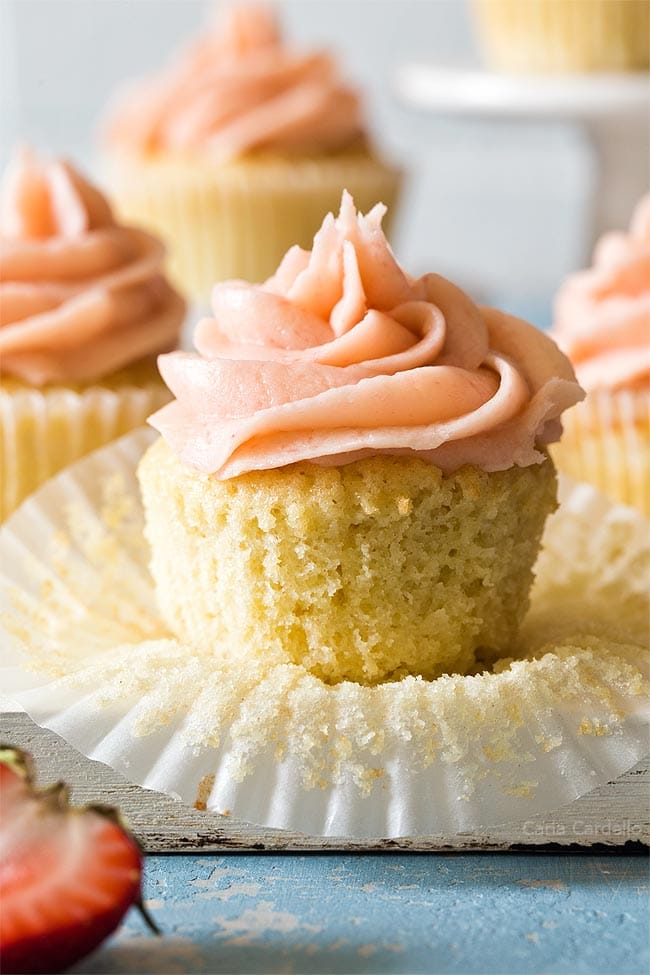 How many of you are vanilla cupcake fans?
I've done Small Batch Chocolate Cupcakes and Small Batch Red Velvet Cupcakes so the next logical step is to add Small Batch Vanilla Cupcakes.
This 6 vanilla cupcake recipe (based off of my Small Vanilla Cake recipe) is ideal when there's only two of you and you're not having a big party.
Perhaps it's your partner's birthday. Or maybe you got that big work promotion and ready to celebrate. Maybe you're stressed out and baking calms you down but don't want to throw out leftovers.
Even with a family of four, each person gets 1 cupcake then you have 2 leftover. Perfect if you're watching your waistline.
I personally don't always have someone to share my homemade vanilla cupcakes with, especially since I work from home.
Whatever your reason is, I got you covered with all of my small batch cupcake recipes.
And since these are VANILLA cupcakes from scratch, I doubled the amount of vanilla extract you would normally see for half dozen cupcakes.
If you have vanilla bean, you can add that as well for an extra flavor boost.
To top them off, I used my strawberry buttercream.
Small batch vanilla cupcakes look so pretty in pink, but you can use almost any homemade frosting recipe your heart desires.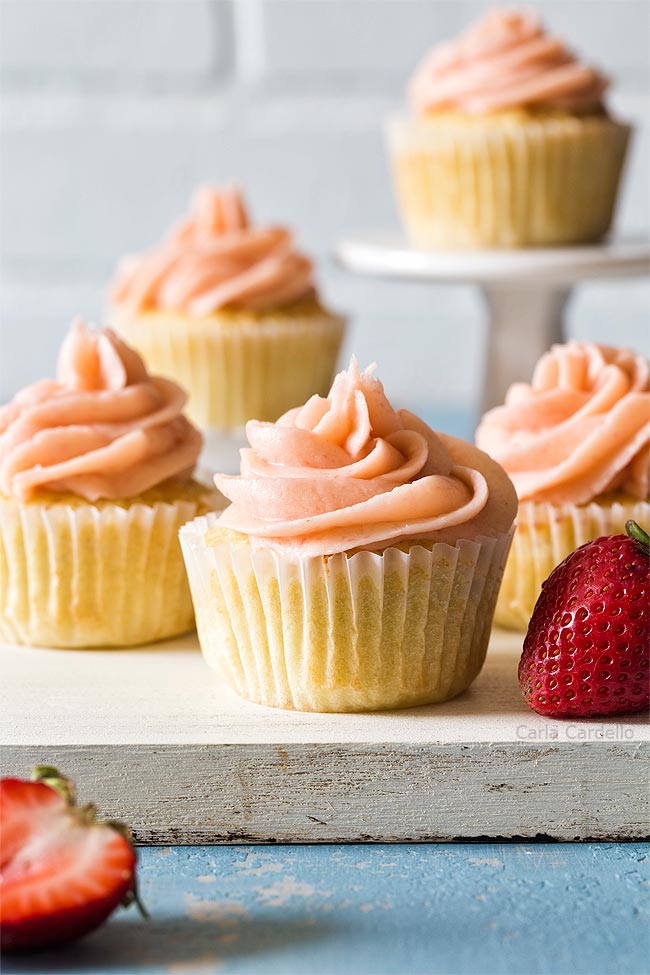 What is the difference between vanilla, yellow, and white cake?
My Small Batch Vanilla Cupcakes are different from my Small Batch Yellow Cupcakes because they use less butter and more vanilla extract.
Yellow cake uses more butter and whole eggs, which helps with the cake's yellow color.
White cake uses egg whites and sometimes shortening so it stays as close to white as possible.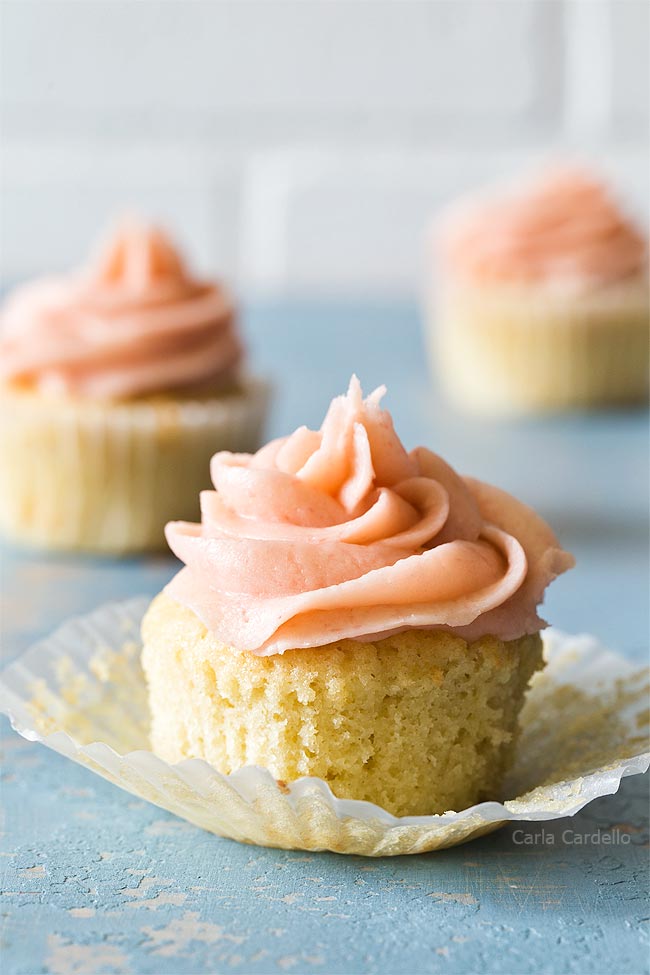 Ingredients For Small Batch Vanilla Cupcakes
To get started on your 6 vanilla cupcake recipe you'll need the following ingredients:
All-Purpose Flour: Instead of cake four, I used a combination of all purpose flour and cornstarch because when was the last time you actually bought cake flour?
Cornstarch: Since we're not using cake flour, cornstarch makes up for the gluten difference. If you're using cake flour, swap this for more cake flour.
Baking powder: Leavening agent so your cake rises. Make sure it's not expired.
Salt: Don't want bland cake!
Butter: Butter helps the cake rise as well as adds flavor. When it melts it forms steam, trapping carbon dioxide in the batter as it bakes. This creates a tender crumb texture.
Granulated sugar: Sweetens the cake.
Egg: Standard large egg at room temperature.
Vanilla: Use high quality vanilla and not imitation extract.
Milk: Use whole milk and not 2% or skim. You need that fat for moist cupcakes.
Don't want to make cupcakes? Check out my full list of 6 Inch Cake Recipes.
How To Make Small Batch Vanilla Cupcakes
To make the best vanilla cupcake recipe, first beat together the butter and sugar until creamy, about 1-2 minutes. Scrape down the bowl then beat in the egg and vanilla.
Next, alternate your dry ingredients with the milk. This method is important because adding the milk all at once could cause the batter to split from oversaturation.
However, adding all of the flour at once will thicken the batter greatly and will likely overmix, causing a tough cupcake.
Add the dry ingredients in three additions while adding the milk in two additions, beginning and ending with the dry ingredients.
Transfer your batter to 6 cupcake liners and bake at 350F until a toothpick inserted in the center comes out clean, about 18-20 minutes.
Can you make small batch vanilla cupcakes ahead of time?

Yes, you can bake your cupcakes up to 2 days ahead of time!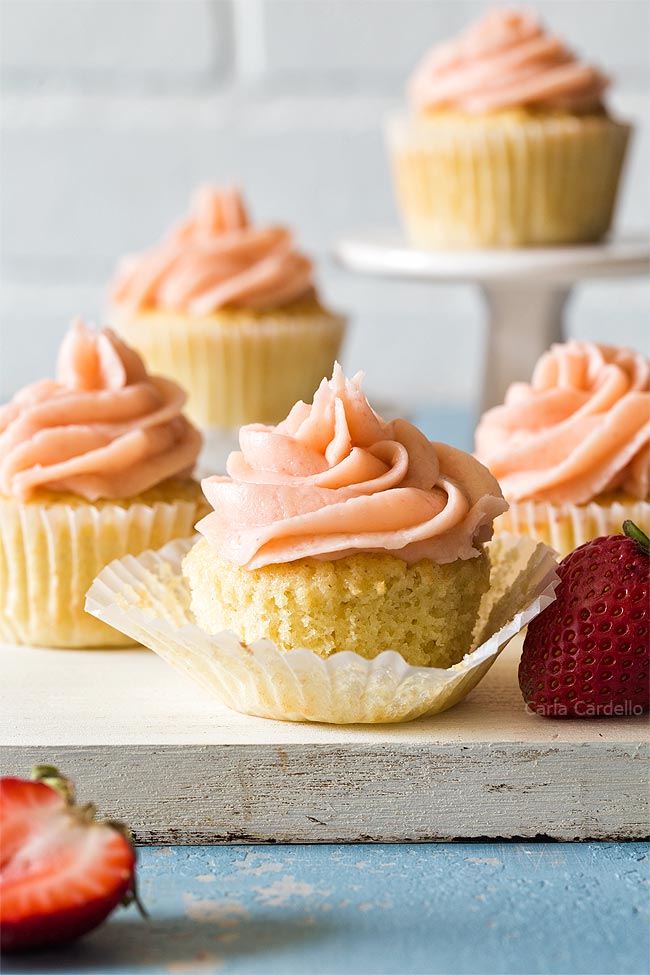 Which frostings go well with vanilla cupcakes?
To decorate my 6 vanilla cupcake recipe, I used strawberry frosting.
But really, vanilla pairs well with almost any frosting! Try out strawberry cream cheese frosting or raspberry cream cheese frosting for another fruit pairing.
In the mood for contrasting flavors? Pair vanilla with chocolate cream cheese frosting or chocolate frosting.
Want double vanilla? Decorate with small batch buttercream or small batch cream cheese frosting.
Do I have to refrigerate frosted cupcakes?
Unfrosted vanilla cupcakes or cupcakes with buttercream frosting don't need to be refrigerated. You can store them on the counter overnight in an airtight container for up to 3 days.
However, if you're using cream cheese frosting or your kitchen gets too warm, you will need to refrigerate them for up to 1 week.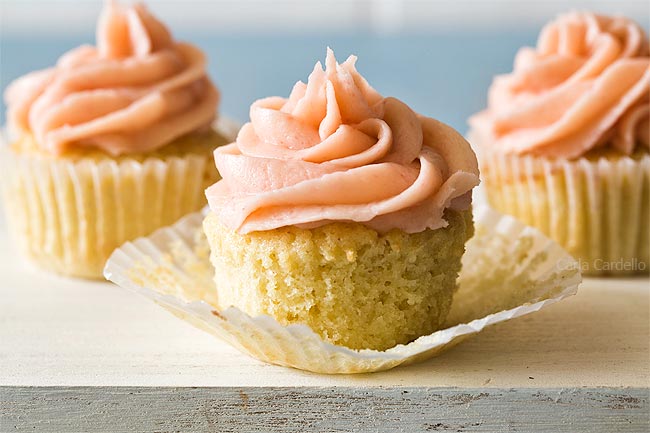 Can you freeze vanilla cupcakes?
Like with most baked goods, yes you can freeze cupcakes.
To freeze unfrosted cupcakes, place them on a cookie sheet and freeze for an hour. Once firm, wrap each one in plastic wrap then stick in a freeze-safe plastic bag. Freeze for up to 3 months.
If you're worried they'll get squashed in the freezer, you can put the plastic bag in a container to maintain their shape.
How To Freeze Frosted Vanilla Cupcakes
Although I recommend freezing unfrosted vanilla cupcakes, you can also freeze after frosting.
Use a buttercream frosting as that type of frosting freezes best. Cream cheese frosting can become grainy after freezing, although it'll still be edible.
To freeze frosted cupcakes, place them on a cookie sheet and freeze for an hour. Once firm, place each one in a deep enough container that won't squash the frosting. Freeze for up to 3 months.
To thaw cupcakes, place them on a wire rack and let them come to room temperature, about 15-30 minutes.
The wire rack helps keep the cupcake bottoms dry as they thaw.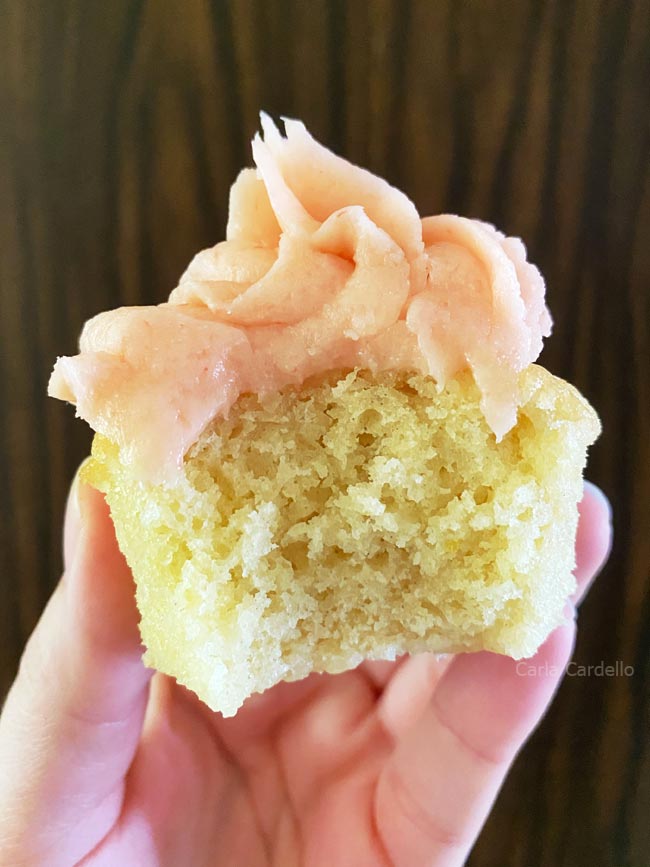 Why are my vanilla cupcakes dry and not fluffy?

Although I've tested my recipe for recipe for 6 vanilla cupcakes numerous times, you may still encounter some issues. Here are some possible reasons why your cupcakes are not moist:

Overbaking: Make sure you're using an oven thermometer so you're baking at a true 350F and keep an eye on time.
Too much flour: Learn how to measure flour so you don't end up with too much.
Not enough fat: Use the amount of butter called for (no margarine) and do not use skim or low fat milk.
Overmixing: Once you add the flour, be very gentle and do not overbeat the batter. The more you work the flour, the tougher it'll be after baking.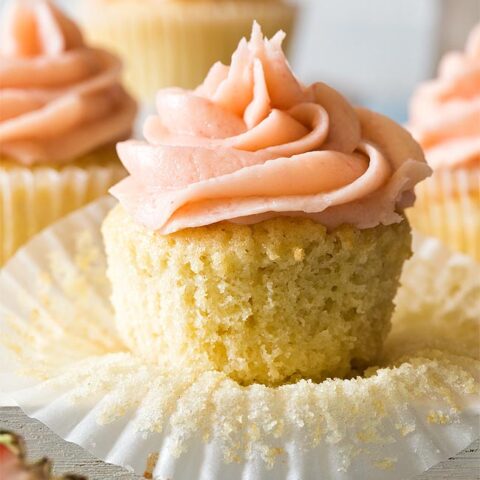 Small Batch Vanilla Cupcakes
Yield: 6 cupcakes
Prep Time: 20 minutes
Cook Time: 20 minutes
Total Time: 40 minutes
Moist and fluffy Small Batch Vanilla Cupcakes from scratch is a 6 cupcake recipe to make your day a little sweeter.
Ingredients
3/4 all-purpose flour (when measuring, spoon the flour into the measuring cup and level it off)*
1 tablespoon cornstarch
1 teaspoon baking powder
1/2 teaspoon table salt
1/2 cup granulated sugar
4 tablespoons (1/4 cup or 2 ounces) unsalted butter, softened
1 large egg, room temperature
1 teaspoon vanilla extract
1/4 cup whole milk, room temperature (do not use low fat or fat free)
Pick One To Decorate
Instructions
Preheat oven to 350F. Line a cupcake pan with 6 liners.
In a medium bowl, sift together the flour and cornstarch then stir in baking powder and salt.
In a large mixing bowl on medium-high speed (with the paddle attachment if using a stand mixer), beat together the sugar and butter until light and creamy, about 1-2 minutes.
Scrape down the bowl then beat in the egg and vanilla for 1 minute.
Turn the mixer down to the lowest speed possible then add the flour mixture alternating with the milk, adding the flour in 3 additions and the milk in 2 additions (begin and end with dry ingredients).

When you add the final addition of flour, switch to a rubber spatula and gently fold in by hand. You do not want to overmix this part or you'll have a dense, cornbread-like texture.
Evenly transfer the batter to the cupcake liners, filling about halfway full. Bake 18-20 minutes or until a toothpick inserted in the middle is clean. Cool for about 15 minutes then transfer cupcakes to a wire rack to finish cooling.
Decorate with frosting of choice. Cover and store the frosted cupcakes at room temperature for up to 2 days (buttercream only) or in the refrigerator for up to 1 week (buttercream, cream cheese, and ganache).

For best results, let the refrigerated cupcakes sit at room temperature 15-30 minutes before serving.
Notes
To substitute for cake flour, use 3/4 cup + 1 tablespoon cake flour and omit the cornstarch.
Enjoyed this recipe? Check out my full list of Small Batch Cupcake Recipes, including chocolate, strawberry, and more.
Want to make a cake? Check out my Small Vanilla Cake recipe
Recommended Products
As an Amazon Associate and member of other affiliate programs, I earn from qualifying purchases.
First published June 4, 2021
This post may contain affiliate links. As an Amazon Associate and member of other affiliate programs, I earn from qualifying purchase.