Homemade Caramel Sauce (Small Batch) made from scratch using only three ingredients is easier than you think! Pour it over ice cream or dip apple slices into it.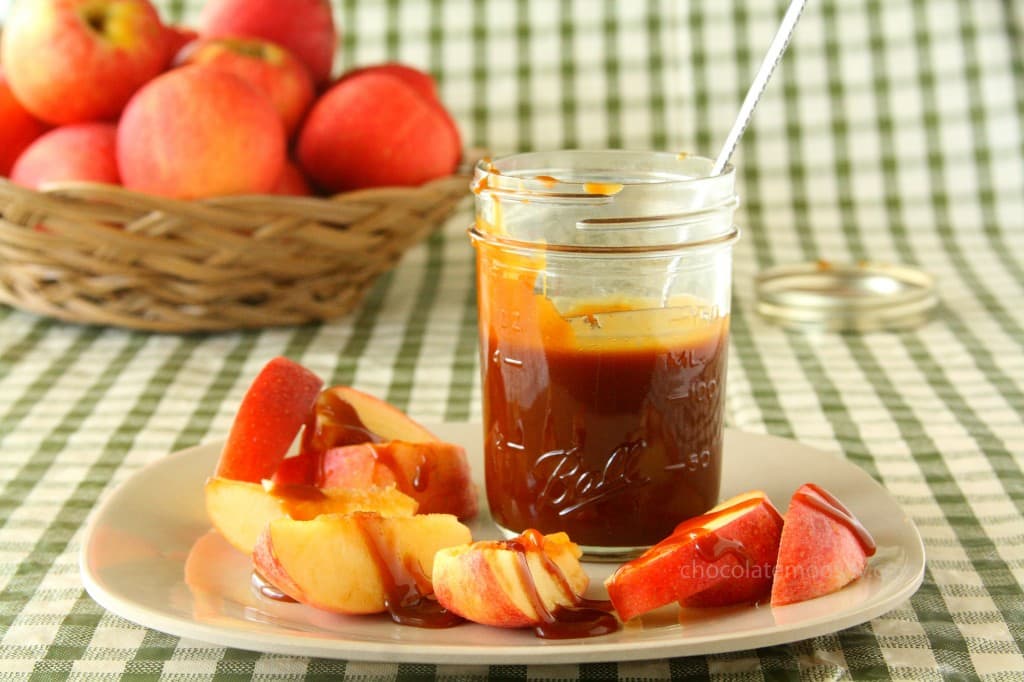 Do these situations sound familiar?
You're getting ready to bake a chocolate cake when you go into your pantry and realize you are out of cocoa powder while your butter is already at room temperature and the oven is fully preheated.
Or you have unexpected company and no time to make dessert.
Or you are in the middle of a blizzard and can't drive anywhere. Or you live too far from the grocery store to justify a half hour round trip for one little item.
Or maybe you are on a really tight budget and have to use up every little bit of food in your house until the next paycheck.
If you said yes to any of these scenarios, this Homemade Caramel Sauce is for you!
With only three ingredients and a few minutes, you can whip up this sauce when a sweet tooth craving attacks.
Have company over? Make this sauce and pour it over Vanilla Bean Ice Cream.
Maybe your slice of Small Chocolate Cake is missing a bit of oomph.
Or perhaps you want to go the (semi) healthy route and serve something with your apples like I did.
However you choose to eat your Homemade Caramel Sauce, it is a necessity to have in your recipe arsenal.
Difference Between Caramel and Butterscotch
Do you know what caramel sauce is?
You're probably sitting there going, duh of course I know caramel!
However, my friend Jenni of Pastry Chef Online explained how a lot of people mix up caramel and butterscotch.
Caramel sauce is made with white sugar and heavy cream.
Butterscotch is made with brown sugar and no dairy.
It's quite fascinating (and a little disheartening) when I read that I actually enjoy butterscotch.
I've always said I hated it, but as Jenni pointed out, store-made butterscotch isn't even close to the real thing. Now I'm going to have to rethink things.
Anyway, this is true caramel sauce, my friends. True and pure.
When I was looking up caramel sauces, I found one that said "caramel sauce with a hint of butterscotch."
I laughed because it actually is butterscotch. No wonder there was a "hint" of it ;)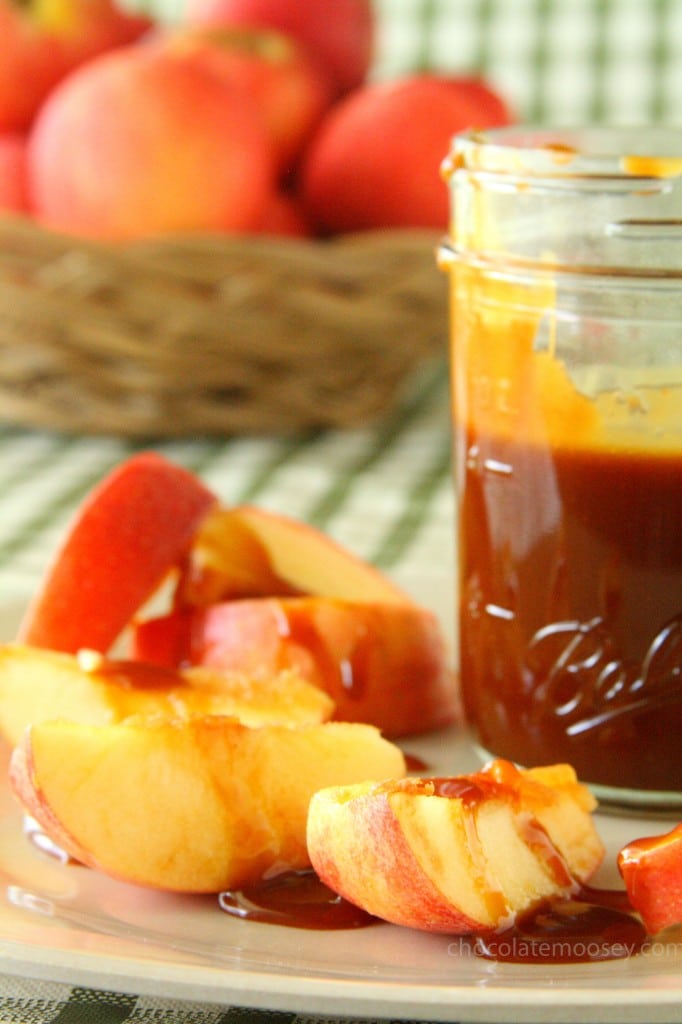 I'll be honest – as easy as it is to make caramel sauce, it scares me.
Wait, don't go! Before you get all freaked out, all you have to do is not be as dumb as me.
You see, years ago (I think I was still in college?), I made caramel sauce for the first time.
When I stir things, I have a tendency to bang the spoon off the edge of the pan to get the excess off.
Well, when I did that, a piece of the caramel sauce flew back and landed on my finger.
You see, caramel sauce is sticky and much hotter than boiling water. When you get boiling water on you, you shake it off.
When you get caramel sauce on you, you shake it off with no luck. It stays on your finger until you wash it off with cold water. It left a nice burn mark for at least six months.
Fast forward to today, and I'm still making caramel sauce. See? Even the pain couldn't keep me away with something so easy and delicious to make. Of course I'm a lot more conscious of not hitting my spoon. Sometimes you just have face your fears in order to be rewarded with something delicious.
Homemade Caramel Sauce
Standard caramel sauce made from scratch using only three ingredients is easier than you think!
Ingredients
1 cup sugar
6 tablespoons unsalted butter, softened and cut into 6 pieces
1/2 cup heavy whipping cream, preferably room temperature
1 teaspoon sea salt (optional for salted caramel)
Instructions
Have all of the ingredients ready to go because the process will go by quickly. Clear a path to the sink in case you need cold water.
Place the sugar in the bottom of a heavy, deep saucepan and heat over medium heat. As the sugar melts, start whisking. Once it comes to a boil, stop stirring. As soon as all of the sugar is a light amber color, carefully add the butter and whisk until melted (the sugar should look lighter than you would like because it will keep cooking. If you wait until the right shade of amber, it will burn once it is finished).
Remove the pan from the heat. Carefully and slowly add the cream then once it settles down, whisk to incorporate*. Add salt if using. Let cool in the pan for a few minutes then transfer to a heat-proof container. Cool to room temperature before storing in the refrigerator for up to two weeks. Warm before serving.
Notes
*If your caramel seizes (clumps) up when adding the cream, put it back over low heat and carefully whisk until smooth again. If needed, strain the sauce before cooling to remove any small clumps.
Source:
Simply Recipes