Vanilla Bean Creamsicles
If you love fudgesicles, then you're going to love these Vanilla Bean Creamsicles that taste like vanilla ice cream on a stick but more fun to eat.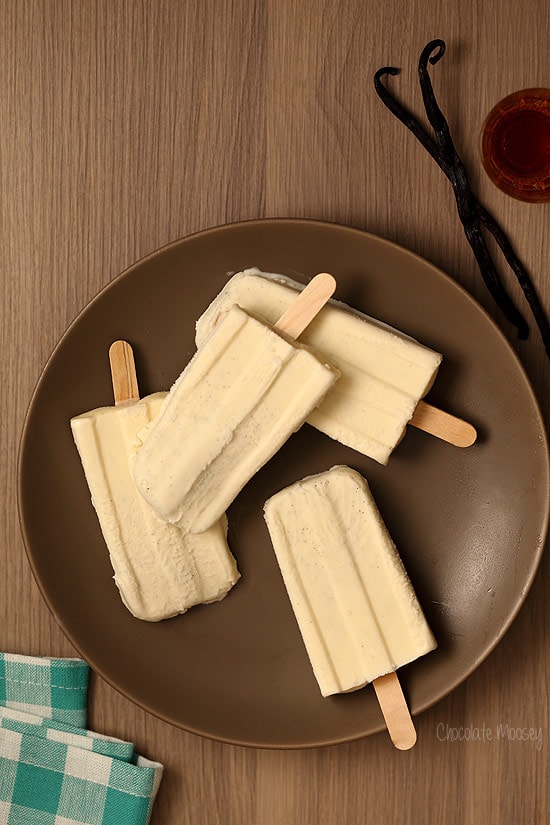 Lately I felt like my freezer wasn't cold enough to freeze anything solid.
Almost immediately when I took any ice cream or popsicles out of the freezer, they started melting within 5 seconds.
Good for serving, bad for photos.
Concerned that my fridge might be dying (since it's an older fridge), I found the temperature control and noticed it was on setting 3 out of 9. That seemed really low, so I bumped it up all the way to 9.
The next morning, I took out some fresh strawberries to chop up for breakfast. Except they were frozen solid.
In an attempt to make my freezer colder, I accidentally froze almost everything in my refrigerator. Oops.
After trying to figure out what setting was best (since it looks like I can't control the freezer and fridge temperatures separately), I ended up back on Setting 3.
Guess I will just have to shoot my ice cream recipes really quickly. Or buy liquid nitrogen.
I had the idea to turn my fudgesicles into these Vanilla Bean Creamsicles ever since last summer, but because I moved in July, I put a lot of my recipe ideas on hold.
It's a little hard to make and shoot recipes when most of your belongings are packed away in bubble wrap and boxes, even more so when you're trying to eat everything in your freezer and fridge so you don't have to throw it away.
Now that it's summer again, I couldn't wait to bring you this recipe. I love vanilla bean anything, so it was only a matter of time to make a creamsicle version.
It's almost like eating vanilla ice cream on a stick but without using eggs.
And when I say vanilla, I mean the "omg so good" vanilla and not the "this tastes like nothing" vanilla.
If you were anything like me growing up, I never wanted a vanilla cone from the ice cream stand because they didn't taste much like anything.
However, when I had my first bite of real vanilla bean ice cream, I was hooked.
That's the same thing with these vanilla popsicles – one bite and you'll never go back to "plain" vanilla again.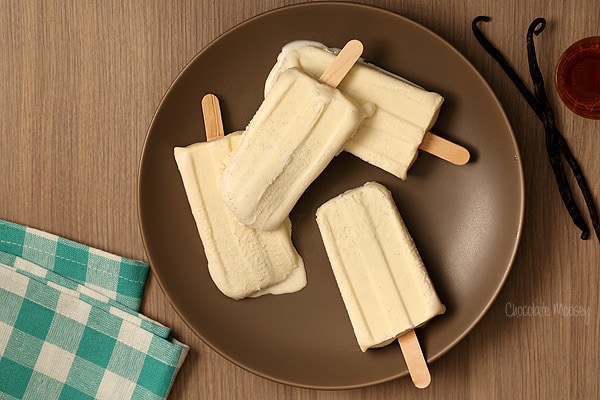 The vanilla bean really elevates these creamsicles to a whole new level.
I highly recommend buying vanilla beans online not only for a better price but also for better quality.
The ones you find at the store are super expensive and usually not that fresh.
When you're done using your vanilla pod in this recipe, don't throw it away! Rinse it off and use it to make some homemade vanilla extract.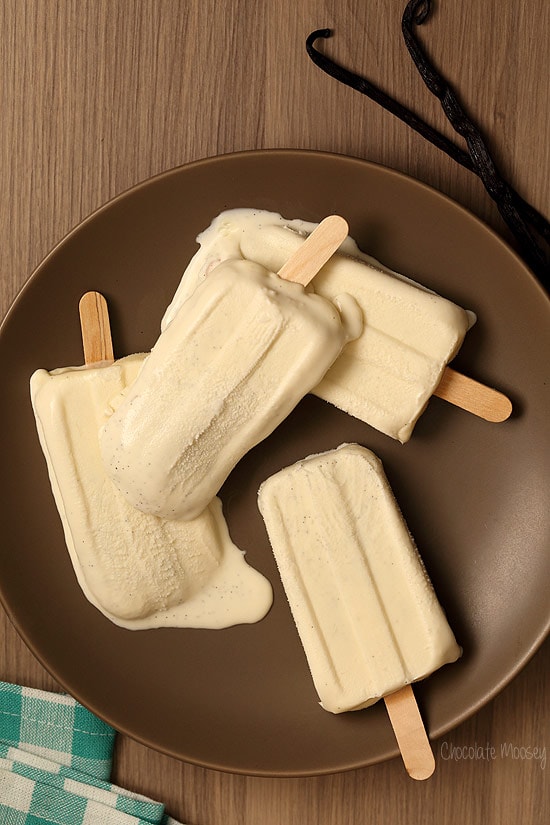 Items You May Need (Affiliate Links):
Vanilla Bean Creamsicles
Yield: 5-6 servings
Prep Time: 15 minutes
Cook Time: 10 minutes
Total Time: 25 minutes
If you love fudgesicles, then you're going to love these Vanilla Bean Creamsicles that taste like vanilla ice cream on a stick but more fun to eat.
Ingredients
1 cup heavy whipping cream
1/2 cup whole milk
1/4 cup granulated sugar
1 teaspoon cornstarch
1 vanilla bean
1 teaspoon vanilla extract
1 tablespoon butter
Instructions
In a large saucepan, whisk together the cream, milk, sugar, and cornstarch. Make a slit to the vanilla bean lengthwise and scrape the seeds into the pan then add the whole vanilla bean.
Bring to a boil. Once boiling, cook another 3-5 minutes or until the mixture thickens slightly. Remove from the heat and remove the vanilla bean. Stir in the vanilla and butter until smooth.
Pour the mixture into a popsicle mold or paper cups and add popsicle sticks. Freeze until firm, preferably overnight.
More Popsicle Recipes
This post may contain affiliate links. As an Amazon Associate and member of other affiliate programs, I earn from qualifying purchase.