Triple Caramel Pecan Rolo Ice Cream
Salted caramel ice cream with caramel swirl, pecans, and Rolo pieces will be your new favorite flavor once you take a bite.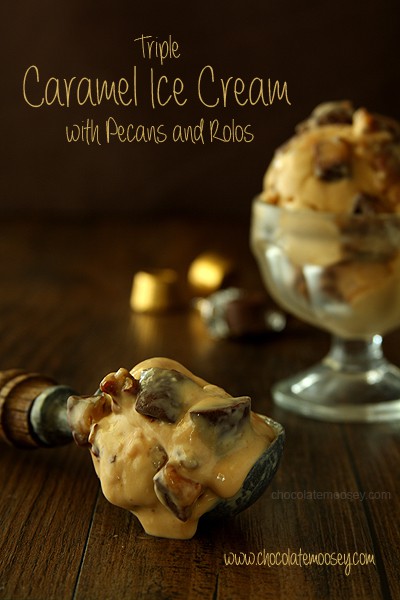 One thing I'm notorious for is buying ice cream when I travel.
Whether it's vacation, a day trip, or just a visit to a new part of town, I usually stop for ice cream (hence why I have no interest in being a size 1).
When I travel with my dad, he's notorious for collecting all kinds of brochures about different places.
One book we both grabbed at a rest area had a list for 10 ice cream places to check out in PA. So far, we visited two of them, one which inspired this Triple Caramel Pecan Rolo Ice Cream.
Remember last week when I shared photos from my trip to Lake Erie?
For lunch we stopped at Denny's Ice Cream in Erie, which was one of the stops on the list.
I got a scoop of Caramel Pecan Turtle Ice Cream, which was vanilla ice cream with a caramel swirl, pecans, and little chocolate candies filled with caramel that were shaped like turtles.
After I took a bite, I knew I wanted to make this at home.
I even found the turtle candies online, but uh yea I think I'll pass with that price tag.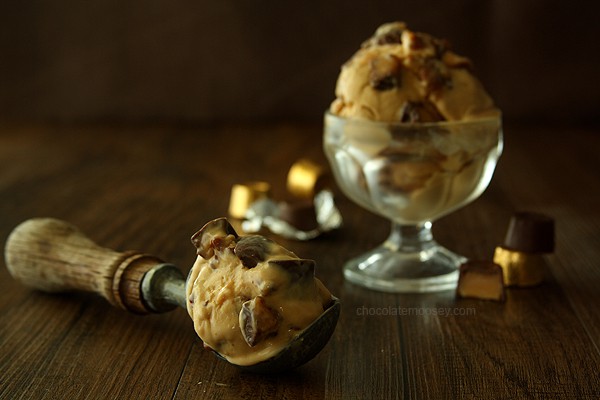 Instead of vanilla ice cream for the base, I chose to use Salted Caramel Ice Cream from the book
Jeni's Splendid Ice Creams at Home
.
I met Jenni at Big Summer Potluck in July, and after hearing her story and having other bloggers tell me they loved her book, I ordered it on Amazon.
And it says a lot when I tell you that this is by far the best ice cream I've ever made.
Not only are there no eggs (no leftover egg whites!), it's in-your-face caramel. Now I know why Jenni said this is her best seller at her store.
In addition to the caramel ice cream base, I wanted to swirl in
homemade caramel sauce
.
Even though you can't see it too well in the photos, I love that extra oompf the additional caramel brings.
As for the turtle part, I was thinking what could I substitute for them? I thought of Rolos because they, too, are chocolate candies filled with caramel.
Just note that they are a little bit chewier to eat when frozen.
Even thought this Triple Caramel Ice Cream is nothing like the one I ate in Erie, all of the flavors are there. In fact, I dare say it's better.
One thing is for sure – if I can figure out how to give pints of ice cream as gifts, this is what people will get.
Triple Caramel Pecan Rolo Ice Cream
Salted caramel ice cream with caramel swirl, pecans, and Rolo pieces will be your new favorite flavor once you take a bite.
Ingredients
2 teaspoons cornstarch
1 cup + 1 tablespoon milk
1/2 cup heavy whipping cream
1 tablespoon corn syrup
1/3 cup granulated sugar
1 ounce cream cheese, softened
1/4 teaspoon sea salt
1 teaspoon vanilla extract
2 tablespoons caramel sauce (homemade or store bought)
1/3 cup pecans, chopped
1/3 cup Rolos, unwrapped and chopped*
Instructions
In a small bowl, mix together the cornstarch and 1 tablespoon milk to make a slurry.
In a measuring cup, mix together the heavy cream and corn syrup.
Fill a large bowl with ice and make a water bath. Put a smaller bowl inside the bath.
Before starting the caramel, ensure there are no distractions in the kitchen and that there is a clear path to a sink with cold water. Caramel can be dangerous, so it needs your undivided attention. In a heavy saucepan, heat the sugar. Do not stir until the middle starts to turn brown and the edges are still white. Use a heatproof spatula to bring the white edges to the center. Continue stirring and pushing around until all of the sugar is an amber color (don't let it get too dark). Remove from the heat and very carefully pour in some of the heavy cream. It will spit so be careful. Finish pouring in the cream (if it hardens, put back over the heat and keep stirring until it's smooth again).
Return the pan to the heat. Add the remaining 1 cup milk and bring to a boil. Boil for 4 minutes. Whisk in the cornstarch slurry. Boil 1 minute or until it slightly thickens. Remove from the heat then stir in the cream cheese and salt until melted. Stir in the vanilla.
Strain the ice cream mixture into the bowl that's sitting in the water bath. Bring to room temperature.
Freeze the ice cream according to your machine. If making by hand, chill in the refrigerator then transfer to the freezer. Whisk every 30-45 minutes to break up any ice crystals.
When the ice cream is a few minutes from being done, add the caramel sauce, pecans and Rolo pieces.
Notes
*Rolos harden when frozen, so let the ice cream sit a few minutes before diving in.
Source: Adapted from
Jeni's Splendid Ice Creams at Home
—-
If you liked this Triple Caramel Pecan Rolo Ice Cream, you may also like these caramel recipes:
From me:
From other bloggers:
This post may contain affiliate links. As an Amazon Associate and member of other affiliate programs, I earn from qualifying purchase.