Strawberry Sauce
Got strawberries? This super quick and easy Strawberry Sauce is ready in 15 minutes and makes a delicious strawberry topping for cheesecake, pancakes, waffles, and so much more. Thickened without cornstarch!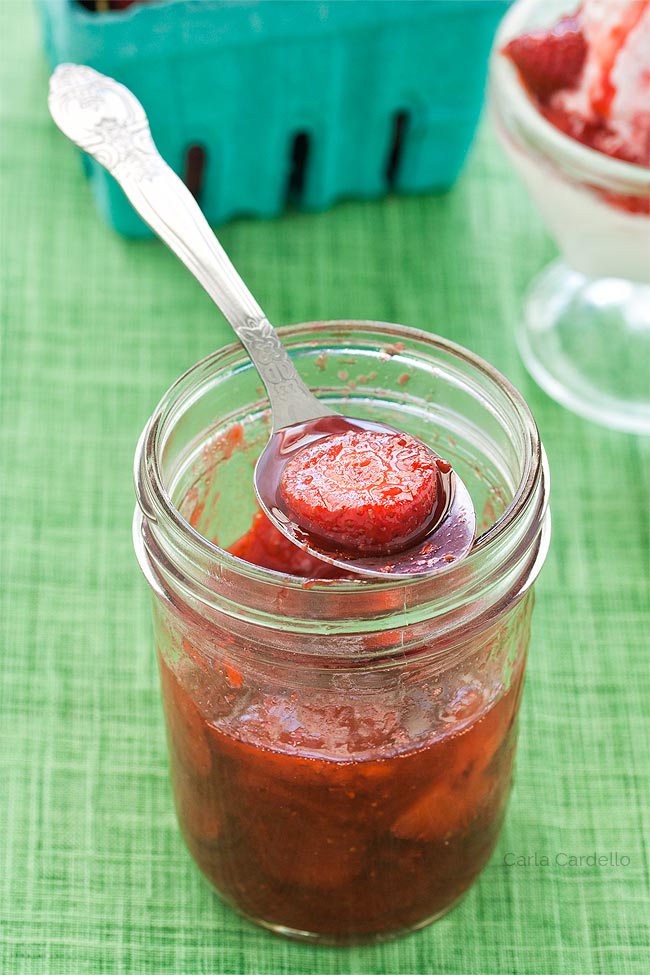 I'm not a breakfast person. Since I work during the week, I grab something quick like fruit or oatmeal.
On the weekends I do take some time to make baked eggs in hash brown bowls or chocolate chip pancakes for two but nothing fancy.
On vacation I have trouble finding something to eat at the continental hotel breakfasts. Usually I end up with peanut butter toast.
And when I do eat at a restaurant, I tend to order the same breakfast – two eggs over easy with hashbrowns and bacon.
It's not that I don't like breakfast foods. I'm just not awake enough in the morning to enjoy it.
However, when I visit my parents for the weekend, I often request chocolate chip waffles with strawberry sauce on top.
For as long as I can remember, we used frozen strawberries in a tub (thawed, of course) to top pancakes, waffles, and French toast.
However, when there are fresh strawberries in the house I like to make this homemade Strawberry Sauce.
Ready in under 30 minutes, this recipe for strawberry sauce makes a delightful topping for angel food cake, pancakes, waffles, cheesecake, ice cream, really anything you can imagine.
All you have to do is slice the strawberries and cook in a saucepan.
Ingredients For Strawberry Sauce
Your strawberry sauce for pancakes is ready with these 4 ingredients:
Strawberries: I've always made this sauce with fresh strawberries, but you can also use frozen.
Sugar: Although strawberries are sweet on their own, you still want some additional sugar for taste.
Lemon Juice: Gives your sauce a pop of freshness plus balances the sweetness
Vanilla: A touch of vanilla really brings out the strawberry flavor
This recipe for strawberry sauce is so versatile, you can use pretty much any juicy fruit – strawberries, raspberries, cherries, peaches.
I make strawberry the most because that's what I've always had for breakfast, but one summer I won half a bushel of peaches so I made peach sauce too.
How To Make Strawberry Sauce
This strawberry sauce for cheesecake is perfect for beginners because all you do is add your ingredients to a saucepan and cook until thickened. Easy peasy!
New to cooking? Learn how to slice strawberries from Bon Appetit.
After you add half of your strawberries, sugar, and lemon juice to your pan, bring to a boil, stirring to ensure the sugar dissolves. As the strawberries cook down, they'll release water to make the sauce.
Once boiling, cook your mixture until it thickens, about 3-5 minutes. Make sure you stir often so it doesn't stick and burn.
When it's done, remove from the heat and stir in the remaining strawberries and vanilla. Cool to room temperature before using.
To store, refrigerate your strawberry sauce for up to 2 weeks.
How To Thicken Strawberry Sauce Without Cornstarch
You certainly don't need cornstarch to thicken your strawberry sauce for angel food cake! All you need to do is keep cooking until the sauce reduces naturally.
That means the more you cook it, the more liquid that evaporates. The more it evaporates, the more it thickens.
If you accidentally thickened it too much, whisk in some water to thin it back out.
What To Do With Strawberry Sauce

I think the best way to serve your strawberry sauce (besides breakfast) is on top of cheesecake or ice cream. Whatever you desire, here are my favorite recipes to make with strawberry sauce:
Strawberry Sauce
Yield: 1 cup
Prep Time: 10 minutes
Cook Time: 5 minutes
Total Time: 15 minutes
Quick and easy Strawberry Sauce is ready in under 30 minutes and makes a delicious strawberry topping for cheesecake, pancakes, waffles, and more. Thickened without cornstarch!
Ingredients
1 cup sliced strawberries
2 tablespoons granulated sugar
1 tablespoon lemon juice
1/2 teaspoon vanilla extract
Instructions
In a medium saucepan, bring 1/2 cup strawberries, sugar, and lemon juice to a boil.
Boil for 3-5 minutes or until the strawberries are cooked down and the mixture thickens.
Remove from the heat and stir in the vanilla and remaining 1/2 cup strawberries. Cool to room temperature. Store in the refrigerator for up to two weeks.
Originally published July 10, 2014
This post may contain affiliate links. As an Amazon Associate and member of other affiliate programs, I earn from qualifying purchase.