Homemade Vanilla Extract
Learn how to make your own vanilla extract! Homemade extract makes the perfect Christmas gift for your favorite bakers. All you need are vanilla beans, alcohol, bottles, and 10 minutes of prep time.
Happy December! Have you started your Christmas shopping yet? I bought a few things here and there as I see them, but I'm nowhere near finished. As I mentioned last week with my
Fiesta Dip Mix
, I love to make homemade gifts for friends. Not only does it save my sanity from crowded stores, it's more meaningful (and more affordable). This year I'm making Homemade Vanilla Extract, which is not only cheaper to make at home to keep for yourself, it's also perfect to give to your baker friends (if they're anything like me, I go through so much vanilla extract because I use it in almost everything). One of the first things you learn as a baker, whether it's all year round or just for the holidays, is to use real vanilla extract , not imitation vanilla. As someone who has used both, you really do taste a difference. Vanilla extract is made using real vanilla beans while imitation vanilla is made with synthetic vanillin. If you've ever shopped for vanilla beans at the store, you may notice how expensive it is for only a few beans. Now I'm going to show you how easy it is to make Homemade Vanilla Extract. All you need are 10 minutes of prep time, 2 ingredients, and glass bottles.
First things first – buying vanilla beans. As you shop around, you'll notice there are multiple varieties of beans. Which ones should you buy? First, I highly recommend buying vanilla beans online because they are usually too expensive to buy at the grocery store. The beans I used are Madagascar Bourbon, which are described as "rich, dark and creamy with an overwhelming sweet, buttery aroma." Mexican Vanilla Beans would make a great choice too as I've used Mexican vanilla extract before. Really you can't go wrong with the beans you choose. And did you know – if you do use the vanilla bean seeds in a recipe, you can still use the leftover pods in vanilla extract.
Next you need to buy alcohol (I already had someone ask if you can substitute water, and the answer is no. There are ways to make alcohol-free vanilla, but this recipe uses alcohol). In the above photo, I used vodka (both left bottles) and rum (right) for making my extracts. Vodka is most commonly used, but you can change it up and use rum, bourbon or brandy. Ideally you want a vodka that is 70 Proof/35% Alcohol, but all I saw at my store was 80 Proof/40% Alcohol. For the rum I used Jamaican dark rum.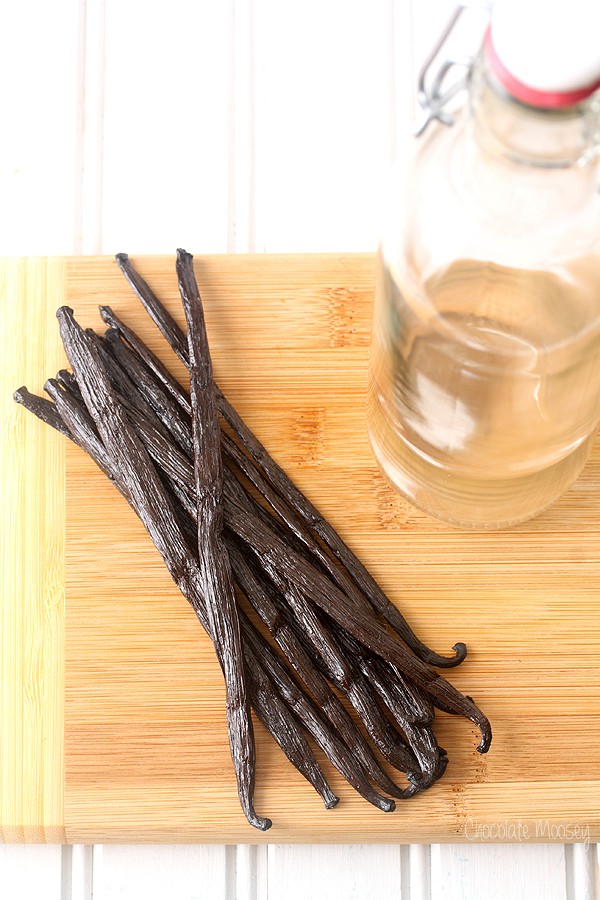 For the containers, use your imagination! I used
swingtop glass bottles
for presentation and easy storage. Pictured in this post are 12.5 ounce bottles, which are tall enough to fit the whole beans inside. However, you can go smaller and bend or cut the beans in half to fit.
One thing to keep in mind – homemade vanilla extract needs to sit out of sunlight for 6-8 weeks before using (although when I asked if anybody has made extract
on Instagram
, several of you said you let it sit at least a year!). That doesn't mean you have to wait 6-8 weeks to give homemade extract. When you label the bottles, just simply write on the bottle a "Ready To Use" date. Speaking of labels, I used some kraft tags I found at Target. However, I highly recommend using
kraft printable labels
instead so they will stick better. Unfortunately, I thought of it at the last minute and my closest office supply store didn't have any.
Homemade Vanilla Extract
This recipe is for each 12.5-ounce bottle you want to make. For smaller bottles, use a few less beans and as much alcohol that fits in the bottle.
Ingredients
12.5 ounce glass bottle
8 whole vanilla beans
1 1/2 cups vodka (preferably 70 proof/35% alcohol), bourbon, brandy, or rum
Instructions
Slice each bean once lengthwise, open it up a little bit, and place in bottle. If you're using a smaller bottle, cut them into smaller pieces to fit inside.
Pour alcohol of choice into the bottle, completely submerging the beans. Seal the bottle then shake a few times.
Store it at room temperature out of sunlight for 6-8 weeks (the longer, the better). If giving as a gift beforehand, write a "Ready To Use" date on a homemade label.
Disclosure: This post contains Amazon affiliate links, which means I earn a small percentage of profit for each item you buy through this link. This profit goes back into maintaining this blog, including website hosting and ingredients for recipes. Thank you for your support!
This post may contain affiliate links. As an Amazon Associate and member of other affiliate programs, I earn from qualifying purchase.