This small batch Raspberry Jalapeno Jam without pectin may sound a little crazy, but it's crazy good. Sweet and spicy with no pectin required.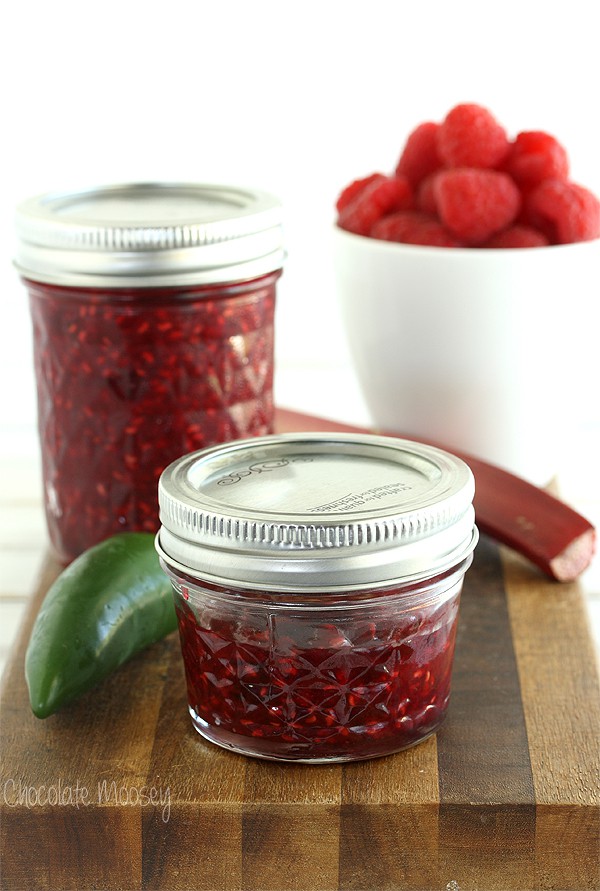 Does this Raspberry Jalapeno Jam sound crazy to you? That was my thought when I first heard of this combination in a pie.
Almost two months ago I went on vacation with my family to Mount Rushmore and stopped at a pie shop There on the menu was Raspberry Rhubarb Jalapeno Pie.
Nobody wanted to share a slice with me, but I knew I couldn't leave without trying it. Entrigued by its flavors, I took a bite.
The heat was just enough to notice but not enough to make you cry for water. As I tweeted about it, my friend Mallory of Fork Vs. Spoon suggested that would make a great jam idea.
My wheels started turning, and shortly after returning home, I worked on this Raspberry Rhubarb Jalapeno Jam. Sweet and spicy with just a little tartness, it pairs perfectly with cream cheese for a snack.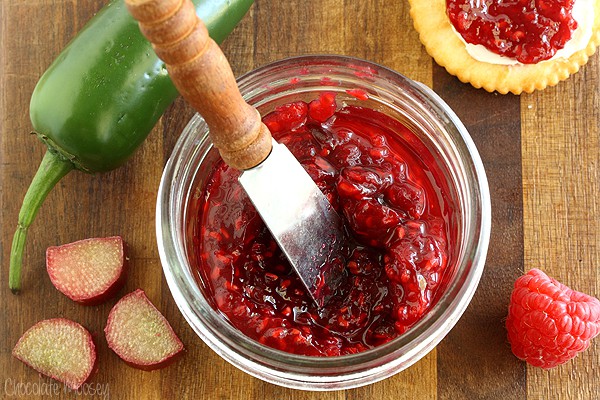 As I said, my parents, brother, and I took a road trip to South Dakota to see Mt. Rushmore. A very long road trip.
We also ventured to Crazy Horse, Custer State Park and Deadwood. The weather was beautiful for the most part, although the one day there were really bad storms with a tornado reported in the area (we weren't near it).

There was a mini farm where you could feed prairie dogs peanuts.
Badlands, South Dakota. Look at how tiny the road and cars are!

Buffalo and Begging Burrows at Custer State Park. The burrows literally walked up to your vehicle for something to eat.

Buffalo rule the park.

Huge storm rolling in at Custer State Park.

American Indians at Crazy Horse Memorial.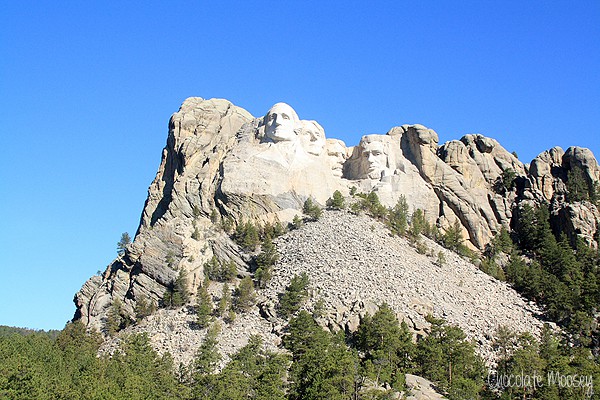 Mount Rushmore, South Dakota. It was best to go early morning before the tour buses got there.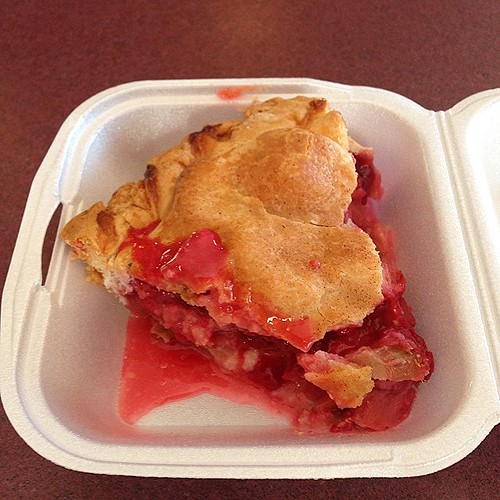 Raspberry Rhubarb Jalapeno Pie from Purple Pie Place
When we were in Custer, we stopped at Purple Pie Place.
I accidentally found this place online and knew we had to stop for some pie. Usually it's cupcakes or ice cream, but this time it was pie.
I wanted to share some vacation photos while also sharing a recipe reminiscent of my trip. Originally I wanted to share buffalo burgers, but buffalo meat is quite expensive (almost $11 for one pound!). I opted for this Raspberry Rhubarb Jalapeno Jam instead.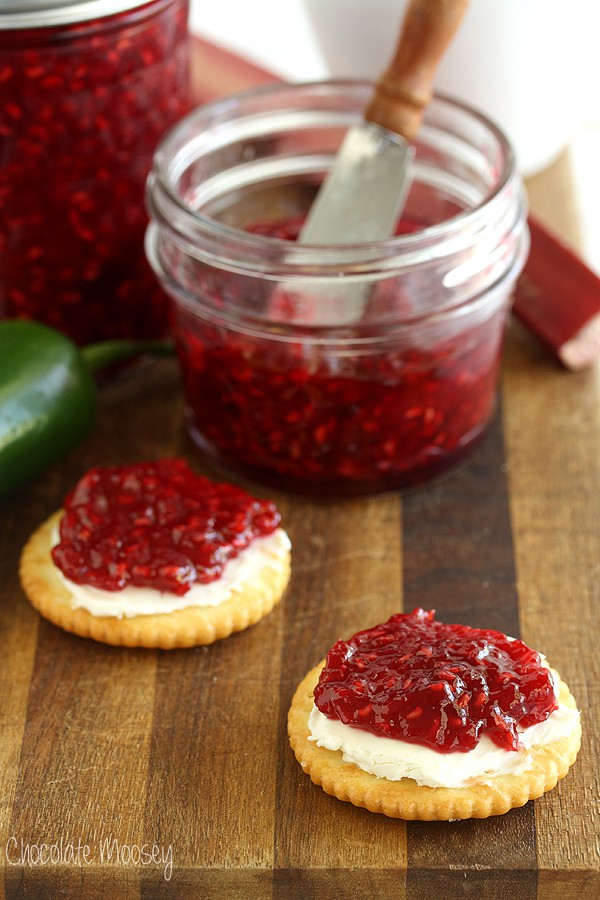 This raspberry jam makes only a small batch, roughly 6 ounces, and does not require pectin.
There is enough natural pectin in the raspberries that the jam will gel up without any additional ingredients.
The best way to serve this is with cream cheese, much like pepper jelly. Although if you want to start your morning with this on toast, you are more than welcome.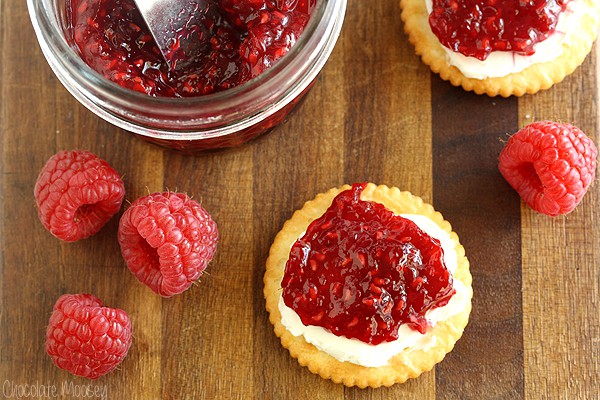 Don't want a spicy raspberry jam? Leave out the jalapeno then use it as a filling for lemon raspberry cake with raspberry cream cheese frosting.
More Small Batch Jam Recipes

Have other summer fruits you want to turn into jam? Check out these other easy small batch jam recipes: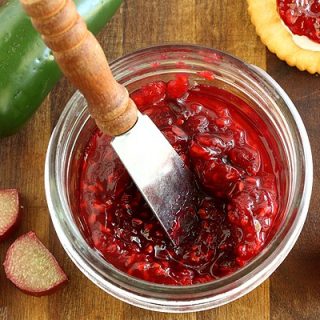 Raspberry Rhubarb Jalapeno Jam (Small Batch, No Pectin)
This small batch Raspberry Rhubarb Jalapeno Jam may sound a little crazy, but it's crazy good. Sweet and spicy with no pectin required.
Ingredients
3 cups fresh raspberries
1 cup chopped rhubarb (roughly 1 stalk)
1 large jalapeno pepper, chopped
3/4 cup granulated sugar
1 tablespoon lemon juice
Instructions
Place a small dish in the freezer to use for testing the jam.
In a large deep skillet, add raspberries, rhubarb, jalapeno, sugar, and lemon juice. Bring to a rolling boil, stirring often. Once boiling, cook until it thickens, about 10 minutes.
When it seems thick enough, take your plate out of the freezer. Put a small spoonful of the jam onto the plate and let sit for 30 seconds. Tilt it. If it slides too fast, keep cooking in 1-2 minute increments. If it moves slow, it is done.
Transfer to a heat-proof container. Cool to room temperature. If not canning, use within 2 weeks. Once opened, store in the refrigerator.
Canning Instructions (Optional)
Place a clean 6-8 ounce glass mason jar and lid pieces into a large pot of boiling water deep enough for the jar to be completely submerged in water. Once the water is boiling, leave the jar in there until ready to use.
Remove the jar and lids from water and drain out all of the water from the jar. Keep the water boiling.
Transfer the finished jam to the jar. Wipe excess jam off the rim so it will seal properly. Add the lid. You may want to use an oven mitt so you can hold the jar still.
Place sealed jar back into the boiling water and boil for 15 minutes. Make sure it is submerged in the water. Remove from the water and let dry on a heat-resistant surface for 18-24 hours.
Once cool, press down on the lid. If it stays down, it is sealed. If it pops back up, put in the refrigerator and use within two weeks.
Recommended Products
As an Amazon Associate and member of other affiliate programs, I earn from qualifying purchases.