This small batch Raspberry Jalapeno Jam without pectin may sound a little crazy, but it's crazy good. Sweet and spicy raspberry jam with no pectin required.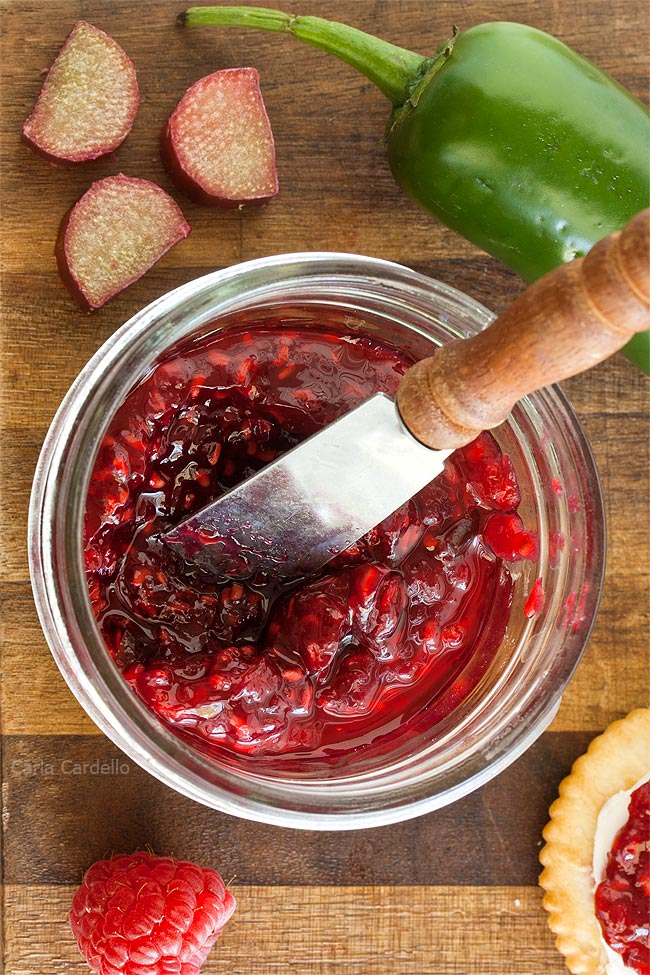 Does this Raspberry Jalapeno Jam with rhubarb sound crazy to you? That was my thought when I first heard of this combination in a pie.
In 2014 I went on vacation with my family to Mount Rushmore and stopped at a pie shop. There on the menu was Raspberry Rhubarb Jalapeno Pie.
Nobody wanted to share a slice with me, but I knew I couldn't leave without trying it. Intrigued by its flavors, I took a bite.
The heat was just enough to notice but not enough to make you cry for water. As I tweeted about it, my friend Mallory suggested it would make a great jam idea.
My wheels started turning. Shortly after returning home, I worked on this Raspberry Jalapeno Jam recipe without pectin.
It's sweet and spicy with just a little tartness from the rhubarb.
Much like my blueberry jam without pectin, my raspberry jalapeno jam makes a small batch (roughly 8 ounces).
That's especially useful if you're trying this spicy raspberry jam and are unsure about how much everyone will like it.
It reminds me of pepper jelly where you serve it on crackers with cream cheese. Once you eat one, you won't be able to stop!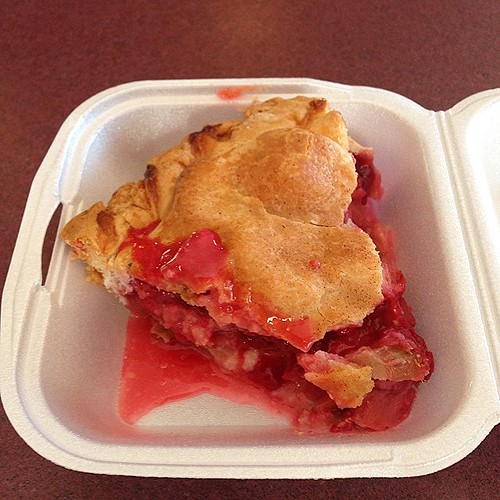 Here is the inspiration for my raspberry rhubarb jalapeno jam from
The Purple Pie Place
in Custer, SD.
I accidentally found this place online and knew we had to stop for some pie. Usually it's cupcakes or ice cream, but this time it was pie.
Ingredients For Raspberry Jalapeno Jam
To make your raspberry jalapeno jam recipe, you'll need the following ingredients:
Raspberries: The star of the jam! Raspberries have natural pectin in them, which will thicken the jam without adding anything else.
Rhubarb: Rhubarb is very tart, so it balances the sweet and spicy. Make sure you're using only the stalks as the leaves are poisonous.
Jalapeno: Adds spiciness to the sweet raspberries
Sugar: In addition to being a sweetener, sugar acts as a preservative if you canned your jam. When the berries cook, they release water. The sugar bonds with the water and helps prevent the growth of microorganisms.
Lemon juice: Not only does the acidity brighten the jam so it's not too sweet, lemon juice helps with the gelling process.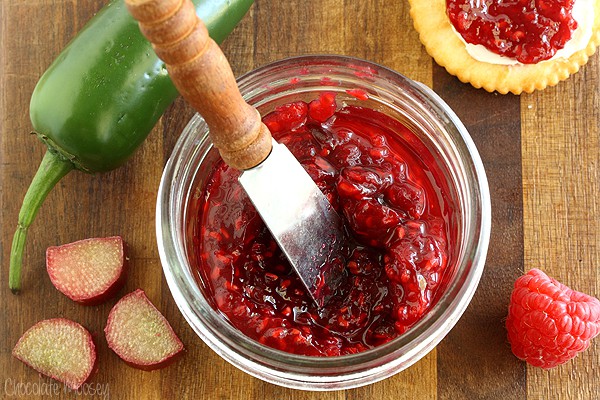 What is pectin?
I keep talking about pectin, but what is it exactly?
Pectin is a thickening agent often used in jams and jellies so they set up properly after cooling. You can buy it in the canning section of a store, but it's mostly only used when making jam.
However, I don't want to buy an ingredient I'd only use a few times a year. Luckily for us, pectin occurs naturally within certain fruits.
How To Make Raspberry Jalapeno Jam
To make your spicy raspberry jam, first put a small plate in the freezer. This is used to test your jam after cooking (more on that in a bit).
Next add your raspberries, rhubarb, jalapeno, sugar, and lemon juice to a large 12 inch skillet. This will give you enough room to stir as it cooks.
Bring to a rolling boil, stirring often. Once boiling, cook until it thickens, about 8-10 minutes.
The raspberries will break down on their own, but if you have any big chunks you can break them up with your spoon.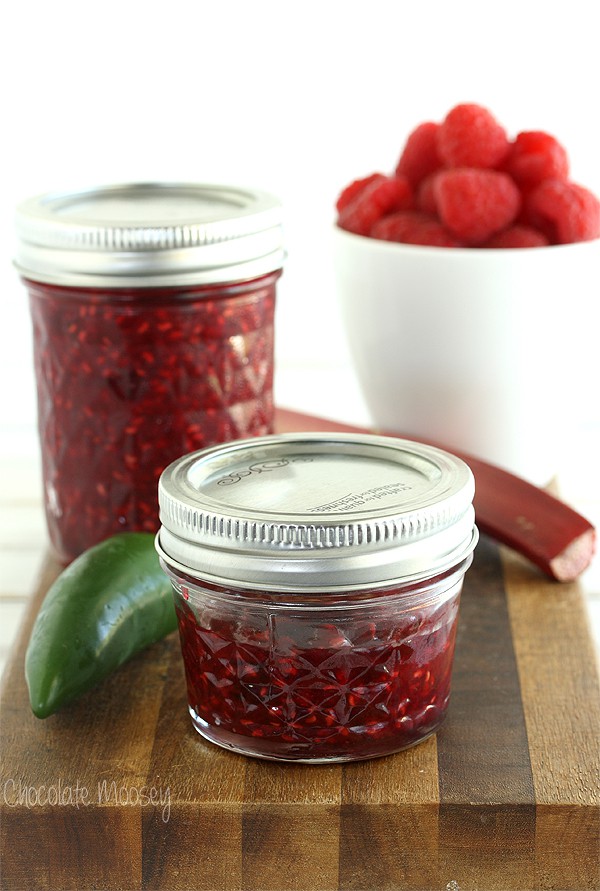 How To Know When Your Raspberry Rhubarb Jam Is Done
Your raspberry rhubarb jam is done when it has thickened enough. However, you won't know this until it has finished cooling. At that point, it's too late to fix it.
That's why I use the frozen plate technique. Because the plate is frozen, it'll instantly cool down the jam so you can determine how thick it is.
Before you start, place a small plate in the freezer. When you're ready to test your jam, take the plate out and add a small spoonful to the plate.
Next, tilt your plate. If the jam slides too fast, it needs more time. If it slides slowly, it's done. However, if it doesn't move at all, you may have overcooked it.
If your jam needs to cook longer, be careful not to overcook it. Even a minute too long can be the difference between done and overdone. It's best to check too often than not enough.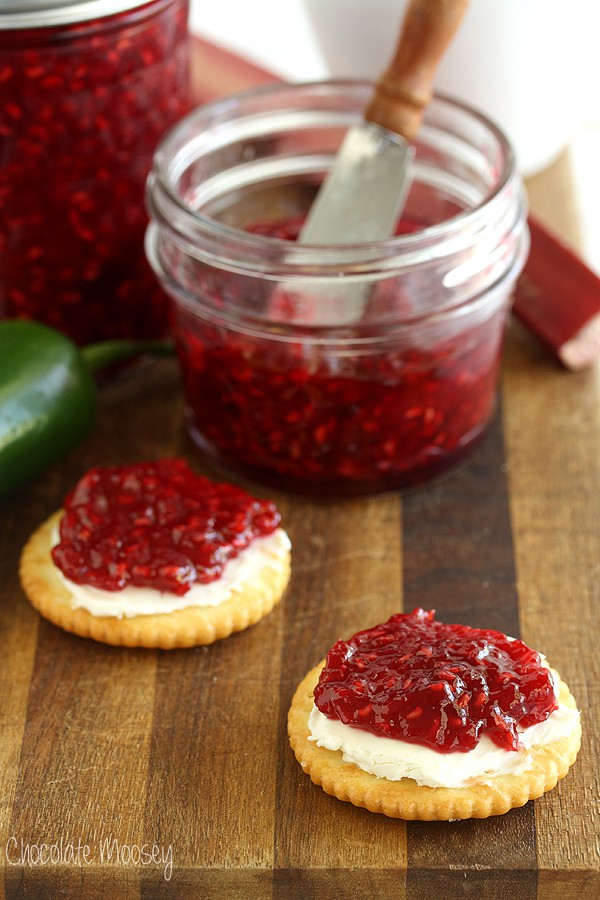 How To Use Raspberry Jalapeno Jam
The best way to serve your jalapeno raspberry jam is with cream cheese on crackers, much like you would with pepper jelly. The dairy helps tame the heat as well as adds a bit of tang to your snack.
You can also serve it over Brie like I did with my Cranberry Baked Brie. Just swap the jam for the cranberry sauce.
For breakfast, serve it on a bagel with cream cheese.
Don't want a spicy raspberry jam? Leave out the jalapeno to make raspberry rhubarb jam then use it as a filling for lemon raspberry cake with raspberry cream cheese frosting.
How To Can Raspberry Jalapeno Jam
You certainly don't have can your small batch raspberry jam as it only makes one 8 ounce jar. It's only necessary if you don't plan on eating it right away.
However, if you do want to learn how to can, I talk all about that with my Strawberry Jam Without Pectin post.
How long does Jalapeno Raspberry Jam last?
If you're not canning your jam, it'll last about 2-4 weeks in the fridge. You'll have to use your best judgment after 2 weeks. If it seems a little off, don't use it.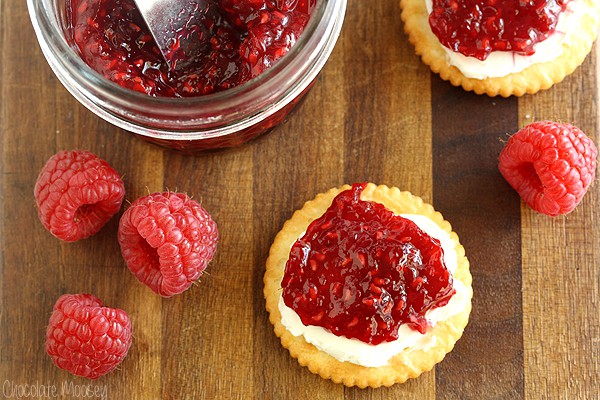 More Small Batch Jam Recipes

Have other summer fruits you want to turn into jam? Check out these other easy small batch jam recipes: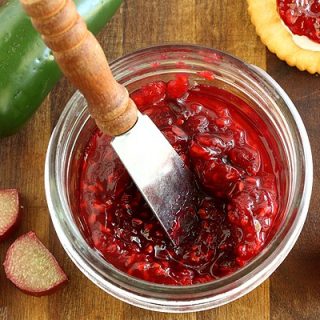 Raspberry Jalapeno Jam
This small batch Raspberry Jalapeno Jam without pectin may sound a little crazy, but it's crazy good. Sweet and spicy raspberry jam with no pectin required.
Ingredients
3 cups fresh raspberries
1 cup chopped rhubarb (roughly 1 stalk)
1 large jalapeno pepper, chopped
3/4 cup granulated sugar
1 tablespoon lemon juice
Instructions
Place a small dish in the freezer to use for testing the jam.
In a large 12 inch skillet, add raspberries, rhubarb, jalapeno, sugar, and lemon juice. Bring to a rolling boil, stirring often. Once boiling, cook until it thickens, about 8-10 minutes.
When it seems thick enough, take your plate out of the freezer. Put a small spoonful of the jam onto the plate and let sit for 30 seconds. Tilt it. If it slides too fast, keep cooking in 1-2 minute increments. If it moves slow, it is done.
Transfer to a heat-proof container. Cool to room temperature. If not canning, use within 2 weeks. Once opened, store in the refrigerator.
Canning Instructions (Optional)
Place a clean 6-8 ounce glass mason jar and lid pieces into a large pot of boiling water deep enough for the jar to be completely submerged in water. Once the water is boiling, leave the jar in there until ready to use.
Remove the jar and lids from water and drain out all of the water from the jar. Keep the water boiling.
Transfer the finished jam to the jar. Wipe excess jam off the rim so it will seal properly. Add the lid. You may want to use an oven mitt so you can hold the jar still.
Place sealed jar back into the boiling water and boil for 15 minutes. Make sure it is submerged in the water. Remove from the water and let dry on a heat-resistant surface for 18-24 hours.
Once cool, press down on the lid. If it stays down, it is sealed. If it pops back up, put in the refrigerator and use within two weeks.
Recommended Products
As an Amazon Associate and member of other affiliate programs, I earn from qualifying purchases.
Originally published July 14, 2014