Want to learn how to make homemade blueberry jam? This quick and easy Small Batch Blueberry Jam (no pectin) is the perfect recipe for beginners and only makes one 6-ounce jar. Spread it on toast for breakfast or use it in dessert recipes.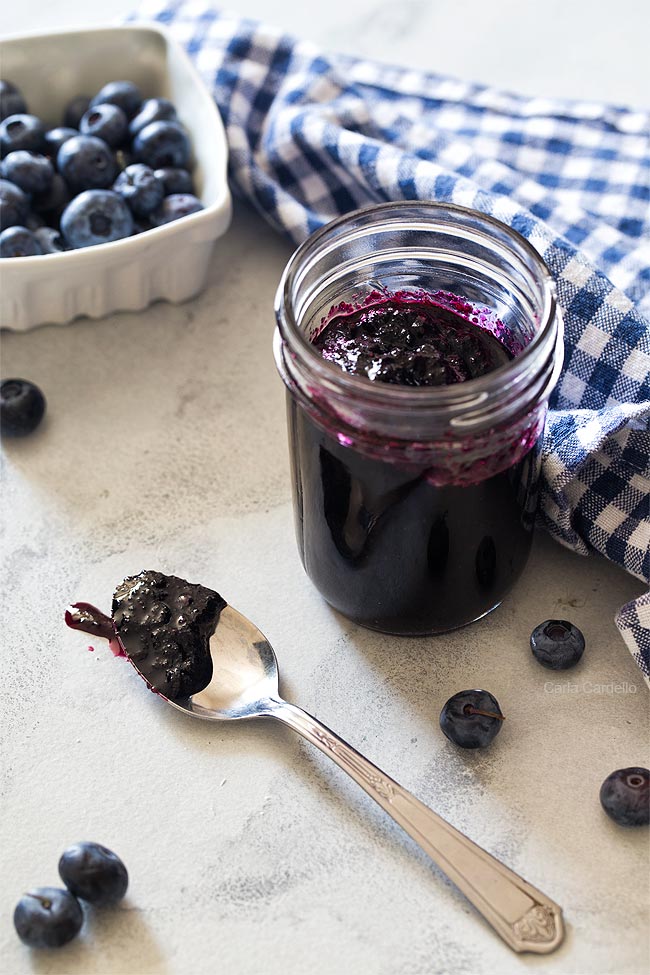 Here in PA July is prime blueberry season. I've never picked my own before, but that doesn't stop me from buying a pint or two when they're plump and juicy.
I have a small handful of blueberry recipes on the blog already. While I was figuring out what to make, I realized I was missing an easy recipe for blueberry jam without pectin.
I have homemade jam recipes for strawberry jam, peach jam, raspberry jalapeno jam, and sour cherry jam, but no blueberry.
Now technically I've published my blueberry jam recipe before to accompany my Honey Blueberry Oatmeal Bars.
Since my small batch jam recipes do well on their own, I wanted to give my homemade blueberry jam recipe its own post.
If you've made my strawberry and cherry jams before, then you'll recognize I use the same technique for my Blueberry Jam (No Pectin) – fruit, sugar, and lemon juice.
If not, it's totally easy to get started! Stir everything together in a large skillet then boil for about 10-15 minutes. I'll even show you a cool trick (literally) on how to know when your jam is done.
The best part is it only makes one jar. That's it. Enough to last you all week for breakfast or to use in a recipe calling for jam as an ingredient.
No dealing with storing and giving away tons of blueberry jam just so you can keep one jar for yourself.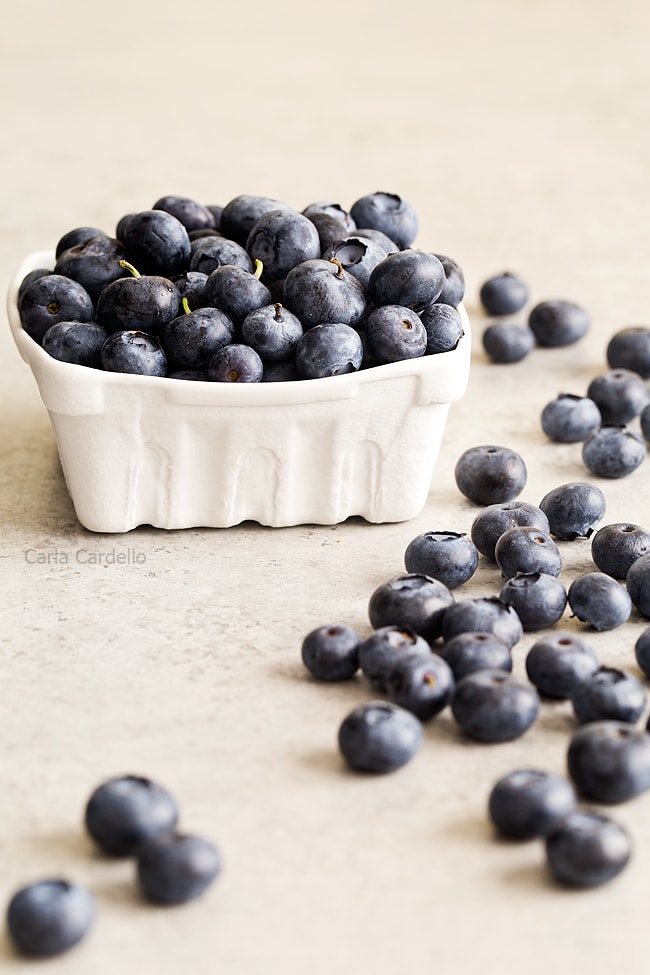 What is pectin?
As you read more and more about how to make blueberry jam, you'll come across an ingredient called pectin. Pectin is a thickening agent often used in jams and jellies so they set up properly after cooling.
You can often buy pectin in the canning section of a store, but it's mostly only used when making jam.
However, I don't want to buy an ingredient I'd only use a few times a year. Luckily for us, pectin occurs naturally within certain fruits.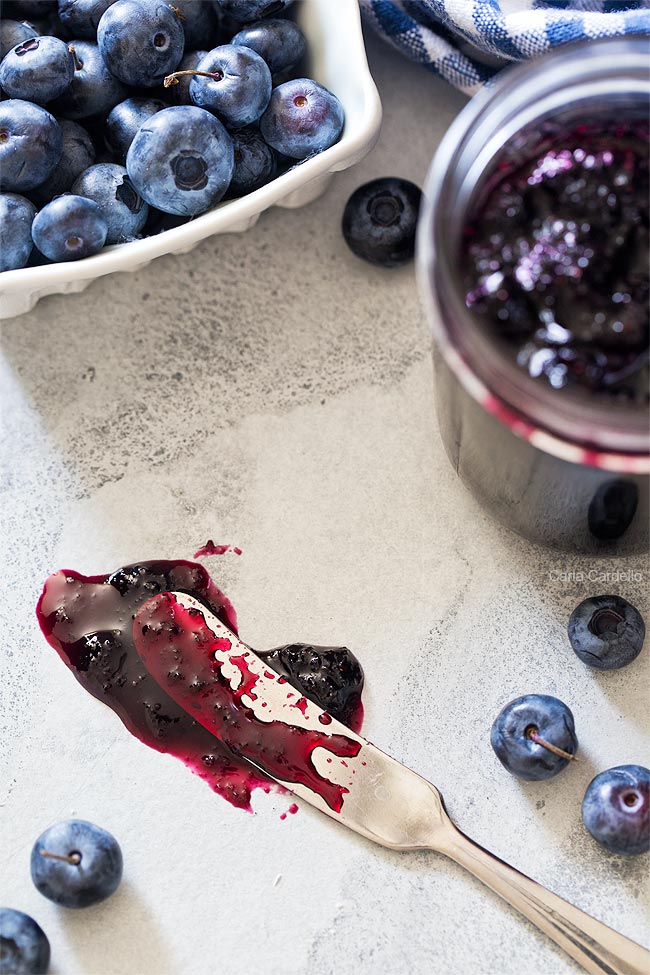 How to make blueberry jam without pectin
Blueberries are high in natural pectin, which means you don't need to add any. What you do need to add is lemon juice.
When you heat the blueberries and sugar together, natural pectin is released. The lemon juice then bonds with the pectin, creating a gel and thickening your jam.
Lemon juice is also used to keep harmful bacteria from growing, which is necessary if you're canning your blueberry jam.
Additionally, the acidity balances out the sweetness from the berries and the sugar.
How to make blueberry jam
To make this small batch blueberry jam recipe, first stir together the blueberries, sugar, and lemon juice in a large skillet.
Bring to a boil, stirring often until the sugar dissolves. Once it starts to boil, stir occasionally to ensure the mixture doesn't bubble over, everything is cooking evenly, and nothing is sticking to the bottom of the pan.
After 8-10 minutes, you should notice the jam reducing and starting to thicken.
How to know when your blueberry jam is done
Your no pectin blueberry jam recipe is done when it has thickened enough. However, you won't know this until it has finished cooling. At that point, it's too late to fix it.
That's why I use the frozen plate technique. Because the plate is frozen, it'll instantly cool down the jam so you can determine how thick it is.
Before you start, place a small plate in the freezer. When you're ready to test your jam, take the plate out and add a small spoonful to the plate.
Next, tilt your plate. If the jam slides too fast, it needs more time. If it slides slowly, it's done. However, if it doesn't move at all, you may have overcooked it.
If your jam needs to cook longer, be careful not to overcook it. Even a minute too long can be the difference between done and overdone. It's best to check too often than not enough.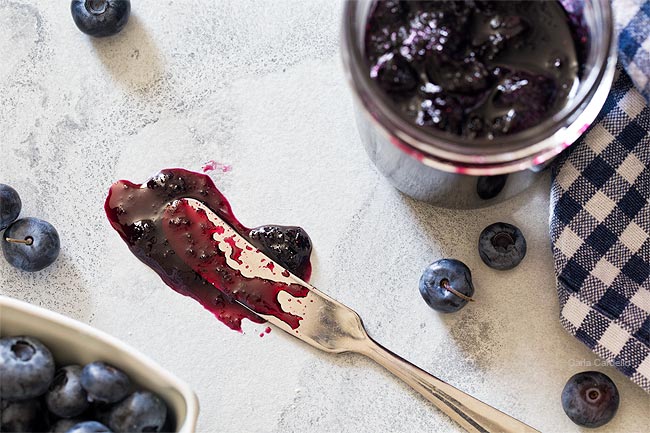 Do I have to can my blueberry jam?
Since this small batch recipe only makes one 6 ounce jar, you honestly don't have to can. Canning is only necessary if you don't plan on eating the jam right away.
If you have no desire to can, make the blueberry jam as directed and store in a heat-proof container. Let cool to room temperature before putting it in the fridge.
Once opened, homemade blueberry jam will last about 2 weeks in the fridge. You'll have to use your best judgment after 2 weeks. If it seems a little off, don't use it.
What to do with homemade blueberry jam

In addition to spreading it on toast for breakfast, here are some recipes to use up your blueberry jam without pectin: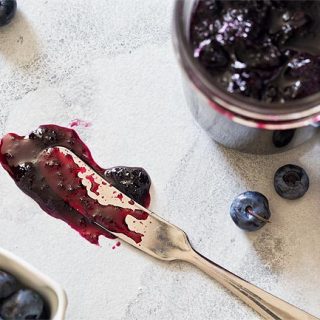 Small Batch Blueberry Jam (No Pectin)
This quick and easy homemade Small Batch Blueberry Jam (No Pectin) is the perfect recipe for beginners and only makes one 6-ounce jar.
Ingredients
2 cups fresh blueberries
3/4 cup granulated sugar
1 tablespoon lemon juice
Instructions
Place a small dish in the freezer to use for testing the jam.
In a large deep skillet, add blueberries, sugar, and lemon juice. Bring to a rolling boil, stirring often. Once boiling, cook until it thickens, about 10 minutes.
When it seems thick enough, take your plate out of the freezer. Put a small spoonful of the jam onto the plate and let sit for 30 seconds. Tilt it. If it slides too fast, keep cooking in 1-2 minute increments. If it moves slow, it is done.
Transfer to a heat-proof container. Cool to room temperature. If not canning, use within 2 weeks. Once opened, store in the refrigerator.
Canning Instructions (Optional)
Place a clean 6-8 ounce glass mason jar and lid pieces into a large pot of boiling water deep enough for the jar to be completely submerged in water. Once the water is boiling, leave the jar in there until ready to use.
Remove the jar and lids from water and drain out all of the water from the jar. Keep the water boiling.
Transfer the finished jam to the jar. Wipe excess jam off the rim so it will seal properly. Add the lid. You may want to use an oven mitt so you can hold the jar still.
Place sealed jar back into the boiling water and boil for 15 minutes. Make sure it is submerged in the water. Remove from the water and let dry on a heat-resistant surface for 18-24 hours.
Once cool, press down on the lid. If it stays down, it is sealed. If it pops back up, put in the refrigerator and use within two weeks.
Recommended Products
As an Amazon Associate and member of other affiliate programs, I earn from qualifying purchases.