This easy 3 ingredient Raspberry Jam without pectin is perfect for beginners because it only makes one 6-ounce jar. Use it for breakfast, cakes, and more!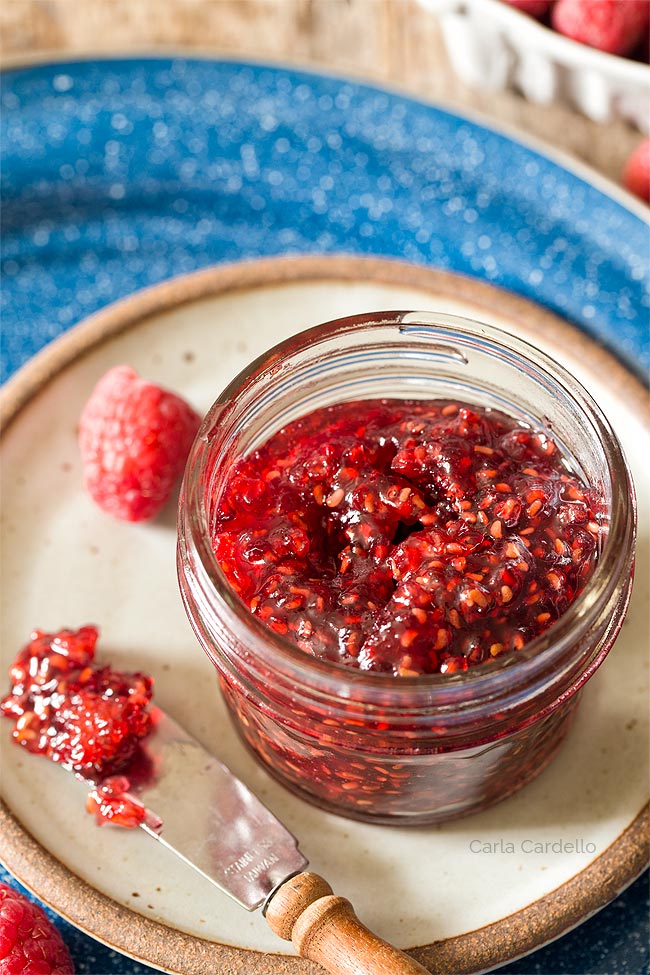 With summer starting soon, that means fresh berry season is right around the corner!
Soon we'll be walking around farmer's markets with pints upon pints of fresh raspberries ready for consumption.
If you're really lucky, a nearby farm will let you pick your own raspberries. I haven't done that in years as I'm usually out picking strawberries.
The next best thing is having someone else (the farmer) pick them for you. Best of both worlds, honestly. Fresh picked AND less work.
Eating them by the pint is great, but what if you wanted to preserve summer just a little bit longer?
Or maybe you have a pint of raspberries on its last few days before spoiling? Or maybe you saw a delicious dessert recipe calling for jam?
Or maybe you're like me where you hate eating a bowl of raspberries but will eat it as a sauce or jam.
That's where this easy Raspberry Jam recipe comes in handy. 3 ingredients turn your bounty into a sweet, tasty spread.
If you're nervous about making homemade jam for the first time, don't be!
Much like my blueberry jam without pectin, sour cherry jam, and peach jam without pectin, my Raspberry Jam makes a small batch (roughly 6 ounces).
That means you don't have to stress about canning 20 jars. In fact you don't even have to can at all because you'll likely eat your small jam in no time.
Plus if you do mess up (which you won't), at least you didn't waste too many berries.
For years I had my Raspberry Jalapeno Jam recipe, but it's not ideal for desserts like my Lemon Raspberry Cake.
That's why I wanted to post my super simple Raspberry Jam recipe.
3 ingredients. 10 minutes cooking. Pure berry bliss.
Spread it onto toast for breakfast, use it for Raspberry Cream Cheese Frosting, swirl it into some Strawberry Swirl Cheesecake, and more!
Ingredients For Raspberry Jam
To make the best raspberry jam (no pectin), you only need 3 ingredients:
Raspberries: Can't have raspberry jam without raspberries! Luckily for us they have natural pectin in them, which will thicken the jam.
Sugar: In addition to sweetening your jam, sugar is also a preservative. When the berries cook, they release water. Sugar bonds with the water and helps prevent the growth of microorganisms, which is important for canning.
Lemon juice: Not only does the acidity balance out the sweetness, lemon juice helps with the gelling process.
Can you make raspberry jam without pectin?
Yes, you can absolutely make raspberry jam without pectin!
Pectin is a thickening agent often used in jams and jellies so they set up properly after cooling. You can buy it in the canning section of a store.
However, raspberries have just enough pectin in them to thicken the jam without adding anything else.
Just make sure you're not skipping the lemon juice because the acidity helps with that process.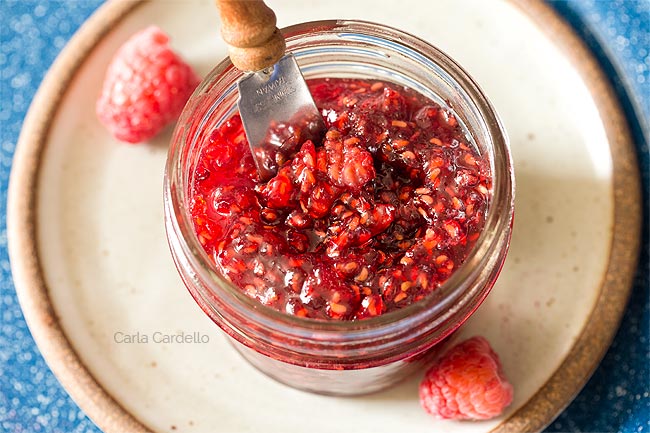 How To Make Raspberry Jam
To make your homemade raspberry jam, first put a small plate in the freezer. This is used to test your jam after cooking (more on that in a bit).
Next add your raspberries, sugar, and lemon juice to a large 12 inch skillet. You want to make sure you have enough room to stir.
Bring to a rolling boil, stirring often. Once boiling, cook until it thickens, about 8-10 minutes.
The raspberries will break down on their own, but if you have any big chunks you can break them up with your spoon.
How To Know When Your Raspberry Jam Is Done
Your raspberry jam is done when it has thickened enough. However, you won't know this until it has finished cooling. At that point, it's too late to fix it.
That's why I use the frozen plate technique. Because the plate is frozen, it'll instantly cool down the jam so you can determine how thick it is.
Before you start, place a small plate in the freezer. When you're ready to test your jam, take the plate out and add a small spoonful to the plate.
Next, tilt your plate. If the jam slides too fast, it needs more time. If it slides slowly, it's done. However, if it doesn't move at all, you may have overcooked it.
If your jam needs to cook longer, be careful not to overcook it. Even a minute too long can be the difference between done and overdone. It's best to check too often than not enough.
How much does this raspberry jam recipe make?
Much like most recipes on my blog, this is a small batch raspberry jam recipe.
When I say small batch, I truly mean it. I can't tell you how many small batch jam recipes I saw that still make several jars at once.
Maybe it's small batch compared to the original recipe, but I promise this raspberry jam recipe makes ONE mini jar.
6 ounces of pure summer berry flavor.
How To Can Raspberry Jam
You certainly don't have can your small batch raspberry jam as it doesn't make too much. It's only necessary if you don't plan on eating it right away.
Or maybe you doubled or tripled the recipe because you have a large bounty of freshly picked raspberries.
To learn how to can, check out my Strawberry Jam Without Pectin post where I give all kinds of tips and tricks for successful canning.
How long does Raspberry Jam last?
If you're not canning, it'll last about 2-4 weeks in the fridge. Use your best judgment after 2 weeks. If it seems a little off, don't use it.
What To Do With Raspberry Jam

Although the most obvious answer is to eat it on toast with some butter, sometimes you want to do a little more with your homemade raspberry jam.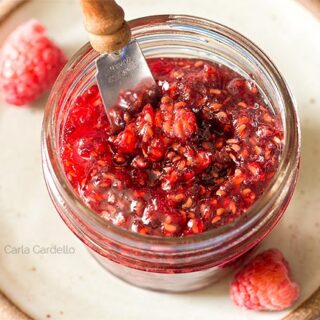 Raspberry Jam (Without Pectin)
This easy 3 ingredient Raspberry Jam without pectin is perfectfor beginners because it only makes one 6-ounce jar. Use it for breakfast,cakes, and more!
Ingredients
2 cups fresh raspberries
3/4 cup granulated sugar
1 tablespoon lemon juice
Instructions
Place a small dish in the freezer to use for testing the jam.
In a large 12 inch skillet, add raspberries, sugar, and lemon juice. Bring to a rolling boil, stirring often. Once boiling, cook until it thickens, about 8-10 minutes.
When it seems thick enough, take your plate out of the freezer. Put a small spoonful of the jam onto the plate and let sit for 30 seconds. Tilt it. If it slides too fast, keep cooking in 1-2 minute increments. If it moves slow, it is done.
Transfer to a heat-proof container. Cool to room temperature. If not canning, use within 2 weeks. Once opened, store in the refrigerator.
Recommended Products
As an Amazon Associate and member of other affiliate programs, I earn from qualifying purchases.