Avocado Burger
Bring the flavors of California to your kitchen with this juicy Avocado Burger with pickled red onion, cucumber, and sprouts. Ready in under 30 minutes!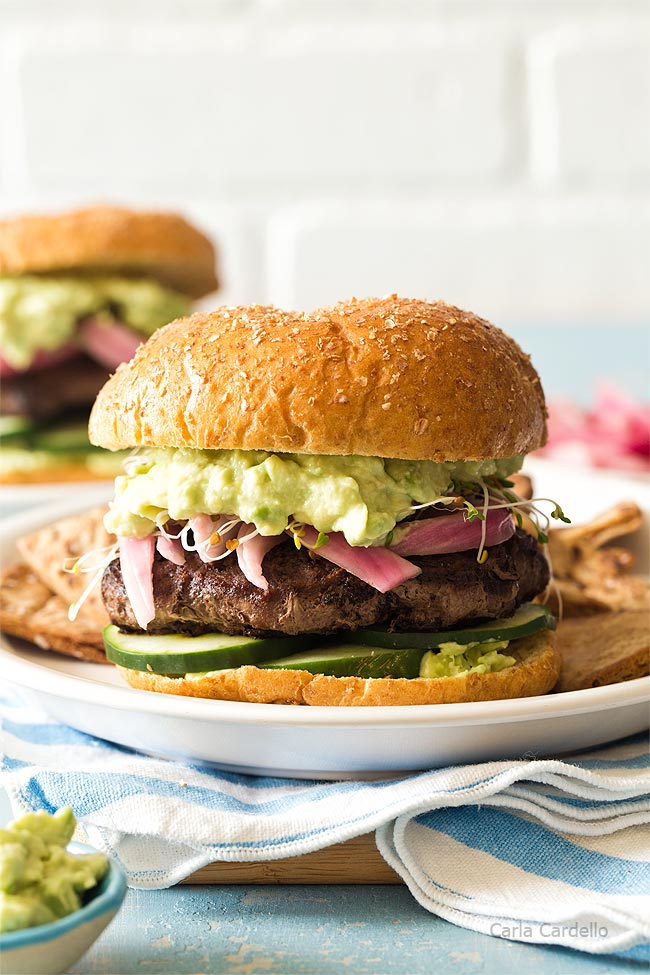 This is a sponsored post written by me on behalf of BUBBA burger. All opinions are 100% mine. Thank you for supporting me and the companies I work with as sponsored posts help pay for website hosting and groceries.
It's no secret these past two years have been challenging for traveling. I put all of my trips on hold, especially the ones involved with flying.
In December I was supposed to fly to NYC for Christmas. However, cases spiked and I had to cancel.
Devastated, I rescheduled it for San Diego in March, a destination I had on my list since I was a kid thanks to the San Diego Zoo.
Luckily I made it! I've only been to California once before for a photography workshop, so I never had the chance to fully explore until now.
Since I can't stop thinking about that trip, it inspired me to make this Avocado Burger.
Normally I don't eat a huge breakfast. However, when traveling I pick coffee shops who also sell food so I can be properly fueled for the day.
Usually it's a bagel with cream cheese or a greasy breakfast sandwich, but San Diego was different. Almost everything on their menu had avocado, a California staple.
I used to hate avocados growing up, but as an adult I've learned to embrace them. They're a super healthy protein that fills you up so I've been adding them to my Chicken Fajita Salad and Easy Steak Fajitas.
In San Diego, my favorite breakfasts were an avocado toast with cucumber, pickled red onion, and hard boiled egg then a bagel sandwich with avocado, cucumber, sprouts, arugula, and dill.
Taking inspiration from both sandwiches, I came up with a California Avocado Burger with pickled red onion, cucumber, and sprouts. On the plate I served them with my Homemade Pita Chips.
It's an easy weeknight dinner you can bring to your table in under 30 minutes thanks to the convenience of BUBBA burgers.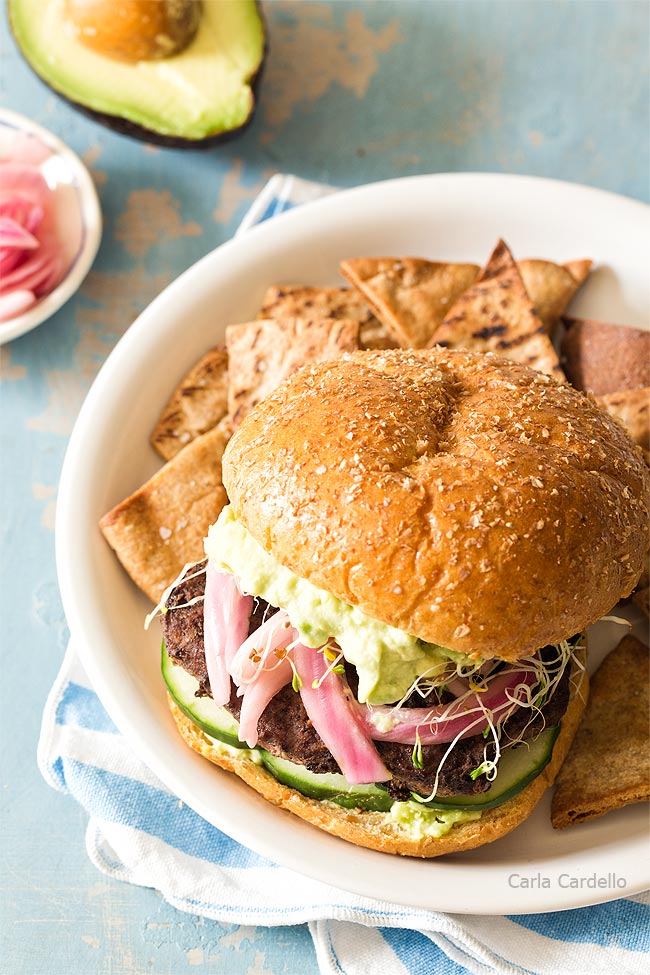 Ingredients For Avocado Burger
To make your avocado burger recipe, you'll need the following ingredients:
Burger: I used BUBBA burgers to make cooking a little easier because of their high quality and convenience. More on that below.
Avocado: Using fresh avocado helps balance the greasiness from the meat. Plus it's a healthy protein which makes the meal more satisfying.
Mayonnaise: Mayo is used to bind your mashed avocado together. I chose mayo because you only need a small amount, but you can easily substitute Greek yogurt or sour cream.
Lemon Juice: Not only does lemon juice help prevent the avocado from turning brown due to oxidation, it adds a pop of freshness.
Garlic Powder and Salt: These seasonings add a little extra flavor to your avocado.
Cucumber: Adds a bit of crunch and freshness to your burger.
Pickled Red Onion: Not only do they add color, their acidity balances the fat from the avocado and burger.
Sprouts: California sure does love its sprouts, so I had to include them! I used alfalfa sprouts, which can usually be found near the herbs.
Buns: Any hamburger bun will do! I personally went with brioche buns since they were prettier for photos (what can I say? Food stylist at heart!)
To make my delicious burger with avocado, I used BUBBA burgers. They're ready-to-cook burgers made from 100% beef chuck with no additives or preservatives.
Normally I make my own burgers like I did with my Pittsburger.
However, the past few months I've really been struggling with energy management. It's like time management except I can only do so much in one day to run both Homemade In The Kitchen and my city photography business City Life Adventures.
BUBBA burgers helps me out in the kitchen because of their convenience; you cook the burgers straight from the freezer. Nothing is worse than realizing you forgot to defrost your meat for dinner.
Add your BUBBA burger to a hot dry skillet then wait. You don't need to fuss with them until juices begin to form on top then you flip and cook until 165F in the middle.
They take roughly 10 minutes to cook, so you can prep your mashed avocado while you wait.
I used BUBBA Original beef burgers, but they have other varieties you can choose including Angus Beef, Veggie, Turkey, and more.
Their turkey burger would also make a delicious avocado burger. You can even use their veggie burger for a vegetarian dinner option.
I also made BBQ Bacon Burgers. Pesto Burgers, Teriyaki Turkey Burgers, and Fried Egg Burgers.
Click Here To Learn All About BUBBA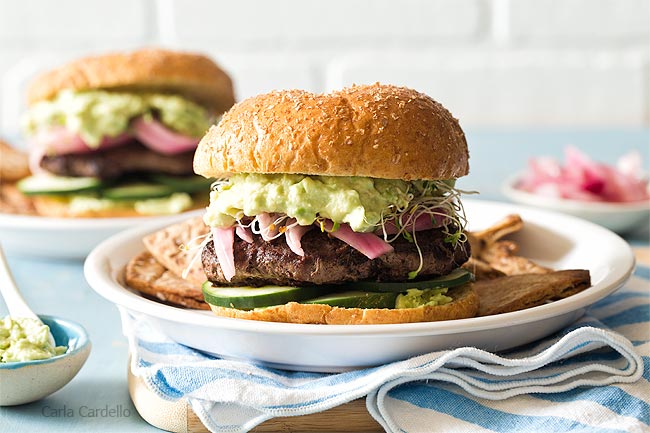 How To Pick an Avocado
Buying avocados at the store can be challenging. Sometimes they're too hard and you have to wait a few days to ripen. Sometimes they're too soft and you have to eat them the same day.
So how do you pick the best avocado? By paying attention to color and firmness.
First, darker green usually indicates they are riper than lighter green. It's not an absolute fact, but it's a great place to start.
Once you find one you like, give it a gentle squeeze. If it's rock hard, you likely have to wait 4-5 days for it to ripen. That's great if you're doing weekly shopping and don't need it until the end of the week.
If your avocado is a little soft but still mostly firm, you likely have to wait 2-3 more days until it's ready.
Your avocado is perfectly ripe when it yields to pressure without being too soft. This means you need to eat it within 24 hours. However if you're not ready to eat it just yet, you can refrigerate it for 1-2 days to slow down the ripening process.
If your avocado is so soft it almost mashes in your hand, it's overripe. Definitely don't pick these.
How do you cut an avocado?
Since avocados have a giant pit in the middle, you have to cut them a certain way. However, it's still quite easy!
First, cut your avocado in half lengthwise. You won't be able to go all the way through thanks to the pit, but once you hit the seed rotate your avocado until you cut all the way around.
Next, separate the two halves by gently rotating and twisting. However, if you need an extra push you can use your knife for extra leverage.
Now it's time to remove the pit! You can safely whack it with your knife then pull it out, but if that's not working you can also use a spoon to dig it out.
Next step is to score the flesh (the part you eat). Since you're going to dice then mash for your avocado burgers, slice them diagonally in one direction (being careful not to cut all the way through the skin). Then rotate and slice diagonally going in the opposite direction, like you're making a diamond.
Using a spoon, scoop the flesh out of the skin and into your bowl. Now you're ready to go.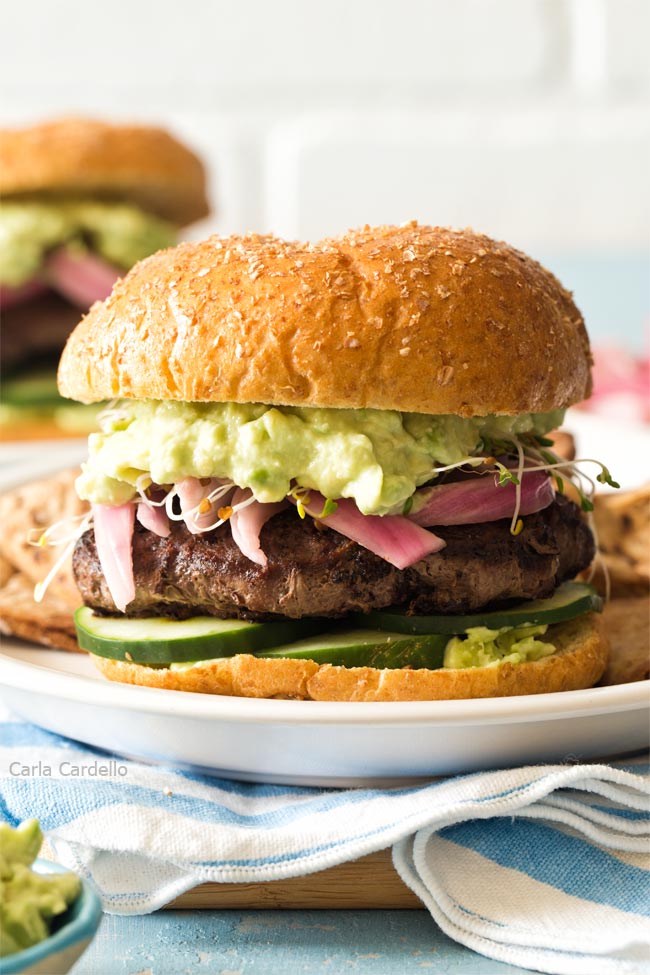 How To Make an Avocado Burger
To make an Avocado Burger with BUBBA burgers, first heat a large dry skillet. This means you don't need to add any oil to the pan.
You may want to have a splatter screen handy as the grease will sputter a bit.
Once your skillet is hot, add your frozen BUBBA burgers in a single layer, making sure there's enough room in between. Cook according to the package directions.
While your burgers are cooking, mash together your avocado, mayo, lemon juice, garlic powder, and salt. Taste and adjust for seasoning if needed.
If you like your food spicy, you can even add a few drops of hot sauce.
Once your burgers are cooked, transfer them to a plate lined with paper towels and pat off the grease.
Pour the grease leftover in the pan into a disposable container to throw away. Or let it cool in the pan until solid then throw away.
Do not pour grease down the drain because it'll harden when cool. Otherwise you will be calling a plumber.
What To Serve With Avocado Burgers

Every burger needs sides! Here's what you can serve with your avocado burgers: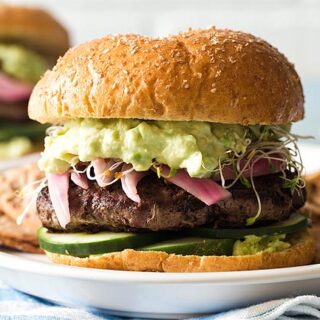 Avocado Burger
Yield: 2 servings
Prep Time: 10 minutes
Cook Time: 15 minutes
Total Time: 25 minutes
Bring the flavors of California to your kitchen with this juicy Avocado Burger with pickled red onion, cucumber, and sprouts. Ready in under 30 minutes!
Ingredients
2 BUBBA Original beef burgers, frozen
1 avocado, diced
1 tablespoon mayonnaise, Greek yogurt, or sour cream
1 teaspoon fresh lemon juice
1/4 teaspoon garlic powder
1/4 teaspoon salt (preferably kosher)
8 slices cucumber
1/4 cup pickled red onion (homemade or store-bought)
1/4 cup alfalfa sprouts
2 hamburger buns
Instructions
Cook your BUBBA burgers according to package directions.
Meanwhile, add the avocado, mayonnaise, lemon juice, garlic powder, and salt to a bowl. Mash together until smooth.
Once your burgers are cooked, spread some of the avocado mixture on the bottom of one bun. Add 4 cucumber slices then 1 burger. Add half the onion, sprouts, and avocado. Finish with the top bun.
Repeat with the remaining ingredients.
Recommended Products
As an Amazon Associate and member of other affiliate programs, I earn from qualifying purchases.
This post may contain affiliate links. As an Amazon Associate and member of other affiliate programs, I earn from qualifying purchase.