Caesar Pasta Salad
Caesar Pasta Salad with a homemade Caesar dressing combines traditional Caesar salad and summer macaroni salad into one picnic side dish.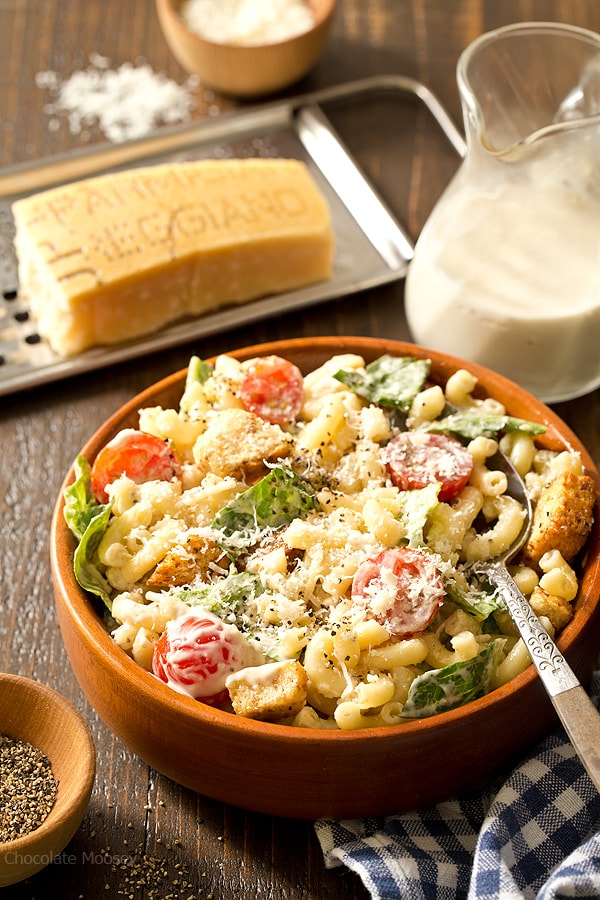 Although I do my best to make food from scratch, sometimes I need a little help with the ingredients.
This Caesar Pasta Salad perfectly describes what I mean. The dressing is homemade, only taking a few minutes to whisk everything together in a bowl.
However, I made this Caesar pasta salad recipe the day after vacation, so I was beat and bought croutons from the store.
Hey – life happens and you adjust your grocery list.
Maybe on a day when I have more energy I'll make homemade croutons, but you know how it goes when you take a week off of work then have to pretend you enjoy being back when it's over.
I know what you're thinking. With summer coming up, you don't need another macaroni salad recipe.
After all, you love my Amish macaroni salad, Antipasto Pasta Salad, and Bacon Ranch Pasta Salad.
Well I'm here to tell you yes you do! Caesar Pasta Salad takes the flavors of a traditional Caesar salad and combines it with summer macaroni salad.
You have a creamy homemade Caesar dressing, Parmigiano Reggiano cheese, grape tomatoes, romaine lettuce, and croutons.
Whether you made this for your next picnic or eat it for dinner (after all, it's pretty much just cold macaroni and cheese, right?), you won't have to worry about any leftovers.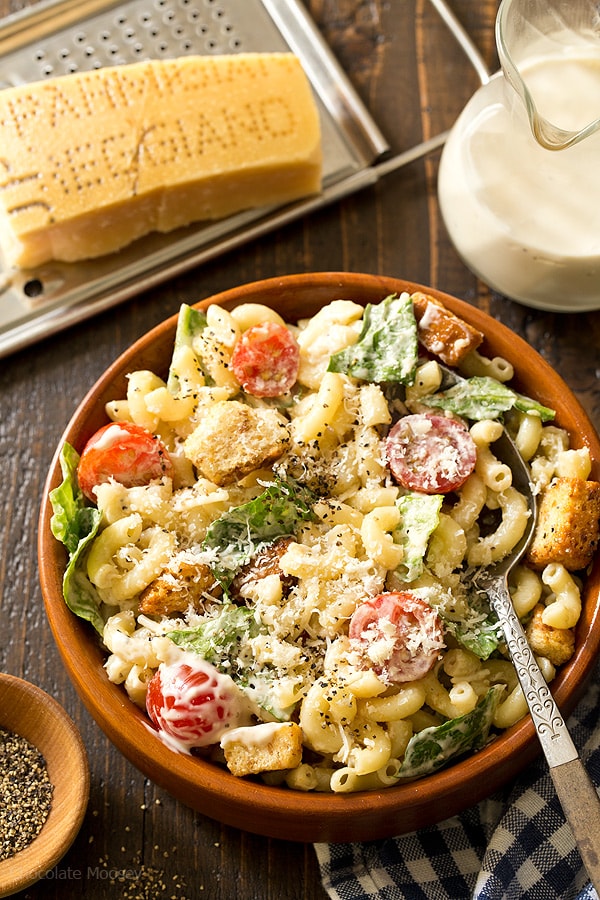 Why do they call it Caesar salad?
People often think Caesar salad is named after Julius Caesar. That's actually a myth!
It's said to have been named after Italian chef Caesar Cardini who invented Caesar salad.
Ingredients For Caesar Pasta Salad
To make your creamy Caesar Macaroni Salad, you'll need the following ingredients:
Elbow macaroni: The most standard shape for pasta salad.
Mayonnaise: A tasty substitute for raw egg (more on that below). If you use Miracle Whip, you will need to taste and adjust because it's sweeter than regular mayo.
Lemon juice: The acidity cuts through all the fat from the mayo.
Dijon mustard: Adds a bit of acidity and helps with emulsification.
Garlic: For dressings, I like to use garlic paste because you can whisk it in smoothly. However, minced garlic works just as well.
Anchovies: Anchovy paste is so easy and convenient to keep in the fridge, but you can also smash canned anchovies with a fork.
Worcestershire sauce: An extra dose of anchovy flavor.
Parmigiano Reggiano: Adds saltiness and nuttiness.
Salt and pepper: Seasonings for your dressing.
Grape tomatoes: Ok, tomatoes aren't found in Caesar salad. However, I love pairing the acidity of the tomatoes with the creamy, rich dressing. Plus a lot of pasta salads do have tomatoes in them.
Romaine lettuce: It isn't Caesar salad without the lettuce!
Croutons: You can make homemade croutons or buy them at the store for easier prep.
How To Make Caesar Dressing Without Raw Egg
Traditionally homemade Caesar dressing starts with whisking together oil and egg yolks, but because the dressing isn't cooked, the yolks would remain raw.
Do you know what else is made with egg yolks and oil? Mayonnaise.
Since there could be health concerns with consuming raw egg, I used jarred mayonnaise as the base, resolving that concern. The eggs are pasteurized in commercially prepared mayo.
No need to warn people about raw egg when all you want to do is enjoy your pasta salad.
Why are there anchovies in Caesar dressing?
One important ingredient for Caesar dressing is anchovies.
Before you fish-haters freak out about that, they add both umami and a briny saltiness to the dressing. You'd never know there were anchovies because there is no fishy taste.
Worcestershire sauce also has anchovies in it, so if you enjoy that, you enjoy anchovies.
I used anchovy paste rather than canned anchovies because it makes a smoother dressing and helps distribute the flavor more easily. You can find it in the Italian section of your grocery store.
If you use canned anchovies, you can mash them into a paste with a fork or use a mini food processor.
Can I leave the anchovies out?
Anchovies help give Caesar dressing its iconic taste, so there really isn't a good substitute.
You can try increasing the amount of Worcestershire sauce (which also contains anchovies), but your dressing will fall a little flat.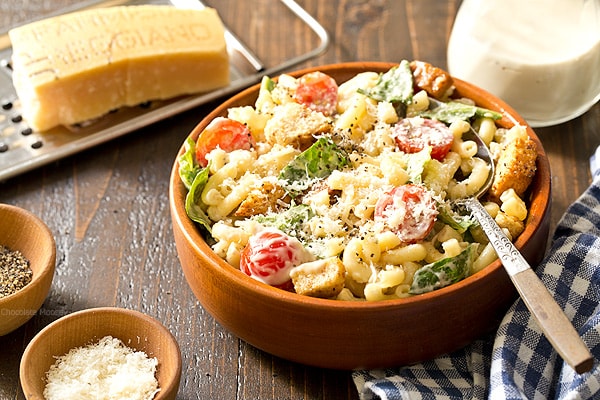 How To Make Homemade Caesar Dressing
To make homemade Caesar dressing, whisk together mayonnaise, lemon juice, mustard, garlic, anchovies, Worcestershire sauce, Parmigiano Reggiano, salt, and pepper.
Which pasta is best for salad?
The best pasta for pasta salad is a small pasta shape with nooks and crannies to hold sauce, such as macaroni, farfalle, rotini, or even penne.
The nooks and crannies allow the dressing to cling to the pasta, making sure there is plenty of flavor in every bite.
How To Make Caesar Pasta Salad
To make Caesar Pasta Salad, first cook your pasta until al dente. Depending on your shape, it will take about 7-10 minutes.
While you're waiting for the water to boil, make your homemade Caesar dressing.
Once the pasta is done cooking, mix it with half of the dressing, tomatoes, and cheese.
I like to add my dressing in two parts. The first half coats the noodles and ensures they don't dry out and stick together. Plus they absorb the flavor better while still warm.
Adding the second half right before serving ensures the Caesar pasta salad is creamy while eating. Just in case the pasta absorbs too much of the dressing.
After your Caesar pasta salad has chilled for a minimum of 1 hour (preferably overnight if you have the time), stir in the remaining dressing, lettuce, and croutons.
Serve immediately so the lettuce and croutons don't get too soggy.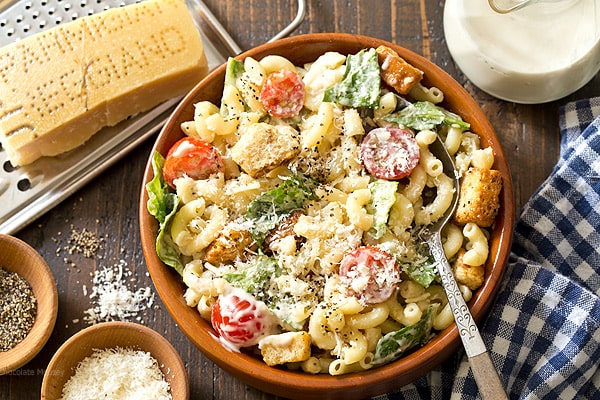 Should you rinse pasta for pasta salad?
Typically when you cook pasta for dinner, you don't rinse pasta because you want to keep the starch on it.
However, for making a cold pasta salad you always want to rinse it under cold water.
One, it quickly cools the pasta, keeping it from overcooking. Plus you don't want to mix hot pasta with your dressing because it'll melt too quickly.
Two, it washes away the starch, which is what makes pasta clump together. By rinsing the pasta, it'll remain loose and not sticking together.
How long can I store pasta salad?
It's best to eat Caesar pasta salad within a day of making it. The longer the noodles sit in the dressing, the soggier they'll get.
However, you can refrigerate leftover Caesar pasta salad for up to 5 days.
What goes with pasta salad for dinner?

Whether you're getting ready for an outdoor BBQ or eating dinner in the air conditioning, here are some recipes to serve with pasta salad: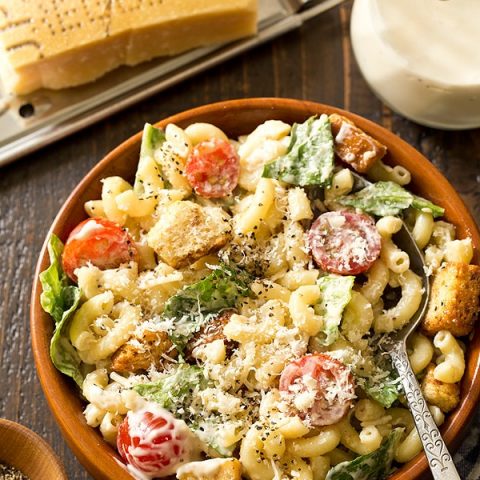 Caesar Pasta Salad
Yield: 4 servings
Prep Time: 20 minutes
Cook Time: 10 minutes
Chill Time: 1 hour
Total Time: 1 hour 30 minutes
Caesar Pasta Salad with a homemade Caesar dressing combines traditional Caesar salad and summer macaroni salad into one picnic side dish.
Ingredients
1/2 pound (8 ounces) uncooked elbow macaroni
1 cup mayonnaise
2 tablespoons lemon juice (roughly 1 lemon)
1 teaspoon Dijon mustard
1 teaspoon garlic paste or 1 garlic clove, minced
1 teaspoon anchovy paste or 2 anchovies, mashed with fork
1 teaspoon Worcestershire sauce
1 cup grated Parmigiano Reggiano
1/2 teaspoon salt (preferably kosher)
1/4 teaspoon ground black pepper
1 cup halved grape tomatoes
1 cup chopped romaine lettuce
1 cup croutons
Instructions
Bring a large pot of water to a boil. Once boiling, add a big handful of salt then add macaroni. Cook as directed on the package until al dente, about 7-8 minutes. Drain into a colander and rinse with cold water. Spread in a single layer on a baking sheet to dry.
Meanwhile, whisk together mayonnaise, lemon juice, mustard, garlic, anchovy, Worcestershire sauce, 1/2 cup Parmigiano Reggiano, salt, and pepper. Reserve half of the dressing.
In a large bowl, mix together the cooked pasta, remaining half of the dressing, tomatoes, and remaining 1/2 cup Parmigiano Reggiano.
Cover and refrigerate at least 1 hour or until cold (24 hours is preferred to allow the flavors to develop).
Right before serving, add the reserved dressing, lettuce, and croutons. Serve immediately.
Recommended Products
As an Amazon Associate and member of other affiliate programs, I earn from qualifying purchases.

Originally published June 13, 2016
This post may contain affiliate links. As an Amazon Associate and member of other affiliate programs, I earn from qualifying purchase.